Monastir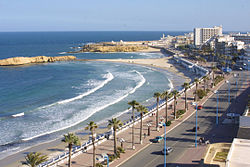 Monastir
is a city in
Tunisia
160 km from
Tunis
. Set along a superb coastline with a blue sea and long golden sandy beaches, Monastir is a pleasant seaside resort, a historical town full of tradition and one of the best tourist destinations in Northern Africa.
Under the protection of its ribat, one of the most impressive fortresses of Tunisia, Monastir's medina, fishing port, marina and background of villages and orchards make it a lively and welcoming destination.
Understand
Situated halfway between
Sousse
and Mahdia, and in the intersection of
Kairouan
and
El Jem
, Monastir is distinguished by its location in the central coast of
Tunisia
. It is an ancient city dating from Phoenician times. Due to its strategic location, it shelters the oldest and the most important ribat in the Maghreb: a lovely fortress that is one of Tunisia's finest examples of Islamic military architecture.
Monastir is also known as a really beautiful and calm city.
Get in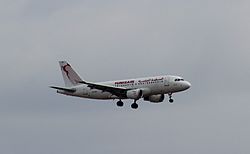 By plane
Monastir is a three-hour flight from many principal European cities.
Monastir Habib Bourguiba International Airport
phone: +216 73 521 300
address: Skanes
Getting to the airport:
the trip by taxi costs about 5 DT. Getting to the airport is also possible through train between Monastir and Sousse, since "Skanes-Monastir airport station" is 200 m from airport terminal.
By train
There are regular train services to
Tunis
and
Sousse
to the north and
Mahdia
to the south.
Gare Habib Bourguiba Monastir
By bus
Gare Routière de Monastir
Get around

The distances between the Medina, Ribat and Marina are small enough to be covered on foot. Taxis for longer distances within the city can be found everywhere and are very cheap (less than DT3 for a trip within the city).

See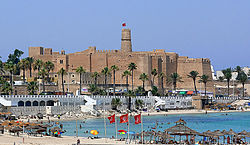 RibatThis fortified monastery is located next to the sea and provides a great visit with most of the ruins open to clamber over. It may be familiar as it has been used in several films as a stand in for Jerusalem, most notably Monty Python's Life of Brian. You can climb the tower and have a nice view over the coastline and city.
Ribat also houses

Islamic Arts Museum of MonastirContains illuminated manuscripts, Coptic textiles from the fourth to seventh century, textiles from the ninth century, the Fatimid glass of tenth and eleventh centuries, Abbasid pottery, coins of gold and silver from the tenth and eleventh centuries and especially unique: an Arabic astrolabe made in Cordoba in 927 CE.
Mausoleum of Habib Bourguiba

phone: +216 71 341 077

address: Skanes

Enormous mausoleum, in the centre of a large cemetery. It holds the remains of former president Habib Bourguiba, the father of Tunisian independence, who died on April 6, 2000.
address: Palais Presidentiel de Skanes

It's a house of Habib Bourguiba, Tunisia's first president, which was later turned into a museum. It's worth a visit only if you're interested in the modern history of Tunisia, otherwise nothing spectacular.
Museum of folk arts and traditions of MonastirDisplays traditional Tunisian costumes: wedding costumes, adornments, woven domestic items and copper objects.
The Old Port el KahliaOld port with excellent location and panoramic views.
MarinaAdmiring looks, enormous yachts, floating restaurants and luxury hotels. It's also a nice place for a stroll in the sun and for a coffee.
Great Mosque of MonastirBuilt in the 9th century and then enlarged over the centuries. It now includes a prayer room and a minaret, and doesn't have a courtyard inside. Off-limits to non-Muslims.
Zaouia of Sidi Mansour Ba YazidMausoleum of 17th-century Muslim mystic.
Ancient ruins
address: Ghdamsi island
Further away
Lamta Archaeological Museum

address: Avenue Habib Bourguiba, Lamta

The ancient city of Leptiminus is located about 10 km south of Monastir. It was founded by Phoenician sailors around the 12th century BC. The modern city of Lamta was built on top of this ancient city, thus leaving almost nothing of it. Although some remnants from the times of Leptiminus can still be found in this museum.

Ribat Lamta

Museum of Moknine

address: Moknine
Do
Bicycle rental

phone: +216 23400004

address: Airport Road, Tourist Area

The Palm Karting Monastir offers a great deal for those who are passionate for karting or those who want to try it. Two circuits (adults and kids), a coffee shop, a great Mexican restaurant and a nice party space.
Carriage. You can also go around Monastir with the famous and traditional carriages and of course for a good price.
Touristic train. It is a cheap and original means to discover the city.

phone: +216 73 500 283

address: Route de Ouardanine B.P. 40

phone: +216 73 521 910

Designed by Californian architect.
Buy
MedinaOnly a small section of the original Medina remains but it contains a bazaar selling the usual souvenirs, artisanal jewelry, pottery and carpets. Prices seemed to be generally lower than in nearby Sousse.

MonoprixA large supermarket near the southeast wall of the Medina. You can buy everything here, including alcohol (wine/beer) at the back entrance. Next to Monoprix is a small local market for meat, vegetables, bread, etc.
Sleep
The infrastructure of hotels is of a remarkable quality and continues to get even better. Classed hotels (from one to five stars) are beyond reproach for hygiene and facilities. Covered swimming pools, sporting facilities, mini-clubs for children and spa centers are very common.
phone: +216 73 520 900

address: Dkhila

4-star hotel.

Dessole Bella Vista

phone: +216 73 520 555

address: Zone Touristique Dkhila Skanes

4-star hotel.

phone: +216 73 466750

address: Av Habib Bourguiba

3-star hotel.

Marina Cap Monastir - Appart Hôtel

phone: +216 73 462 305

address: Port Marina Monastir

Nice studio apartments in the Marina with sea view, private bathroom and small kitchen. You can get a bargain price when booking online through one of the common hotel portals.

El Mouradi Skanes HotelA great hotel close to the beach. It is not a cheap hotel but it is worth the price.
Splurge
phone: +216 73 520520

address: Skanes

The only hotel with 5 stars in town.
Go next