Mont-Tremblant

Mont-Tremblant
is a small village in
Quebec
,
Canada
, known for the famous Mont-Tremblant Ski Resort. Located in the
Laurentian mountain range
, Mont-Tremblant ("Trembling mountain" in French) is surrounded by lush boreal forest and breathtaking views, standing at 875 meters (2871 feet).
Despite being a ski resort, Mont-Tremblant has become a popular getaway for tourist and locals alike, whether in winter or in summer.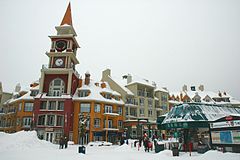 Understand
Mont-Tremblant is divided into two parts. The original village of Mont-Tremblant now goes by the name of
The Village
, but these days it's
The Resort
(aka the
Pedestrian Village
), some 13 km away directly at the foot of the mountain, where the action is. Built by Intrawest (the company behind
Whistler
) starting in 1992, the resort is a somewhat Disneyland-y concoction of pretty pastel houses, but it looks improbably idyllic in winter with a light (or, not uncommonly, heavy) dusting of snow, maple logs on the fire and lights twinkling in the windows. Vehicles are strictly prohibited — hence the name — and many hotels can be reached directly on ski. A free gondola connects the lower hotels to the ski lifts.
Surrounding the inhabited areas is Mont-Tremblant National Park (
Parc national du Mont-Tremblant
), the biggest park in the SEPAQ network and the first national park to have been created in Québec.
There are also other areas besides the Village of Mont Tremblant that visitors and locals can live in. Domaine de la Forêt offers direct access to the ski trails and is nestled along the mountainside. Domaine Nansen area is a private, peaceful area that consists of a small cluster of homes hidden in forested south side. Le Domaine du Géant area features luxurious condos in a peaceful setting not too far from the village. The Domaine du Diable area includes luxurious homes featured next to the golf course. Versant Soleil is the newest addition to homeowners settling in Quebec's Laurentian Mountains.
Get in
By plane
The nearest major airports are in
Montreal
and
Ottawa
.
By car
Mont-Tremblant is most easily reached via Autoroute 15 North from
Montreal
to
Sainte-Agathe
, where it merges with 117 for the last 30 km (still four-laned highway). Take exit 119 (Montée Ryan) to Chemin Duplessis and follow indications for Tremblant Resort. The trip takes about 90 minutes.
From the west (Ottawa and Toronto), it's
possible
to use smaller roads to shave a few kilometers off the journey, but the roads are
very
small at times and may be snowed in during the winter. Detouring via Montreal is thus, in all likelihood, the faster option.
If you are driving in the winter, snow tires are required by law in Quebec for vehicles registered in Quebec, and advisable for all vehicles.
Car rental really is essential if you're looking to maintain your independence in and out of the resort, but prices vary dramatically between operators, so do your homework on price comparisons.
By bus
Two intercity bus lines provide service into Mont-Tremblant. The primary service is operated by
Groupe Galland
between Montreal, Mont-Tremblant, and Mont-Laurier. There are generally six trips daily between Montreal and the St-Jovite section of Mont-Tremblant; some trips provide direct or connecting service to the Mont-Tremblant resort. Two of the trips continue beyond Mont-Tremblant to Mont-Laurier.
Autobus Maheux
also provides service to the St-Jovite section of Mont-Tremblant, but the service is restricted to carrying passengers only to points north of Mont-Laurier (local transportation to points between Montreal and Mont-Laurier is provided exclusively by Groupe Galland). During the winter ski season,
Skyport
provides direct service between the Montréal-Trudeau airport and the Mont-Tremblant resort. There is a
25% discount
if you are HI member.
Most bus travellers from Ontario and points west travel first to Montreal, then to Mont-Tremblant. However, it may be possible to save some travel time by going through Ottawa instead of Montreal.
Voyageur
operates one bus daily (two buses on Fridays and Sundays) between Ottawa and Grand-Remous, with a connection in Grand-Remous to
Autobus Maheux
for service to and from Mont-Tremblant. Check schedules carefully before travel.
Regional transit bus service is provided by
Transport collectif intermunicipal Laurentides
. There are eight weekday and three weekend trips that provide service to all points between the St-Jovite section of Mont-Tremblant and Saint-Jérôme. There are also two weekday services to all points between Mont-Tremblant and L'Assomption. At Saint-Jérôme, connections may be made with the rush hour only commuter trains between Saint-Jérôme and Montreal, operated by
Agence métropolitaine de transport
; and also bus #9 between
Saint-Jérôme and the Montmorency Métro
station in Laval, operated by
CIT Laurentides
. Using the regional transit services, it is possible to travel from downtown Montreal to Mont-Tremblant for just $12.25, considerably less that the fare on one of the intercity carriers which are not that much faster, though are more comfortable.
Within Mont-Tremblant, transit service is available between the St-Jovite section and the Mont-Tremblant resort operated by a contractor to the local Chamber of Commerce.
See
Aside from mildly iconic clocktower in the lower village, there are no historic sights in Mont Tremblant. But the surrounding natural beauty makes up for the village's synthetic feel and what it lacks in history. Mountains, lakes and forests provide an idyllic setting - especially in the more rustic northern side.
Mont Tremblant is a part of the Laurentian mountain range. Its elevation is 875 meters (2,871 feet) and has a south side vertical drop of 645 meters (2,116 feet). The ski resort's includes 654 acres of skiable terrain with 465 acres of artificial snow coverage. It has a massive snow system powering 1,037 snow guns that produces snow from November to April. Mont Tremblant contains plenty trails with its total trail length being 78.9 km (49 miles). The mountain is designated to handle 27,230 skiers per hour because of its 14 express ski lifts. The trails cover 17% beginner, 33% intermediate and 50% expert level. This beautiful mountain transports thousands of skiers hourly by their two gondolas, one cabriolet, five high-speed 4-passenger lifts, one 4-passenger chairlift and two 3-passenger chairlifts.

Buddhist Monastery Đại Tòng Lâm Tam Bảo Sơn

phone: +1 819-687-2183

address: 690 Chemin de la Rivière Rouge, Harrington

Mahayana Buddhist monastery founded in 1990. It honours the life of Buddha and beliefs of his followers with larger than life, colourful statues showing important events in his life. Visitors are asked not to wear shorts, mini-skirts or T-shirts, and it is a good idea to phone ahead to confirm the monastery is open, in case the schedule changes. A vegetarian lunch is available.
Do
Mont Tremblant is an internationally-renowned and multi award winning
ski destination
. It doesn't come cheap though: your basic day pass costs $70/day, plus possible high season surcharges. However, this is competitive to European resorts thanks to favorable exchange rates.
If you visit in the summer, the resort on the south side of the mountain is a great starting point for activities. As well as mountain activities there is cycle hire and an indoor pool, 'Aqua Club de Source'. Try mini-golf or walk down to the shore of Lac Tremblant for water sports. At the top of the resort there is an 'Activity Centre' where you can book a huge variety of activities.
Nearby,
Parc de Mont Tremblant
is one of the major parks listed in the Parcs Quebec network and features camping, canoe-camping, well-maintained hiking trails, canoe rental. See the
SEPAQ website
(in French and English) for more information and rates.
If you are looking for a more convenient ski experience try the north side of the resort - not only does it have the best runs, but also an abundance of free parking that makes your walk to the ski lifts both shorter and easier. The north side also benefits from catering and equipment rental - great if you simply want to focus on what you came for and maximise your time on the slopes.
It's nice to soak your bones in a hot tub after hitting the slopes all day, either in a locally rented home (if you're lucky enough) or in one of the half dozen or so
spas
in Mont-Tremblant.
Aquaclub La SourceFamily-friendy spa and gym complex in the centre of the pedestrian village, you can't miss the blue outdoor whirlpool from the gondola. Adult one-day pass to pool and gym $24.10, various discounts and multi-day packages available.
Winter activities
Mont Tremblant Resort gives you free unlimited access to sliding activities. They also give you the opportunity to experience
First Tracks
, which allows one to be on the slopes 30 minutes before anyone else.
Casino de Mont-Tremblant
is a new friendly casino that is open 7 days a week. It is accessible via gondola running between Versant Soleil and the Versant Sud.
Ice Skating
is available at the exterior rink right next to the chapel and guests who stay at the hotels can receive free rentals. The
Snow Parks
attract experienced snowboarders and skiers with 18 acres of extreme park.
Cross Country Skiing
in 65 km of fresh powder and
ice climbing
are available with no experience necessary. Many
spa and massages
allow guests to relax in the dry sauna, Norwegian steam bath, outdoor hot baths and thermal and Nordic waterfalls. Experience pampering in the two spas in the resort for massages, body treatment, esthetic treatment or special spa packages. They also have
helicopter rides
which is a unique way to discover Tremblant. Ten and twenty minute panoramic flights are offered seeing the Diable River and Village, Lake Quimet, Gray Rockers, St-Jovite village and Iroquois falls. If you don't ski or snowboard, there is a
snow tubing park
that consists of 8 trails and the activity is included in lodging. There are many other activities to get involved in during the winter at your stay in Tremblant such as
snowshoeing, dog sledding, paint balling, snowmobiling and horse back riding
through the snow covered fields. If a guest gets sick of the cold weather, they can engage in the only
golf simulator
in the region.
Summer activities
Mont Tremblant offers just as many activities during the warmer months, being known as the Most Animated 4 Seasons Resort in Canada.
Gondola rides
offer a spectacular view of the Laurentians. Kids of all ages can enjoy themselves at
Pirates Water Park
experiencing organized games. Families can play mini-golf at the
Mini-golf Le Petit Géant
or try
Alpine Luge
, which is a gravity ride on a 3-wheel cart. This resort has tons of outdoor activities such as
bicycling, mountain biking, rafting
down the Rouge River and
horseback riding
through the Laurentian Mountains. With 10 different
paintball
playgrounds and
Eurobungy-Trampolines
, there is always something exhilarating going on at Mont Tremblant. Mont Tremblant offers an aerial forest adventure,
Acrobranche
, that includes zip lines, Tarzan ropes, monkey bridges and many other challenges.
Mont-Tremblant National Park
allows one to experience the stunning beauty by foot. If one loves the water,
Centre Nautique Pierre Plouffe
has plenty of water sports available or aboard
The Grand Manitou
for a 70-minute cruise. Adventurous people can participate in
Dune Buggy Tours
or
ATV rides
through the backcountry trails.
Helicopter, airplane and Caleche rides
are available for people to explore and admire this beautiful area. For a different perspective of Mont Tremblant, experience
The Diable Via Ferratta
, a walking and climbing course built onto the face of one of the Parks most magnificent cliff faces.
Golf
For the most famous and well-known reason to visit Mont Tremblant during the summer, this resort gives you an incomparable
golfing
experience. These two courses make you choose between what they called, The Devil or The Giant.
Le Diable
This 7,056-yard course was designed by Master Architects Michael Hurdzan and Dana Fry with a par of 71 and an 18-hole championship course.
Le Géant
This 6,838-yard course designed by Thomas McBroom in 1995 has an amazing view of the Laurentians.
Buy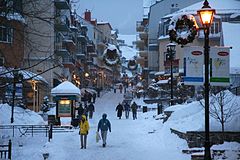 The pedestrian village has a good selection of stores, with a predictable emphasis on high-end winter clothing, winter sports goods and maple syrup-themed souvenirs. There is also one smallish supermarket and several convenience stores for daily necessities. Prices for such convenience can be on the high side though, and you may be able to save quite a bit by visiting the original village or stocking up at nearby St Jovite instead.
Mont Tremblant offers plenty of shops for guests to enjoy. From sporting goods stores to get the latest gear to art galleries, there is always something fun to do.
Clothing and sporting goods
Boutique Adrénaline: Vieux Tremblant, Inn +1 819 681-5501
Boutique Aventure: Promenade Deslauriers +1 819 681-4535
Boutique Burton@Tremblant: Place Saint-Bernard +1 819 681-5802
Columbia@Tremblant: Rue des Remparts +1 819 681-3000 #46729
Boutique Salomon: Rue des Remparts +1 819 681-5502
Clothing
Boutique Rodin: Rue des Remparts +1 819 425-2121
Boutique Chamonix: Place Saint-Bernard +1 819 681-5715
Boutique Hors-Piste: Base of the Gondola +1 819 681-3000 #46728
Les Saisons de Tremblant: Place Saint-Bernard +1 819 681-4504
Roots: Rue des Remparts +1 819 681-4505
Tremblant Etc: Rue des Remparts +1 819 681-3000 #45518
Gift shops
Le Studio Créatif: Place des Voyageurs +1 819 429-5599
Univers Toutou / Plush Factory: Place Saint-Bernard +1 819 681-4881
Les Trésors sur le Lac: Place Saint-Bernard +1 819 681-4599
Accessories & perfume shops
Joaillerie St-Onge: Promenade Deslauriers +1 819 681-4646
Les Cuirs Tour Eiffel: Rue des Remparts +1 819 681-4646
Grocery, liquor store and speciality shops
Magasin Général: Vieux-Tremblant +1 819 681-3000 # 46735
Maison de la Presse: Place Saint-Bernard +1 819 681-4614
Société des Alcools du Québec: Promenade Deslauriers +1 819 681-4548
Photo centre
Le Photo Shoppe: Promenade Deslauriers +1 819 681-4999
Art galleries
Galerie Côté Créations: Promenade Deslauriers +1 819 421-1888 and +1 819 425-3660
Galerie Soutana: Rue des Remparts +1 819 681-4550
Eat
There are plenty of delicious places to eat in Mont Tremblant. From international dishes to rich fondue, there is something for everyone's taste buds.
address: 1900 chemin du Village

Notionally Mediterranean hotel restaurant, popular with the locals for its set lunches: under $15 gets you soup or salad, the main dish of the day and coffee/tea. Don't miss the bison on Thursdays.

La Savoie

address: 115 chemin Kandahar

A small Swiss cabin tucked away in a corner of the village, this restaurant offers Savoyard fare like fondues and raclette. Expensive, but tasty.

Trattoria Di Lago

phone: +1 819 425-5557

Winner 2 years in a row of the "Best Restaurant in Mont Tremblant". The trattoria is on the shores of Lake Maskinonge, a few minutes from the Resort. Table d'hote and 7-course prix fixe. An extensive Italian wine list, and valet service to your door.
Bistros & cafés
Au Grain de Café: Promenade Deslauriers +1 819 681-4567
Brûlerie Saint-Denis: Place des Voyageurs +1 819 681-CAFE (2233)
Fluide Juice Bar: Rue des Remparts +1 819 681-4681
Lounge du Westin: Le Westin Resort & Spa +1 819 681-4144
La Chouquetterie: Rue des Remparts +1 819 681-4509
Sweet shops & crêperies
Sugar Shack: Place des Voyageurs +1 819 681-4995
Chocolate Factory: Place Saint-Bernard +1 819 681-4545
Crème de la Crème: Vieux-Tremblant +1 819 681-4540
Crêperie Catherine: Vieux-Tremblant +1 819 681-4888
Asian cuisine
Yamada: Promenade Deslauriers +1 819 681-4141
Ô-wok: Vieux-Tremblant +1 819 681-4455
Continental cuisine & local
Le Shack: Le Saint-Bernard +1 819 681-4700
Le Chalet du Smoked Meat: Place des Voyageurs +1 819 681-4664
French cuisine
Aux Truffes: Promenade Deslauriers +1 819 681-4544
L'Avalanche: Vieux-Tremblant +1 819 681-4727
Les Artistes: Rue des Remparts +1 819 681-4606
International cuisine
Fat Mardi's: Place St-Bernard +1 819 681-2439
Plus Minus Café: Vieux-Tremblant +1 819 681-4994
Pita Express: Place des Voyageurs +1 819 681-4949
Windigo: Fairmont Tremblant +1 819 681-7685
Italian cuisine
Coco Pazzo: Promenade Deslauriers +1 819 681-4774
Pizzatéria: Rue des Remparts +1 819 681-4522
Ya'oooo Pizza Bar: Vieux-Tremblant +1 819 681-4616
Fondue & raclette
La Savoie: Vieux-Tremblant +1 819 681-4573
Grill
Bullseye Bar & Steak House: Place Saint-Bernard +1 819 681-2855
Resto-bar Casey's: Vieux-Tremblant +1 819 681-4601
La Forge Bar & Grill: Place Saint-Bernard +1 819 681-4900
Resto-pubs
Microbrasserie La Diable: Vieux-Tremblant +1 819 681-4546
Cafeterias
There are a number of places to eat while on the mountain during your ski days.
Café Johannsen: Located at the Base Télécabine. Enjoy coffee, baked good and sandwiches. Internet service is available.
Grand Manitou : Located at the Summit allowing yourself to eat with a 360 degree view of the entire region.
Chalet de Voyageurs : Located at the Chalet des Voyageurs with easy access at the entry of the village.
Fourchette du Diable : Located at the Versant Nord, it offers a various menu for the whole family. Direct access to the slopes.
Drink
Le Diable. Popular local microbrewery with half a dozen of their own brews, plus hearty portions of fare like ribs and sausages.
Le P'tit Caribou. Dancing and mingling! A great party place.
Le Shack. Right at the foot of the ski-lifts and a popular spot for apres-ski.
Sleep
Accommodation prices in Mont-Tremblant are highly seasonal: the same room that goes for under $100 on a rainy weekday in the fall may shoot up to over $400 on a holiday weekend in the winter. Book early!