Montauk
Montauk
is a hamlet in
East Hampton
on
Long Island
in
New York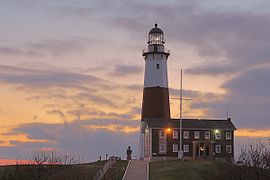 Understand
Montauk is known by many Long Island residents as "The End," because it is the easternmost point of the island and New York state.
Montauk has a rich history. It is named after the Montaukett tribe that lived on the lands that now encompass Montauk. Urban legend tells of Captain Kidd burying treasure somewhere in Montauk around 1700. Montauk is also home to the oldest ranch in the United States, Deep Hollow Ranch.
At the point of the hamlet stands Montauk Point Lighthouse, the first lighthouse built in New York and fourth-oldest lighthouse in the United States.
Montauk is home to the largest commercial and recreational fishing fleet in the state of New York. It boasts the claim that it has more saltwater fishing records than any other port in the world.

Get in
Montauk is easily accessible by car, by bus, by rail, and even by boat.
By plane
phone: +1 631 668-3738

address: 428 E Lake Dr

Serves charter planes and private flights, with Tropic Ocean Airways offering seasonal routes to New York Seaplane Base.
East Hampton Airport (
HTO
) offers a larger runway suitable for light jets with a number of charter companies.
Otherwise, taking a commercial flight to New York is easy. There are three airports to chose from in the region. John F. Kennedy Airport (JFK) and LaGuardia Airport (LGA), both in Queens, and MacArthur Airport (ISP) in Islip are all easily the first step to getting to Montauk. However, the Queens airports, in particular, are quite distant from Montauk, and taxi fares to or from those airports would be prohibitively expensive.

By car
It's easy to get out to "The End" in your own car or by rental car. The only road that goes out to seaside town is Sunrise Highway (or Route 27), which runs from New York City all the way to Montauk. Along the way, Sunrise Highway turns into Montauk Highway, yet it is still known as Route 27.

By bus

The Hampton Jitney bus service runs from Manhattan to Montauk. There are also local Suffolk County buses that run from town to town.

By train

The Long Island Railroad (LIRR), run by MTA, is an alternative to driving. Most trains runs from Jamaica station in Queens, where it's an easy change to other trains from Manhattan and other parts of New York City. is located on Edgemere Rd, north of the city centre.

By boat
Seasonal ferry service runs between Montauk and Block Island, New London, and occasionally Martha's Vineyard. Marina's and anchorages are available for private yachts.

Get around

Once in Montauk, the most efficient and convenient way to see all the sights and destinations is by car. While some hotels are within walking distance to many sites, there are more that are spread out. Taxis are plentiful.

See
phone: +1 631 668-2544

address: 2000 Montauk Hwy

The Montauk Lighthouse is a historical lighthouse with a beautiful view of "The End" of Long Island. It is the easternmost lighthouse on Long Island.

phone: +1 631 668-2554

address: 164 Old Montauk Highway

A beautiful state park that has camp grounds, grills, and beach acces and natural areas. It offers families, couples, and individuals a great place to enjoy a day or even a weekend. Great outdoor recreation.

phone: +1 631 668-3781

address: 1898 Montauk Hwy.

Montauk Point State Park

Montauk County Park

Amsterdam Beach State Park

Shadmoor State Park
Do
There is plenty to do in Montauk. It is renowned for its fishing and even claims to have more saltwater fish records than any other port in the world. There are six state parks, the famed Montauk Point Lighthouse, and many restaurants, shops, and sights.
phone: +1 631-668-6668

address: 462 W Lake Drive

Fishing, whale watching, and other activities.

phone: +1 631 668-8975

address: 725A Montauk Hwy.

phone: +1 631-668-4473

address: Main Street

A family fun resort with mini-golf, a variety of boat rentals and an arcade.
Buy
Numerous specialty shops, restaurants, and markets line Main Street (Montauk Highway). It is here that you can find an array of goods, treats, and fresh, local seafood.
phone: +1 631 668-5520

address: 4 Edgemere St

phone: +1 631 668-2335

address: 778 Montauk Highway

Air & Speed Board Shop

phone: +1 631 668-0356

address: 795 Montauk Highway

phone: +1 631 668-6279

address: 695 Montauk Hwy

phone: +1 631-668-4599

address: 37a The Plaza

phone: +1 631-668-2772

address: 65 Tuthill Road

phone: +1 631-668-0772

address: The Plaza
Eat
Numerous restaurants for every taste are in Montauk. There is an abundance of fresh, locally caught seafood markets, restaurants, and bars. No matter what it is that you are looking for, fine dining or a casual eatery, you can easily find it in Montauk.
Naturally Good Foods & Café

phone: +1 631-668-9030

address: 38 South Etna Ave

Montauk Bake Shoppe

phone: +1 631-668-2439

address: 29 The Plaza

phone: +1 631 668-5574

address: 11 South Emery St

phone: +1 631 688-2410

address: 65 Tuthill Rd

Montauk Yacht Club Resort & Marina

phone: +1 631 668-3100

address: 32 Star Island Rd

Fishbar Montauk Seafood Restaurant

phone: +1 631 668-6600

address: 467 East Lake Dr
Drink
Bars and lounges are all around Montauk. Local bars are often frequented by fisherman and tourists alike.

Sleep
Montauk offers a wide array of hotels, bed & breakfast, and motels to accommodate all visitors. The interesting thing about Montauk is that you will not find any chain operated hotels or motels. This is because Southampton zoning laws forbid chain hotels. Therefore each hotel, motel, and bed & breakfast is independently owned and operated.
The Montauk Yacht Club Resort & Marina

address: 32 Star Island Rd

Has long been a destination for visitors to the shores of Long Island's South Fork East End.

phone: +1 631-668-2345

address: 290 Old Montauk Hwy.

Nestled among the dunes, Gurney's Inn Resort & Spa has, for eight decades, been a place for stressed New Yorkers to escape the pressures of the city. It has spectacular ocean views and is in a remote, wild, windswept setting, and also has one of the nation's few seawater pools.

phone: +1 631-668-5100

address: 71 S. Emery St

75 ft from ocean beach, located near the western end of the village. Amenities include 50-ft pool, bedrooms & efficiencies, w/phones, A/C, refrigerator, Wi-Fi Internet access, TV/HBO. All rooms non-smoking. Deluxe 2-1/2 room suites with full kitchen & private balcony; 2-bedroom cottage; BBQs. Children welcome.

phone: +1 631-668-2300

address: 95 S. Emerson Ave

Jacuzzis for two, ocean-view rooms & suites.

phone: +1 631-668-4400

address: 236 Edgemere St

Perched on one of the highest points in Montauk with stunning views, this wonderful old building is a historic landmark that has been restored and turned into a modern luxury resort hotel/condominium. The facility has a restaurant, tennis courts and indoor swimming pool and is within walking distance of town and the beach.

Hartman's Briney Breezes Motel

phone: +1 631-668-2290

Overlooking Montauk's beaches with great ocean view from all their recently renovated rooms, each with a terrace or balcony. They have 1- and 2-room accommodations.

Memory Motel

phone: +1 631-668-2702

address: 692 Montauk Highway

World famous motel & bar immortalized by the Rolling Stones in the mid-1970s. 13-room motel with moderate rates and bar which features live music.