Montecito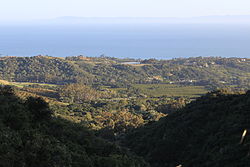 Montecito
is an upscale community in
Santa Barbara County
that is home to high end resorts and the rich and famous including Oprah Winfrey and Rob Lowe.
Eat
phone: +1 805 969-6964

address: 1255 Coast Village Rd, Suite 101

The deceptively straightforward menu of burgers, ahi tuna, and omelettes is raised to another level by excellent service and preparation. The outdoor patio seating is pleasant on sunny days (which most days here are). Dogs welcome. Vegetarian options available. There is also a full bar, and extensive wine list.

phone: +1 805 969-9059

address: 1280 Coast Village Rd

The restaurant serves popular and very good Mexican food.
Sleep
address: 1188 Coast Village Rd

Located in the tony Montecito area on the city's east side.

Four Seasons Resort, The Biltmore

phone: +1 805-969-2261

address: 1260 Channel Dr

Spanish Colonial with red roof tiles and adobe on Butterfly Beach. Also has a restaurant that is expensive but not universally praised.

phone: +1 805-969-7854

address: 1295 Coast Village Rd

Boutique lodging two blocks away from Montecito's Butterfly Beach. It was built in 1928 by Charlie Chaplin as an escape to paradise for his closest friends.
Go next
Santa Barbara - 5 miles (8 km) west of Montecito, the "American Riviera" is a historic mission city that is an incredibly popular getaway destination. Its wide beaches, highly rated wineries, luxurious resorts, art galleries, and a large variety of excellent dining choices, enable the town of just 90,000 residents to enjoy the sort of cultural and social amenities which are usually found only in much larger cities.
Carpinteria - This small oceanside town is 8 miles (13 km) southeast of Montecito and offers a salt marsh preserve, tide pools, and a seal and sea lion rookery that is active from December through May. During the first weekend in October Carpinteria plays host to nearly 100,000 visitors at its annual avocado festival, which features the world's largest vat of guacamole.