Montpelier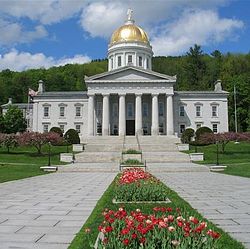 Montpelier
is the capital city of
Vermont
, the smallest state capital in the
United States
with a population of 7,855 as of the 2010 census.
Understand
Montpelier is the smallest state capital in the
United States
. It is also the only state capital that does not have a McDonald's restaurant. The local newspaper is the
Times-Argus
.
Climate
Downtown flooding has become more common in the last few years. While it is not a danger to people, some shops or roads in the downtown area may be closed for a few days in the early spring.
Visitor information
Get in
By car
A common way to get to Montpelier is by auto. It is located along Interstate 89. It is about 3 hours from
Boston
and
Montreal
.
By plane
You can also fly into
Burlington
, Vermont, which is about a 45-minute drive from Montpelier. Or, if it is a weekday, you can take the
bus from Burlington to Montpelier
.
By train
Montpelier stationAmtrak has the Vermonter passenger train with daily service between Washington, D.C., New York and St. Albans, Vermont. Unfortunately there aren't sidewalks for a good portion of the distance between the station and downtown.
By bus
Greyhound serves downtown Montpelier with buses that connect to Boston, Montreal, and Manchester NH airports. Buses stop in front of city hall at 39 Main St.
Megabus connects Montpelier with Boston. Buses stop at the Dog River Park & Ride, off of exit 8 on Interstate 89.
Get around
Walking - It is a very small town, so walking is an excellent way to get around from the State House and downtown area. You will find that people park their vehicle downtown and then can walk all of downtown and the State House area. Montpelier is a very compact town. Drivers are very courteous to pedestrians at the frequent cross walks you find in the downtown area.
Green Mountain Transit bus service covers Montpelier and other area communities. A Capital Shuttle operates seasonally.
See
Do
address: 1168 County Rd

Take a free tour of the sugar house and sample the maple syrup. You can even sample some of the different grades of syrup. It is open year round. March is when the maple sap flows and the syrup is made. Try the sugar on snow, maple sugar drizzled over shaved ice.

phone: +1 802 229-0598

address: 26 Main St

This is a small 130 seat theater for independent, alternative and foreign films. They also host the week-long Green Mountain Film Festival in March each year and have baby-friendly matinees on Monday.

Farmers Market

address: State Street

Produce from numerous organic gardeners and area farms. Flowers, baked goods, breads, herbs and also crafts.

address: City Hall, 39 Main St

See one of the theater productions or special programs that are available all year long.

Summer Evening ConcertsDuring the summer every Wednesday night. Free

phone: +1 802 223-7335

Hike to the top or drive and climb the 50-foot high tower to see a spectacular view from the highest point in the city.

phone: +1 802-223-5224

address: One Ballpark Rd.

Attend a Vermont Mountaineers baseball game. The Mountaineers are members of "The New England Collegiate Baseball League" (NECBL) and the league has all NCAA baseball players. Early June to early August. Tickets $4.00, Senior, Student or Military $2.00 and Family Ticket Pack $7.00. Good homemade burgers and hot dogs at the game.
Learn
New England Culinary Institute (NECI), +1-877-223-6334 (email:info@neci.edu), has a campus in Montpelier and operates the La Brioche bakery, Main Street Bar & Grill, and the Chef's Table.
Center for Arts and Learning, 802-595-5252 (email:info@cal-vt.org), is an arts and education center in downtown Montpelier which is committed to enhancing the cultural life of central Vermont through its founding member organizations, as well as embracing individual artists, musicians, and other non-profits in a collaborative and welcoming community.
Buy
phone: +1 802 229-0443

address: 89 Main St

Breads, pastries and cakes. Custom orders available. Open Monday through Friday 6:30AM to 7PM and Saturday 7AM through 5PM. Run by NECI, so the quality will vary as students are learning how to cook.

Cool Jewels

phone: +1 802 223-1718

address: 2 State St

Beads, rocks, crystals and jewelry. Stop and see the Ultimate Beadbox in the store window.
Book stores
Enjoy shopping the fine book stores in Montpelier, all within close walking distance.
phone: +1 802 229-0774

address: 77 Main St

New and used books for all ages and interests.

The Book Garden

phone: +1 802 223-2824

address: 50 State St

Buy used books and new, used and remainder books available.
Eat
Bagitos Bagel and Burrito Cafe

phone: +1 802-229-9212

address: 28 Main St.

Bagitos offers hand rolled and baked fresh-daily bagels with all the trimmings as well as burritos and tacos, great coffee, desserts, beer on tap and a selection of nice wines. Live music many nights of the week 6-8, a lively Irish session every Saturday 2-5 and old time music sessions once a month.

phone: +1 802 229-9202

address: 118 Main St

Lunch, dinner Tu-Sa. Fine dining and run by the New England Culinary Institute. Reservations are recommended for Dinner. Quality is extremely variable since the food is prepared by students. If you show up early in first week of the session don't be surprised if you get undercooked sides with burnt main dishes or vice versa.

phone: +1 802 229-9060

address: 83 Main St

Breakfast and Lunch Daily 6:30AM-3PM. Mom and Pop Dinner.

J Morgans Steakhouse

phone: +1 802 223-5252

address: 100 State St

Open daily 7AM for Breakfast, Lunch and Dinner. The kids will love to watch locomotives traveling throughout the restaurant. They also have a Sunday Brunch. The menu is fairly pricey for Montpelier, and the meals will run right up against the $50 ethics limit since this is a favorite spot for lobbyists to ply their trade when the Legislature is in session.

phone: +1 802 229-9348

address: 54 State St

On summer days sitting outside, this restaurant offers the best people-watching in all Montpelier. And the food's not bad, either.

phone: +1 802-225-6038

address: 72 Main St

A very good Mexican place (especially by Vermont standards) serving cheap lunches and dinners. It has a few seats, but it's mostly a carryout place.

phone: +1 802 229-0453

address: 22 State St

This upscale pizza & pasta place features trendy decor and many local microbrews on tap. Some of the best pizza in the state, though service can be very slow by American standards.

phone: +1 802-223-5217

address: 41 Elm St

phone: +1 802 223-0229

address: 3 Main St

Authentic Italian cuisine from a wood burning oven serving dinner seven nights a week plus lunch Monday thru Saturday.

phone: +1 802 262-2253

address: 89 Main St

They feature crepes made into main meals as well as fabulous dessert creations.
Drink
phone: +1 802 223-2721

address: 14 Langdon St

Another local hangout and sports bar. They have individual speakers that you can tune and listen to the game you are watching.

Charlie-O's

phone: +1 802 223-6820

address: 70 Main St

This is a real locals bar with pool table and a lot of character. No tabs and pay cash. Great place to meet the locals.

phone: +1 802 223-8277

address: 108 Main St

This bar features dozens of craft and micro brews from all over the place. Packed with locals.
Sleep
phone: +1 802 223-5252

address: 100 E State St

phone: +1 802 223-2727

address: 147 Main St

Doyle's Guesthouse

phone: +1 802 223-3535

address: 35 School St

phone: +1 802 223-5258

address: 101 Northfield St

phone: +1 802 229-0466

address: 74 E State St

The Lazy Pear Gallery and Guesthouse

phone: +1 802 223-7680

address: 154 Main St

Fully furnished apartments rented on a monthly basis.
Go next
Montpelier is an excellent place to stay and get out to see other area sites.
Ben and Jerry's Ice Cream Take a factory tour.
Cabot Creamery, in Cabot. See how cheese is made.
Church Street in Burlington. Great shopping, food and bars.
Rock of Ages Quarry, in Barre. The Quarry is located just a few miles from Montpelier. Take tours of an active granite quarry over 600 feet (182 m) deep.
Hope Cemetery in Barre, has tombstones of granite that are works of art and in some cases unique. Examples are a race car, soccer ball, a cube balanced on one corner, a biplane and a husband and wife that are side by side in bed overlooking their tombs.