Montreal/Côte-des-Neiges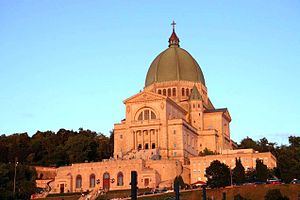 Côte-des-Neiges
is a multicultural neighbourhood in
Montreal
. The area is highly influenced by its proximity to the Universite de Montreal. The crowd is highly composed of students and immigrants. The Saint Joseph Oratory perches above the district.
Get in
Metro
You can reach Côte-des-Neiges from the Côte-des-Neiges and Université de Montreal Metro stations on the Blue Line and Côte Ste-Catherine and Snowdon stations on the Orange Line.

By bus
The 161 Van Horne runs from Rosemont metro, at the far north of the Plateau. From the south-west of the Plateau the 129 Côte-Ste-Catherine follows the edge of Mont Royal through Outremont. 165 Côte-des-Neiges covers the north-south route from Downtown.

See
phone: +1 514-733-8211

address: 3800 Chemin Queen Mary

The largest church in Canada, it is a favourite pilgrimage for devotees of Brother André, who was reputed to have healed the sick and handicapped. Includes a remarkable collection of crutches and canes from the healed. During the summer, it is also possible to stroll through the beautiful garden next to the Oratory which features the Stations of the Cross in marble sculptures. The garden is peaceful and beautifully maintained. The views from both the Oratory and the garden are magnificent and well-worth the climb. Watch for the faithful climbing on their knees to the top.
Cemeteries. Wander among the more than one million graves covering the north slope of Mont Royal. No bikes or picnicking:
phone: +1 514 279-7358

address: 1297 Chemin de la Forêt, H2V 2P9

Notre-Dame-des-Neiges Cemetery

address: 4601 Chemin de la Côte-des-Neiges

One of the largest cemeteries in Canada.
address: 2900 boul Édouard-Montpetit

The second largest university in Canada in terms of students, Université de Montréal is a French speaking university whose campus is mostly concentrated on the mount Royal, between the metro stations Edouard-Montpetit and Côte-des-Neiges. The Roger-Gaudry building, with it's tall tower and Art Deco architecture, is well worth a look. It is situated just in front of the metro station Université-de-Montréal.
The Montreal Holocaust Memorial Centre

phone: +1 514-345-2605

address: 1 Carré Cummings Square (5151 Chemin de la Côte-Sainte–Catherine)

The Montreal Holocaust Memorial Centre (MHMC) is dedicated to Holocaust education and awareness. It was founded in 1979 by a group of Holocaust survivors. The Centre's mandate is to educate people of all ages and backgrounds about the genocidal murder of six million Jews by Nazi Germany and its collaborators between 1933-1945.
Do
The Segal Centre for Performing Arts

phone: +1 514 739-2301

address: 5170 Chemin de la Côte-Sainte-Catherine

phone: +1 514-342-9988

address: 4880 avenue Van Horne

Indoor swimming pool.

Picnic in the parkRelax in the park with your lunch. There are several grocery stores nearby, as well as tons of restaurants who offer take out (mostly on Gatineau and Côte-des-Neiges).
Buy
address: 6700 chemin de la Côte-des-Neiges

Over 100 shops and services plus Cinema Odeon movie theater.

Victoria Ave

Queen Mary Road

Côte-des-Neiges road
Eat
The multicultural communities of Côte-des-Neiges are all well represented on the dining scene. This is the place to come for Kosher, Lebanese, Caribbean, Tamil, Vietnamese, Filipino, Russian and even Romanian cuisine. Cheap eats line Queen Mary, Decarie, Victoria and Côte-des-Neiges avenue.
Kosher
phone: +1 514 735-1836

address: 5071 ch Queen Mary

Kosher restaurant with Mediterranean (shawarma, falafel, merguez and the likes) and Chinese dishes. Really busy on weekend evenings.

Ernie's and Ellie's Place

address: 6900 boul Décarie

Kosher meat restaurant. Everything goes: Russian, Chinese, Moroccan, you name it. Regular "Canadian" kitchen isn't bad either. Food served very quickly. Decor is trying to be nice but misses some edge. It doesn't matter though, because this place gets customers no matter what happens.

phone: +1 514 344-0508

address: 5039 ch Queen Mary

Kosher restaurant with pizza, pasta, salads, sushi. fish, and more.

Expresti gourmet

address: 5335A chemin Queen Mary

Italian, Dairy and Parve

phone: +1 514 731-7482

address: 6415 boul Décarie

Kosher (and Cholov Yisroel) pizzas, pita sandwiches, burgers. Falafels are generously stuffed and fried eggplants give a tasty twist. Very popular with high schoolers and the frum set, especially on Saturday nights. One of the best veggie pizzas in Montreal.

Pizzeria Tatty

phone: +1 514 734-8289

address: 6540 ave de Darlington

Kosher pizzeria.

phone: +1 514 481-3111

address: 5395 ch Queen Mary

Kosher steakhouse and tavern.
Halal
phone: +1 514-270-0786

address: 768 Jean Talon Ouest
Budget
Exception 2

address: 5047, chemin Queen-Mary

Kosher dairy restaurant featuring thin crust pizzas.

Chez Jolee

address: 5495, ave. Victoria

Delicious Sri Lankan and South Indian meals and snacks, including dosa, kottu roti, string hoppers, idli, vada and more.

Al Amine

address: 3549 ave. Lacombe

Typical Montreal style "shish taouk" (chicken shawarma) Lebanese restaurant. Delicious and rather healthy fast food. They have great vegetarian/vegan options (falafel, vegetarian platter), pizza by the slice and Lebanese baklava.
Mid-range
Le Camélia des tropiques

address: 5024 chemin de la Côte-des-Neiges

Unusually good (for Montreal) Vietnamese food. Phõ, meats, seafood, and veggie curries. Ask for the "by-request" extra hot hot sauce.

phone: +1 514-739-3303

address: 5219 chemin de la Côte-des-Neiges

Relaxing bistro-cafe located inside a bookstore. Catch up on your reading over one of their featured dishes such as roulade de truite (trout paté), rabbit, or a salad and local cheese platter.

Restaurant Mavi

address: 5192, ave Gatineau

Authentic Portuguese restaurant, famous for it's charcoal grilled chicken. The fries are killer too! Eat your lunch at the restaurant or take it to go and picnic in the park on the other side of the street.

phone: +1 514-344-4952

address: 5711 chemin de la Côte-des-Neiges

Fantastic Thai and Vietnamese restaurant. Share a "volcanic island" with friends or enjoy your own table d'hôte.
Splurge
address: 5315 avenue Gatineau

You could easily walk by without noticing this subterranean Italian restaurant, but you'd be missing out on a secret gem. Standard pasta, meat, and seafood plus a few surprises like dandelion salad.
Drink
phone: +1 514-731-3666

address: 5414 avenue Gatineau

Restaurant and club. Also has a pool table. The food is pretty average.

phone: +1 514-733-0412

address: 5385 avenue Gatineau

Also serves food, very popular amongst university students. Karaoke on certain nights.

phone: +1 514-344-9009

address: 5400 chemin de la Côte-des-Neiges

Great Irish pub, also serves very good food, try the burgers (they have an exquisite vegetarian burger too). This pub has the best selection of beers in the neighborhood, with the usual pub beers (Guinness, Kilkenny), good local beers on tap (from Unibroue and Boréale) and an impressive selection of international (UK, Belgium) and local microbrew bottled beer. They also have hard cider, whisky and cocktails.
Sleep
Accommodations are limited in this area. The closest concentration of hotels and Bed and Breakfasts are located in the
Plateau
or
Downtown
.
Budget
phone: +1 514-343-8006

address: 2450 boulevard Édouard-Montpetit

Open May to 29 Aug, Studio Hotel offers 800 budget rooms next to University of Montreal. Modern, clean, shared kitchen, common rooms, and gym.