Montreal/East End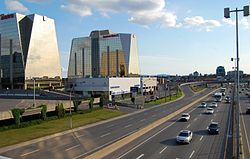 The
East End of Montreal
is composed of the
Montreal
boroughs of Rivière-des-Prairies–Pointe-aux-Trembles and Anjou, and the City of
Montréal-Est
.
Understand
Rivière-des-Prairies–Pointe-aux-Trembles
(population 106,000 in 2011) is a borough of Montreal composed of the districts of Rivière-des-Prairies and Pointe-aux-Trembles and also La Pointe-aux-Prairies. Rivière-des-Prairies joined Montreal in 1963 and Pointe-aux-Trembles in 1982. It has a population of 102,457. Rivière-des-Prairies is mainly composed of suburbs, multiple forested areas and fields. Pointe-aux-trembles is more urban and dense but remains suburban in nature. The third district, La Pointe-aux-Prairies, is a typical suburb composed of townhouses, condos and single-family dwellings witch makes it a destination of choice for young families that wish to remain on the island of Montréal. The Rivière-des-Prairies part of the borough is known for its high concentration of Italians in most of the neighbourhoods, and Haitians in the others. The Saint Lawrence River flows at the southerly border of Montreal, while the Rivière des Prairies River forms Montreal Island's northerly boundary with Laval.
Anjou
(population 42,000 in 2011) is a borough of Montreal that was a separate city until it was almalgamated into Montreal in 2002.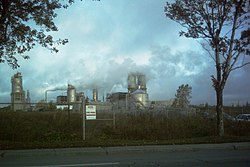 The City of
Montréal-Est
(population 3,850 in 2016) was founded in 1910 by businessman Joseph Versailles. As part of the 2002 municipal reorganization of Montreal, it was merged into the City of Montreal and became part of the borough of Rivière-des-Prairies–Pointe-aux-Trembles–Montréal-Est. After a change of government and a 2004 referendum, it was the only community in the eastern half of the Island of Montreal that de-merged, and it was re-constituted as a city on January 1, 2006. Montréal-Est is home to three refineries known as the Montreal Oil Refining Centre, which produces 386,000 barrels per day.
Get in
The public transit system, run by
Société de transport de Montréal
(STM), is safe and efficient. See
Montreal#By metro or bus
.
The Green Line of the Montreal Metro runs from downtown to Honoré-Beaugrand station in Anjou every 3–12 minutes, and buses will take you from their to other parts of the east end.
See
Vieux-Moulin de Pointe-aux-Trembles

address: Parc du Vieux-Moulin, 11630 rue Notre-Dame Est (at 2nd Avenue)

On the banks of the St. Lawrence River, the Old Mill is a witness of the seigneurial regime in New France. Built around 1720, this mill is one of the oldest and highest in Quebec. The history is explained through multimedia tools and fun animations.

Public art: The Sculpted Trees of Bout-de-l'ÎleAs part of the project, the borough produced sculptures from diseased trees that had to be felled. Two artists created seven works in three borough parks: Bout-de-l'Île Park, Moulin-du-Rapide Park and Pierre-Dagenais-dit-Lépine-dit-Lépine Park.

Island of PoetsThe Île aux poètes trail project aims to make poetry more accessible to the general public. In Rivière-des-Prairies-Pointe-aux-Trembles, Poets Island will take the form of benches set up in the borough's parks. These stone-filled banks from the banks of the St. Lawrence River, the Rivière des Prairies and Saint-Venant-de-Paquette are in symbiosis with nature and are places of contemplation. Plaques will be installed nearby, on which will be engraved poems of Montreal artists, from yesterday to today, in French and other languages.
Do
Club de Golf Metropolitain Anjou

phone: +1 514-353-5353

address: 9555 Boulevard du Golf, Anjou

Two 18-hole golf courses. "Aux Quatre Vents" restaurant open year-round.
Buy
address: 7999 Boulevard des Galeries-d'Anjou

175 stores, restaurants and services.

address: 7500 Boulevard des Galeries-d'Anjou

A popular public market, provides fresh produce and specialty products. Its farmers' stands, restaurants, and numerous shops are a magnet for crowds.
Eat
phone: +1 514-645-2009

address: 12585 Sherbrooke Rue E, Pointe-Aux-Trembles

Italian.

phone: +1 514-494-9953

address: 7300, boul Maurice-Duplessis, Rivière des Prairies

Portuguese grill.

phone: +1 514-678-6333

address: 7093 Jarry East, Anjou

100% Canadian beef, always fresh, never frozen. Steak is graded AAA, and properly aged.
Sleep
phone: +1 514-493-6363

address: 8100 Avenue de Neuville

Fitness centre, Italian restaurant, pets accepted for a fee, free Wi-Fi. Near Galleries dAnjou shopping centre.

Motel Le Paysan

phone: +1 514-640-1415

address: 12,400 Sherbrooke East, Pointe-aux-Trembles

2-star hotel. Pet-friendly accommodation. Free WiFi is offered throughout the property and free private parking is available on site. Every room includes a TV and a private bathroom fitted with a bath or shower. 24-hour front desk.