Montreal/North Island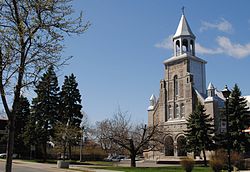 North Island
is a district of
Montreal
composed of these neighbourhoods:
Ahuntsic-Cartierville
Saint-Laurent
Saint-Leonard
Montreal-Nord
Villeray—Saint-Michel—Parc-Extension
Understand
Ahuntsic-Cartierville
sits on the banks of the Rivière des Prairies. It traces its history to the fortified Sault-au-Récollet settlement, which was established by the Sulpicians in 1696. This in turn led to the colonization of the area.
Saint-Laurent
is the second-largest employment hub within the metropolitan region, after downtown Montréal. It is home to the headquarters of Air Canada and Air Transat. Bombardier Aerospace has its Amphibious Aircraft Division in Saint-Laurent.
Saint-Leonard
has one of the highest concentrations of Italian-Canadians in the city. It has surpassed Montreal's rapidly gentrifying Little Italy as the centre for Italian culture in the city, with numerous cultural institutions and commercial enterprises serving the city's second-most populous cultural community. The borough is characterized by its spacious, wide-set semi-detached brick duplexes (and triplexes, four-plexes, and five-plexes — an architectural style unique to Montreal), backyard vegetable gardens, Italian bars (cafés), and pastry shops serving Italian-Canadian staples such as cannoli, sfogliatelle, lobster tails, and zeppole. At some times of year, it is possible to observe seasonal Italian traditions like the making of wine, cheese, sausage, and tomato sauce in quantity.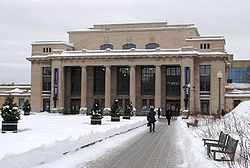 Parc Extension
or 'Parc-Ex' as it is known by the locals, is in the middle of Montrea. It is home to over 100 different ethnicities yet is mostly known for its Greek community which helped make the district what it is today. Montreal's Greektown has historically been located in the district of Parc Extension. Jean-Talon Boulevard, which runs through Parc Extension, is home to many Greek restaurants and shops. The same can be said for Parc Avenue.
Saint-Michel
is the home of Le Boulevard shopping centre and also is home to the headquarters of the world-renowned Cirque Du Soleil (Tohu la Cité des Arts du Cirque), and the Complexe environmental Saint-Michel. Saint-Michel is ethnically diverse: Italians, Haitians, Arabs, Asians, Hispanics as well as people of French descent (Québécois) represent the major ethnic groups of this inner city area.
Get in
The orange and blue lines of the Montreal Metro
Commuter rail of the Réseau de transport métropolitain
Autoroute 15 (Laurentian Autoroute/Autoroute des Laurentides) runs north-south
Autoroute 40 (Metropolitan Autoroute/Autoroute Métropolitaine) runs east-west
Autoroute 520
Autoroute 13
See
Parc-nature de l'Île-de-la-Visitation

phone: +1 514 280-6733

address: 2425 boul Gouin Est

Sault-au-RécolletOne of the oldest villages on the island of Montreal, it retains its village atmosphere with many houses dating from the 18th and 19th centuries. It was the original site of Fort Lorette, a trading post and mission for the conversion of the First Nations people of the area.

phone: +1 514-376-8648

address: 2345 rue Jarry Est

A centre for performance, creativity, experimentation, and convergence of culture, the environment and community involvement.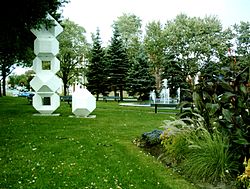 Pierre Granche's sculpture

address: Parc de Montréal-Nord
Do
Orioles de Montréal baseball team

address: Gary Carter Stadium (formerly Marcel-Clement Field) in Ahuntsic Park

Ligue de Baseball Élite du Québec team.
Buy
address: 9187 Boulevard de l'Acadie

Outdoor complex with outlet stores.

address: 3600 Boulevard Cote-Vertu Ouest

155 stores. Anchors are Canadian Tire, Marché Adonis, Sports Experts/Atmosphere, Dollarama and Uniprix.

address: 4270, rue Jean-Talon Est

70 stores including Canadian Tire.
Eat
Chez Benny Express

phone: +1 514-747-2070

address: 2075 rue Saint-Louis

Kosher fast-food restaurant with Mediterranean grilled meats.

Famous Pizza

phone: +1 514-744-4411

address: 2145 rue Saint-Louis

Kosher pizzeria.

phone: +1 514-504-7700

address: 96 Rue Fleury Ouest

Modern cuisine made from products of the market, often organic, and from the Quebec terroir. The menu varies with the seasons. Tasting menu and the food-wine pairings. Many of the dishes use vacuum cooking techniques and their in-house smokehouse.

phone: +1 514-254-4811

address: 5884 Jean-Talon Est

Wood oven pizza, pastas, gelato, Italian coffee.
Drink
Bar Pam Pam

phone: +1 514-279-9885

address: 491 rue Jean-Talon

A dive bar enjoyed for its cheap beer and pool tables.

Bar Le Grand Chapeau

address: 570 rue Jarry Ouest

Sports bar, billards, cocktails, Happy Hour 17:00-19:00.
Sleep
address: 9547 Basile-Routhier

B&B. 20-min walk to the metro. Free parking.

Le Gite de l'ecole

address: 8019 Casgrain Ave

B&B. 5-min walk to Metro Jarry. Free parking.

phone: +1 514-322-8640

address: 5250 rue Jarry Est