Montreal/Plateau
The Plateau
is a district in
Montreal
.
Get in

The Plateau is adjacent to the downtown core, so there are many ways to access it. Avenue du Parc, boulevard Saint-Laurent, rue Saint-Denis, and rue Papineau run north/south through the Plateau and are paralleled by dozens of side streets in between. East/west, rue Sherbrooke, avenue des Pins, avenue Rachel, avenue du Mont-Royal, and boulevard Saint-Joseph bisect the Plateau, with Mont-Royal carrying a lot of shops, bars, and restaurants. All of these streets are accessible by car (though Staint-Laurent is one way, going north) and served by many taxi companies.
Each of these streets and a few others are served by bus routes run by the STM. In addition, the Orange line of the Montreal Metro runs underneath rue Berri, adjacent to rue Saint-Denis. Sherbrooke, Mont-Royal, and Laurier Metro stations are also on the Plateau.
Bike routes are few but still useful. There are separated bike lanes on avenue Rachel from Parc Mont-Royal to boulevard Lafontaine and rue Brébeuf from parc Lafontaine to parc Laurier, and there are painted bike lanes along rue Saint-Urbain, rue Milton, rue Prince-Arthur, and rue Saint-Joseph. These lanes are generally not respected by Montreal drivers, so watch out. In addition, several of these lanes are not plowed during the winter, making them all but impassible following heavy snow.

See
Buildings
The most dominant architectural feature of the Plateau is the endless rows of Montreal duplexes and triplexes that house the majority of the Plateau's population. These buildings date from the early 20th century and, with their distinctive exterior staircases and wrought-iron ornamentation, have come to define the visual landscape of the Plateau.
In addition, there are a few buildings of note scattered around the Plateau. The Warshaw building (boulevard Saint-Laurent and rue Bagg) dates from the 1920s and was the Plateau's first skyscraper. Though it has only seven floors, it is a distinctive feature of the neighbourhood. Farther north, 4020 boulevard Saint-Laurent is recognisable by its impressive refinished neo-Art Deco exterior. Also, there are many large churches from the 19th century and the early 20th century. Most notable of these would be the oriental looking St. Michael the Archangel, located at 5590 rue Saint-Urbain at rue Saint-Vincent ouest.
On the southern end of the Plateau, on the edge of the McGill University ghetto, is the Galleries du Parc, a large 1960s-era urban redevelopment project. The Galleries are comprised of four large buildings, three of them devoted to apartments and the fourth devoted to office space. In addition, a former hotel, now a residence of McGill University, and an underground shopping complex are part of the Galleries project. The underground mall, though small, contains a variety of shops and services including the Parc Cinema, showing art-house and second-run films.
Parks
The Plateau is bordered on two sides by large parks. To the west is
Parc du Mont-Royal
, designed by Frederic Law Olmstead in the 1880s, and a dominant feature of the Montreal landscape. The park is well used for recreation, biking, hiking, cross-country skiing in the winter, as well as the weekly Tam Tams celebration during the summer months. Parc du Mont-Royal is safe and accessible by the adjacent
Parc Jeanne-Mance
, listed below, and by Ave du Parc. To the east is
Parc Lafontaine
, also listed below.
Parc Jeanne-Mance

address: between ave du Parc, ave du Mont-Royal, ave de l'Esplanade, and ave des Pins

Located in the western part of the Plateau, adjacent to Parc du Mont-Royal. At the corner of Mont-Royal and Parc is an art deco fountain dedicated in honour of Louis Rubenstein, the father of Canadian figure skating.

Parc Lafontaine

address: between ave du Parc Lafontaine, rue Rachel, ave Papineau, and rue Sherbrooke

Located in the eastern part of the Plateau, the park is well-manicured and includes an artificial lake, bike paths, sporting facilities, and an outdoor amphitheater. Very popular during summer.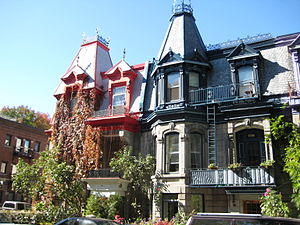 Carré Saint-Louis

address: between ave Laval, rue Saint-Denis, and the two sides of rue du Square Saint-Louis

A smaller park, Carré Saint-Louis is at the east end of the Prince Arthur pedestrian mall, next to rue Saint-Denis. Though a fraction of the size of either Parc LaFontaine or Parc du Mont-Royal, it is a popular and scenic local destination. Two fountains, bike paths, and easy access to a number of restaurants and shops provide a comforting background and a relaxing setting. On a side note, many of the gags on the television show Just For Laughs are performed in this park. The park is also notable for the colourful Victorian rowhouses that surround it.

phone: +1 514-843-8240

address: 1260 Chemin Remembrance

Has an artificial lake, many paths through the wood, and the best view on the city of Montreal.
Art
There are also examples of impressive urban tableaux and graffiti art found throughout the Plateau. The side streets to the east of boulevard Saint-Laurent are well known for this, particularly
avenue Duluth
.
Place Roy

address: rue Roy est and rue Saint-André

Public art piece in a small square featuring a stone map of the world and several scattered bronze chairs.
Do
The Plateau area is a great place to walk around, shop, go to restos and clubs, or just hang out. There is always something interesting happening here, a very cool ambiance. It borders Mile End and Latin Quarter, both very cool areas themselves. Just get off the orange line at Mont-Royal or Sherbrooke and start walking up St. Denis or St. Laurent.
Maison de la culture du Plateau-Mont-Royal

phone: +1 514-872-2266

address: 465 ave du Mont-Royal est

Exhibits local artists.

phone: +1 514-872-4041

address: in Parc Lafontaine near rue Duluth and ave du Parc-Lafontaine

3000-seat outdoor theater open for a summer program of dance, music, movies, and theater. Plan to line up early for the popular symphonies in the park series or just join the crowd of picnickers on the grass around the lake.
Festivals
Main MadnessTwo weekends each summer St-Laurent boulevard is closed to cars for the Main Madness street fair. More an overgrown sidewalk sale than fair, restaurants, and shops set up in the middle of the street.
Buy
Though shops are dotted throughout the neighborhood, there are a few principal commercial avenues. Boulevard St-Laurent, known as "The Main" or "La Main", is the largest and most famous, with a cornucopia of restaurants, shops, bars, and other services. Below Ave des Pins, St. Laurent tends to be more upscale, particularly at the junction of Ave Prince Arthur. Further north on St. Laurent there are a variety of clothing stores, hearkening back to the street's history as the center of Montreal's garment district.
As for price, the Plateau has experienced a long stretch of gentrification, which has pushed prices upward in many locations. However, there are still bargains to be found in main places, particularly for vinyl records, books, and second-hand clothing.
Clothing
Despite on-going gentrification, St-Laurent near Rachel and Mont-Royal west of St-Denis, still have a number of vintage and second-hand
frips
where you can pick up 1950s prom dresses and '70s T-shirts. Local designers have claimed several spots on St-Laurent including Blank.
phone: +1 514-843-5555

address: 4276 boul Saint-Laurent

Here you can find over 32 locally made independent Montreal designers; clothing for women, well made dresses, pretty accessories and a view into Montreal's fashion community. The owner is a passionate local designer who loves making people happy and finding the right piece for her customers.

phone: +1 514-288-7661

address: 4068 boul Saint-Laurent

A local designer boutique

Friperie

phone: +1 514-842-3893

address: 3976 boul Saint-Laurent

Vintage.
Music
phone: +1 514-842-0664

address: 3770 rue St-Denis

Used records and CDs.

Primitive

phone: +1 514-845-6017

address: 3828 rue St-Denis

phone: +1 514-284-7773

address: 112 ave du Mont-Royal est

Used CDs, records, and vintage T-shirts.
Eat
Coffee
address: 1251 rue Rachel est

Good coffee and espresso, plus maps, bicycle kit and free air. Outside seating and plenty of free bicycle parking.
Ice cream
Cremerie Meu Meu

phone: +1 514-288-5889

address: 4458 rue Saint-Denis

Ice cream and gelato is sold in this little shop.

phone: +1 514-373-7558

address: 3807 rue Saint-Denis

This artisanal ice cream shop sells gourmet organic products including tasty cakes. The sorbets like the handpicked rhubarbar or the "bleuets" are as good as the cofé or the chocolate choices.

phone: +1 514-842-1697

address: 3880 Boul Saint-Laurent

The little shop serves homemade ice cream.
Budget
Mid-range
phone: +1 514-281-1114

address: 536 ave Duluth est

Modern restaurant with casual ambiance. Huge meals. The place to go for lamb and original Quebec cuisine for a reasonable price; the poutine with foie gras is particularly (in)famous. Advance reservations strongly recommended.

phone: +1 514-849-8883

address: 93 Mont-Royal West

A classic for it's American brunch open since 1942, features a huge line-up. Regular people use to eat salmon bagels. The owner Hymne will seat you. While waiting you'll find postcards and reviews from all over the world including from Albert Prince of Monaco.

phone: +1 514-523-9396

address: 1499 ave Laurier est

One of the best unknown restaurants in Montreal. Prices are amazingly reasonable for the food quality. Iranian food.

phone: +1 514-843-3390

address: 150 rue Marie-Anne est

Portuguese grill.

phone: +1 514-843-4194

address: 4088 rue Saint-Denis

A treat for vegetarians, vegans, and those who love them. Chu Chai specializes in Thai cuisine made with soy or vegetable protein to simulate meat. The roast "duck" is delicious, and the tom yum gai (lemongrass soup with "chicken") warms the heart. A bistro and takeout counter next door called "Chuch" has the same dishes in a more casual setting and is "bring your own wine".

Eduardos

phone: +1 514-843-3330

address: 404 ave Duluth est

Good Italian restaurant, bring your wine!

phone: +1 514-844-7131

address: 506 ave Duluth est

Afghan. Bring your own wine.

phone: +1 514-523-8780

address: 922 ave du Mont-Royal est

Famous for their eggs Benedict.

phone: +1 514-522-4876

address: 1201 rue Rachel est

A seafood BYOB with a wonderful prix fixe. The maitre d' is friendly and knows everything about each fish and its preparation.

address: 4105 Boul St-Laurent

Highly rated kitsch-nautical-themed retro diner serving oysters and other tapas-style eats and offerings from a full bar, open late.
Splurge
phone: +1 514-271-3095

address: 104 ave Laurier ouest

Has a casual feel until you see the astonishing creations of master chef Marc de Canck of Belgium. The table d'hôte with wines is perfect in just about every way, but don't get it if you have to ask what it costs.

phone: +1 514-845-5333

address: 3927 rue St-Denis

A real French bistro with a zinc bar. Tartare, moules, quiche, rilettes. A splurge, but worth it.
Drink
The Plateau is full of watering holes and the best thing to do is just wander and discover for yourself. Starting west and moving east, Bar des Pins (formerly Pines Tavern and featured in Mordechai Richler novels) is famous with the McGill set for Tuesday night beer pong. On southeast corner of Prince Arthur and St-Laurent is Vol de Nuit, a good place to start the night, especially in warmer weather when the terrace is open. Boulevard St-Laurent from Prince Arthur to Mount-Royal has a good mix of bars and clubs, from classy to downright sketchy. Korova (named after the bar in "A Clockwork Orange") is up a flight of stairs, has great music, and is popular with the hippest kids around. Nearby, also on St-Laurent below Duluth, is Frappe, a bar and pool hall, and Jupiter Room. Further north, on the corner of Clarke (one west of St-Laurent) and Laurier Ave. is Dieu de Ciel, a brasserie that brews its own spectacular beer.
phone: +1 514-845-5392

address: 354 ave du Mont-Royal est

Bily Kun — the name is Czech, meaning "White Horse" — is an institution in Montreal's Plateau district. Dim lighting, candles, and a huge bar give an intimate atmosphere, but Bily Kun gets hopping after 10PM with Montreal's hippest Francophones practically every night. Some of the area's top DJs spin experimental or loungey techno, but there's really no dance floor to speak of. Bar staff is kooky and nice, even if no one can quite explain the ostrich heads lining the walls. Upstairs O Patro Vys from the same owners frequently hosts small shows and events.

phone: +1 514-499-0467

address: 4481 rue Saint-Denis

Very small and comfy watering hole in the heart of St. Denis near Parc du Mont-Royal. Velvet drapes, wood finish, and a chrome bar. Sometimes has live entertainment, which becomes a very intimate experience due to the small size.

phone: +1 514-284-3804

address: 4873 boul Saint-Laurent

Established in September 2000, Casa Del Popolo is Montréal's only family-run neighborhood vegetarian hot-spot! Part fair-trade café, part music venue, part bar, part foosball hall. The Casa and its sister venue, La Sala Rossa, frequently host touring indie artists. Shows are cheap (sometimes free!). Try the goat cheese sandwich!

phone: +1 514-849-7779

address: 9 ave Duluth est

Brewpub. Very good snacks and tapas in a beautiful decor, there's a second floor upstairs.

Bifteck

phone: +1 514-844-6211

address: 3702 boul Saint-Laurent

Some of the cheapest beer in town, served with some of the saltiest popcorn in all of Creation, consumed by bohemians and students from near and far (and the occasional honest-to-God rock star). Great place to start or end a St-Laurent pub crawl: to the south, you'll find trendy, relatively expensive places; to the north, some of the best dive bars anywhere. Or you can just stay and get tanked.

Go Go Lounge

phone: +1 514-286-0882

address: 3682 boul Saint-Laurent

It's on the trendier part of St-Laurent, it looks trendy outwardly, the martini menu is certainly hip and happenin', but there's something missing: attitude. Anyone is made to feel welcome here and if there's a velvet rope and a doorman, it's only because the place really is full.

Else's

phone: +1 514-286-6689

address: 156 rue Roy est

Small, cozy space with a great selection of draft beers and fine whiskeys. It's a restaurant, but you're better off eating elsewhere and just picking at the mandatory nosh (bowl of olives, etc.)

phone: +1 514-490-9555

address: 29 ave Laurier ouest

One of the best brew pubs in Montreal, it has a nice atmosphere for discussions between friends.

address: 141 ave du Mont-Royal est

Little hard to find, small door leads to the nightclub upstairs. Tip: find the door man!!
Sleep
Budget
phone: +1 514-843-8279

address: 4136 ave Henri Julien

Backpackers hotel with free breakfast and free wifi.

phone: +1 514-982-0030

address: 4420 rue Saint-Denis

Small, three room, bed and breakfast in a typical Plateau apartment building. Shared bathrooms.

phone: +1 514-661-0873

address: 438 ave du Mont-Royal est

European-style with shared bathrooms, free Wi-Fi.
Mid-range
Splurge
phone: +1 514-597-0166

address: 1301 rue Rachel est

Fun bed and breakfast with 25 rooms across the street from Parc Lafontaine.