Monywa
Monywa
is a city in Sagaing Division,
Northern Myanmar
.
Get in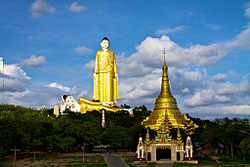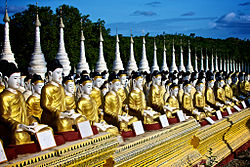 Non air-con bus is available from
Mandalay
(26th St, near 90th St). Trip takes about 3 hours including one break (20-30 min) for 2,000 kyat. It is probably safer to get the bus from bus station and have your seat booked. Bus appears to be quite frequent.
A local non air-con bus from
Bagan
leaves at 07:30 and takes about 3-4 hours including several stops. Can be booked at the bus station, and haggling can get the locals' price of 3,000 kyat compared to that 5,000 kyat charged by hotels. The bus can pick you up along the main road.
Get around
Tuk-tuks are widely available. A tuk-tuk from the bus station to the city centre shouldn't cost more than 1,000 kyat.

See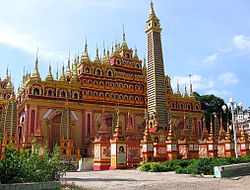 Boddhi TataungTwo big statues of Buddha and a golden pagoda which makes for a pretty amazing sight. One Buddha is standing and the another is lying on its side. You can enter the inside of the standing Buddha which consists of quite a few storeys. The images on the walls mostly depict visions of hell.

Thanboddhay PagodaBuilt between 1939 and 1952, the unique feature of this pagoda is its small sculptures of Buddha (said to be more than 500,000). There is a little tower just opposite the pagoda which can be climbed.
Buy
Mosquito repellent, there are many many mosquitoes so be prepared. You can buy repellent at every street shop. Odomos mosquito repellent is an Indian generic and costs only 700 kyat for a 100 ml tube.
Sleep
Golden Arrow HotelRooms look shabby, air-con cannot be adjusted and breakfast consists of cold fried eggs and toast. However the rooms are clean and has a fast Internet connection.

Monywa HotelRoom is not new, though fairly clean and equipped with new air-con. Bathroom is clean. Staff are friendly and helpful. Tuk-tuk ride from bus station to this hotel cost 2,000 kyat.

New hotel between the Clock Tower and Bogyoke StatueNew (May 2013), expensive-looking hotel with promotional offers. Extremely friendly staff.

Shwe Taung Tarn GuesthouseMost popular guesthouse for tourists in Monywa. However, the cheapest double rooms are rundown and unclean. No Internet.