Moose Jaw
Moose Jaw
is a city of about 34,000 people in
Southern Saskatchewan
. A popular tourist destination, it is about 45 minutes west of the provincial capital of
Regina
. During Prohibition (of alcohol) in the 1920s, its proximity to the US border and easy rail access made it a popular destination for alcohol-starved Americans.
Understand
Moose Jaw is an industrial centre and important railway junction for the area's agricultural produce. CFB Moose Jaw is a NATO flight training school, and is home to the Snowbirds, Canada's military aerobatic air show flight demonstration team. Moose Jaw also has a casino and geothermal spa.
Moose Jaw's winters are long, cold and dry, while its summers are short, but very warm and relatively wet. The coldest month is January, with a mean temperature of -12.3 °C, while the warmest is July, with a mean temperature of 19.3 °C. The driest month is February, in which an average of 11.1 mm of precipitation falls, while the wettest month is July, which brings an average of 63 mm. Annual average precipitation is 365 mm.
A resident of Moose Jaw is a "Moose Javian".

Get in
By plane
Regina International Airport. The nearest commercial airport. It has four gates which handle flights to major centres in Canada via Air Canada and WestJet, as well as regular flights during the autumn, winter and spring to Las Vegas, Phoenix and Orlando.

McEwen AirportOperated as an air force base by the Royal Canadian Air Force (RCAF), it is home to RCAF Pilot training and 431 Squadron, the Snowbirds, (the RCAF's air demonstration squadron). Prior authorization is required.

Moose Jaw Municipal AirportCivilian airport; no commercial service.
By car
Moose Jaw is on the Trans-Canada Highway (Highway 1 in Saskatchewan) and is 45 minutes west of Regina.
The city can also be accessed via Highway 2, which from the north links to Saskatoon and Prince Albert and to the south links with the US.
By bus
Rider ExpressBus service along the Trans-Canada Highway from Winnipeg to Vancouver, twice daily. Service from Medicine Hat, Swift Current, Regina, Whitewood, and Moosomin (Saskatchewan); Revelstoke, Salmon Arm, Kamloops, Hope, Abbotsford, and Vancouver (British Columbia); Calgary, Strathmore, Canmore, Lake Louise, and Banff (Alberta); and Brandon, and Winnipeg (Manitoba).
Get around
Route 1 - Mall, Superstore, Wal-Mart, Trailer Courts, Union Hospital, A.E. Peacock Collegiate
Route 2 – Saskatchewan Polytechnic, Sportsplex, Mall, Vanier Collegiat
Route 3 – Pioneer Lodge, Central Collegiate
Route 4 – South Hill Clinic, South Hill Mall, Extendicare, Riverview Collegiate
See
CFB Moose JawThe Canadian Forces Base south of the city is home to the Snowbirds, a team of plane pilots who perform aerobatic flight demonstration. The base is home to an annual air show every July, headlined by the Snowbirds.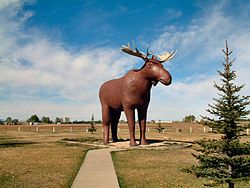 Do
phone: +1 306-693-5261

address: 18 Main Street N

Two-hour tours through the underground tunnels. The Chicago Connection tour covers the Al Capone era and bootlegging in the 1920s. The Passage to Fortune tour explains the Chinese immigrants and the head tax. Far from being simply a set of exhibits, the two tours are in fact interactive theatre productions where visitors interact with actors.

phone: +1 306-694-3726

address: 21 Fairford Street E

Casino Moose Jaw has over 200 slot machines, and table games. It is surrounded by 20 murals and décor inspired by the Roaring Twenties.

phone: +1 306-693-8097

address: 450 Diefenbaker Drive

Guests can take 1-hour-long daytime, guided, city tour. The tours covers various aspects of the city – must see attractions, heritage buildings, murals, and notable people who have helped shape Moose Jaw. Daytime tours leave from either the Visitor Centre or the downtown location. Friday and Saturday nights feature Ghost Tours and Tales of Murder aboard the Trolley.
Festivals: enjoy a host of arts and cultural festivals, such as the Festival of Words, Moose Jaw Band and Choral Festival, Music Festival, Motif, and the Moose Jaw Dance Festival.
Buy
address: 1235 Main St N

Includes Galaxy Cinemas.
Eat
phone: +1 306-692-6066

address: 23 High Street E

More than 70 flavours of chicken wings. 50 flavours of milkshakes.

phone: +1 306-692-5995

address: 65 Athabasca Street W
Drink
Cask 82

phone: +1 306-313-8282

address: 82 Manitoba Street W

Craft beer & cocktail lounge with a full menu and live music every weekend.

The Crushed Can Sports Bar & Nightclub

phone: +1 306-694-4900

address: 82 Manitoba Street W

243-seat warehouse style venue, specializing in sports entertainment and DJ Hollywood dancing. Licensed lounge & outdoor patio.

phone: +1 306-693-3300

address: 857 Thatcher Drive

Casual neighbourhood restaurant and bar.
Sleep
Budget
phone: +1 306-693-8888

address: 955 Thatcher Drive

40-unit motel with 30 family-friendly 2- and 3-bedroom suites with kitchens, washers and dryers. Kitchen equipped banquet/meeting room and large Quonset available for large gatherings.

phone: +1 306-693-3601

Located off the Trans-Canada Highway, this hotel is just minutes from downtown Moose Jaw. A microwave and refrigerator are featured in each room. Breakfast and free Wi-Fi are included.

phone: +1 306-692-1884

address: 45 Athabasca Street E
Mid-range
Splurge
phone: +1 306-691-2113

address: 401 Main Street N

Newly renovated 1928 historical landmark, centrally located in downtown Moose Jaw. Fine dining & lounge with corporate/banquet facilities available.

phone: +1 306-694-5055

address: 24 Fairford Street E

World-renowned geothermal mineral pools. The resort features 181 rooms, a spa, banquet facilities, a rooftop indoor/outdoor mineral pool, and is connected to Casino Moose Jaw.
Bed & Breakfast
Wakamow Heights Bed & Breakfast

phone: +1 306-693-9963

address: 690 Aldersgate Street

This historic home was built in 1902 by one of Moose Jaw's leading businessmen. Enjoy the private baths, jetted tubs, fireplaces, Wi-Fi and incredible breakfasts.
Camping
phone: +1 306-630-7909

address: 1100 Lakeview Service Road

110 full serviced sites. It offers easy access off Highway #1. It is close to many amenities.

phone: +1 306-693-8888

address: 955 Thatcher Drive

75 pull-through, full hook-up spaces, and 25 spaces with water and electrical.

phone: +1 306-692-2285

address: 300 River Drive

Located in the Wakamow Valley along the Moose Jaw River. Over 60 sites, most with water and electric hook-up. Within walking distance of downtown Moose Jaw.
Connect
phone: +1 306-693-8097

address: 450 Diefenbaker Drive
Nearby
Caronport
Caronport is a town of 994 largely based around the Briercest Bible College and Seminary, located west of Moose Jaw on the Trans-Canada Highway
See
Briercrest College and Seminary

phone: +1 306-756-3200

address: 510 College Drive

Briercrest College and Seminary is a private evangelical post-secondary educational institution, comprised of a college and a seminary, and operates the Caronport High School. The centrepiece of the campus is the 2,400-seat Hildebrand Chapel; the largest church auditorium in the province. Facilities also include a 25,000-square foot library, nine student dormitories, a hotel, recently renovated dining hall, double-court gymnasium, ice rink, numerous sports fields, Subway restaurant, and two coffee shops.
Hildebrand Chapel

phone: +1 306-756-3272

address: 510 College Drive,

The village's centrepiece, it is named in honour of Henry Hildebrand, founder of the college and long-serving president.
Sleep
phone: +1 306-756-5002

address: 310 College Drive

42 rooms and suites
Mortlach
Mortlach village located about west of Moose Jaw on the Trans-Canada Highway.
Besant Trans-Canada Campground

phone: +1 306-756-2700

address: Highway 1

Stocked, spring-fed pond and sandhills. Large, well-treed campsites. Natural swimming area. Home of Sandy Creek Gospel Jamboree, Run to Besant Car Show and Connect Festival. Open May 1 to Sep 15.
Tuxford
Buffalo Pound Provincial ParkThe park centres on Buffalo Pound Lake. Seasonal recreation activities include swimming (two public beaches and a pool), camping, fishing, mini-golf, biking, hiking, and access to the Trans-Canada Trail. The park also features a captive herd of bison, along with the Nicolle Flats Marsh where a variety of wildlife can be observed. There is also a trout pond, known as Buffalo Pond, which is stocked with rainbow, brown and tiger trout.
Go next