Moosonee
Moosonee
is a town of 1,725 people (2011) in
Northern Ontario
, referred to as the "Gateway to the Arctic" and is Ontario's only saltwater port where goods are transferred from trains to aircraft and barges to more northerly communities. Although it is on the same latitude (51° N) as
Calgary
,
Saskatoon
,
London (UK)
, and
Berlin
, it is still an isolated community as there is no road access.
Understand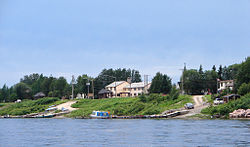 History
The first European-Canadians to settle at Moosonee were Annie Hardisty and her two daughters in 1900. However, the place was not fully developed until 1903 when a crew of 21 fur traders of Revillon Frères arrived to establish the Moose River Post, which became their most important location. It was quickly expanded with a staff house, carpenter's shop, warehouse, and sawmill. Although this outpost was prosperous, it remained isolated with supply ships only arriving once a year from
Montreal
and mail only arriving four times a year. Scows that travelled along the Pagwachuan, Kenogami, and Albany Rivers from Pagwa were the only supply lines for Moose River Post until 1932. In that year, the Temiskaming and Northern Ontario Railway was extended to Moose River Post from
Cochrane
, and the town was renamed Moosonee from the Cree word
Moosoneek
meaning "at the Moose (River)".
In 1936, Revillon Frères sold its Canadian operations to the Hudson's Bay Company and the Moosonee post closed. The HBC also exited the fur trade and opened a retail store in Moosonee (now Northern Store part of the North West Company). With the end of the fur trade business, Moosonee's economy became centred on transportation.
In 1962, Moosonee became the site of Royal Canadian Air Force Station Moosonee that was part of NORAD's Pinetree Line chain of radar stations. It closed in 1975 and some of its buildings were used by the town after the closure, including the base swimming pool and recreation centre.
In 1968, the town was classified as a Development Area Board. In November 2000, it was incorporated as the Town of Moosonee.
Climate
Moosonee experiences a humid continental climate, generally featuring long cold winters and short warm summers, with James Bay acting as a thermal reservoir to moderate spring and fall temperatures. Freeze-up on the Moose River normally occurs between late November and mid-December, with mean daily minimum January temperatures approximately −27 °C (−17 °F). Spring break-up, or spring thaw, usually occurs in April. Mean annual precipitation is approximately 682 millimetres (26.9 in), and mean annual snowfall is approximately 213 centimetres (83.9 in). Severe thunderstorms can occur from time to time.
Get in
By plane
Moosonee AirportAir Creebec provides scheduled air service from Moosonee airport to Attawapiskat, Fort Albany, Kashechewan, Peawanuck, Timmins, and Waskaganish as well as general aviation and air charter services for propeller and turboprop aircraft. Seaplanes arrive and depart from the Moosonee Water Aerodrome.
By train
The
Ontario Northland Railway's Polar Bear Express
passenger train from
Cochrane
is the main method of access to Moosonee, which operates six trains per week during the summer months and five trains per week during the rest of the year.
phone: +1 705-336-2210

address: Gardiner Rd

Wi-fi is available at the station.
By car
There is no road access into Moosonee except for winter ice roads to Moose Factory, Fort Albany, Kashechewan and Attawapiskat, which are mostly used by trucks for mining operations. The nearest all-season road is 150 km south in Otter Rapids.
Get around
Northway Taxi, +1 705 336-3000
Taxis, +1 705 336-2521
Two Bay Taxi, +1 705-336-2944
See
Notable attractions in Moosonee include:
Railway Car MuseumIt displays the cultural history of the area in an old baggage car of the Temiskaming & Northern Ontario Railway.

MNR Interpretive CentreIt displays and videos at the office of the Ministry of Natural Resources highlighting the wildlife, geological, and geographical features of the region.

Revillon Frères MuseumIt explains the history of the Revillon Frères company (closed).
Do
Self-guided bicycle tour

Annual Pow-wow (February)

Local hockey tournaments

Excursions to the bird sanctuaries of Shipsands Island and the Southern James Bay

Absolutely nothing!You are about as far away from the hustle and bustle of city life as possible, so why not enjoy the relaxed pace of life that the locals are accustomed to.
Buy
phone: +1 705 336-2280

address: 20 First St

Food and general merchandise.
Eat
phone: +1 705-336-3729

address: 6 First St

Diner.

Quickstop Restaurant

phone: +1 705-336-3144

address: 20 1st St

KFC and Pizza Hut take-out.
Sleep
Tamarack Suites and Lodging

address: 21 Wabun Road

address: 51 Gardiner Road

address: Moose Factory

Steeped in Cree culture and history, the accommodation features a modern rooms and facilities, all made of natural products and named after animals of the sub Arctic region. The on-site restaurant is modelled after a traditional Cree dwelling, the Shabatwon, meaning long teepee with doors at each end.
Connect
Ontera
, formerly Ontario Northland Telecommunications, provides postpaid telecommunications service in Moosonee (+1-705-336 exchange). Digital cellular service is available for Moosonee and Moose Factory (only) using GSM on the 850 and 1900 MHz bands.
Wi-fi is available at the railway station.
Go next
Moose FactoryAccessible by water taxi in the summer ($15 one-way) and by ice road in the winter (usually December to March; taxi $10 one-way). During the spring ice break-up and fall freeze in the river, accessible only by helicopter ($40 one-way).
phone: +1 705 336-2987

On four islands between Moosonee and Moose Factory in the Moose River Estuary. There are 20 sites on the island campground.