Mora (Sweden)
Mora
is a city in the
Dalarna
province in
Sweden
. It is situated by the lake Siljan, the sixth largest lake in Sweden. The municipality of Mora has about 20,000 inhabitants.
Understand
Due to its strategic location on the isthmus between the lakes Siljan and Orsan, with the Dalälv river as a major communication route, the area has been populated as early as the 7th century AD. Several archaeological discoveries from around 1000 AD tells of a rich
Viking-era
culture built around fur hunting, fishing and iron processing.
The name "Mora" is first used in written sources in 1325. The word itself is the plural user of the dialectical word 'mor', meaning "dense forest on damp land". Mora became an important place in Swedish history during the 16th century, when it supported Gustav Vasa in the Swedish war of independence from the Kalmar Union, 1521-1523.
Mora became industrialized during the latter part of the 18th century with the production of Mora clocks. During the 19th century Mora instead became a producer of knives, faucets and ice drills.
Tourist office
phone: +46 248-79 72 00

address: Köpmannagatan 3A
Get in
By train
The easiest way to reach Mora is by road or by train. is about four hours from the capital
Stockholm
. Bus is in general the cheapest way of reaching Mora from other cities. The biggest intercity bus company is
Swebus Express
. Mora is the final station of Dalabanan, which continues towards
Stockholm
. Railway tickets can be bought at the website of the Swedish railway company
SJ
. Regional trains are operated by
Tåg i Bergslagen
. Buses and trains both stop at the railway station which is a short walk from the city centre and the hotels there. Mora is an important stop on
Inlandsbanan
By car
Highway E45 (also known as
Inlandsvägen
) from
Gothenburg
passes by Mora, continuing north towards
Karesuando
. Mora is connected to E45 via route 26, which meets the E45 by Johannisholm, some south of Mora.
Route 70 leads from Mora to
Rättvik
, where it is branched into route one route which keeps the name 70, and continues towards
Enköping
, and route 69 which will take you to
Falun
. From Enköping you can continue toward
Stockholm
via the highway E18, and from Falun you can easily continue towards
Gävle
and
Uppsala
.
Get around
Mora is small enough to be explored on foot, however there is a local
bus
network handled by
Dalatrafik
. The price for a bus ticket is 17 kr. If you drive a car, parking is free on many streets.
Taxis
are pricey, as always in Sweden.
Mora Taxi
is reached on +46 250 15000.
See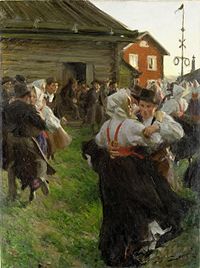 The Dalarna province is by many considered to be the very essence of Sweden, and Mora is a strong contributor to that fact. This is the home of the
Dala Horse
, the most famous Swedish souvenir there is.
Nusnäs (10 kilometers south-east of Mora. To get to Nusnäs from Mora, take bus 108 from the railway station in Mora) The village of Nusnäs is the place where the Dala Horse is made. These small wooden horses have been around since the 17th century. They are normally painted orange or blue with symmetrical decorations known as kurbits painting. The horses are carved and painted in workshops open for tourists, and you can buy a carving kit of your own or even try to paint one yourself. Dala Horse workshops in Nusnäs:
phone: +46 250 37200

address: Edåkersvägen 17

phone: +46 250 37250

address: Edåkersvägen 24
phone: +46 70-634 34 63

An open-air museum about forestry and Mora's industrial heritage.
phone: +46 250 28770

address: Gesundabergsvägen 80

Mora is, along with for instance the North Pole and Rovaniemi in Finland, claimed to be the home of Santa Claus. The Santaworld theme park is 17 km south of Mora by the Gesunda Mountain. It is a village of wooden houses with actors dressed as Santa, his helpers, trolls and the like. No Disney-style park based on a lot of rides. During high season, which means summer and the weeks before Christmas, the entrance fee is around 140 kr. During low season there are fewer actors present (sometimes none at all) and tickets are cheaper.
phone: +46 250 39225

address: Vasagatan 30 (Vasaloppets hus)

A museum dedicated to the race. It has exhibitions about great skiers and interesting events during the 80-something years the race has taken place. Entry for adults is 30 kr, and that includes blueberry soup - the energy drink of choice for Vasaloppet racers.
phone: +46 250-59 23 10

address: Vasagatan 36

Is the former home of one of Sweden's most famous painters, Anders Zorn (1860-1920). Together with Carl Larsson (whose home can be visited in Falun) he is the artist who has had the strongest influence on the image of Dalarna and Sweden. The main part of Zorngården consists of Zorn's home and a museum with his art, but there are two other museums that also are part of the Zorn Collection. Gammelgården is in the southern part of Mora and consists of 40-something timber houses that Zorn bought to make sure that the old art of building such houses wasn't forgotten. Gopsmor, Zorn's refuge when the pressure got too high, is in the municipality of Älvdalen and is only open for visitors in July.
Do
Ice hockey is popular in Mora. The local team Mora IK remains the arch rival of Leksand, the traditional hockey superpower in the province. In recent years the two teams have been rollercoasting in and out of the top league, SHL, and as of 2013 Mora plays in the second league, Hockeyallsvenskan. During the hockey season (September-March) you can join the crowds in FM Mattsson Arena. Tickets can be purchased at the tourist agency. If you want to stand with the hardcore fans a ticket is 125 kr, if you prefer sitting down prices range from 180 kr to 295 kr.

VasaloppetThe world's third longest cross-country skiing race, takes place every year on the first Sunday of March. It is a memory of how Swedish king-to-be Gustav Vasa went on skis between Mora and Sälen, where he was talked into staying in Sweden and lead the fight against the Danes. The memorial race goes in the opposite direction and around 16,000 skiers try to make it from Sälen to the goal in Mora, a distance of 90 km. The goal now stands in the middle of Mora (Vasagatan, near the corner with Björnramsgatan) all year round, a portal consisting of two red pillars and a banner with the classical inscription "I fäders spår - för framtids segrar" ("In fathers' tracks - for future victories"). The event itself has grown into Vasaloppet's Week (Vasaloppsveckan), an entire week in late February filled with ski races and other activities.
Buy
Might as well get that Dala Horse immediately. You can run but you can't hide.
A more useful memory of Mora would be a Mora knife, the weapon of choice for Swedes whatever task needs to be fulfilled. You will for instance never see a Swedish soldier or construction worker without a Mora knife in his belt. Old style Mora knives have handles made of wood, but cheaper versions with plastic handles are available as well. The knives are made by two Mora companies: Frosts and Mora of Sweden. Mora of Sweden has an outlet store.
Eat
phone: +46 250-152 40

address: Moragatan 1

A restaurant with Chinese food.

Lilla Krogen Pub & Restaurang

phone: +46 250-150 20

address: Strandgatan 6

General Swedish cuisine, along with pizza and a variety of different meals.

phone: +46 250-145 50

address: Skålmyrsvägen 35

By the Siljan shore line.

phone: +46 250-177 07

address: Strandgatan 19

By the Siljan shore line.
Drink
phone: +46 250 350 19

address: Tallvägen 10, 792 52 Mora

One of the few small family owned breweries in Sweden. It makes beer, cider, soft drinks and svagdricka. Some of their beers can be purchased at Systembolaget stores, the other products are sold in Dalarna and the adjacent regions, but are quite hard to find in other parts of the country. It is possible for groups to book a visit at the brewery.
Bars
address: Älvgatan 75

A dance- and night club

phone: +46 250-386 78

address: Vasagatan 38

A sports bar
Cafés
Sleep
Go next