Moravian Karst
Moravian Karst
(Moravský Kras)
is a Protected Landscape Area in the
South Moravia
region of the
Czech Republic
. It features numerous deep caves and gorges. Even though it is not listed as national park, it is often regarded as one of the most interesting natural sights in the Czech Republic.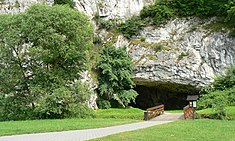 Understand
Moravian Karst is relatively small, with most of it lying in a triangle between the town Blansko and villages Sloup and Vilémovice. The majority of interesting sights is located in or near a valley called "Punkevní údolí," long.

Landscape
Moravian Karst is by far the most interesting karst area in Czech Republic. As such, there are numerous sinkholes (with the deepest being deep) and caves. Most of the caves here are connected together, creating a vast cave system called Ametérská jeskyně. This cave system is around long and is, as such, the largest in the region. Because of the karst landscape, there are also numerous deep valleys with interesting rock formations. The elevation of the whole area is between and above sea level. The main river is Punkva, which goes underground in many places, and you can even sail it on a boat in its underground section.

Flora and fauna
The area is covered by the usual spruce forest of the region, with the most interesting animals being probably roes, foxes or deer. There is a kind of flower which grows only at the bottom of Macocha Gorge.

Climate
The climate is mild, pretty much the same as in the rest of the Czech Republic.

Get in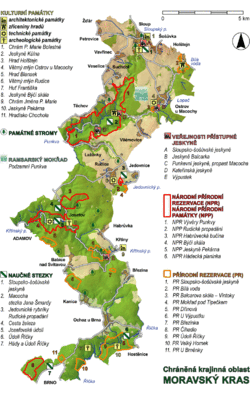 By train
The town
Blansko
lies on the main railway between
Prague
and
Brno
. As such, there are regional trains departing Brno every hour serving it. From Prague, there is a direct express train (Rychlík category) serving Blansko every two hours. The ticket from Prague to Blansko costs around 300 Kč, from Brno it is 41 Kč. If going from Prague, you can try buying a ticket to Brno instead of Blansko, which might save you up to 200 Kč - just check that the train stops at Blansko. You can check the timetable or buy the tickets at the
Czech Railways website
.
Blansko train stationThis is the bigger train station in Blansko, there is also Blansko-město train station, which lies more in the town center but further away from the main sights of Moravian Karst.
By car
If going by car, you will probably go via Brno, which is served by numerous motorways. From Brno, there are a few curvy roads that connect various towns and villages around Moravian Karst. You can park in the town and villages for free, or you can use paid parking lots near Macocha Gorge or in Skalní Mlýn village, which is only few hundred meters from the main sights.
By bus
The bus is useless when going to Blansko, as this town is served only by trains. However, if you do not want to walk the last leg from Blansko, a bus will take you almost to the main sights. All of these buses run from the main bus station in Blansko. Use
IDOS
to find the timetable.
Fees and permits
There are no fees to enter the area. It is forbidden to go outside the marked trails and roads, not to mention dangerous, as there are many steep cliffs here.

Get around
Information center Skalní mlýn

phone: +420 516 413 575

address: Skalní mlýn 96

An information center near the bus stop Skalní Mlýn

phone: +420 516 444 260

address: Vilémovice 6

An information center near the Macocha Gorge
By bus
Buses can take you between villages and sights of Moravian Karst. Most of these buses originate in Blansko. The bus stops are listed here under the same name as they are listed in the
IDOS
timetable. The fare is payable to the bus driver.
Blansko, Skalní Mlýn bus stopA bus station in Skalní Mlýn. Marked tourist trails further into Moravian Karst start here.

Vilémovice, Macocha rozc.2.0 bus stopThe nearest bus station from Macocha gorge, but you still have to walk to get there.
By foot
Moravian Karst is relatively small. It is around from Blansko to the main sights. There are numerous well-marked tourist trails. You will definitely have to walk from Skalní Mlýn to the Punkva Caves, as the road is forbidden to enter by car. Use
mapy.cz
in outdoor mode to see the tourist trails.
By cable car
There is a cable car from the entrance to Punkva Caves to the top of Macocha gorge, which saves you a very steep ascent. It costs 90 Kč.
See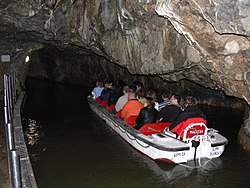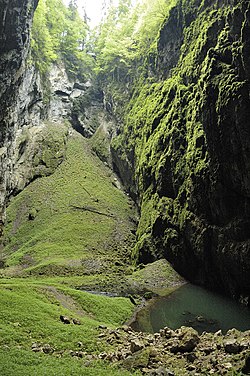 There are a lot of caves here. The most interesting of them are listed here and accessible only with a guide, but if you just wander around the area, you are likely to find many other smaller caves with free access. The guided tour is always included in the ticket price, so there is no need to get a guide anywhere other than the cave entrance.
phone: +420 516 418 602

A huge cave system shaped by the Punkva River, which is about long. You can only go there with a guide (included in the price). During the one-hour-long guided tour, you will see huge stalactites and caverns, get to the bottom of Macocha Gorge (otherwise inaccesible) and ride a boat on Punkva River which flows inside the cave. Definitely worth the journey. To secure your entry, write them an email, as the cave is heavily visited by tourists, especially in summer

Macocha GorgeA sinkhole deep, the deepest in the Czech Republic. There are two lookout places around it.

phone: +420 516 435 335

Another large cave offering one-hour guided tours. The entrance is located directly in Sloup village

phone: +420 516 444 330

address: +420 516 444 330

Located directly in Ostrov u Macochy village.

Ostrov u Macochy windmillA large, renovated windmill near the Balcarka cave in Ostrov u Macochy village.

The Moravian Karst House of Nature

phone: +420 516 414 826

A place offering a permanent exhibition about the nature of Moravian Karst.

Knight's caveA small, free accessible cave which used to serve as a castle during medieval times.

Blansek castle ruinsA rather large castle ruin in the forest above the entry to Punkva Caves. To get there, use the green marked hiking trail

phone: +420 602 729 084

address: Rudice ev.č. 90

Another large renovated windmill, a bit far from the main sights, with a museum inside.
Do
Hike - there are numerous marked hiking trails.
Bike - the main valley is accessible by its whole length. You can rent a bike at Blansko railway station.
Caving - the main caves are difficult to visit outside of guided tour using paved trails. If you want to do something more adventurous, go find some caves that don't have controlled access, as these are plentiful in Moravian Karst. You can also try writing the information center Skalní Mlýn and ask, if it is possible to visit some other parts of the caves (there have been rumors about such activities)
Buy
There are numerous supermarkets in Blansko and smaller supermarkets COOP in Sloup, Ostrov u Macochy and Vilémovice villages.

Eat
The listed lodgings also provide food; there should be lunch menus at least during the main season. Eating options are limited near Punkva Caves and Macocha Gorge, as there is only Chata Macocha. There are, however, restaurants located in the nearby villages.
Drink
You can get a beer at any restaurant, but there are no breweries or pubs worth mentioning.

Sleep
Lodging
phone: +420 516 444 250

An accommodation just next to the Macocha gorge. They also provide food.

phone: +420 516 418 113

An upper-class hotel located at the start of the marked trails, very close to Punkva caves

phone: +420 731 495 555

address: Blansko, Lažánky 73

Hotel Broušek

phone: +420 602 587 734

address: Sloup 248

A good-looking hotel at the end of Punkva Valley
Camping
phone: +420 721 239 489

Nearest camp from the sights, in Sloup village.

phone: +420 725 896 488

A large camp located a bit farther away from the area ( from Macocha), but located at the shore of a large fish pond, in which you can swim or rent a paddle boat.
Backcountry
Wild camping is not allowed and might be difficult, because of the steep cliffs and the area's small size.
Stay safe
Beware of steep cliffs. Over 80 people already died to falling from Macocha Gorge, albeit mostly cases of suicide. The caves are quite cold even in the warmest summer, so have some jacket prepared or you will get cold.

Go next
Brno. The second-largest city of the Czech Republic is away.