Morbihan
Morbihan
is in the
Brittany
region of
France
.
Cities
Other destinations
Understand
Morbihan is a region of Brittany rich in history and culture. The name mor bihan comes from the Breton "little sea" which is a reference to the inland sea of the Golfe du Morbihan, where an abundance of wildlife thrives, together with yachts and small boats meandering between its lovely islands. Just outside the gulf is the Atlantic Ocean, "mor braz" (big sea or ocean), where sailors once started their long voyages to the Orient.

Talk
People involved with the tourism industry will usually speak at least some English.

Get in
Ferry, St Malo or Roscoff:

By plane
Lorient Airport is the most accessible, and has connections to Paris and Porto.

Dinard Airport has direct connections to the UK with Ryanair.
Brest Airport has a wider variety of destinations in France and Europe.

Get around

Josselin - The chateau des Rohan
Pontivy - Napoleonic heritage trail
Vannes and Le Golfe du Morbihan

See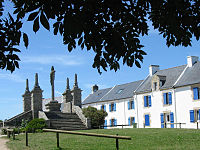 Menhirs and Dolmens- ancient standing stones and stone tables.
Religious buildings - Lot of churches, chapels, calvaries.
Itineraries
Chateaux
Museums
Nantes-Brest Canal
Brittany Beaches
Do
Eat
Seafood, oysters, mussels.
Buckwheat pancakes, crepes and desserts.
Ham and pork products.
Buttermilk
Artichokes and cauliflowers.
Drink
Stay safe
Swim at the safe beaches of Morbihan.
Beware of dangerous undercurrents in the Golfe du Morbihan.

Sleep
Morbihan lies in the middle of the four departments that form the region of Brittany and can offer accommodation beside the sea, or deep in the Breton countryside.
This department has a wide variety of hotels, pensions, bed and breakfast establishments, gites or holiday cottages, and campsites to offer the "vacancier".
Holiday Cottage in Morbihan: