Morgantown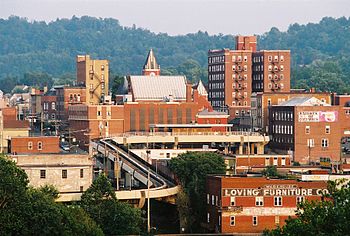 Morgantown
is in Monongalia County,
West Virginia
and is the county seat. It is home to the West Virginia University Mountaineers. It has been described as the #1 small city in America. Its main claim to fame is the Morgantown PRT, a "Personal Rapid Transit" system that was supposed to be the future of public transportation in the 1970s but found no takers elsewhere after cost overruns and delays.
Get in
By plane
By car
Major routes in and out of Morgantown include:
I-79, which runs in a north-south fashion through the eastern side of Morgantown
I-68, which runs in an east-west fashion through the southern side of Morgantown
WV 43, a section of the Mon-Fayette Expressway connecting the Morgantown area to Fayette County, Pennsylvania
US 119, which runs in a north-south fashion through downtown
US 19, which runs through downtown
WV 7
WV 705
Morgantown is:
77 miles (120 km) south of Pittsburgh, Pennsylvania;
385 miles (615 km) north of Charlotte, North Carolina;
528 miles (845 km) east of Chicago, Illinois;
218 miles (350 km) west of Washington, D.C.
By bus
Megabus. Service from Pittsburgh and Washington, D.C. Buses stop at Mountaineer Station, 1112 Van Voorhis Road.
Get around
The
PRT
(Personal Rapid Transit) is a unique urban rail system that provides the primary mode of transportation for students, faculty, and staff of the university, and for residents of the Morgantown area. There are five station stops: Walnut, Beechurst, Engineering, Towers, and Medical. The PRTs transport between Downtown Morgantown, the WVU Downtown Campus, the Evansdale Campus and the Medical Center Complex. $0.50/ride; free with WVU ID.
Regular hours (during school year): M-F 6:30AM-10:15PM, Sa 9:30-5PM. No Sunday service, unless the day before classes begin is a Sunday, in which case PRT runs on Saturday hours. No service on days when class is not in session. Extended hours for special events, most notably football and basketball games.
Summer hours: M-F 6:30AM-6:15PM, Sa 9:30AM-5PM.
The
Mountain Line
is a public transit bus system providing service in and around the city of Morgantown. The service is free to students, with nominal fares for the public. The city of Morgantown subsidizes the bus system, making the fares very affordable.
Since a lot of recreational activities are available close to one another they are easily accessible by
car
and
foot
. There is no need to worry about parking. There are four parking garages with a total of 1,600 parking spots in Morgantown. They are at University Ave and Chestnut Street, Pleasant Street, Spruce Street and Wharf Street.
See
phone: +1 304 293-5201

Monongahela Boulevard. Daily, dawn to dusk. 91 acres of forest with 3.5 miles of trails and 3 acres of lawns planted with specimen trees.

Dorsey's KnobAn excellent view of the Rolling Hills of West Virginia at no cost.
Museums
Do
Spectator sports
Movie theaters
Arts and entertainment
Outdoors
Buy
Glass
The Morgantown area has been home to over 30 glass factories over the past 100 years, including Seneca Glass, Monongahela Valley Cut Glass, Mississippi Glass, Pressed Prism Glass, Beaumont Glass, and others. There are only two glass factories left in the area:
Davis-Lynch Glass

address: Boyers Avenue

Most of their output is sold to lamp distributors, but some is offered for sale to the public at the L & G Lamp Shop.

Gentile Glass

address: 425 Industrial Avenue

The only place in the Morgantown area where you can watch glass being worked.

address: 709 Beechurst Avenue

Offers a collection of vintage Morgantown Glass, among other things.
Malls
address: 9500 Mall Road

Over 80 shops and restaurants, including: Aeropostale, American Eagle, Bath & Body Works, Finishline, Forever 21, Gamestop, Gap, Hallmark, Hollister, JCPenney, Kay Jewelers, New York & Company, Pacific Sunwear, Payless, Radio Shack, Sears, Sepencer's, and Victoria's Secret.

address: 5000 Greenbag Road

40 shops and restaurants.

University Town Centre

address: at Granville, 5001 University Towne Center Drive

Stores include: Sally's Beauty Supply, Maurice's, Petco, TJ Maxx, Old Navy, Target, Giant Eagle, Goody's, Bed, Bath & Beyond, Best Buy, Dick's Sporting Goods, Barnes & Noble, Sam's Club, Super Wal-Mart, Olive Garden, Cheddar's, Longhorn Steakhouse, Chili's, CiCi's Pizza, Evergreen Buffet. The development is also home to Monongalia County Ballpark, home to WVU baseball and the Black Bears.
Eat
Black Bear Burritos

phone: +1 304-296-8696

address: 132 Pleasant Street

Burritos of all ethnic cuisines, served in a unique Appalachian atmosphere.

phone: +1 304-292-0165

address: 321 High Street

Catch the spirit of Old Boston! Salads, entrées, clam chowder and more available.

phone: +1 304-296-2565

address: 52 Clay Street

Tuscan-inspired cuisine

Ali Baba

phone: +1 304-292-4701

address: Morgantown Airport (Hart Field), 110 Hart Field Road

Mediterranean and American menu, lunch buffet. Quiet atmosphere, ample free parking.

Yama Japanese Restaurant

phone: +1 304-291-2456

address: 387½ High St

Authentic Japanese cuisine, including sushi.

phone: +1 304-292-8999

address: 248 Walnut Street

Breakfast, lunch, and live entertainment.

phone: +1 304-241-4712

address: 456 High Street

California-style burritos and tacos.

address: 461 High Street

Gelatos, ice cream, and more sweet desserts.

Sandwich U

address: 236 Walnut St.

King of the Fat Sandwich.

phone: +1 304-212-5863

address: 202 High St

Upscale restaurant and bar in downtown, serving up tapas, prime beef and well-made cocktails.

Mountainlair Student Union

phone: +1 304-293-2702

address: 1550 University Avenue

The Mountainlair, or "Lair", houses a convenience store and more than 10 eateries, some of which include: Burger King, Freshens, Quizno's, Hatfields, and Sbarro. The Mountainlair also has a bowling alley and billiard tables on the ground floor.
Drink
Because Morgantown is home to a major university, downtown Morgantown nightlife thrives for those in their twenties to early thirties. High Street is the main center for bar activity. Similar student activity can be found adjacent to the main WVU campus in "Sunnyside". Don't expect this to apply to the summer months, however.
address: 2811 Stewartstown Road

Offering 29 white, red and fruit wines. Tours and tastings available, weather permitting.

West Virginia Distilling Company

address: 1425 Saratoga Avenue

Suite C. The first distillery in West Virginia, offering fresh unaged clear corn whiskey aka Mountain Moonshine, and an oak-aged version.
Bars and pubs
4th & Goal

phone: +1 304-225-2663

address: 234 Walnut Street

Weekly drink specials. Food, pool table, darts, beer pong. Inquire for private parties.

phone: +1 304-292-5936

address: 485 High Street

Weekly drink specials including a happy hour buffet and live entertainment with karaoke.

Lola's Cocktail Lounge

phone: +1 304-225-LOLA

address: 491 High Street

Upscale cocktail lounge

phone: +1 304 292-2511

address: 704 Richwood Ave

Morgantown's best known bar among students and alumni.

McClafferty's Irish Pub

phone: +1 304-292-1110

address: 1301 University Ave

Weekly drink specials. Food, darts, pool table, trivia.

address: 318 Richwood Avenue

Local, organic dishes updated seasonally. Huge microbrew and liquor list.

The Sports Page

phone: +1 304-284-0996

address: 325 High Street

Happy hour everyday from 5PM-8PM. Weekly drink specials. Food, pool and foosball table, TV and dance floor.

phone: +1 304-292-6959

address: 1291 University Avenue

Brewing 24 beers, ales, stouts, bitters and lagers. Serves good pub food. Try Ned's Pale Ale and the Appalachian Ale. Catering and private parties available.
Clubs
phone: +1 304-292-9590

address: 471 Chestnut Street

Two-level night club with food, drinks, DJ, and deck. Nightly drink specials. Must be 21 years to enter.

The Cellar

phone: +1 304-284-9969

address: 376 High Street

Drink specials until midnight. Dance floor and DJ. 18 to enter, 21 to drink.

de Lazy Lizard

phone: +1 304-296-0004

address: 345 High Street

Two-level night club including eight bars, DJ, and dance floor. Weekly specials. Must be 21 years to enter.

Karma Nightclub

phone: +1 304-292-9593

address: 335 High Street

Dance club with bar; must be 18 to enter, 21 to drink.

Ky's Lounge

phone: +1 304-413-0214

address: 491 High Street

No cover charge.

phone: +1 304-292-2010

address: 335 High Street

Local LGBT club.

X-Hale Hookah Lounge

phone: +1 304-241-1537

address: 218 Walnut Street

Relaxing hookah lounge with more than 70 different flavors of shisha tobacco. Private parties available.
Sleep
Best Western Mountaineer Inn

phone: +1 304-599-5399

address: 366 Boyers Ave

Indoor pool, continental breakfast, high speed internet, coffee maker, and iron.

phone: +1 304-292-8200

address: 127 High St

Historic hotel in downtown Morgantown, directly beside the historic Warner Theatre.

Euro-Suites Hotel

phone: +1 304 598-1000

address: 501 Chestnut Ridge Road

Upscale "green" facility. Internet and breakfast are free.

address: 150 Suncrest Towne Center Drive

Affordable prices that include free Wi-Fi, workout facility, and indoor pool.

address: 20 Scott Ave

address: 1046 Willowdale Rd

Full amenities directly across from Ruby Memorial Hospital and Milan Puskar Stadium.

phone: +1 304-296-1700

address: 2 Waterfront Pl

Overlooking the Monongahela River in the restored Wharf District.

phone: +1 304 296-9364

address: 225 Comfort Inn Drive

Free continental breakfast. Pets welcomed. Indoor hot tub and fitness center.
Learn
West Virginia University is home to more than 30,000 students. The annual tuition for residential students is about $5,500 versus an out-of-state student whose tuition is approximately $17,000. WVU has 13 colleges and schools offering over 190 degrees. There are three campuses within WVU: Downtown, Evansdale, and the Health Sciences. They also offer a study abroad program for students who are interested. The football and basketball teams promote a lot of school spirit to their fellow "mountaineers" when they are playing.
Go next