Morrisburg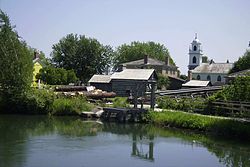 Morrisburg
is an village of a little over a thousand people in the
Seaway Region
of
eastern Ontario
between
Brockville
/
Prescott
and
Cornwall
.
Understand
This region is United Empire Loyalist country, much of it colonised by loyal British subjects in 1784, immediately after the American Revolution. The Battle of Crysler's Farm, an 1813 British-Canadian victory during the War of 1812, was fought in this area to preserve British control of the St. Lawrence River for shipping.
The McIntosh apple originated in this region, near Williamsburg. The construction of the St. Lawrence Seaway in 1958 flooded and destroyed several small villages between Morrisburg and Cornwall; the largest of these Lost Villages were Aultsville and Moulinette. Some historic buildings and structures from the affected region were relocated to Upper Canada Village, a pioneer village and living museum along the St. Lawrence in Morrisburg.
As of 1998, Morrisburg is no longer an incorporated municipality and local highways 2 and 31 have been downloaded as county roads.

Get in
Morrisburg is part of the
Windsor-Quebec corridor
, midway between
Kingston
and
Montréal
on Ontario Highway 2 or 401. It is on the CN Rail main line between Toronto-Montréal and on the St. Lawrence Seaway.
As this is a small village, most intercity bus or rail traffic will not stop en route from Toronto and Kingston to Montréal. A limited number of runs do stop in Brockville or Cornwall. There is also an unattended airstrip, but no scheduled air service to this location. The closest major airport is Ottawa (
YOW
).

By car
From Ottawa, Bank Street (old Highway 31) leads 65km directly to the village. From Toronto or Montréal, take Highway 401 to old Highway 31.
From the United States of America, cross by bridge at Prescott-Ogdensburg or Cornwall-Massena.

By boat
phone: +1 613-543-3254

address: 13740 Hwy 2, Morrisburg K0C 1X0

Marker 72 restaurant and patio, docking, fuel, laundry, pool, showers, picnic/BBQ, snacks and groceries, souvenirs, marine supplies, bike and kayak rental.
Get around
There is no public transportation in Morrisburg, although Quality Taxi +1 613-543-3252 and Casselman's Taxi +1 613-543-2062 operate in the village.

See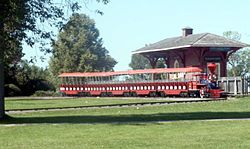 Do
phone: +1 613-534-2197

address: Fran Laflamme Drive

Village of ten heritage buildings moved from The Lost Villages to Ault Park and restored by The Lost Villages Historical Society. Includes a rail station from Moulinette, a village lost to flooding from St. Lawrence Seaway hydroelectric development July 1, 1958.

Prehistoric World

phone: +1 613-543-2503

address: Upper Canada Road, Morrisburg

Forested outdoor park with large and small statues of dinosaurs.

phone: +1 613-543-2003

address: 13745 Hwy 2, Morrisburg K0C 1X0

Bar and grill, pro shop, 18 hole public course.

phone: +1 613-535-2323

address: 12603 County Rd. 18, RR#1 Williamsburg K0C 2H0

18-hole semi-private course, driving range and putting green.
Buy
phone: +1 613-535-2463

address: 4326 Hwy 31, Williamsburg K0C 2H0

Bed & breakfast, wi-fi, tea room, antiques.
Eat
phone: +1 613-543-3871

address: 36 First Street, Morrisburg K0C 1X0
Sleep
McIntosh Country Inn & Conference Centre

phone: +1 613-543-3788

address: 12495 Hwy #2 East, Morrisburg K0C 1X0

59-room inn, wi-fi, whirlpool, sauna, exercise area, heated (seasonal) swimming pool, jacuzzi rooms available with fireplaces. Orchard Restaurant serving breakfast, lunch, and dinner daily. Meeting space for 5-120 people.
Connect
ONroute, a highway rest stop which is part of Highway 401, offers sixty minutes of free wi-fi.

Nearby
Iroquois
Directly upriver. Between
Prescott
/Cardinal and Morrisburg, Iroquois is one of the communities to which residents were displaced by Seaway flooding in 1958. These are tiny towns, although Cardinal is the main Canadian Coast Guard station in the area because of its position on the Seaway.
Go next