Morristown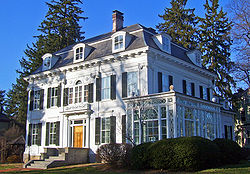 Morristown
is in
Morris County
,
New Jersey
.
Get in
There is a small Morristown airport, but it services private jets only.
Car is a good bet and generally the parking isn't especially miserable though on-street parking is often metered. Navigating the green can be a bit of a headache at times and depending on where you want to go, but it's nothing to lose sleep over. A range of exits off Highway 287 allow quick and easy access to different parts of the city.
The Morristown train station is generally well served by
NJ Transit
, where you can commute between New York City Penn Station in about an hour.
Get around
Most places in the heart of the city (the green) are easily accessible by walking. If you arrive by train you'll probably have to call for a taxi for going anywhere beyond the immediate area. Walking will serve you well otherwise. You can call ahead for a taxi 973-539-2500 or for a car service
Parking can be tricky:
The Morristown Parking Authority manages more than 3,200 public parking spaces. For day rates and permit information call +1 973 539-4810
The Headquarters Plaza Parking Lot has more than 2000 spaces available and can be accessible from the streets as indicated on the map. The lot is managed by Central Parking System.
The Epstein's Parking Lots are available for public parking. The three lots are accessible as indicated on
the map.
See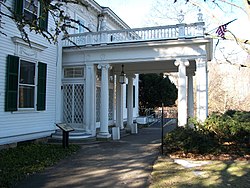 phone: +1 973 267-3465

address: 68 Morris Ave

This Historic House Museum is also the headquarters of the Morris County Historical Society. The house was built for the Schermerhorn family in 1853. The house contains most of the original interior and furnishing. The house is named for the over 200-year-old red oak that stood on the property.
Alstede's Farm: Stop in for fresh produce, visit the friendly farm animals or simply seek quiet solace and escape from the rat race by visiting the farm; they are dedicated to running a business that contributes to your quality of life
Catholic Church of the Assumption: was formed by Irish immigrants. For many years this church marked the heart of the "Little Dublin" neighborhood. This edifice is now the oldest church building in Morristown.
First Baptist Church: was the second church founded in Morristown in 1752 by a gathering of 17 people.
First Presbyterian Church: is one of Morristown's oldest establishments. George Washington reportedly worshiped and took communion here. During the American Revolution, the church became a hospital for soldiers. Technically, this is the fourth Methodist Church structure built in Morristown. The congregation outgrew the first two churches. The third church was dedicated in 1870. The building was destroyed in an enormous fire in 1972. This fourth Methodist church was reconstructed using stone from the tower and front wall of the third church.
Fosterfields Living Historical Farm. Explore a working farm and experience the chores of 19th-century farm life by helping churn butter, crack corn and tend the garden.
Frelinghuysen Arboretum: The 127-acre grounds include a number of stunning theme gardens as well as specialized collections of shrubs and trees surrounding a magnificent Colonial Revival mansion!

address: 333 Speedwell Ave

An area of restored buildings depicting life in the early 19th century including The Factory where Alfred Vail and Samuel Morse developed Morse Code and gave the first public demonstration of the telegraph.
Jockey Hollow Encampment Area: Home to 10,000 soldiers. Here you will see how simple huts housed as many as 12 men.
Macculloch Hall: boasts the oldest garden in Morris County. Incorporating original plants and landscape features, the garden displays includes 40 varieties of heirloom roses that have become a favorite of local artists. Lunch is served on the enclosed porch!

phone: +1 979 971-3700

address: 6 Normandy Heights Rd

Adults $8, children and seniors $6. Members free. Free admission on Thursdays from 5PM-8PM.
Schuyler-Hamilton House: Where Washington's aide, Colonel Alexander Hamilton, courted houseguest, Betsy Schuyler. The house-museum is now owned by the Daughters of the American Revolution.
Town Green: Used in the early 1700s as a pasture for animals and as a training ground for the local militia. Arnold's Tavern once stood on the west side and served as General Washington's headquarters during the winter encampment of 1777. A monument now stands at a corner of the Green entitled "Soldier at Rest" honors the men who lost their lives in the Civil War. Now shoppers enjoy downtown Morristown, as will you!
Wick House: Henry Wick and his family were prosperous and lived in a quite comfortable house whose style reflected their New England origins. In 1779-80 General Arthur St. Clair used the Wick House for his headquarters.
Do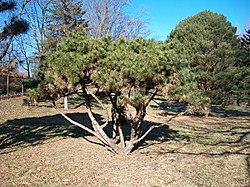 Morristown National Historical Park
For two critical winters of the American Revolution, 1777 and 1779–80, General George Washington chose the Morristown, New Jersey area as the main Continental Army's winter encampment. Because of its strategic location, the area continually served as the military capital throughout the war. During the 1779-1780 Jockey Hollow encampment, over 10,000 soldiers endured the war's most severe winter.
Morristown National Historical Park was established in 1933 to preserve and commemorate the story of the Continental Army struggling to survive during the American Revolution. The park consists of four non-contiguous units including the Washington's Headquarters unit, Fort Nonsense, Jockey Hollow, and the New Jersey Brigade area. The park features two original structures, Washington's Headquarters at the Ford Mansion and the Wick House in Jockey Hollow.
Park Headquarters, +1 973 539-2016.
Washington's Headquarters Museum, Morris Avenue (Rte 510).
1772 Ford Mansion, Morris Avenue (Rte 510). This was Washington's actual headquarters. Tours limited to 12 people at 10AM, 11AM, 1PM, 2PM, 3PM, 4PM. Adults $4, age 15 and under free.
Jockeystown Visitor Center, Tempe Wick Road, +1 973 543-4030. Every day 9AM-5PM. Slightly outside the city, off Route 202 you'll find the famous headquarters of George Washington: Jockey Hollow. One can go to see the camps and homes built hundreds of years ago, or just go for a nice relaxing getaway walk on one of the trails. There are 27 miles of horse or foot trails. The park also offers picnic areas and baseball fields. There is a two mile loop tour road. Be aware when driving in the park that the speed limits are aggressively enforced and that at times people will walk in the road and may not be visible over hills. Free.
Fort Nonsense 8AM-sunset. Hilltop earthwork fortifications ordered by General Washington. Nice views of the New York City skyline on clear days.
The Community Theatre
, 100 South Street.
Clearview Headquarters 10
, 72 Speedwell Avenue, +1 973-470-CLVW.
Comedy at Calaloo
- Comedy at The Calaloo Cafe every Saturday evening. Doors open at 8:30PM, show runs from 9-10:30PM
Morristown Events Page
- http://www.morristown-nj.org/todo.html
Buy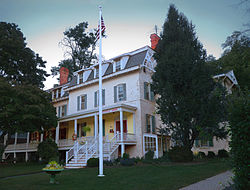 The Green is the central hot shot of shopping in Morristown. Century 21, a store that features designer clothing at low prices, (Carrie was shopping at one of the NY locations in an episode of
Sex and the City
) is the most popular large shopping center. However, there are many kitschy stores in the area.
Ginty's Irish Gifts

phone: +1 973 993-9788

address: 6-8 Dehart St

Lauen B. Women's Apparel

phone: +1 973 656-9599

address: 55 South St

The Nearly New Shop

phone: +1 973 539-4274

address: 7 King Pl

Pereaux Interiors

phone: +1 973 993-8255

address: 126 South St

phone: +1 973 401-9500

address: 1 Park Pl
Eat
There is an abundance of restaurants in Morristown serving pretty much every taste. Also, like most every other New Jersey city, has a diner which is open 24 hours a day. Near the train station the diner is nothing special among diners, but offers pretty good food at a good price and once again, as it is its main appeal, is open 24 hours a day.
phone: +1 973 267-4700

address: 67 morris street

Jazz brunch every Su 11AM-4PM. Kitchen is open until midnight daily Directions: http://www.georgeandmarthas.com/george-and-marthas-bar-restaurant-directions.aspx

phone: +1 973 451-2619

address: 2 whippany road

Upscale copeland: new American cuisine & martini bar in the Westin Governor Morris Hotel. Open daily for breakfast, lunch and dinner and an a la carte brunch is served on Sundays.

phone: +1 973 631-1100

address: 35 morris street

Closed Mondays; lunch: Tu-F (11AM-2:30PM) Sa Su (noon-1PM) dinner: Tu-F (5:30-10:30PM), Sa Su (5-11PM). very good Indian restaurant with delicious food, friendly attentive staff, and a quaint pleasant atmosphere which make this an enjoyable dining experience.

phone: +1 973 539-6666

address: One Convent Road (Madison Avenue)

phone: +1 973 539-1135

address: 12 Schuyler Place

Bonté Café and Wafflerie

phone: +1 973 267-5451

address: 78 South St

A contemporary European restaurant with Belgian influence. A classic European and Belgian menu, often using rare ingredients. Among the specialties are the delicious Belgian street-vendor style sugar waffles.

phone: +1 973 326-1800

address: 40 Park Place West
Drink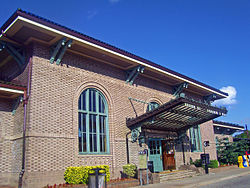 No lack of alcohol in Morristown as most restaurants feature bars.
When bars close at 2AM there is a heavy police presence and they take drunk driving and drunken fights very seriously. Behave yourself and you will have no problems.
Other nightlife spots worth checking out in Morristown include Tashmoo, the Dark Horse, the Funky Monkey, the Grasshopper, and the Muse.
Sleep