Morro Bay
Morro Bay
(population 10,000) is in
San Luis Obispo County
in the
Central Coast
region of
California
. The town is best known for the massive 581-foot (177 m) volcanic rock at the entrance to the harbour.
Understand
Climate
Get in
Get around
Morro Bay can be traveled on foot and isn't very car friendly. From Friday to Monday in the warmer months a free trolley shuttle runs the length of the Embarcadero (the main street along the waterfront) from larger parking areas at Morro Rock to the north of the bay and city marina at the south end of the Embarcadero.
By bus
phone: +1 805 772-2744

Provides a fixed bus route and a trolley that runs in the summer.
See
Morro Bay State Park Museum of Natural History

phone: +1 805 772-2694

address: Morro Bay State Park Rd

The only natural history museum in the State Park system, this museum focuses on the unique environment of Morro Bay and its estuary.

phone: +1 805 772-7647

address: 595 Embarcadero

Morro RockThe great sight is the surf at the base of Morro Rock (called "The Rock" locally) which is the lava plug remnant of an ancient volcano. A bayside walk completed in 2007 connects the Embarcadero waterfront to the ocean and harbor entry. The jetty that guards the bay mouth is a popular but dangerous surf vantage point, and one must take care with rogue waves which have killed visitors here. The Rock is a protected Native American shrine and home to endangered peregrine falcons.
Do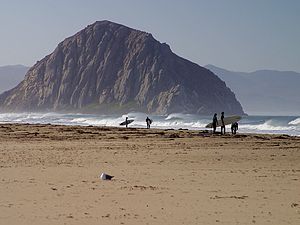 The Embarcadero is the main tourist area and lines the east side of the bay. It is a great walking experience along a working port and eco-tourist destination. A variety of marine life is here, from sea otters to sea lions, and the town is a declared bird sanctuary. Excellent deep sea fishing originates at the north end of the Embarcadero. A public park and boat launch are at the south end. RVs and mobile homes may day-park at either end. There is a giant chess board in the middle of Embarcadero Rd.
Popular surfing locations are to the north on easy access beach from free public parking and across the harbor entry to the north end of the sand spit that forms the west edge of the bay.
You can rent a kayak and explore the south part of the bay, which is one of the larger estuaries on the west coast. A favorite local tradition is to kayak from Morro Bay State Park or Embarcadero docks to the massive sand spit for a picnic.
To the north of town is the Morro Strand State beach which offers additional surfing possibilities and many locals with their dogs in a fairly open uncrowded setting. To the south of the town is Morro Bay State Park which includes an impressive public golf course set in pines on challenging hillsides with amazing views to the ocean and bay. A renovated public campground is available.
Art in the ParkMorro Bay Art in the Park is sponsored by the Morro Bay Art Assocition and is one of the oldest fine art and fine craft shows in the state of California; it's been running since 1955. Proceeds from the art show benefit high school art education in San Luis Obispo County. The show is held on Memorial Day weekend, Fourth of July weekend and Labor Day weekend.
Buy
Shops cater to the tourist trade with art, t-shirts and the like.

Eat
Dorn's Original Breaker's Cafe

address: 801 Market Ave

Has great views, and is both a popular and reliable choice, especially for older patrons.

phone: +1 805 772-2411

address: 901 Embarcadero

Delicious French dip sandwiches are hand-carved in front of you. This restaurant serves up German fare as well as the popular waterfront fish and chips and clam chowder options.

Taco de Mexico

address: 980 Main St

For an amazing carne asada burrito and authentic experience, head to Taco de Mexico for lunch. Referred to by locals simply as "Tacos De," this popular spot is easy, fast, and inexpensive, though lines can be out the door around noon.

phone: +1 805 772-5686

address: 2848 Main St

If you are looking for an escape from the often tourist-filled Embarcadero dining scene, follow Main Street to North Morro Bay. There you will find a great, family-friendly Mexican eatery with the best chips and salsa around (their salsa is bottled and sold in local grocery stores as well as in the restaurant).

phone: +1 805-772-1465

address: 10 State Park Rd

For additional waterfront dining, check out the Bayside Cafe, located at the local Marina. Offering outside and inside seating and a view of kayakers, this restaurant is great for small family gatherings or long conversations with friends. Try the catch of the day sandwich, which is almost always salmon cooked to perfection.
Drink
Liberty Pub: Live music and nice place.
Sleep
phone: +1 805-772-4483

address: 590 Morro Ave

Hotel features pillow top beds, balconies, fitness room, free hot breakfast, free wireless Internet, business center.

phone: +1 805-772-2772

address: 225 Harbor St

Rooms with ocean views, king beds, queen beds, and two beds. Free wireless high speed Internet, in room coffee makers, fridge, microwave, iron/ironing boards. Booking direct with hotel and save.

phone: +1 805-772-4435

address: 890 Morro Ave

Luxury rooms at affordable rates. Room with ocean views, free wireless Internet, in room fridge & microwave, coffee makers, pillow top beds, king & queen beds available. Free breakfast & fitness room.

phone: +1 805 772-3333

address: 220 Beach St

phone: +1 805 772-2212

address: 2460 Main St

phone: +1 805 772-4437

address: 260 Morro Bay Blvd

phone: +1 805 772-2711

address: 1095 Main St

Hotel amenities include free large-vehicle parking, free continental breakfast, and free Wi-Fi. The property is non-smoking, pet-friendly, and kids 17 and under stay free with an adult.

Econo Lodge

phone: +1 805 772-5609

address: 1100 Main St

address: 60 State Park Rd

It sits on 4,000 acres just inside Morro Bay State Park offering a coastal hideaway of natural beauty.

phone: +1 805 772-5641

address: 298 Atascadero Rd

Best Western San Marcos Motor Inn

phone: +1 805 772-2248

address: 250 Pacific St

Best Western Tradewinds Motel

phone: +1 805 772-7376

address: 225 Beach St

phone: +1 805-772-8521

address: 235 Harbor St
Go next
Cambria - 20 miles north on Highway One, Cambria offers visitors Moonstone Beach, home to tide pools and the semi-precious stones that give the beach its name. The town also offers an abundance of inns and hotels for those seeking a quiet weekend away.
Los Osos is south of Morro Bay, a little way off Highway 1 and closer than San Luis Obispo.
San Luis Obispo - 14 miles southeast of Morro Bay and almost exactly half way between Los Angeles and San Francisco, this small college town and its neighboring communities boast extraordinary resources for hiking, mountain biking, sea kayaking, swimming and surfing, outstanding natural beauty, a carefully preserved and thriving 19th-century downtown centered around a meticulously restored 18th century mission, a small but thriving art gallery scene, and a large and growing collection of top-quality wineries.
Atascadero - 18 miles to the northeast of Morro Bay, this town was founded in 1913 as a planned utopian colony, complete with an Italian Renaissance-style town hall surrounded by an expansive sunken gardens. The town hall and gardens remain today, and have been joined by the tiny Charles Paddock Zoo, home to 45 species including a pair of red pandas, Malayan tiger, and lemurs.

phone: +1 805 528-0513

address: 3550 Pechco Valley Road, Los Osos

This 8,000-acre park has miles of hiking trails, ocean fishing, a beautiful cove, and 50 primitive camping sites (i.e. vault toilets and water from tanks). Located about 6 mi (9 km) southwest of Morro Bay.