Mount Abu
Mount Abu
is the only hill station in
Rajasthan
, situated very close to the Rajasthan-
Gujarat
border, in the Aravali hills. The mountain forms a distinct rocky plateau 22 km long by 9 km wide. The Brahma Kumaris headquarters are located there.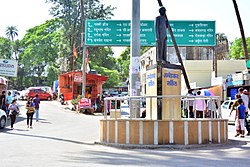 Understand
Climate
The end of the monsoon season is the best time to go to Mount Abu. After the rainy season the complete beauty of this place can be experienced due to the lush green surroundings. Take some warm clothes if visiting in this season as it gets a bit cold in the night.

By rail
Mount Abu
is a part of the
Sirohi
district of Rajasthan. The nearest railhead is Abu Road, about 25 km away, in the lowlands. Abu Road is on the railway line from
Ahmedabad
to Marwar Junction (onwards to
Jaipur
and
Delhi
or
Jodhpur
).
At Abu Road railway station, auto rickshaws and taxis are available as well as state transport and private buses to take you to Mount Abu. Most of these don't operate in the evenings due to local problems and this creates difficulty in finding transportation. Try to avoid travelling in the evenings.
By bus
There are daily bus services available to Mount Abu from cities like
Jodhpur
,
Jaipur
,
Udaipur
,
Baroda
and
Ahmedabad
.
By motorbike
Rent a bike in Mount Abu at around ₹200-300 per day (fuel charges extra). This offers a cheap and flexible mode of moving around the town. Exploring Mount Abu on a motor bike is probably the best option if you are an adventure lover. Every destination in Mount Abu is easily accessible by motorbike.
Car hire
You can rent a car for c. ₹1,000 per day which should get you to most of the tourist sights.
See
Achalgarh: A short distance away, a fort built in the 14th century by Rana Kumbha of Mewar. Also houses Jain temples, Achaleswar Mahadev Temple (1412 AD) and the Kantinath Temple (1513 AD). If you are an adventure lover then this place will provide you a good spot for hiking. Instead of taking usual routes hike for the temple and you will love it.
Adhar Devi Temple
Brahma Kumaris Meditaton Centre(Mount Abu is their world headquarters) They are very eager to preach their religion of peace and universal brotherhood. Visitors are offered free food and accommodation and they will show you their museum and the meditation methods.
Dilwara Temples: Beautiful Jain temples, carved of white marble, built between the 11th and 13th centuries.
Gaumukh
Guru Shikhar: At 1,722m above sea level, this is the highest peak of the Aravali range. This is one of the most beautiful spots in Mount Abu.
Gyan Sarovar
Honeymoon Point

Nakki Lake: A beautiful lake surrounded by hills on all sides. It is said that various gods dig the earth with their nails (nakh in Hindi) and that's how it derive its name. One can enjoy boating in the lake. Charges are normally ₹75 for half an hour for a 2 seater paddle boat and ₹150 for half an hour for a 4 seater paddle boat.
Peace Park
Shanker Math
Shri Raghunathji Temple
Sunset Point: At sunset point the view is mesmerizing.
Toadrock: A rock naturally shaped in the form of a toad due to wind erosion.
Trevors Tank: Trevor's Tank is a picturesque location just 5 km from the main town of Mount Abu, and one of the Mount Abu region's most popular tourist destinations. It is a nature lover's paradise that is named after the British engineer who built it.
Do
Enjoy the beauty of nature, spiritual university, and temples.

Eat
Mount Abu is a very good place for both vegetarians and non-vegetarians. There are lush restaurants like Mulbery in the Hotel Hilltone, the restaurant at Hotel Hillock and in the market area.
"Honest Restaurant" is near Nakki Lake.
There are many ice cream shops near Nakki Lake.
There are some roadside stalls serving tasty food but generally are not hygienic.
All types of pan are available at the pan shops across the hill station.

Drink
There are huge options for restaurants in which you take your bottles and relax with your drink. You can also order your meal there. It is nice place where you can drink and eat. There are three or four more restaurants which offer such a service.
There are two liquor shops in the main market near the Eiffel Tower.

Sleep
Akhey Vilas

phone: +91 982 902 1943

address: Near Gujarat Circuit House, Kumarwara

Dates back to 1924. Works as a small boutique hotel, or a private retreat in the hills. Families or small groups rent the bungalow for a personal and private experience. Consists of a living room, verandah, a dining hall and 6 guest rooms with attached baths, hot and cold water, LCD television with DTH services and other amenities.

Hotel Lake Palace

Hotel New Nakki Vihar

phone: +91 297 423-8481

A budget hotel with good and homely environment. Few rooms facing Nakki Lake as well. Always better to give a call before reaching to confirm the availability.