Mount Aso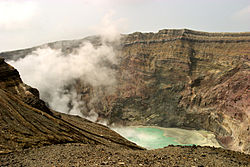 Mount Aso
(阿蘇山
Aso-san
), in
Kyushu
's
Kumamoto prefecture
, is a volcano that has one of the largest calderad in the world.
Understand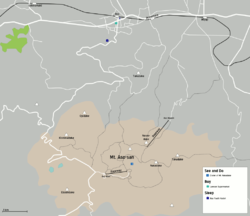 The active volcano of Aso brings a lot of tourists to the small town of Aso.
You can find
Aso Tourist Information
in Aso station or at
Michi No Eki Aso
(road rest area; the building on the left when you get of the train station).
Check
www.aso.ne.jp/~volcano/eng/
before setting out to see if the Nakadake crater is accessible to its rim, or whether noxious or poisonous fumes are rendering it inaccessible.
Get in
Aso is on the
JR Hohi line
, 1 hour and 40 minutes from
Kumamoto
by local train (¥1080, change of trains may be required). There is also a limited express, the
Kyushu Odan Express
(九州横断特急), which makes 4 daily round trips with no change of trains required (65 minutes; ¥2180).
Kumamoto connects to Hakata in
Fukuoka
via the
Relay Tsubame
and
Ariake
limited express trains, and to
Kagoshima
via the
Relay Tsubame
and the Kyushu Shinkansen.
From Beppu you can get there in about 2 hours by train (¥3740)
The bus connecting Kumamoto and Beppu stops at the Aso JR station, and often at Aso Nishi cable car station. From Kumamoto, it takes 2 hours (¥1760) to reach the cable car, et 2:30 (¥3350) for the JR station. From Beppu, the two morning bus services reach the cable car in 3 hr 30 min (¥2950) and the JR station in 4 hours (¥3450). Timetables:
Kumamoto-Beppu
,
Beppu-Kumamoto
,
Fares
.
There are helicopter tours to mount Aso from the nearby Aso Cuddly Domonion, Aso 869-2225, Kumamoto Prefecture (around US$160 per trip for three persons).
There are luggage lockers at Aso Station.
Get around
Mount Aso RopewayIt is closed due to Level 2 warning. Its station is easily reached by bus from Aso station. The last bus back from Aso Nishi cable car station leaves at 5 pm. You can also hop on and off the bus at the bus stop near the Aso Youth Hostel. The ropeway runs from the station to the crater, which saves a 1.5-km walk (100 m up). If you are not on a hurry to catch a bus, going back on foot is an option as the walk down is pleasant. If you're driving, a toll road goes right up to the station and if you're prepared to pay, you can actually drive up to the summit of the crater.

Takamori LineA tourist-oriented railway which passes through stunning scenery on its way to Takamori, a village within the Aso caldera. Board it at the Tateno train station, which is a 40-minute ride on the main train line from Kumamoto. The route is 18km long, and is most spectacular in spring, summer, or early November (when the leaves on the trees turn to bright autumn colors).
See
Aso Volcano Museum

Aso ShrineAn old shrine dedicated to the god of transportation and traffic safety.

phone: +81 967 351341

address: 793 Shimono

This theater has man and a monkey stage shows.

Aso-sanThe volcano is still active and sulphuric steam can be seen coming from the Mt. Nakadake crater. However, you should be aware that the summit of the crater has been extensively geared for Japanese mass tourism - paved roads can take you right up to the crater and it can get quite crowded during the peak season. However, if you want to get away from the crowds, you don't have to walk too far. The site is not limited to immediate surroundings of the crater. Do not hesitate to spend one hour or more walking on the path to explore the beautiful scenery.

KomezukaA nice small volcano cone to see on the way. It erupted 3000 years ago and now stands 80 meters high, with a perfectly symmetric shape. Climbing it is forbidden, in order to protect its cute green slopes.
The mountain spews sulphurous gases from the crater of Mt. Nakadake. Sometimes, when the winds blow from the crater towards the crowds, the cable car lines are shut down, so you might not be able to reach the summit. They will start operating again when the winds turn - sometimes you will only have to wait half an hour or so. If you want to check before starting your hike, the owner of the youth hostel is able to tell whether everything is in operation.
If you have extra cash to spare or you want to have an aerial view of Mount Aso, you can take the helicopter ride, which is not far from the Mount Aso Museum. It costs ¥5000 for an adult, ¥4500 for a child per person for a 4-minute ride, but the view is astonishing!
Do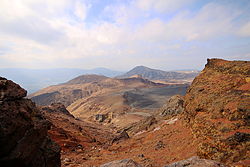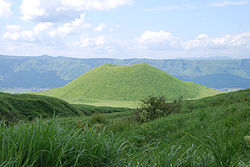 Various hiking trails around Aso-san can provide you anything from a nice afternoon walk to a good days hiking. The landscape is full of greenery in summer, while in autumn the mountains turn orange. If you're interested, be sure to pickup a hiking map (don't expect a detailed map, it will probably be just an illustrative map) from the friendly Aso youth hostel or from the Aso Tourist Information. Besides - the routes just around the Mt. Nakadake are marked very well, you get a small map with routes and 'You are here' mark every 15-20 minutes of hiking. If you are in front of the crater, walk along it to the right (south) to join the actual trail. Allow two good hours (photos breaks included) if you want to climb the mountain (200 m up) and enjoy beautiful views on the crater and the whole area, and a bit less for the way back down. Even if you cannot/don't want to spend so much time, it worth strolling on this path (which does not start to climb seriously before the foot of the mountain) and then turn back (which will take you as much time).
There are also several hot spring resorts around Aso. Contact Aso tourist information office for more information.
Buy
Just next to the train station, at
Michi No Eki Aso
, various local products are on sale. You can find fresh fruits and vegetables, rice, milk, handmade lunchboxes, sweets and so on. Everything here is cultivated or produced in Aso city.
Besides the usual tourist trinkets you can buy from the Aso Nishi cable car station, there's not much shopping to do around here. Your usual supermarket is a couple blocks south from the Aso station.
Eat
phone: +81 967-34-0945

address: 1303-2 Kurokawa

Friendly, reasonably-priced restaurant. Most dishes involve cooking your own meat using a fire in the centre of the table. Generous portions.
There are some restaurants and a noodle bar near the station. In Aso Heights, there is a delicious cheese cake. Japanese lunch box can be bought at
Michi No Eki Aso
just next to the station. The aso noodles are amazing.
Sleep
Go next
Kurokawa onsenA small village known for its hot spring, located at the north within 1 hour by car or (infrequent) bus.