Mount Koya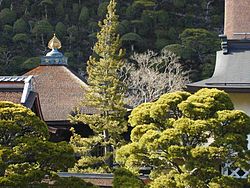 Mount Kōya
(高野山
Kōya-san
) is a mountain in
Wakayama prefecture
to the south of
Osaka
,
Japan
, primarily known as the headquarters of the Shingon sect of Japanese Buddhism.
Understand
First settled in 816 CE by the monk Kūkai as a retreat far away from the courtly intrigues of
Kyoto
, Mt. Koya is located in a 800-m-high valley amid the 8 peaks of the mountain. The original monastery has grown into the town of Koya, featuring a university dedicated to religious studies and over 100 temples, many of which offer lodging to pilgrims.
In 2004, UNESCO designated Mt. Koya as part of a wider
World Heritage Site
.
If you stay in
Osaka
, you can consider visit mount Kōya on a day trip (leave early in the morning and allow the time to reach Osaka Namba station and buy your ticket). You can also spend the night in one of the numerous temples (see section "
Sleep
").
Tourist information
The Kōyasan Shukubō association has two information centers. Here you can rent excellent
audioguides
(¥500/person/day), including in English and French. They describes various sites including temples and tombs, and make the visit much more interesting.
Centre office

Ichi-no-hashi office
Get in
By train
The mountain is accessible primarily by the
Nankai Electric Railway
from Namba Station in
Osaka
, which connects to Gokurakubashi at the base of the mountain.
Koya
(こうや) limited expresses take 80 minutes and cost ¥1650, while ordinary expresses are lower priced at ¥870 and take 10-20 minutes longer with a change of trains possible. The final half of the trip is a slow climb up into the mountains and extremely scenic in good weather.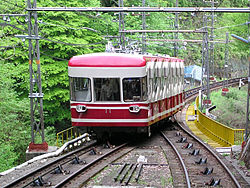 A cable car from Gokurakubashi then whisks visitors to the top in 5 minutes for ¥390. From the cable car station you'll have to take a bus to town (5-15 minutes depending on your destination). Train, cable car and bus schedules are synchronized.
A good value way to reach Koya-san is to purchase the 2-day
Koyasan World Heritage Ticket
available from the Nankai ticket counter. At a cost of ¥2860, the ticket includes one round trip on the Nankai train and cable car, a two-day Koyasan bus pass, and discounts at certain attractions, shops and restaurants. A version of the ticket that includes the trip
to
Mount Koya by limited express costs ¥3400.
From March 1 to November 30 the
Koyasan One Day Ticket
(高野山 1-day チケット) may be purchased. This is similar to the ticket above but also includes connection to a single private railway via the Osaka Subway. Sample fares include: Hankyu (¥3090), Hanshin (¥2980), Keihan (¥2100), and Kintetsu (¥3070).
The regional
Kansai Thru Pass
can be used on regular Nankai Railway trains and the Cable Car all the way up to Mount Koya, and can be used on the Koya-san buses as well.
The closest JR train station is at Hashimoto, which is a transfer station to the Nankai Railway. From here it takes 40 minutes and costs ¥440 to reach the cable car station at Gokurakubashi by local Nankai service. Japan Rail Pass holders can easily access Nankai trains at the Shin-Imamiya (新今宮) station of the JR Osaka Loop Line, from which the fares for trains and the World Heritage Ticket are the same as from Namba. From Kyoto, rail pass holders can take the Kyoto Line Special Rapid train to Osaka station, then change to the Osaka Loop Line to Shin-Imamiya.
By car
If you have your own set of wheels, you can also head east towards
Ise
or south to
Ryujin Onsen
and southern Wakayama. Both roads are small and there is no public transportation, but daring souls might try hitching.
On foot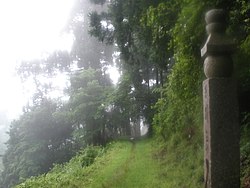 Before the train and cable car connection, which was built in the early 20th century, the only way to reach Mt. Koya was via the ancient pilgrim trail called the
Chōishi-michi
(町石道) which is still maintained and marked with stone pillars every
chō
(about 108 meters) - these have given the trail its name. It begins in the town of
Kudoyama
(九度山), which is a stop on the Nankai train line to Mt. Koya, at the (rather interesting in itself)
Jison
temple (慈尊院). To reach the temple from the station follow the main road downhill and across the bridge keeping an eye out for the
green signage
on the left. Note that free detailed English and Japanese hiking maps are available from
Jison
. If you want to do the Japanese thing, you can pick up a souvenir stamp rally card too - note the 7th and final stamp can only be obtained during business hours.
The trail is about 22 km long, ascends about 700 m (most of this in the first and last quarters) and can be walked in about 7 hours plus resting time, offering a very rewarding hiking experience. In reality, you'll likely want to take the side-detour roughly 1/3 of the way up, adding a third world heritage site on to your journey as well as an extra 2-3 km depending upon approach. Local signage claims there is
guest house accommodation
at this point but this is unconfirmed.
Fire is prohibited, but there is nothing stopping you from camping in one of the observation huts along the way. In fact, like many such huts in Japan, locals have stashed a couple of ground mats in the rafters of one roughly 2/3 of the way up, just past the Yatate Jaya Teahouse.
You can also ask the resident monk at Jison if you can camp on the grounds, if you want to get an early start; there is a little graveled area, just beside the toilets, on which he'll probably let you sleep.
Get around
You can get from one end to the other of the village on foot in 30 minutes, but regular buses allow you to save time.
Nankai Rinkan Bus operates the buses around Mount Koya. Passes such as the
Koyasan World Heritage Ticket
and
Kansai Thru Pass
(see By train)
provide unlimited use. Otherwise board buses using the rear door, take a ticket when you board, and pay the fare based on the display at the front of the bus when you exit. A one day bus pass, sold at the Koyasan cable car station, costs ¥830.
See
The mountain is home to the following famous sites:
Oku-no-InThe mausoleum of Kukai, lit by thousands of lanterns. According to tradition, the lights have been lit since Kukai's death over 1000 years ago.

GraveyardThe mausoleum is surrounded by an atmospheric and immense graveyard, set among giant cedar trees with winding paths throughput. Among the 200,000 graves, a good number are several hundred years old. The audio guide will tell about the stories of its hosts so the walk does not look like only a long succession of graves. Also particularly interesting are the many fanciful gravestones, including giant spaceships and cups erected respectively by an astronautical and coffee company, and a monument erected by a pesticide company to commemorate all its insect victims. If it is mainly visited during the day, a small night walk is worth a shot if you spent the night in mount Koya: the atmosphere of this cobblestone path is different under the dim lights.

GaranIt is a temple complex designed by Kukai on the western side of town. In its center is the Konpon Daitō (根本大塔) pagoda, which according to Shingon doctrine represents the central point of a mandala covering Mt. Koya and all of Japan.

Kongōbu-jiThis temple is the sprawling yet atmospheric headquarters of the Shingon sect, with a stone garden that outclasses many of Kyoto's best.
Most (if not all) sights close at 5PM, so there's only little to do in the evening unless you are staying in a temple.
Do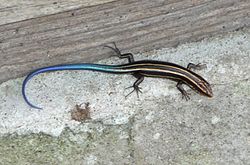 Hiking
around Mount Koya is a good option. Among many courses, there is one that starts at Daimon (大門、big gate), hiking up to a tiny shrine at the top of Bentengaku (弁天岳), and then down to Nyonindou (女人堂). Not a difficult hike, and should take only a couple of hours, depending on how often you stop on the way to take photos. You can encounter a few species of lizards and snakes along the way, such as jimuguri (ジムグリ, Japanese Forest Ratsnake), the Japanese five-lined skink, and the Japanese grass lizard. From the top you can see all the way south to Wakayama city and the ocean.
Eat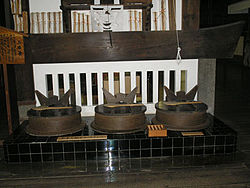 All temple lodgings on Mt. Koya offer
Shōjin ryōri
(精進料理), purely vegetarian food intended for monks. People who equate vegetarian food with blandness will be surprised - in their hundreds of years of experience with vegetarian cooking, the monks have invented amazingly tasty dishes. A local specialty,
Kōya-dōfu
, is prepared by freeze-drying and then reconstituting tofu.
Hanabishi (花菱), next to the east Senjuinbashi (千手院橋) bus stop, tel. 0736-56-2236. This classy restaurant has been serving customers for over 120 years and is a good option for sampling Buddhist vegetarian fare if you're not staying overnight. A shōjin ryōri lunch set runs ¥2100, while a full-on multi-course vegetarian kaiseki experience runs ¥5000-10,500 (cheaper at lunch). Some of the Bento sets are not vegetarian, so stick with shōjin ryōri for the "real thing".
For those unwilling to eat vegetarian, a number of restaurants offer regular Japanese and Chinese cuisine. There are also many reasonably priced
izakaya
around the center of town that offer a range of many traditional Japanese pub foods.
Ima-chan. A fresh fish based pub on the left hand side of the road on the way to Nyonindo from town, just past the Mausoleum of the Tokugawas, prices range from ¥300-1500 and much of the menu is based on the time of year. English menu not available.
Inoue Diagonally across from the CoCo convenience store. Boasts the largest Om-Rice (omelette filled with rice and some meat) in Japan, ¥550. English menu available.
Miyasan. Centrally located in the middle of Koyasan, just South of the main traffic lights, it has a menu of about 50 items ranging from ¥200-1000. The inn's banner states that its specialty is fried chicken, although all the items are of high quality. The Ramen is particularly filling. English Menu available.
International Cafe (Bon An Sha). Located on the left hand side of the main road as one walks from the centre of town to Okunoin cemetery, 150m from the main traffic lights, this cafe and art gallery specialises in organic vegetarian lunches (price varies depending on contents of set. ¥800-1200). The menu changes daily, and a number of homemade cakes are available, as are coffees and teas (¥300). The couple who run the cafe are collectively native speakers of French, English and Japanese and also fluent in Italian and Mandarin Chinese.
Sleep
Budget
Koyasan Guest House Kokuu.
Modern capsule style guest house. Price is ¥3,500 per capsule room, ¥6,000 for single room and ¥9,000 for double (more expensive on weekends). Tel: +81 736-26-7216, fax:
+81 50-3730-6935 〒648-0211 49-43 Itogun Koyacho Koyasan.
Mid-range
Splurge
About half of the over 120 temples in town offer lodging for pilgrims, known as
shukubō
in Japanese. Prices vary between ¥9,000 and ¥15,000 per night and include two meals. You will be offered the opportunity to join in the morning prayer session, a hypnotic experience involving sutra chanting, incense and gongs. Outside the main season, you can just show up at the Koya cable car station and book from there, but generally reservations are preferred. A full list is available
here
, but some all temples are set up to handle visitors who don't speak Japanese.
phone: +81 736-56-2009

A fairly typical temple, centrally located (walking distance to both ends of town) and run by a friendly bunch of monks who know a little English. Large breakfasts (7:10AM) and dinners (5:30PM) are provided by the monks, who retrieve you from your room when the meals are ready. They will also come to get you in the morning for morning worship (5:55AM), so be awake and ready! Temple curfew is 10PM by the sliding door although the main gate closes at 6PM. Rate per person per night is ¥11,340 (as of August 2016).

Koyasan Onsen Fukuchi-in

phone: +81-736-56-2021

address: 657 Koya San, Koya-cho

The natural hot springs of Koya-san are available only at this hotel, are open 24 hours a day, and strictly for staying guests. Only vegetarian dishes are served here, and the meals, which feature seasonal ingredients, are painstakingly planned and prepared by the head chef with a different course every month.
While the monks don't drink, alcohol may be available to guests at dinner, and perhaps even from a vending machine. Temples have set hours at which the front gate is opened and closed, and the time the bath is available. This curfew can be as early as 9 PM, so don't expect to head out after dinner — although you'll want to go to bed early anyway if you want to attend the morning prayers (which can be as early as 5AM)!
Stay safe

If choosing to take the hike up from Kudoyama, in addition to the regular hiking precautions, consider that roughly 1 km of the course runs directly beside a golf course. In addition to stray balls (wear a hat), it seems the owner may be fighting an insane one-sided border dispute because, as of June 2010, around where the trail doubles as an access road, somebody has installed a couple of electrified tripwires over the trail, which appear to be hooked up to the golf links. Be aware.
An otherwise complete set of localised advisories can be found on the English or Japanese hiking maps available at the temple at the very start of the course.

Go next
Many of the pilgrims visiting Mount Koya are on their way to start the
88 Temple Pilgrimage
on the island of
Shikoku
.
Not far outside Koya, approx. 15 min by car, is
Otaki
, a small town aptly named for the large waterfalls at its entrance. Once past Okunoin, take the Ryujin Skyline towards
Shirahama
and look for a small sign about 15 min down the road. The entrance should be on the right. Take the small road downward for about 2 minutes and the 2 large waterfalls should be visible from the road. It is an especially nice place to stop and have a picnic before leaving Koya.