Mount Pelion
Mount Pelion
(a.k.a. Pelio or Pilio or Pelium; Greek, Modern: Πήλιο, Ancient/Katharevousa: Πήλιον) forms a hook-like peninsula between the Pagasetic Gulf and the Aegean Sea.
The mountains are entirely forested, with beech, oak, maple and chestnut trees. Pelion is a tourist attraction throughout the year: the mountain includes trails and sidewalks for walking within small and large beaches with sand or pebbles. Modern Pelio has twenty-four villages built with traditional Pelian architecture.
Located near the city of
Volos
, in the region of
Thessaly
.
Regions
Northeast Pelion, (Agios Ioannis, Horefto, Mouresi, Tsagkarada, Zagora)
Northwest Pelion, (Afisos, Kato Gatzea, Agios Georgios Nileas, Portaria, Milies, Kala Nera)
South Pelion, (Platanias, Xynovrissi, Paltsi, Milina, Argalasti, Horto, Trikeri, Agia Kyriaki, Paleo Trikeri)
Villages

The main villages in Pelion are:
====
Northwest Pelion
====
====
Northeast Pelion
====
Get in
Entrance to the Pelion is broadly speaking via
Volos
, which acts as a gateway to the region. Volos is
well connected
to airports in Athens and Thessaloniki (as well as the far smaller municipal airport) and the wider Greek highway network. To enter the Pelion from Volos, one can either drive down the 34A or the 34 main roads, or take a coach from Volos Interurban Bus Terminal ("Yperastiko KTEL") (
KTEL Volou
). Details on buses,
can be found online here
.
Get around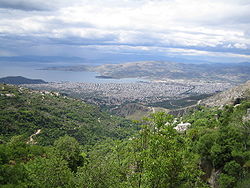 Whilst it is possible to travel by coach, they are few and far between. The easiest option is to travel by car, unless you fancy a hike!
Do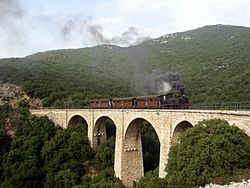 Walk along the recognized hiking routes.
There are some great beaches on Pelion. Northwest Pelion has smaller sandy beaches on the Pagasetic Gulf, with calmer, warmer waters. Beaches in the Northeast Pelion are also sandy, but larger, and being on the Aegean, the water is usually far clearer, though deep, and there can be big waves. The pick of the bunch is Potistika beach.
Take the traditional steam train from Kato Lechonia to Milies.
Ski at Chania.
Go horse riding around Milies
Take a boat cruise from Kala Nera.
Beaches
Horefto2.5km long beautiful sandy beach

Agioi Sarandaone of the most beautiful beaches in the area, partly managed with sunbeds

Agios Ioannistouristy fully developed beach with many shops, taverns, cafes, hotels

Papa Neromuch visited beautiful sandy beach

Melanibeautiful long sandy beach, less touristy than the nearby Potistika beach. Best 'nudist' suitable beach on the Pelion

Mourtiasa bit out of the way, not so well-developed pebble beach



Eat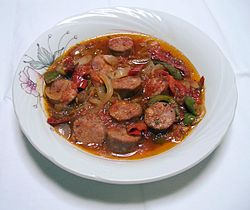 The most famous local dish, is called spetsofai (Greek: Σπετσοφάϊ), it has local sausage and peppers with tomato sauce. Usually spicy.