Mount Vernon (Virginia)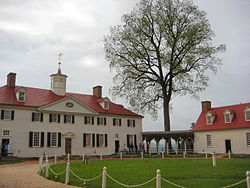 Mount Vernon
is a district in
Fairfax County
,
Virginia
, situated on the Potomac River. It takes its name from the country home and plantation of George Washington, the first president of the
United States of America
.
Understand

The Washington family acquired the land, then known as Little Hunting Creek Plantation, in the late 17th century. When Washington's elder half-brother inherited the land, he named it Mount Vernon in honor of Edward Vernon, a hero of the War of Jenkins's Ear and his commanding officer in the navy. Washington inherited the land in 1754 and had the manor house built up in phases from 1758 to 1778. In the mid-19th century, the Washington family sold it to the Mount Vernon Ladies' Association, who have since maintained it and the grounds for the benefit of the public.

Get in
Mount Vernon is located 13 miles south of
Washington, D.C.
By car
The Mount Vernon estate lies at the southern terminus of the George Washington Memorial Parkway, which follows the Potomac River from I-495 in Langley to the northwest. Along the way, it passes through parts of
McLean
,
Arlington
, and
Old Town Alexandria
, including Reagan Washington National Airport. The parkway, itself a national park, is pleasantly scenic.
By public transportation
Fairfax Connector
Bus 101 +1 703 339-7200 provides daily local service between Huntington (northside), the southern terminus of the Metro Yellow Line, and the Mount Vernon estate. Buses depart approximately every thirty minutes and the bus ride is about twenty-five minutes. SmarTrip or cash fare is $1.75.
By tour bus
Several tour companies operate bus tours from Washington to Mount Vernon.
Gray Line +1-800-862-1400 offers tours of Mount Vernon bundled with tours of Old Town Alexandria, Arlington National Cemetery, or Washington, D.C. daily except certain holidays (check website for details). Prices start at $55 adults, $30 children. Departs from Washington Union Station.
DC Trails +1-800-225-1106 offers a full-day package including a drive through Old Town Alexandria and self-guided activities at the estate. Prices start at $53 adults, $23 children.
OnBoard Tours +1-301-839-5261 offers a package that includes guided walks through Arlington National Cemetery and the Mount Vernon estate. Prices start at $69.99 adults, $59.99 children.
By bicycle
The fully paved, 18-mile-long Mount Vernon Trail follows the Potomac River from Theodore Roosevelt Island in Arlington all the way to the Mount Vernon estate. The trail is scenic, passing almost entirely through parkland, including the Dyke Marsh Wildlife Preserve. "Bike and Roll" tours are also available during the warm season, whereby you ride a rented bike from Alexandria to Mount Vernon, then return by boat. See "Bike and Roll" below under "Do."
By boat
While you cannot dock your own boat at Mount Vernon, several cruise companies offer Mount Vernon excursions.
Get around

The Mount Vernon estate is compact, but beyond the manor house, there are some steep hills. Private motor vehicles are not allowed on the grounds, but a half-hourly shuttle service connects the Education Center near the entrance, the Pioneer Farm, and the Wharf between 9:15AM and 4:45PM. During the peak tourist season between April 1 and October 31, an hourly shuttle also runs between noon and 5:30PM between the Education Center and the Distillery & Gristmill.
To go beyond the estate, a car is recommended. Fairfax Connector bus 101 stops at Fort Hunt Park, which is also accessible on foot or by bicycle from the Mount Vernon Trail.

See
George Washington's Mount Vernon Estate and Gardens

phone: +1 703 780-2000

address: 3200 Mount Vernon Memorial Highway

Hours are: April through August, 8AM–5PM, March, September, and October, 9AM–5PM, November through February, 9AM–4PM. Tour the original mansion that George Washington built, lived, and died in, then visit the outbuildings, gardens, and fields to learn more about history, farming, and the man. Periodic concerts, historical demonstrations, and other performances are held throughout the day.
The Mansion TourThe main attraction: see the rooms that George Washington designed himself and their majestic setting over the Potomac River. This is the only guided portion of the estate, with tours running continuously. Long lines are common so consider doing this first. No photography allowed.

Washington's TombThe final resting places of George Washington and his wife Martha. Tribute at the Tomb wreath-laying ceremonies take place at 10AM and 2PM, April – October, and at noon November – March.

Donald W. Reynolds Museum and Educational CenterMuseum of multimedia exhibits which span the life of George Washington. Don't miss the most famous dentures in history!

Slave Memorial and Burial GroundA memorial honoring the slaves who lived and worked at Mount Vernon. Slave Life at Mount Vernon tours are offered at 10AM, 12PM, and 2PM, April - October, and start at the Mansion.
George Washington's Whiskey Distillery and Gristmill

address: 5513 Mount Vernon Memorial Hwy, Alexandria

Watch the water-powered mill operate as it did at the time when George Washington developed it as a cutting edge technology.
Do
George Washington: Pioneer Farmer SiteA 4-acre, colonial farm exhibition highlighting the buildings, tools, and techniques Washington used on the site.

phone: +1 202 842-2453

address: 3 Cameron Street

From Old Town Alexandria, take a self-guided ride 9 miles down the Mount Vernon Trail to the estate, then return via boat, including a narrated tour of the riverfront. Reservations required at least 24 hours in advance; space is limited.
Buy
The Lady Washington ShopColonial gift shop with a feminine theme featuring chinaware, needlework, and garden items.

The Shops at Mount Vernon

phone: +1 703 799-6301

Large gift shop which includes the largest George Washington bookstore in the world, a Christmas Corner with year-round holiday themed gifts, and colonial reproduction gifts. (No admission necessary to enter).
Eat
phone: +1 703 799-6800

address: 3200 Mount Vernon Memorial Highway

Elegant dining with a colonial theme. Open for lunch and candlelit dinners (reservations recommended).
Sleep
phone: +1 571-481-4441

address: 6065 Richmond Highway, 22303

Suites with fridge and microwave, complimentary breakfast, indoor pool, whirlpool (for guests 16 years+) and fitness center; free wired and wireless Internet throughout the hotel, onsite business center, free shuttle to the Huntington Metro Center.
Go next