Mountains and Lakes Country
The
Mountains and Lakes Country
region is in
West Virginia
.
Cities
— home of the original pepperoni roll
See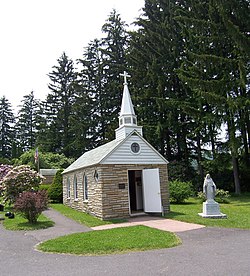 Tunnelton Tunnels, route 26. (Tunnelton) Two railroad tunnels, dug by hand between 1850 and 1853. On their completion, at 4,100 feet long, they were the longest in the world, and were crucial during the Civil War.
Our Lady of the Pines, US-219. (Silver Lake) Bills itself as the "smallest church in 48 states", although at 24 by 12 feet, it has a lot of competition for the title! Nevertheless, it's a pretty little church in a scenic area, and can be rented for weddings. Nearby are a wishing well and the "smallest mailing office".

Cathedral State ParkRoute 50. (Aurora) A 133-acre ancient hemlock forest and the only stand of mixed virgin timber left in West Virginia.

Big Bear LakeI-68 exit 29. (Bruceton Mills) 35-acre lake for swimming, fishing or sunbathing on the beach. 24 miles of mountain bike and hiking trails, lakeside waterslide, 18-hole miniature golf, game room, tennis courts, volleyball courts, baseball field, country-western dances. Cabins available.

address: Maryland border, near Lake Ford

1600 acres of wet bog preserve. Several trails, including a quarter-mile boardwalk over the swamp. Carnivorous sundew plants, bog cranberry, sphagnum moss, and several species of endangered plants and animals can be seen throughout the wetlands.
Do
Collect fossils
HebronBrachiopods can be found in the road cut across from Hebron Church in the unincorporated community of Hebron.
Eat
Buckwheat is produced in Bruceton Mills, and is available in local stores from mid-September through December.

Sleep
phone: +1 304-789-2481

address: 700 W Alpine Drive

(Terra Alta) 35 rooms. Indoor heated pool, fitness center. 150-acre lake with beach, 8-hole golf course, restaurant, lounge, pro shop, miniature golf, tennis, basketball, cross-country skiing, fishing and hiking.
Maple Leaf Motel, corner of Morgantown Street and Main Street off I-68, +1 304-379-4075. (Bruceton Mills) 12 rooms. Country decor with quilts on each bed.