Moyobamba
Moyobamba
, the
City of the Orchids
, is the capital of the
San Martín
region in northern
Peru
.
Get in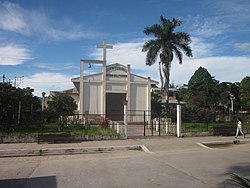 Since the airport is not in use, the only way to get into Moyobamba is by road. Your best option is to use a bus company. There are buses from
Lima
, which take 24 hours to get to Moyobamba and travel during the night. Prices vary, with the most expensive being around S/120 (
soles
).
The fastest way to get to Moyobamba is to fly from
Lima
to
Tarapoto
and from Tarapoto take a taxi or bus to Moyobamba. LAN Peru and LC Perú fly to Tarapoto from Lima. A taxi will cost S/25 and a bus will cost S/20. The average time from Tarapoto to Moyobamba is 2 hours. Enjoy the view on the way!
You can also arrive from
Iquitos
, by boat to
Yurimaguas
and then a bus or taxi to
Tarapoto
and Moyobamba. The road is winding, with several ups and downs, and it can be a problem if you are prone to motion sickness. It is otherwise breathtaking in its beauty.
Get around
You can either walk or catch a moto-taxi (a modified motorbike with three wheels and a carriage at the back for three passengers). Most journeys with a moto-taxi cost S/1.50. Some drivers may try to charge more when they see you are not from Peru. Remember to state your price before you get into the taxi.

See
address: Jr. Oscar R. Benavides 380

Contains photographic exhibitions, sculptures and craft, antiques, historical documents, fossils, stone implements of the area, wild fauna, flora (various species of orchids - there are approximately 2,500 in the region) and traditional clothing from communities of the area.

Vivero Agro OrienteA wide exhibit of orchids and other plant species, with a guided tour included in the S/2 entrance fee. Great views of the Mayo river and also some wildlife species such as aligators and Boas.
Do
San Juan Festival24th June, locals celebrate with traditional dances and dishes.

Thermal bath

Gera Waterfalls

address: Village of Jepelacio

Lahuarpia Waterfalls

address: On the way to Tarapoto

3 waterfalls.

Morro de Calzada

address: Located in the town of Calzada

Mountain in the middle of the valley. It is a 2- to 3-hour hike to the summit from where you can see the whole valley and several towns. The site requires a small fee of 15 soles. The hike is of moderate difficulty, with large rocks to scale. Smaller trails are located around El Morro as well.
Eat
address: Jr. Pedro Canga y Serafin Filomeno

address: Jr. San Francisco No. 521

address: El Boulevard

address: Jiron Pedro Canga cuadra 5

An icecreamery.
Arizona Chicken, Serafin Filomeno No. 580. Polleria, popular among locals.
Try eating at one of the "Pollerias" (chicken restaurants), which are generally popular throughout Peru.
Drink
Peruvian Amazon has a huge selection of jungle drinks, of which many many are touted as being aphrodisiacs with suggestive names to match.
Uvachado
Leche de Monja
7 Raices
There are a few discos "discotecas" in Moyobamba, with attached bars. Most are located along Malecón de San Juan, on the north side of the town.
Sant JordiFull bar, has domestic and import beers along with homemade drinks. Jr. Alonso de Alvarado No. 323.
George de la SelvaBar and lounge that often has a live band and music.
El PadrinoDiscoteca and bar.
Sleep
Puerto Mirador Hotel

phone: +51-42-562050

address: Jr. Sucre S/N

This 3-star hotel is the most expensive in Moyobamba. It is owned by foreigners.A restaurant is situated inside the hotel.
Marcoantonio Hotel

phone: +51-42-562319

address: Jr. Pedro Canga 488

phone: +51-42-562457

address: Jr. Callao 845

2-star

phone: +51-42-562063

address: Jr. Alonso de Alvarado 865

phone: +51-42-562110

address: Jr. Manuel de Aguila 667

Hostal Royal

phone: +51-42-562564

address: Jr. Alonso de Alvarado 748

Hostal Albricias

phone: +51-42-562142

address: Jr. Alonso de Alvarado 1066

Hostal Moyobamba

phone: +51-42-562162

address: Jr. Alonso de Alvarado 493

phone: +5142 561822

address: Jirón San Carlos 100

Rustic shoestring hostel with a tasty restaurant and a great view. Lots of birds in the wooded areas. Internet available.
Go next