Mtskheta
Mtskheta
(მცხეთა) is a town 15 km north of
Tbilisi
in the
Kartli
region of
Georgia
.
Understand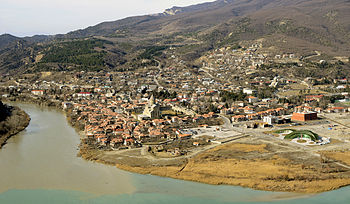 Mtskheta was the capital of the ancient eastern Georgian kingdom of Iberia from the 3rd century BC to the 5th century AD. It is of extraordinary importance to the Georgian people and listed as a
UNESCO World Heritage site
. It was here that Georgia adopted Christianity in AD 334 and it remains the headquarters of the Georgian Orthodox Church. Mtskheta is of primary interest to anyone interested in Georgian history or Orthodox Christianity.
Get in
Mtskheta lies at the junction of the
Georgian Military Highway
and the main road that connects
Gori
with
Tbilisi
.
By marshrutka
Marshrutkas run regularly every day of the week between Tbilisi's Didube market and the main street in Mtskheta. From the Didube metro station, walk out to the left of the metro tracks (when coming from city center), cross a street and in the next lot you'll find the —ask around. In the south-east corner of the lot, there is a 'cash desk' where you can buy a ticket for the marshrutka. The cost to Mtskheta is 1 lari per person, or pay the driver directly and exactly this amount. Some will try to extort more, expecting you not to care much. Bring a map and stop near the historic center of Mtskheta. Otherwise, the marshrutkas continue to the Mtskheta bus station which is 500 m north of Mtskheta's cathedral. Note that there are fewer marshrutka drivers operating on Sundays and that this mode of transportation therefore becomes less dependable and more crowded.
Bus stopIt's possible to catch a marshrutka going to Tbilisi here.
By train
Train station

Tourist office
Mtskheta lies on the
Tbilisi
-
Kutaisi
railway and thus any trains connecting these cities will pass Mtskheta.
By taxi
You can take a taxi from
Tbilisi
or book a guided tour. To make sure you can get back to Tbilisi without problems get a phone number of a cab company before heading to Mtskheta, they will send someone to pick you up for the way back.
Get around

Mtskheta is small enough that it is possible to see the entire town on foot. The one exception is Jvari Monastery, far from the town center on top of a mountain. As there is no public transport to Jvari, it may be best to hire a cab in town (expect to pay 15 lari for the return trip), or take the shuttle offered by the tourist office opposite the Cathedral, at a cost of 5 lari per person, to Jvari Monastery. Although hiking up is possible, it probably wouldn't be wise as the walk involves a stretch of main road with blind bends and characteristically chaotic driving.

See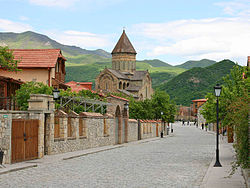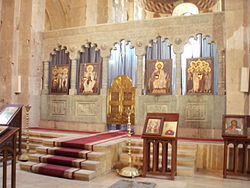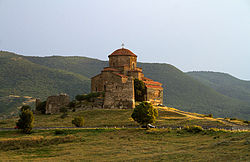 Svetitskhoveli CathedralSvetitskhoveli is one of the most sacred places in Georgia and, along with Jvari Monastery, the clear highlight of a trip to Mtskheta. It was founded in 1010, built on the site of Georgia's first church, and contains the graves of the ancient Georgian kings, including Sidonia, who was said to have been buried holding Christ's robe. There are many (unaggressive) beggars at the entrance gate.

Jvari MonasteryThe 6th century monastery is the culmination of a number of artistic and architectural aspirations in early Christian Georgian architecture. The view from above is great. Be sure you travel there when there's clear weather and before dusk. It's fairly far to walk.

SamtavroAccording to legend, St. Nino lived on this site and prayed within the smaller of its two extant churches. This small church dates from the 4th century. The larger church on this site was built in the 11th century and contains the graves of Mirian, the Georgian king who adopted Christianity, and his wife.

Bebris TsikheThe ruins of Bebris Tsikhe are fun, if a bit dangerous, to climb on for views overlooking Mtskheta and the valley formed around the Mtkvari and Aragvi rivers.
Around town
Shio Mgvime MonasterySpectacular 6th century monastery. Its main church is of 11th century. Fantastic views over the city.

Zedazeni MonasteryChurch built in 8th century. Views over Tbilisi.

Armaztsikhe-Bagineti Archaeological SiteThe main fortress of the ancient town of Mtskheta was located at the high point above the river in strategically good position. The excavations of Armaztsikhe-Bagineti were prepared recently for visitors and possess explanations in English. Archaeological investigations began in 1943 and three main cultures were identified: the oldest finds were dated to the 1st century BC to 2nd century AD, the central findings on the 3rd-5th centuries, and the latest to the 6th century. Consequently Armaztsikhe was destroyed by the Arabs in the 8th century. There are a royal sarcophagus, vestiges of the ramparts, a fortified tower and supporting pillars, foundation walls of the palace, a bath house, a wine cellar, a pre-Christian temple and a canal system.
Do
Events
If you happen to be in Mtzkheta in October, do not miss the Georgian Air Balloon Open Competition.
Mtskheta City Festival is held annually on 14 October around the Svetitskhoveli Cathedral. Folk dances, music, crafts and religious events all happen there.
Buy
There are some traders and a small shop in front of the Svetitskhoveli Cathedral where you can buy souvenirs and drinks.
There is also a relatively

large grocery storewhere you can buy cheap basic foods and drinks.
Eat
There are several cafes in Mtskheta, but one deserves special recognition:
Cafe GugaIt has indoor and outdoor seating—the outdoor seating is especially nice in warm weather as each party will have their own private dining "hut." The Georgian cuisine available is outstanding and costs far less than a comparable meal in Tbilisi. It's almost worth it to come from Tbilisi to Mtskheta just for dinner here!
Another extremely popular place is

"Salobie"It's a large restaurant with both outdoor and indoor seating areas and the food is exceptionally good.

RestaurantRather big restaurant with mediocre food.
Drink
Those who want to visit discos and nightclubs must drive to Tbilisi.

Sleep
Mtskheta is an easy and exceptionally rewarding place to visit. The accommodation here is cheaper and generally better than the budget accommodation on offer in Tbilisi, and the easy mini bus connection to Didube metro station, makes it a good alternative place to stay.
address: Agmashenebliz 52

Clean, comfortable rooms in a family-run B&B. Free internet. Good food, and within easy walking distance of all sights in Mtskheta. Very pleasant and quiet place to stay. 30 min. by bus to Tbilisi Didube metro station.

Mtskheta Sanapiro Guest House

phone: +995 597182244

address: Sanapiro Street 6, 3300 Mtskheta

Owner is extremely charming and very kind. Spacious rooms with magnificent view from the balconies to Jvari Monastery, Svetitskhoveli Cathedral, mountains and rivers. Delicious breakfast. Guest House has fantastic location, peaceful and quiet.
Go next