Mullerthal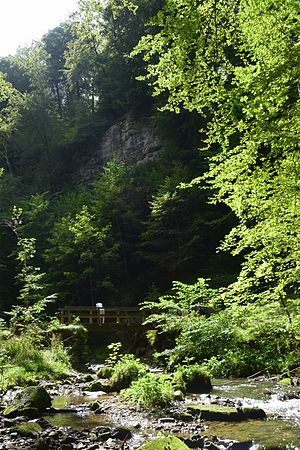 Mullerthal
(German:
Müllerthal
) is a subregion of the
Luxembourgian
Grevenmacher District. It is commonly referred to as
Luxembourg's Little Switzerland
. Its biggest city is
Echternach
, and the region consists of the same area as the canton of Echternach.
Cities and towns
, small town with a large castle and its own liqueur.
, small town with the Hohllay (Hollow rock) as its main feature.
, small town with ~1.200 citizens.
, the oldest settlement in Luxembourg, founded in 698.
, small commune with a large castle as its main feature
Other destinations
Bech
Bourglinster
Christnach
Dillingen
Eppeldorf
Junglinster
Medernach
Nommern
Reisdorf
Rosport
Stegen
Understand
The Mullerthal is a region filled with nature. If you have ever visited
Switzerland
, then the region's nickname should give you a fair idea of what you'll find in the Mullerthal: Nature, sloping terrain and beautiful panoramas. You'll also find an abundance of hiking and cycling trails and routes.
The Mullerthal covers about the same area as the canton of Echternach does. Occasionally cities as
Diekirch
are counted as part of Mullerthal, but generally speaking the Mullerthal is the same as the canton of Echternach, with, surprisingly,
Echternach
as its biggest city.
Get in
By car
Assuming you're travelling from
Luxembourg City
, head for the A7, which can be reached by using the A1 in the direction of
Trier
(
Germany
). Shortly after joining the A7, turn onto the E29 (rue d'Echternach) heading for Echternach. This road will take you to Echternach directly.
When travelling from
Frankfurt am Main
, use the , followed by the

, followed by the

. At the Bitburg interchange, head onto the

heading for
Bitburg
. Once having reached Bitburg, stay on the E29 and head for Echternach.
When travelling from the north of Germany, use the

to go south. Once having reached the end of the A1 at exit 114, take a right onto the Bundesstraße 51/E29. Once having reached Bitburg (exit 6) on the , head onto the

heading for Echternach.
By bus
There are direct buses to Echternach from both
Trier
and Luxembourg city.
Get around
Mullerthal can be travelled both by car, bicycle or foot. Bicycle paths have been built throughout most of the region, and more are being built to this day. Bicycles themselves can be rented at one of the many RentaBike locations around the region. At least one can be found in every town. For long distances, however, a car may be more helpful if you want to visit, for instance, a tourist attraction. Furthermore, many hiking trails are found throughout the region.

See
The natural beauty of the Mullerthal region is breathtaking, with on the one side the Mullerthal forest with sighs such as the
Schéissendëmpel
a picturesque waterfall, the
Hohllay
, a hollow rock near Berdorf, once used to get millstones and the
Beaufort castles
, some of which are no more than ruins, but others are well-maintained and open for visits.
The Mullerthal features the city of
Echternach
on the other hand, which features several
museums
on the city's past in Christianity, a mostly intact
city wall
with housing built into the towers, and has several
festivals
to its name, the most biggest of which being the
E-Lake Festival
held annually by the
Lac d'Echternach
. Other man-made sighs include the
Aquatower
in
Berdorf
. It features a panorama deck at 55 meters high, giving you a good view of the Mullerthal.
Do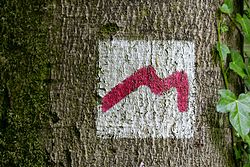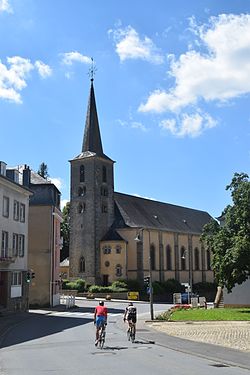 The Mullerthal is a region best fit for
outdoor sports
such as
Hiking
and
Cycling or Mountain biking
. Sports however, aren't the only thing to do in the Mullerthal. There are several
festivals
to attend as well as
sightseeing
, which can be combined with hiking or mountain biking, though it can very well also be done by car.
Eat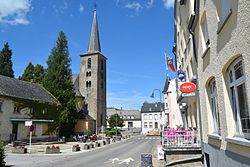 The Mullerthal region has a lot of regional products, varying from sausages to cheese to liqueur. For a full list of these products and where to get them, see
the Mullerthal website
.
Drink
The castle of Beaufort makes its own liqueur; Cassero. It can be bought in local produce shops, such as the bakery in Consdorf, but of course it can be bought in Beaufort as well.

Sleep
Hotels
phone: +352 79 02 20

address: 1 Rue de Consdorf, L-6551 Berdorf

3-star hotel

Hôtel-Restaurant Famille Defive

phone: +352 79 01 98

address: 25 Rue d'Echternach, L-6550 Berdorf

2-star hotel.

Hotel Herber

phone: +352 79 01 88

address: 53 Rue d'Echternach, L-6550 Berdorf

3-star hotel.
Campsites
Campingpark Freibad Echternacherbrück

phone: +496 52 53 40

address: Mindener Strasse 18, D-54668 Echternacherbrück

Located just across the border, by the river Sauer is Freibad Echternacherbrück. Getting into Echternach is no more of a case than crossing the bridge.

phone: +352 79 06 35

address: 29 Rue de Consdorf, L-6551 Berdorf
Connect
Stay safe
Stay safe when exploring a hiking or mountain bike trail. Even though they are well maintained an accident can occur at any moment. Wear the right shoes when hiking, and stay on the trail at all times. There are drops of a good 30 meters that are poorly visible, even from five meters distance. When cycling, always look around before crossing a big road and listen whether or not you hear any traffic approaching, as the trails occasionally cross major roads, with cars driving at speeds up to 90 km/h.
When travelling by car or any other motorised vehicle, look out for other vehicles cutting corners by driving on the wrong side of the road. They aren't frequent, but be sure to not cut corners yourself, and be aware that some road users cut corners, especially motorbikers.
Go next
From the Mullerthal,
Germany
is quite close-by, specifically:
Trier, the oldest city in Germany, dating back to Roman times.
Bitburg, German town with beer and scenery to offer.
If you'd like to stay in Luxembourg, however, why not head for places such as
Diekirch, city with beer and a museum on the Second World War.
Luxembourg City, The second smallest capital in the world. Historically being a unconquerable fortress, any tourist can conquer the city in modern times.
Vianden, a delightful historic town with a stunningly restored medieval castle, spectacularly situated on a rock high above town.