Multan
Multan
(Urdu/Saraiki: مُلتان‎) is the sixth largest city of Pakistan. It is in the south of
Punjab
in
Pakistan
. It is sometimes referred to as
the City of Saints
.
Understand
History
Multan is one of the oldest cities in the Asian subcontinent. According to Hindu legends, it was the capital of the Trigarta Kingdom at the time of the Mahabharata war, ruled by the Katoch Dynasty. Its name is derived from the Sanskrit name Mulasthana named after a sun temple. Multan has frequently been a site of conflict due to its location on a major invasion route between South Asia and Central Asia. It is believed to have been visited by Alexander the Great's army.
Multan was conquered along with Sindh by Muhammad bin Qasim, from the local ruler Chach of Alor. Following bin Qasim's conquest, the city was securely under Muslim rule, although it was in effect an independent state and most of the subjects were non-Muslim. The British held it from 1848 until Pakistan achieved independence in 1947. Then it lacked industry, hospitals and universities. Since then, there has been some industrial growth, and the city's population is continually growing. But the old city continues to be in a dilapidated state, and many monuments wear the effects of the warfare that has visited the city.
The city of Multan is in southern Punjab province at almost the exact centre of Pakistan. The area around the city is a flat, alluvial plain and is ideal for agriculture, with many citrus and mango farms. There are many canals that cut across the Multan District, providing water for nearby farms. This makes the land very fertile. However land close to the Chenab is usually flooded in the monsoon season.

People
Multan's inhabitants are called Multanis. The majority of Multan's residents speak Saraiki, which is the northern variant of Sindhi (the nomenclature 'Seraiki' is derived from the Sindhi language and literally means 'belonging to the north'), while Haryanvi is the second most spoken language. A good portion of the people are conversant in Urdu. English is understood by the educated. The majority of the people are Muslims. However, the city does have significant Sikh and Hindu communities within the district. There are still many temples and Gurdwaras within the city.

Climate

Multan has an arid climate with very hot summers and mild winters. The city witnesses some of the most extreme weather in the country. The highest recorded temperature is approximately 54°C (129°F), and the lowest recorded temperature is approximately −1°C (30°F). The average rainfall is roughly 127 mm (5.0 in). Dust storms are a common occurrence within the city.

Visitor centre
Tourism Development Corporation of Punjab
152 - Shamsabad near Eidgah Multan
Phone: 061-4510005,4510007 Fax: 4510004
E-mail: tdcpticmul@punjab.gov.pk tdcpithm@gmail.com

Get in
By plane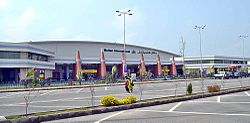 mainly caters to the population of Multan and its surrounding towns. The airport is in the city in the
Cantonment
area. A ride to the Cantonment center takes 5 minutes and that to the city center takes 20 minutes.
It has few snack shops and one moving conveyor belt system. It has a prayer room, toilets and dining area. The check-in area has roughly twenty counters. There is a CIP lounge to handle premium and VIP guests travelling through the airport. The only way out from the airport is by hiring a cab. Expect to pay Rs200-500 depending on the destination. Parking at the airport is adequate and is charged at Rs25 flat rate. Passengers can be picked up from the kerb without parking, however cars must take into account long waiting times at security check-post at the premises entrance. Trolleys are provided for free at the airport and porter services are available.
PIA has three weekly flights from Dubai to Multan with seasonal routes to Medina and Jeddah. Moreover, it has direct flights from
Faisalabad
,
Karachi
,
Lahore
,
Islamabad
and
Quetta
. Budget airlines such as
Shaheen Airlines
flies from Karachi. Another useful option is the UAE-based budget airline
FlyDubai
, which offers direct flights from Dubai several times a week.
By train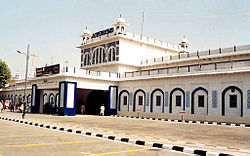 Multan has three major stations: Multan Cantt, Multan City and New Multan City.
Multan Cantt
station is the main station serving the majority of the trains. Multan lies on the main railway line (Peshawar to Karachi) of
Pakistan Railways (PR)
. Therefore, it is well connected with every major city of Pakistan. The major train lines that stop at Multan Cantt Station are Shah Shamas Express, Khyber Mail, Tezgam, Awam Express, Jaffar Express and Quetta Express.
By bus
Direct buses to Multan are to be found at almost every major city bus terminal of Pakistan. Most of the buses arrive at the New Bus Stand which is located at the northern part of the city.
Daewoo Bus Service
has luxury bus service for Multan from almost all of its stations including Karachi. Buses from Lahore leave at every hour and the trip costs around Rs600.
Faisal Movers
run a service from Lahore from 05:30 in the morning and then every half an hour up till 02:30. Fare is around Rs450. There are frequent services from Faisalabad, Peshawar, Dera Ismail Khan, Islamabad and Bahawalpur. Multan has a modern new bus terminal where a service to any city can be found at almost anytime.
By car
The N-5 National Highway connects the city to all parts of Pakistan. From Karachi the distance is around 900 km, and from Lahore 400 km. The road otherwise, known as GT Road, allows connections to Rawalpindi, Islamabad, Faisalabad, Karachi, Lahore and Bahawalpur. From Kallar Kahar halfway to Multan is on motorway while other half is on GT road. It takes about 9 hours.
Get around
By car
Multan got a major overhaul of its roads and travelling times have reduced significantly. There are still roadworks going on so watch out for detours.

By bus
There are public buses. There are no passes or prepaid tickets. Payment is by cash to the conductor and a ride costs Rs10-25. Mini-vans also ply various city routes, are quicker but crowded and congested. If you want to go to the Cantonment area, catch a bus or van which is going to Aziz Hotel chowk or Dera Adda.

By rickshaw or tuktuk
They are still the most popular and efficient form of travel and are universally found. Expect to pay anything between Rs20-100 depending on the distance.

By taxi
The rickshaws have rendered taxis out of business. Taxis can be found though at the airport and at the major bus stands.
Online travel services
There are some apps such as "Uber" & "Careem" which can be downloaded from play store. With the help of these apps you can easily find a nearby taxi. The amount of payment depends upon number of kilometers you've traveled.

See
Multan has enough to keep the visitor interested for 1 or 2 days - the highlights are the old fort and tombs, and the excellent Institute of Blue Pottery. If you are not of south Asian appearance you will receive a lot of attention, from both locals and the authorities - be prepared for quite a lot of hassle.
Ruins of Multan FortThe Multan Fort on a high mound of earth which separated it from the old branch of the river Ravi. There are now only remnant of this old fort, which was considered as one of the best fort (defense wise) built in the sub-continent. The fort was destroyed when the British took over. During its heydays the fort walls were was almost 1.6 km long. The fort is in the middle of the city, close to Multan Cricket Club (MCC) next to Shah Rukn-e-Alam's Mazar. The huge sprawling ancient complex had seen kings and empires fall or rise before its huge walls. Its initial origins are disputed, but the site was destroyed by the British garrison stationed here during the Raj. There is a park called the Fort Qasim Park. It has some memorials from the Raj era apart from having some electric rides as well. On to the western sight of the fort there is a place called 'Damdama'. It provides a wonderful viewpoint of the city. Try locating an art shop called Nigar Khana on the left as you walk your way towards the Damdama entrance. It is, for unknown reason, located underground. Its a cool shop though with a large collection of traditional Multan handicrafts. Plans are underway to renovate or build a new damdama.
Historical Gates of Multan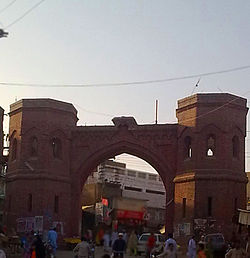 Pak GateThis gate named Pak Gate not due to Pakistan, but because of the Saint Hazrat Musa Pak Shaheed. When he died on 33rd Shahban 1010 H, Firstly he was buried in Uch Shareef near his Father Syed Hamid Gunj Buksh. Then when his son saw his Grand Father in Dream Instructing him to get Musa out from his foot side, then he was buried again at "Moza Mungay Hatti". After 15 years his son have another dream who lives in Multan to give Musa back to Multan. Your followers have full faith on you. So, they bring you to Multan. The Gate used to bring your body at that time is still called Pak Gate. 90 m (300 feet) inside Pak Gate you will find the Mazar of Hazart Musa Pak Shaheed.

Haram GateThe Gate used to bring your "Haram" is still there and called Haram Gate.

Delhi GateThis Gate is named "Delhi" as this faces towards Delhi in India and the road leads towards Delhi. During Mughal Period, when ever the Kings or State Guests visits Multan they entered through this gate.

Doulat GateThis City Gate is vanished in early days. Only the name is alive & the place where it was to be. It is thought that the Gate called "Doulat Gate", because of the Mazar of "Pir Doulat Shah" which is on the front of the Gate. The Mazar is still there and people come and pay visits. Now due to modernization and enhancements of circular road across the city this "Mazar" comes between the two road & only the tomb area left. The Green Tomb of the Mazar is now between the two busy roads.

Bohar GateThis Gate faced towards the River Ravi. Once when Multan was a busy river port. This Gate is the main entrance for the food supply and communication. The gate called Bohar because out side this gate there are too many "Bohar" trees. Now with the passage of time the river changed its way and the trees cut down. Now you can see the commercial centers around Bohar Gate.

Lohari GateIn urdu "Loha" means iron. The gate named Lohari because many Lohari (ironsmiths) live outside of this gate, and they have their workshops there.
Shrines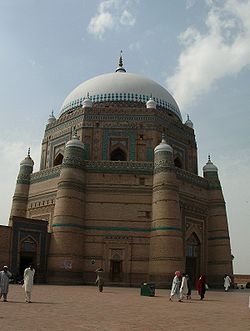 Multan is famous for its association with saints, sufis and fakirs. The tombs boast a rich architecture with attention to the details. Some of the major shrines to be found and worth a visit are:
Hindu temples in MultanThe most important place of the Hindu period was the "Sun Mandir" (Mulasthana in Sanskrit). It was the most important place of worship throughout the South Asia as referred to in many books. It was situated on one of the old Fort. There is however no trace of it now. "Suraj Kund" (the pool of sun) is about 8 km (5 miles) to the South of Multan on the Bahawalpur Road. It was a pond 40 m (132 feet) in diameter and 3 m (10 feet) deep when full of water. Sawn Mal the Sikh Diwan surrounded it with an octagonal wall. It was a place of pilgrimage till 1947 and two fairs were held here annually. One on the 7th of the Vanishing moon of Bhadon, and the other on the 7th of the rising moon of Magh, the numbers having references to the seven hours of the Sun's Chariot, according to the Hindu belief of the seven Rishies.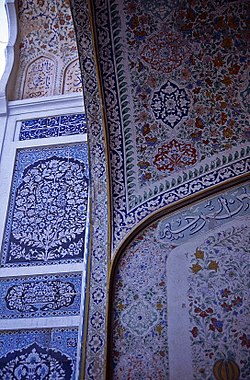 Sawi mosqueSawi Mosque is the oldest mosque of Multan situated in Mohalla Kotla Tolay Khan Outside Lohari Gate. It is supposed to be one of the oldest mosques, which still exists though it has no roof now and most of its decorations have been damaged; glazed blue tiles were profusely used for ornamentation. Parts are still intact

Mausoleum of Shah Rukn-e-Alam

address: Qilla Kohna Qasim Bagh Rd

On top of a small hillock, behind the old ruins of Multan Fort, the Mazar and its majestic dome is the first landmark visible when you enter proper Multan. Shah Rukn-e-Alam (1251-1335) was a Sufi saint in Multan. He was revered by his followers, and to this date thousands of pilgrims from all over Pakistan come to Multan to pay homage. He was the grandson and successor of another great Sufi Shaikh Baha-Ud-Din Zakariya, whose Mazar is also near this one.
Syed Shams-ud-din "Shah Shams Sabzwari"
Hazrat Khwaja Hafiz Muhammad Jamal Multani
Shrine Khawaja Awais Kagha
Shrine Shah Ali Akbar
Shrine Mother of Shah Ali Akbar
Shrine Mai Maharban- A shrine 900 years old near Children Hospital Multan.
Syed Shah Yousaf Shah-e-Gardez
Bahauddin Zakaria- The tomb is on top of the old city hillock, behind Shah Rukn-e-Alam's Mazar. South Punjab's largest university is named after this Sufi saint, Bahauddin Zakariya University.
Bibi Pak Daman
Remember to take your shoes off when you enter any of these.
Eidgah. Historic Eidgah in Multan is a part of beautification of the ancient city of saints and revival of its archaic originality. The 268-year old Eidgah, spread over five acres near the LMQ Road, was built in 1735. The architectural specialty of the building is that it is the only edifice having a bulbous dome in southern part of Punjab.
Myrters Memorial. Yadgar-e-Shuhada is a wonderfully landscaped garden with a memorial commemorating the recipients of Nishan-e-Haider, Pakistan's top military award. Its along Shershah Road in the cantonment area. It has a nice sitting place and a popular Fort Bakers nearby.

Clock TowerCalled the "Ghanta Ghar" in the Urdu language, it is the landmark of the old city. It was built during colonial times. The clock tower square has undergone renovation and is set to become the major landmark of Multan.

Nishtar Medical CollegeThe college campus is an old and traditional building. It symbolizes Islamic architecture with central quadrangular.

Hussain Agahi BazarThis is more of an all-in-one bazar. Try sampling some local sweets near a shop at its entrance. For the handicraft lovers, walk up the stairs to the first arcade on the right. There is a nice handicraft shop on first floor. Walk further into the bazar and you come across shops of all sorts. the first street down the left is particularly interesting. Here you can find oils of about a hundred plant and animal sources. They even prepare an 'oil cocktail' for you depending on the purpose you want it for. Ask for oil for falling hair and you see three different oils being mixed up with exact proportions. And they work too. A further walk forward on the same road brings you to the spice bazar. Try some nuts if you want. Kalay Manddi is another site ahead, famous for its cut-piece cloth and fabric shops. Moreover, you can find separate sub-bazars or streets naming Sarafa Bazar, Choorian (Bangles in English) bazar.

Cantonment Park

address: Near Multan Garrison

A boutique park with sub-sections of theme gardens, there is a Japanese garden, palm garden, rose garden a cactus garden so on and so forth. There is an artist corner, A theatre performance area, and a small library. There are separate open air gyms for males and females. It also has a 3-km long clay jogging track with soft music playing all along.

Chaman Zar Askari Lake Park

address: Sher Shah Road

A large park with an artificial lake, paddle boats and some electric rides. If you are lucky there is a carnival happening with artists from different parts of the world performing

Multan MuseumContains a fine collection of coins, medals, postage stamps of the former State of Bahawalpur, manuscripts, documented inscriptions, wood carvings, camel-skin paintings, historical models and stone carvings of the Islamic and Pre-Islamic period
Do
Cricket: You may be able to catch a game at the Multan Cricket Stadium, which is a traditional venue for a test match and a one day international every cricket season, which runs from September to February in Pakistan. Cricket has a huge following here, as anywhere in Pakistan. The national captain and star batsmen Inzamam-Ul-Haq is a local boy, and any game sets the town into a frenzy of excitement. ODIs are well attended, sell out crowds. For an "at ease" experience, go to a day at the test. Moderate crowds will make it a much more enjoyable experience. The Multan pitch is one of the flatest in the world, so batting feasts are the norm. Good viewing!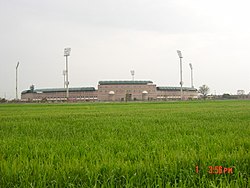 Chenab River Bank

address: Multan - Muzzaffargarh Highway

Take a boat ride along the river Chenab. For this you will have to drive toward Muzzaffargarh. Alternatively, take a minibus towards Muzzaffargarh from Dera Adda (the minibus station). costs around Rs30. Get off after you cross the Chenab bridge. Take the trail towards left and after a short walk you'll be to reach at the resort where boats will be leaving every now and then. Named as Chenab Park,this is a great site for camping and barbeque. There used to be fishing but not anymore now. It's a great family outing and a picnic spot on the occasions of Eid and other national festivals.
Visit Sufi Saint Shrines
Visit these beautiful shrines ranging from 400 to 1000 years old architectures.
Tomb Mai Maharban near chowk fawara
Shrine of Shah Rukne Alam in Multan fort
Shrine of Shah Bahaudin Zikarya in Multan fort
Shrine of Shah Yusuf Gardez inside bohar gate
Shrine of Shah Shah Ali Akbar suraj miani graveyard
Shrine of Khawaja Awais Kagha in dera basti graveyard
Shrine of Bibi Pak Daman in dera basti graveyard
Shrine of Inayat Wilayat
Shrine of Musa Pak Shaheed
Buy
Retail stores: Multan has three main shopping districts. Saddar Bazzar, Hussain Agahi and Gulgasht. While there is no big supermarket, tourists and foreigners do their shopping from CSD plaza in Cantonment, Prince Departmental store in Saddar (there is a fine supermarket at the basement where you can get all the imported groceries) and Panda on Bosan Road. Sharif Plaza near the city courts has garment retail shops that sell at a bargain. Food Festival is a local chain of convenience stores with main branch at Nishtar Chowk. HTH stores are located in Shahruknealam colony and Garden town.
Hussain Agahi is a huge but congested market that sells almost anything, famous for local textiles, electronics, spices, carpets, handicrafts, pottery, and the famous Multani halwa. Mind you that without negotiating, you will not get a good deal. Almost everyone are selling the same items, so finding a bargain is quite easy. Haggle for everything you want.
Brands and textiles: Most of the brands are found at Chenone Tower at Abdali Road and Pace at Bosan Road. Feb-March is usually the big sales season
Blue Tiles: Multan is very famous for its beautiful blue tiles, used in bathrooms and other areas of house/building for decoration.
Pottery: Multani pottery is very famous all over Pakistan, used as decoration, especially vases.
Quality suitings: There are also good local tailors who can wrestle up a fine tunic-trouser combo in fair time. Nice prices.
Multani Jewellery: Very well known all over Pakistan due to its uniqueness of designs, colours and sizes, especially "Multani Har". Hassan Arcade on Nusrat Road has a whole square of Goldsmiths.
Multani Mitti: Multani clay' is used as mud mask.
Multani Shoes: Very famous and traditional shoes, worn during weddings and festivals usually. Look for shops near Ghanta Ghar
Camel skin lamp shades and other handicrafts

address: Rahim Center, Hussain Agahi

look for the award winning Naqqash family business. Nigar Khana at the city damdama has a cool handicraft shop at its basement.
Eat
Multan is known as the
city of mangoes
for a reason. The mango season, whilst stifflingly hot for non regional visitors, affords an amazing treat. Multan produces the juiciest, thickest and the most succulent mangoes in the world. Worth an international flight alone... almost!
There are many types of mangoes in Pakistan, including "SindhRi", "anwar rittol", "langRa" , "Chonsa", and "doosairi". Each of them is different in taste, size, quality of pulp etc.
Special dessert of Multan (sometimes mistaken as Habshi Halwa). It is made of sugar, pure ghee and flour and then jeweled with nuts and pistachios. It can be had at most of the tourist spots and sweets shops . Visit Qadeerabad if you want to see it made fresh and indulge in its flavour when it is dished out right off the stove.
Many street stalls sell the regional standard fare, kebabs, naan breads, chicken in a range of styles, etc.

Jindu Champ Markaz (Ribs and BBQ)A very unique two step BBQ process. Right in the action area of ghanta ghar

Tasty Restaurant

address: Dera Adda

Serves good quality local food at good prices. Good seating as well. it is on international standards. Their speciality is "Karahi" made with chicken or mutton

Fast FoodThere are quite a few international fast food chains in Multan as well. Pizza Hut is in uptown area of Gulgasht. KFC and Subway are to be found around the high court area in the Cantonment. Pizza parlors are very popular in Multan. Try PizzaTrack near Kutchehri or Papa Gino's in the Cantonment area. Home delivery is always free. Some of the local fast food chains are to be found in the Gulgasht area.
A branch of McDonald's has been opened in Cantonment area of Multan.
Uptown eateriesMost of the uptown eateries are to be found at the Gulgasht area. Try MUX for continental and Jhok for Pakistani food. If you are looking for Mongol cuisine, try "Mongol Dastarkhawn" at Nawan Sheher

Zanzibar

address: Abdali Road

Good atmosphere.

Nawab da hotle

address: Multan Muzzaffargarh Highway

It serves special goat meat with spinach and lentils in a village like environment. A favourite with inter-province truckees and multanis alike

Khan Restaurant aka Taj Hotel

address: Nawan Shehr Chowk

The most authentic lunch in town. For mutton lovers, mutton joints in a thick balck-pepper curry is famous, tastes different and authentic. Does not have reservations and can fill in early for lunch.

MUX

address: Gulgasht

MUX is the IATA code for Multan Airport. It serves a variety of cuisines

JhokTraditional food in a traditional setting. Expensive.
Drink
Alcohol is sold at Ramada and Sindbad Hotel to non-Muslims only.
All types of local and international propriety soft drinks are available in almost every store and roadside shops. Bottled water is ubiquitously available. Keep yourself hydrated as mercury can rise sharply sometimes.
In summer you can try the local 'falsa cola' (red currant cola) which is almost unique to Multan.
Also give a try to the 'Goli Wali Bottle' (soft drink bottle with marble in it) It can be had at specialized drink shops at Dera Adda or in the old city.
Dahi ballay (curd with mix vegetables) and Gol GappayDahi ballay (sour curd with mix vegetables) and gol gappay are a must have in Multan. These are best had at a parking of a local cinema at Nawan Shehr

Khara SodaAvailable at some of the herbalists in and around Ghanta Ghar.

RubReeDon't forget to enjoy the sweet drink that is prepared by condensed milk. Available on "Ghanta Ghar" (Clock Tower). Caution: Dangerous for diabetics.

Rus MilaeeThe "Rus Milaee" is prepared with milk & sweets. Available in most of the sweet shops around town. the best can be found near "Ghanta Ghar" (Clock Tower) & Hussain Agahi Bazar. Caution: dangerous for diabetics.
Sleep
Multan offers budget and uptown room and board options. The city's guest houses and budget inns are mostly found in the Area called Altaf Town on Tariq road. Some of the options are:
phone: +92 61 4540877

address: 76 Abdali Road

Decent 3-star hotel in the city center. Fair prices, nice rooms. Staff is friendly.

Sindabad Hotel

address: Old Bahawalpur Road

Good hotel, clean rooms. A/C. Minibar. Cable TV. This is probably the best hotel in the city.

phone: +92 61 4572968

address: Opposite RT office, Nawan Sher Multan

International direct dial telephone, 27 inch LCD screen TV with satellite channels, Mini Bar, Walk-in closet, Luxury marble bathrooms equipped with a hair dryer and telephone, Central air conditioning with temperature control.

address: NO 7A Guldrean Colony LMQ Road Nawab Shah

10 rooms with en suite bathroom. Pakistani dishes can be ordered onsite. Nearby parking is available and security guards watch the premises. The hotel is a 2-minute drive to Pearl City.

The First Hotel

phone: +92 61 4785111

address: 14-Kashan-e-Haider, Old Bahawalpur Road

In the centre of Multan city, a 20-minute drive from airport.

Sheza Inn

address: Katchery Chowk, opposite the town hall
Go next
Bahawalpur is famous for its Palaces, Library, Museum, Zoo, Historical gates and Lal Sohanra National Park. Also see Derawar Fort and Cholistan Desert. Situated approx 200 km from Multan (3 hours drive), close to Bhawalpur, is huge fort in the middle of Cholistan desert called Derawar Fort. A square shapped fortress, approx 1600 m (5000 feet) in circumference and 30 m (100 feet) high, the forts 40 large cylindrical shaped bastions shows its majestic from far away. Since 1700 the fort is the property of Nawab of Bhawalpur. During 1965 war with India, the fort was also used as an ammunition dump as well, therefore was a legitimate target.
Near the fort is a marble mosque which has been modelled after the Red Fort in New Delhi. Getting to the fort is a bit tricky. Although there is a proper metaled road, but there are no sign boards or directions pointing which way to go. From Ahmedpur East , before the toll plaza, a service road takes you to the town main market (if you are heading south on the highway). Take a left, and after every 10 minutes ask for directions.
Uch Shariff, 75 km from Bahawalpur and approx 175 km from Multan is another city which can be labeled a City of Saints in itself. However several of the master pieces are in depleted conditions. Damage was caused by floods several years ago. Visit shrines of Hazrat Bahawal Haleem, Hazrat Jalaluddin Surkh Bukhari, Makhdoom Jahanian Jahangasht, Bibi Jiwandi, Shaikh Saifuddin Ghazrooni etc
Head Punjnad is located 130 km to Multan on KLP road where punjab five rivers jehlam sutluj beas ravi and chenah unite to
form punjnad river which end in indus river. near Head punjnad is Nalka Adda basti Gabol village beautiful area
Harappa Ruins is located near Sahiwal. Cultural heritage and show the origin of Sub-continent's human inhabitation.
Fort Manro is near DG Khan and is a hilly fine place to visit. Fort Munro, at height of 2100 m (6,500 feet), is a hill station in the Dera Ghazi Khan district, and part of the Sulaiman Mountains Range. The place is named after General Munro who was the administrator of Multan before partition. To escape hot Multan summers, General Munro would shift his head office to this location. From Multan, take the Highway N-70 to DG Khan and from there look for the exit after Khar on the Loralai Road
Sangher Dra is a pass in hills of Suleiman Range from here a hill torrent traverse out. It has beautiful small blue lagoons in its course,locally called 'Dhunds'. This pass is a valuable site for hunter of minerals and fossil specimens; provides a colorful panoramic view of various minerals in sedimentary rocks. A road to it separates near Taunsa town located on Indus Motorway between D.I. Khan D.G. Khan cities. On route to it worth seeing ruins of Laj Meer are still surviving near a village Mangrotha.