Mumbai/Northwest
Northwest Mumbai
consists of the suburbs of Manori, Jogeshwari, Borivali, Gorai, Mira Road, Bhyander, Naigaon, Vasai,
Nala Sopara
,
Virar
, Goregaon, Malad, Kandivali, and Dahisar. They lie on the Western train line and are usually considered part of the
Western Suburbs
. The district is home mainly to the middle class providing them with more affordable living. Apart from the usual suburban sprawl, this area has some nice beaches, especially near Malad. Jogeshwari has hot springs which are reputed to have medicinal properties. Borivali is the entry point for the Sanjay Gandhi National Park, which explains why the wildlife reserve is more popularly known as Borivali National Park.
Other destinations
Get in
All of these suburbs are on western train route. Western express highway which runs parallel to the train route on its eastern side is the main way to get get to these suburbs. It can take anywhere between 30 minutes to two hours to get here by train from downtown Mumbai. Trains are more dependable with regard to time, but heavily crowded most of the time.

See
Borivali
Aarey milk colony

address: Aarey colony Rd

Another green pocket of Mumbai. You can take a tour of the milk production plant and have a picnic outside.

Gorai West mangrove forests

address: — Sector 8?

Kanheri Caves

address: — Borivali, Mumbai

This is a nice place to visit for history enthusiasts. This is a complex of Buddhist temples cut out of the rock.

Mandapeshwar Caves

address: — Laxman Mhatre Rd, Mandapeshwar, Dahisar West, Borivali West, Mumbai

Sanjay Gandhi National Park

phone: +91 22 2842 1174

address: Borivali, Mumbai

Check out this relatively unknown national park in North Mumbai. It's in Borivali and serves as the lungs of Mumbai. It's quite famous for its leopards and the caves inside the park. Within the park are three fun activities: pedal boating, a toy train ride that runs over a bridge and through a tunnel, and a "safari" bus ride into the park to view tigers and lions. Tickets for each activity are sold on site.

Temple of Sai-Dham

address: Mahatma Gandhi Rd, Sukarwadi, Borivali East

There are many Hindu deities worshipped under one roof.

Vazira Naka

address: —Lokmanya Tilak Rd, Borivali West

This is very well known for Siddhivinayak Temple of Lord Ganesh (Swayambhu).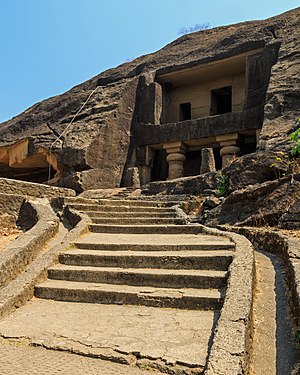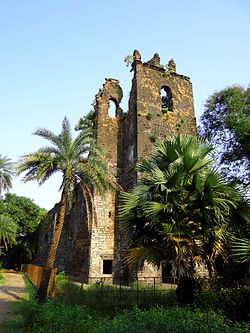 Manori
Manori

address: tiny island off Marve beach near Malad

This is a small beautiful island with nice beaches, but dangerous for swimming. The beach on the northern side is cleaner. This is a nice place to spend the weekend though. It has a couple of hotels (see under sleep.) Make sure to try the sea-food here. Also be sure to book in advance, as the rooms get filled up, especially over the weekend.
Vasai
address: Killa road area, Vasai village, in the Vasai taluka (county) of the District of Thane

This is a large fort. The name "Bassein" is a version of an apparently native name that may have a connection to the Vasa Konkani tribals of the North Konkan region, extending from Mumbai into "South Gujarat." Portuguese mariners exploring the north Konkan Coast, discovered the Arab Sultanate of Khambat or Cambay, building or renovating or expanding the fort in the early 1400s and attacked it in a failed effort to seize it. The ramparts overlook what is alternatively called the Vasai Creek and the Bhayander Creek and are almost complete, though overgrown by vegetation. Several watch-towers still stand, with safe staircases leading up. The Portuguese buildings inside the fort are in ruins, although there are enough standing walls to give a good idea of the floor plans of these structures. Some have well-preserved façades. In particular, many of the arches have weathered the years remarkably well. They are usually decorated with carved stones, some weathered beyond recognition, others still displaying sharp chisel marks. Three chapels inside the fort are still recognisable. They have façades typical of 17th-century Portuguese churches. The southernmost of these has a well preserved barrel-vaulted ceiling. The nature: It is a great place to observe butterflies, birds, plants and reptiles.

Vejreshwari Temple

address: Police Colony, Vasai West, Vasai
Do
phone: +91 22 2845 2222

address: Global Pagoda Road, Gorai Creek, western coast of Borivali

It is an amusement park. There are 34 major rides not to include the coin operated games & a mini club. There are over 30,000 specimens in their botanical gardens and 79 rides and slides & Essel World attracts almost 1.8 million visitors each year. +phone=+91 22 6528 0305

address: Western end of Borivali

On holidays the beach is full of visitors and localities. Plenty of accommodation options are also available at Gorai beach

Gorai Udyan Garden

address: Gorai Sector-1, Borivali

Jhansi Ki Rani Garden

address: ~102, Link road, Eksar Village, Eksar, Borivali

Also here the Lakshmibai Udyaan Pond.

Prabodhankar Thackrey Auditorium

address: Sodawala lane, Borivali

Where a variety of dramas, plays are scheduled (in Gujarati, Hindi, Marathi & also in some south Indian languages).

Veer Savarkar Udayan Garden

address: Borivali

an ideal place for all which have facilities like jogging track, boating area, kids play garden, skating, etc.

Water KingdomOne largest of the Asian water amusement parks.
Buy
It is a growing area of shopping malls.One of the best malls in Mumbai are locating in this belt due to the rising affluence of the locality. One that stands out is InOrbit, Malad. Other than that places to shop are concentrated near railway stations.
address: Akurli Rd, Off.Western Express Hwy, Kandivali East

Four-level shopping centre.

phone: +91 22 6195 5555

address: Link Road, Malad West

There are various areas for shopping, multiplex theatre complex, entertainment & games, food court, recreational area, multipurpose hall/ unit, offices, storage, parking, services, etc.

phone: +91 22 4099 0824

address: Dindoshi, Goregaon East, Oberoi Garden City

It offers the upmarket shopper over 500 brands under one roof.
Eat
Banjara Dhaba, Borivli West, Rushi Complex, close to IC Colony. Good variety of Punjabi and Chinese food. Reasonably priced and decent Dhaba style ambiance. Drinks served.
'Good Ambience, Kids love the place due to the Jungle theme inside the restaurant. Priced reasonably.
Machaan Restaurant in Malad west, Above Croma, on link road is a good family restaurant &s erves some excellent veg & non veg Indian food. Drinks are also served.
Rajdhani, In Orbit mall, Malad. Great Gujarati Thali.
Salute, Borivli West, Kastur Park. Good variety of Punjabi food. Moderately priced.
Silver Coin, IC colony, Borivli. Good variety of Moghlai, Punjabi food along with a few continental dishes. Average meal per person around ₹350.
Urban Tadka, Kandivali, Off West Express Highway. Good variety of Punjabi. Moderately priced. Drinks served.
Drink
This is not a great place to drink. It has only few good pubs. Drinks are served in a few good restaurants. A large number of men drink in smaller and cheaper bars, but women are not generally seen in such places.

Sleep
Star of Mumbai

phone: +91 22 33487197

address: 172, Shahid Bhagat Singh Society, JB Nagar, Andheri East

Tourist Resort

phone: +91 93 24 257346

address: Vairala Talao, Gorai Beach, Uttan Road, Borivali West

Working hours: M-Sa 7AM-11PM
Mid-range
Blue Balerina

phone: +91 22 2882 2139

address: Erangal Beach, Madh Marve Road, Malad West, Malad West, Marve Rd, Chikuwadi, Malad West
Splurge
phone: +91-22-2880 8888

address: 11, Madh-Marve Road, Aksa Beach, Malad (West), Mumbai - 400 095

Five-star hotel, close to Aksa beach. +phones= +91-22-2844 5538, +91-22-2844 5260, +91-22-2844 5318

phone: +91 22 2881-3500

address: Erangal Beach, Madh-Marve Road, Malad (W), Mumbai 400 061

A five star beach facing hotel.