Mumbai/South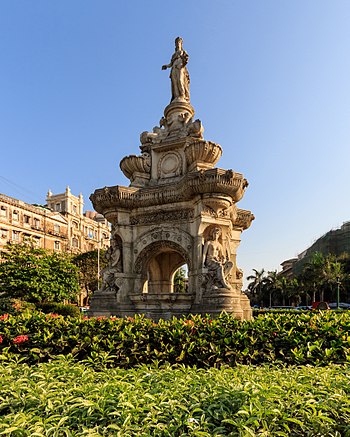 South Bombay
is a commonly used term, but the extent of this district is not commonly agreed upon. This article uses the term to denote the areas of Fort, Colaba, Malabar Hill, Nariman Point, Marine Lines, Kalbadevi, Pydhonie, Mahalaxmi, and Tardeo. On the North it border the
South Central Mumbai
.
South Bombay was the center of terrorist attacks between the evening of Nov 26 & 29, 2008.
Understand
This district contains some of the oldest parts of the city. For a long time, this
was
the city. One of the seven islands that were joined to form
Mumbai
was called Bombay. This is where the British started on their long quest to build the docks and the city. They built Fort St. George, which no longer exists, but the area is still called "Fort". The Fort area contains many corporate offices and most of the administrative offices of the city and
state
governments.
Paradoxically, this district contains one of the newest areas of the city, Nariman Point, which was built on land reclaimed between the 1940s and the 1970s. This is Bombay's downtown, where the offices of India's topmost corporate houses are located.
Malabar Hill, the most affluent residential neighbourhood in the city is also located here. Most industrialists have their bungalows here. This is also where the official residences of Maharashtra's chief minister and Governor are located. Altamount Road is another affluent area that features the residences of Ratan Tata and Mukesh Ambani, amongst others, the latter of which is the most expensive residence in the world. The other famous location is Colaba, which used to be an island by itself, until it was connected to Bombay by a causeway. This area contains a naval base.
Most of the city's famous landmarks, including the iconic Gateway of India, Taj Mahal Hotel, and Marine Drive (Queen's Necklace) are located here.
Get in
By taxi
This is the best way to reach South Mumbai whether you have arrived by air, train, or bus. The taxi should be able to get you straight to your hotel.
By train
All three lines of Mumbai's local train network
terminate here. The Central and Harbour lines end at Chattrapati Shivaji Terminus (commonly known by its former name of Victoria Terminus, or VT). The Western line ends at Churchgate, though long-distance trains stop at Mumbai Central. Most tourist areas can be reached most easily from VT and Churchgate stations. The best way to get here from the airport is to make your way to Andheri station and take a southbound train to Churchgate, though this method is not recommended during peak hours, especially if you have luggage.
By bus
BEST serves this area exceptionally well. During peak times buses have standing room only, but at other times it is a comfortable option. Buses in the series 1-199 serve this area.
By car
It is best to avoid getting your car here, especially on a weekday. While all highways terminate here and traffic discipline is better than almost anywhere else in India, the extraordinary amount of traffic and the near impossibility of finding parking close to your destination make this a bad option to take. Even if you drive down, it is a good idea to park your car at one of the paid parking areas run by the Municipal Corporation (look for "MCGM" on the streets) and then take other means of transport to your destination.
See
Crawford market, Bhuleshwar, Chor Bazaar — These are crowded, chaotic markets which are home to some of the really interesting items, including antiques available for very cheap. One has to be prepared to look around though. More see at Buy chapter.

Dongri Fort

address: Dongri area

It is in a dilapidated condition and is declared 'endangered'.

address: Gharapuri Village, Shet Bandar, Elephanta Island

Check out these fine examples of rock sculptures dedicated to Shiva. Even though many of them have been vandalized by Portuguese invaders, their grandeur is hardly diminished. The island has two groups of caves in the rock cut architectural style. The caves are hewn from solid basalt rock. All caves were painted in the past, but only traces remain. The larger group of caves, which consists of five caves on the western hill of the island, is well known for its Hindu sculptures. The primary cave numbered as Cave 1, is situated about 1.6km up a hillside, facing the ocean. It is a rock cut temple complex that covers an area of 0.56 ha, and consists of a main chamber, two lateral chambers, courtyards, and subsidiary shrines. It is 39 m deep from the front entrance to the back. The temple complex is the abode of Shiva, depicted in widely celebrated carvings which reveal his several forms and acts. The northern entrance to the cave, which has 1,000 steep steps, is flanked by two panels of Shiva dated to the Gupta period. The left panel depicts Yogishvara (the Lord of Yoga) and the right shows Nataraja (Shiva as the Lord of Dance). The central Shiva shrine (see 16 in plan below) is a free-standing square cell with four entrances, located in the right section of the main hall. Smaller shrines are located at the east and west ends of the caves. The eastern sanctuary serves as a ceremonial entrance. - On the eastern part of the island, on the Stupa Hill, there is a small group of caves that house Buddhist monuments. This hill is named after the religious Stupa monument that they display. One of the two caves is incomplete, while the other contains a Stupa made in brick. - Every year around February, the Elephanta Festival of music and dance takes place on this island in the backdrop of the sculptures. - The caves were designated an UNESCO World Heritage Site in 1987. See Elephanta Island for more details.

Nariman PointThe area is on land reclaimed from the sea. Nariman Point is the business hub of Bombay. However, with the change in economic conditions, many companies have shifted to other areas of Bombay like Parel, Worli, Bandra-Kurla Complex, Andheri-Kurla Road, and Powai. Here is located here along with a number of airlines offices and luxury hotels. Don't miss out the Air-India building. It is widely regarded as the 'Manhattan' of Mumbai and it boasts of a spectacular skyline and pricey residential condos. It is also the main financial district of Mumbai and houses most of the financial services and brokerage companies—both Indian and international. It is also the location for the Vidhan Bhavan which is the political headquarters of the state of Maharashtra.

phone: +91 22 6638 7272

address: GD Somani Rd

Cuffe Parade quarter is one of the high-end areas where the famous World Trade Centre and Unit Trust of India offices are located. Navy Nagar/Army cantonment area is located here which is the southernmost boundary of Bombay.
Colonial architecture
phone: +91 22-22721233

address: Dalal Street, Kala Ghoda, Fort

The Stock Exchange is country's premier stock exchange. BSE Ltd, the first ever stock exchange in Asia established in 1875. This tall building is visible from anywhere in VT/Churchgate and makes a prominent part of the skyline of Bombay. The neighborhood known as Fountain area which is a prominent hub for commercial activity of Bombay as all the major banks are located here. You may cash your traveller's cheques here. About Phiroze Jeejeebhoy Towers: popularly known by its original name of BSE Towers, is a 29 storey building in downtown Mumbai. The street on which the site is located came to be called Dalal Street in Hindi (English: Broker Street) due to the location of the exchange. The building completed and occupied by the BSE in 1980. It was initially called BSE Towers. Soon after occupation, following the death of Sir Phiroze Jamshedji Jeejeebhoy, chairman of the BSE since 1966, the building was renamed in his memory. The building was a target of the 1993 Bombay bombings.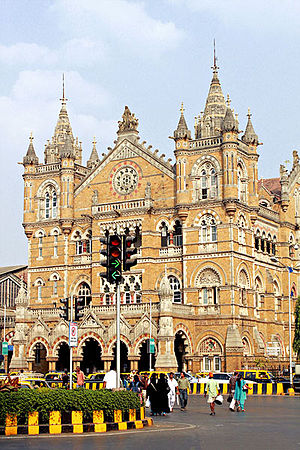 Chatrapati Shivaji Terminus

address: Dadabhai Naoroji Rd, Azad Maidan, Fort

It is the disembarking station for Central Railway local trains and long-distance trains. Adjacent to V.T. station is General Post Office, a grand building which is open 24 hours. The road goes further up to Ballard Estate where a lot of Corporate Offices and Mumbai Port is situated. About the architecture: The station building is designed in the High Victorian Gothic style of architecture. The building exhibits a fusion of influences from Victorian Italianate Gothic Revival architecture and traditional Indian architecture. The skyline, turrets, pointed arches, and eccentric ground plan are close to traditional Indian palace architecture. Externally, the wood carving, tiles, ornamental iron and brass railings, grills for the ticket offices, the balustrades for the grand staircases and other ornaments were the work of students at the Sir Jamsetjee Jeejebhoy School of Art. The station stands as an example of 19th-century railway architectural marvels for its advanced structural and technical solutions. The VT was constructed using high level of engineering both in terms of railway engineering and civil engineering. It is one of the first and is considered as one of the finest products of the use of industrial revolution technology merged with revival of the Gothic Revival style in India. The centrally domed office structure has a 150m long platform connected to a 500-m-long train shed, and its outline provides the skeleton plan for building. VT's dome of dovetailed ribs, built without centering, was considered as a novel achievement of the era. It has a C-shaped plan which is symmetrical on an east-west axis. All the sides of the building are given equal value in the design. It is crowned by a high central dome, which acts as the focal point. The dome is an octagonal ribbed structure with a colossal female figure symbolizing Progress, holding a torch pointing upwards in her right hand and a spoked wheel in her left hand. The side wings enclose the courtyard, which opens on to the street. The wings are anchored by monumental turrets at each of their four corners, which balance and frame the central dome. The façades present the appearance of well proportioned rows of windows and arches. The ornamentation in the form of statuary, bas-reliefs, and friezes is exuberant yet well controlled. The columns of the entrance gates are crowned by figures of a lion (representing Great Britain) and a tiger (representing India). The main structure is built from a blend of India sandstone and limestone, while high-quality Italian marble was used for the key decorative elements. The interior of the building was conceived as a series of large rooms with high ceilings. It is a utilitarian building and has had various changes required by the users, not always sympathetic. The main interiors are also decorated: the ground floor of the North Wing, known as the Star Chamber, which is still used as the booking office, is embellished with Italian marble and polished Indian blue stone. The stone arches are covered with carved foliage and grotesques. Internally, the ceiling of the booking hall was originally painted blue, gold and strong red on a ground of rich blue with gold stars. Its walls were lined with glazed tiles made by Maw & Co of Britain. Outside, there are statues representing Commerce, Agriculture, Engineering and Science, with a statue representing Progress on the central dome of the station. - A statue of Queen Victoria beneath the central dome has been removed. - CST has 18 platforms - 7 are for locals trains and 11 are for long distance. This is one of World Heritage List.

Fort George ruins

address: Fort area

This was an extension to the fortified walls of Bombay (now Mumbai) built in 1769. The hill on which the Dongri fort stood was razed, and in its place Fort George was built. In 1862, the fort was demolished. A part is visibble near St. George Hospital. The fort was 1 mile (1.6 km) long and about a third of a mile in breadth (500 m). Its length was from NNE to SSW, and it was named in honour of George III of the United Kingdom.

address: Shivaji Rd, Apollo Bandar

The landmark hotel close to the Gateway of India, along with the Oberoi is one of the oldest five star hotels in India. The Taj Mahal Palace Hotel original building was commissioned in Indo-Saracenic style by Tata and first opened its doors to guests on 16 December 1903. The builder was Khansaheb Sorabji Ruttonji Contractor who also designed and built its famous central floating staircase. The cost of construction was £250,000 (£127 million today). During World War I, the hotel was converted into a 600-bed hospital. The dome of the hotel is made from steel as used in the Eiffel Tower. Jamsedji Tata imported the same steel during that time. The hotel was the first in India to install and operate a steam elevator. The hotel imported American fans, German elevators, Turkish baths and English butlers, for the first time in India. In 2008, four gunmen attacked the Taj Mahal Palace & Tower. In 2003 was two more terror attacks near here, at the Gateway of India
Museums & galleries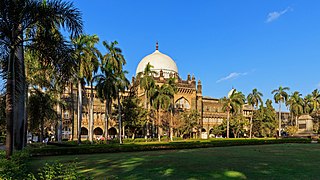 Chhatrapati Shivaji Maharaj Vastu Sangrahalaya

phone: +91 22 2284-4484, +91 22-2284-4519

address: 159-161, M.G. Road, Fort precinct

Housed in a wonderful example of Indo-Saracenic architecture the Chhatrapati Shivaji Maharaj Vastu Sangrahalaya was established in 1904. The museum building, built of basalt and kurla stone, is a three-storied rectangular structure, capped by a dome set upon a base, which adds an additional storey in the centre of the building. The building accommodates a central entrance porch, above which rises a dome, "tiled in white and blue flecks, supported on a lotus - petal base". A cluster of pinnacles, topped with miniature domes surround the central dome. The building incorporates features like Islamic dome with a finial along with protruding balconies and inlaid floors, inspired by Mughal palace architecture. The architect, George Wittet, modeled the dome on that of Golconda Fort and the inner vaulting arches on those at the Gol Gumbaz in Bijapur. The interior of the museum combines the columns, railings and balcony of an 18th-century Wada (a Maratha mansion) with Jain style interior columns, which form the main body of the central pavilion below the Maratha balcony. - The ground floor contains a small, but representative collection of sculpture from ancient and medieval India. A mezzanine floor has exhibits on the Indus Valley civilization that is not particularly well organized but worth a stop, especially if your visit to India does not include the National Museum in Delhi. The First Floor has an impressive collection of Buddhist (Nepal and Tibet) thangkas and bronzes and a smorgasbord of medieval Indian court and religious painting. The Third Floor houses an indifferent collection of European art and medieval weaponry that is best skipped. - Opened new galleries: Krishna Art Gallery, Indian Miniature Painting Gallery, Textile or Indian costume gallery. - The excellent audio guide and the building itself make this museum a must on any visit to Bombay.
Places of worship
Temples
Churches
Mosques
Agiaries
Synagogues
Tephereth Israel Synagogue?
Do
Harbour Cruise — If you can afford it, rent the Taj's private yacht (has two sun decks and three bedrooms) for a cruise around the Mumbai harbour, US$300/hour (including drinks and meals).
Buy
CR2 Mall

address: Barrister Rajni Patel Marg, Nariman Point

Houses the INOX multiplex.

Colaba Causeway souvenirs

address: Colaba Causeway, Railway Colony precint

The street is the most frequented by tourists. You can buy many pretty trinkets from the street vendors at prices that an Indian would consider exorbitant and a foreigner cheap.

Crawford Market

address: Central Line? Lokmanya Tilak Marg, Chhatrapati Shivaji Terminus Area

Earlier it was the major wholesale trading market for fruits & vegetables. Now it houses shops selling imported items such as food, cosmetics, household and gift items. The market was designed by British architect William Emerson, in Norman and Flemish architectural styles. The friezes on the outside entrance depicting Indian farmers, and the stone fountains inside, were designed by Lockwood Kipling, father of novelist Rudyard Kipling. The market covers an area of 22471 m², of which 5515 m² is occupied by the building itself. The structure was built using coarse buff coloured Kurla stone, with redstone from Bassein. It has a 15-m-high skylight awning designed to allow the sunlight brighten up the marketplace.

Heera Panna Shopping Centre

phone: +91 22 2351 6318

address: Tardeo Road?, Malviya Nagar

It's a popular shopping destination for locals and shops usually deal in imported goods and electronics.

Kashmir Oriental Carpet Showroom

phone: +91 22-22183284

address: 20 Crush Hall, The World Trade Centre, Cuffe Parade

One of the finest places where you can get exquisite hand-knotted carpets and rugs from Kashmir with genuine certification of authenticity. This 30-year-old store has an amazing range of breath-taking carpets in wool and silk with very reasonable prices and a personalized service.

Manish Market

address: Ramabai Ambedkar Marg,

Very famous for its electronic goods, especially cell phones. Shops usually deal in grey goods though.

Musafir Khana

address: Musafir Khana Rd.?

Shops here deal in imported goods and electronics.

phone: +91 22 22819880

address: Inside Wankhede Stadium, North Stand, E & F Block, D Road, Churchgate, Mumbai 400020

Very nice fashion shop, creative women clothing from young indian designers (Abraham & Thakore, for example); Bungalow Eight is a (very elegant) brand but also sells clothes from other designers. Furniture is also sold here. Prices quite high.

King's

phone: +91 98333 13658 or +91 98203 60610

address: Florence House, Mereweather Road, Colaba, Mumbai 400 039

High-quality tailors at affordable prices. The place to get a bespoke suit in Mumbai - no ready-to-wear clothes here! Sunil and Gopal, the two brothers that own the place, have a good taste and commit themselves to fitting your tailor-made suit perfectly. King's is also a shirtmaker and does sell some accessories like cufflinks, ties, pocket squares. These are under the desk and you have to ask for them. King's suits are elegant, and their owners are very efficient also: urgent jobs undertaken. If you really are in a hurry, your shirt can be made in a few hours and your suit for the next day.
Bookshops & libraries
phone: +91 22035993

address: 40, Theosophy Hall, Vithaldas Thackersey Marg, 1st Cross Ln, New Marine Lines New Marine Lines

Asiatic Library at Asiatic Society

phone: +91 22 22611994

address: Shahid Bhagat Singh Rd,

The Asiatic Society of Bombay, a learned society in the field of Asian studies. - The library of the Society has over a hundred thousand books out of which 15,000 are classified as rare and valuable. It also has priceless artifacts and over 3,000 ancient manuscripts in Persian, Sanskrit and Prakrit, mostly on paper but some on palm leaf. The numismatic collection of 11,829 coins includes a gold coin of Kumaragupta I, a rare gold mohur of Akbar and coins issued by Shivaji. Its map collection comprises 1300 map. - The Town Hall (colloquially Called "Tondal" in the 19th century) that houses the Asiatic Society of Bombay was not built in 1804, the year in which the Literary Society of Bombay was formed. Though Sir James Mackintosh mooted the proposal for a grand edifice, it was not completed until the year 1830 (year to be confirmed with tablet on the entrance) after many fits and starts, when the Bombay Government agreed to make up for the shortfall in funds in return for office-space. The after-effects of this compromise can still be seen in the unseemly crowds gathered at the Stamp Office and other government departments in the Town Hall. It is now classified a heritage structure. Heavily influenced by Greek and Roman architecture, it has a portico with eight Doric columns. A flight of 30 steps lead up to the town hall and a wrought iron divided Regency staircase leads to the vestibule. In 1830 Sir John Malcolm, governor of Bombay stated: "It is the most magnificent structure that taste and munificence combined have as yet erected in India."

phone: +91 22823530

address: 9th Floor, Tower 1, One Indiabulls Centre, 841, Senapati Bapat Marg, Elphinstone Road (West),

phone: +91 22843703

address: 152 Mahatma Gandhi Marg, Kala Ghoda

This is a famous library and heritage structure. The idea for a library to be situated in the center of the city was the brainchild of Albert Sassoon, son of the famous Baghdadi Jewish philanthropist, David Sassoon. The building was designed by architects J. Campbell and G. E. Gosling, for the Scott McClelland and Company, at a cost of ₹125,000. David Sassoon donated ₹60,000, while the rest was borne by the Government of Bombay Presidency. - The building, completed in 1870, is built using yellow Malad stone, much like the abutting Elphinstone College, Army and Navy Buildings and Watson's Hotel. Above the entrance portico is a white stone bust of David Sassoon.

Art & Design Book Store

phone: +91 22822211

address: 104 Ramnimi, Mandlik road, Colaba

Moderate choice of books from international publishers on various art topics. Some magazines.

phone: +91 56339309

address: Apeejay House, 3 Dinsha Waccha Road, Churchgate

Search Word

phone: +91 22852521

address: Metro House, S.B Singh Rd, Apollo Bandar, Colaba Causeway,

phone: +91 22661994

address: Sayed Abdullah Brevil Road, Borabazar Precinct, Ballard Estate

Many books of all types, reliable book seller. Warning : not to be confused with the (poor) Modern Book Stall, on Sir Pheroze Shah Mehta Road just nearby, with has very few books, mainly second-hand.

Mozeb Books

phone: +91 22822660273

address: Podar Chambers, S.A. Brevli Road, Fort, Mumbai 400 001

Wide choice of books upon architecture, interior designing, stained glass. Amazing place with qualified booksellers. Categories : architectural monographs, architectural rendering & competition, architectural theory, architecture, architectures & interiors of commercial spaces, design books and so on. Publishers from Actar to Wiley, including Arquitectos mexicanos, Dover, El Croquis, Rizzoli, Shotenkenchiku Sha, Schiffer and many others.

Wayword & Wise

phone: +91 2266349946

address: Strategic House, 44 Mint Road, Fort, Mumbai 400 001

Very good bookseller ; has new releases and classics. Literature, non-fiction, crime, gardening, arts and so on. Could be located in any english-speaking country. But offers a good choice of local literature.

phone: +91-22-22612521

address: 181, Dr. Dadabai Naoroji Road, Fort, Mumbai 400 001

Many scientific books in this little shop. All disciplines covered. Reliable vendors, the catalog is displayed on the website, updated daily.

Computer Bookshop

address: Dr. Dadabai Naoroji Road, Fort, Mumbai 400 001

Reliable bookseller for computing. All aspects of computing covered, many publishers here, Packt and O'Reilly being the prominent ones.

phone: +91 22 61702276

address: Somaiya Bhavan, Ground Floor, 45/47 Mahatma Gandhi Road, Fort, Mumbai 400 001

Very good bookshop with a large selection of Indian and international literature in English. Some Hindi books. Non-fiction also, plus a children's corner.
Eat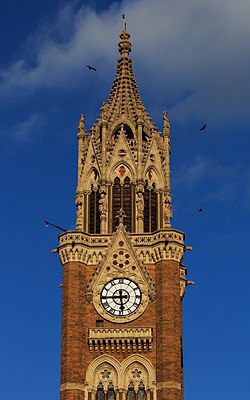 You can also eat from the various carts and hawkers if you feel your stomach can take it.
Budget
Aga BrothersA Causeway institution since time immemorial- Aga brothers pioneered the heavenly Frankie, available in chicken, mutton and egg stuffing. You may wash that down with an orange, mango or kalakhatta drink, another Aga Brothers speciality. Cost for a meal for one ₹100.Alcohol and smoking is prohibited

Ayubs

address: lane ?

Very Similar to Bademiyan. Great Kababs, especially the Tangri Kabab. Open until late and extremely popular among clubbers. It's a street joint and the only place to sit down and eat is your car.
Bade Miyan, Between Taj & Colaba. Eat on the road or in your car. Open until the early hours of the morning. The rolls are a favourite after a movie.
Baghdadi, behind the Taj. Food is a mix of Indian and Mughlai. Don't get put off by its looks, you go there to eat, not for the decor. No booze allowed.

Britannia and Co

phone: +91 22-2261-5264

address: Sprott Road, Ballard Estate, Fort

This rundown restaurant, run by a partnership of geriatric brothers (by the name Kohinoor), is a South Bombay institution, having been in existence since 1923. The signature dish is berry pulav, the recipe for which the late Mrs. Kohinoor found in Teheran while she was working with Iranian Airways. The Parsi favourite dhansak is of course available and tastes great. Try the caramel custard for dessert. The waiter may con you into trying the Raspberry soda. The first sip is sweet, but the whole bottle is cloying.

Crystal

address: Marine Dr

- Crystal is famous for its Parathas and North Indian fare. The food is very affordable and one will always find a line outside waiting to eat at Crystal.
Gokul, behind the Taj. It is frequented by anyone who wants an inexpensive drink served quickly.
Kailash Parbat, Colaba Causeway. This is a basic restaurant, serving excellent vegetarian Indian food.
Martin's, Strand, Colaba. Great Goan food. Order a drink quickly before your food is delivered to your table. Not for vegetarians.

Pancham PuriwalaRoad opposite GPO/ VS or CST station - corner building. Serve the best Puris as the same implies with some side dishes. Not the greatest in ambience, but a very good hole-in-the-wall restaurant around here.

Samovar, inside Jehangir Art Gallery, Kala Ghoda near Colaba Causeway. A favourite with the Bombay art community, serving vegetarian and non-vegetarian Indian food.
Swati Snacks, Tardeo. A safe way to try Indian fast food and street food.
Authentic Marathi Cuisine
Kelkar Vishranti Gruha

address: D.N.Road, C.S.T.
Mid-range
The Bayview, Hotel Marine Plaza

phone: +91 22-2285-1212

address: 29, Marine Drive Mumbai 400 020

This has a lunch, dinner, and midnight buffet worth trying. Also has a great view of Marine Drive and Malabar hill. Ask for the "Cafe Viennoise" and get extra chocolate flakes. It's not on the menu, so you have to ask the waiter for it.
Bhagat Tara Chand, Kalbadevi. Great Indian Curry and 'home food'. Must visit for Indian food lovers, but you have to walk a bit.
Cafe Basilico, Colaba, off Colaba Causeway, near Strand cinema +91 22 5634 5670. This is not a budget restaurant, but it's not expensive either. Very popular with expats who live in the city. Offers non-alcoholic drinks and coolers, Mediterranean-inspired food, and great dessert. Open all day. The rawas (local kind of fish) and the cheesecake is recommended.
Cafe Churchill, located on Colaba Causeway. Serves mostly continental food in a very cramped location. The food is pretty good, especially the pastas. The desserts here are the best and one should not miss the Irish Baileys Chocolate Cake, which is highly recommended.

Cafe Leopold

address: Colaba Causeway

Mumbai landmark, and badly damaged in the 26/11 terrorist attack. This place requires no introduction and is a favorite with travellers and locals alike. Serves a mix of Indian, Chinese, Persian, and Continental Food. Also serves great breakfast round the clock; it is renowned for fresh fruit juices.
Cafe Mocha, Churchgate. It is a relaxed Sheesha restaurant serving heavy snacks. Very popular for dessert and coffee.
Cafe Mondegar Colaba Causeway, has a live jukebox and functions as a bar (beer and wine served) and restaurant. Food is a mix of Indian, Continental and Parsi, and the ambience is fun and low-key.
Cafe Royal/CR, located across from the Regal Cinema. Bill Clinton chose to eat here on his visit to India. Famous for sizzlers and other continental food. It now goes by the name CR after being renovated.

phone: +91 22 2288 1159

address: Kala Ghoda, K Dubash Marg

A great Gujarati and Rajasthani food restaurant. Service is OK, atmosphere decent. They also serve cocktails and beer. ₹450 ($10) for two.
Food Inn, Opp Colaba Police Station,
Fountain Sizzlers, located near Flora Fountain. As the name suggests, it is famous for its sizzlers, especially among the office crowd.
Gable's, located on Colaba Causeway.Restaurant that serves good array of goan food besides delicious Leg of Ham,Pork Chops and Steaks. Frequented by travellers, has a good British breakfast of ham,sausage,eggs and bacon.
Gallops, Mahalaxmi Race Course, Mumbai (first entrance of the Mahalaxmi Race Course while coming from Haji Ali). Continental and Indian food restaurant. It's expensive, but worth it for the ambiance, service, and food.
Indigo Deli, Colaba, off Colaba Causeway, on the way to Gateway of India. Excellent food by the Indigo people at cheaper-than-Indigo prices. Very popular with locals and expats for lunch and brunch on all days, so there can be quite a wait.

Mahesh Lunch Home

phone: +91 22-2287-0938, +91 22-2202-3965

address: 8-B Cawasji Patel Street, Mumbai - 400 001

The most famous seafood place in the city. Definitely try the crab.
Moshe's, Cuffe Parade. Mediterranean food. Extremely popular with locals, and a good, classy mid-range option.

Oh! Calcutta

phone: +91 22-2496-3114

address: Tulsiwadi, opp.A/C Market, Tardeo, Mumbai 400 034

A Bengali place which naturally means that it has an extensive seafood menu. It also has a good vegetarian selection.
Paradise, located on Colaba Causeway. Paradise serves Parsi food and is extremely popular amongst locals, especially those who have been eating here since they were kids. The place has been recently renovated, though the charm still remains. The place is family owned and one must try the chicken steak, the chicken dhansak, and a really nice chicken salad.
Pizza by the Bay, on the junction of Churchgate Road and Marine Drive. Serves a popular soup and salad buffet lunch.
Rajdhani, near Crawford market serves excellent unlimited thalis. Strictly vegetarian. It has been rated one of the best places to eat in Bombay. ₹250.
Royal China, Sterling near VT. Good Chinese food and a special Dim-sum menu.
Thrishna, Kala Ghoda. It's famous for its seafood and patronized by locals, as well as expats.

Status

phone: +91 22 40318722

address: 208 Regent Chambers, Nariman Point, Mumbai 400 021

Very good vegetarian restaurant with a nice atmosphere. No meat nor alcohol here, but you won't miss it: the food is exquisite.
Splurge
The Dome, Hotel Intercontinental, Marine Drive. It is an open air bar and snack restaurant with a beautiful view of Bombay.
Frangipani, The Oberoi, Marine Drive. 24 hour restaurant. Popular for post-clubbing coffees with the posh set. They serve fantastic thin-crust pizzas, along with some local specialties. Excellent breakfast and brunch.
Golden Dragon, Hotel Taj Mahal, Colaba. The upscale Chinese choice for locals and expats.
Indigo, located in a bylane of Colaba behind the Taj hotel. This is an upscale restaurant serving global food. It also has a bar that gets lively after 9PM. Fantastic Sunday brunch (food+drinks+live music) at about ₹2000.
Kebab Corner in the Intercontinental Hotel - High class Indian food in a stylish restaurant with superb views over Back Bay
Khyber, Kala Ghoda. Nice Indian food at steep prices.
Lings Pavilion, Colaba behind Taj Hotel. High-end Chinese.
Tendulkar's, located in Colaba, near the Royal Bombay Yacht Club. Cricket player Sachin Tendulkar's restaurant. A mix of continental and Indian cuisine including Sachin's favourite dishes.
Thai Pavilion, The Taj President, Cuffe Parade near Colaba. The only legitimate Thai restaurant in the city.
Tiffin, The Oberoi, Marine Drive. A new addition to the restaurants in The Oberoi. Very popular for lunch and in between meals.
Trattoria, Taj President, Cuffe Parade. 24 hour coffee shop. Excellent pizzas. Can get extremely crowded on Sundays.
Wasabi, Hotel Taj Mahal, Colaba. Brand new Japanese restaurant. Recently re-opened after the 26/11 attacks, with a new, improved menu and a Nobu Chef.
If you know someone who is a member of the Willingdon, Bombay Gym, Radio club, or CCI beg them to take you there for cheap, good food, and dirt-cheap drinks.
Drink
The Bayview Bar, located at the lobby level of The Oberoi. Mumbai has an arresting view of the Arabian Sea and the finest range of single malts and Habanos cigars. "George and Soft Rock Revolution" perform at the bar and sooth you with their charming renditions of Jazz Classics. Open from 5PM-1AM. Tel +91 22 6632 6220.

Bootlegger's

address: Colaba Causeway

A small popular pub off Causeway. Reasonable drinks, ask for Jenga or Scrabble to play as drinking games.

Cafe Leopold

address: Colaba Causeway

Damaged in the 26/11 terrorist attacks, Leopold is an extremely popular local and expat hangout for cheap drinks, and good rock music. tasty food including an excellent reshmi kebab.

Cafe Mondegar

address: Colaba Causeway

Mondy's, as it's popularly called, serves excellent pitchers of Kingfisher, and at rock-bottom prices. Beer and wine are the only alcohols on the menu. Again extremely popular with local college kids with. Suffers from a regrettable tendency to cram as many tables into a small space as possible and sports a stereo system whose power isn't flattered by the echoey acoustics.
Dome in the Intercontinental Hotel provides a great view of Marine Drive, and has a fantastic ambience. Prices as to be expected at a hotel bar.
The Ghetto (near Mahalaxmi temple) is pretty good and has its usual media/arts college crowd and is completely filled with ultraviolet light.
Indigo — An exclusive lounge and bar located at Colaba causeway behind Hotel Taj Mahal in South Mumbai is a not to miss destination. +91 22 56368980. On the expensive side with an average drink costing ₹250 upwards. Boasts of a large wine collection and also serves superb fusion food. Excellent alcoholic Sunday brunch.

Opium Den

phone: +91 22 6632 4343

At Hilton Towers Mumbai. Serves a vast array of martinis, daiquiris, and home infused vodkas. Quiet and convenient, this bar is a break from the ordinary. Open: 12:30PM-1:30AM.

Prive

address: Behind Radio Club

One of the poshest and most popular nightclubs where you can watch the swish set prance around in their Blahniks and Ferragamos. Beware of long queues to get in, and a strict dress code and guestlist. Fights in this nightclub are a regular feature. Get a drink at the more chilled lounge Tetsuma next door before Prive.

Sports Bar

address: Colaba Causeway

Come unwind at Sports Bar after haggling for trinkets on Causeway. Cheap (₹150 or so) drinks, pool table, games on all screens.
Tavern at Hotel Fariyas in Colaba shows music videos and is pretty packed, but don't go there if you don't like Linkin Park, etc.
Tetsuma. The bar and restaurant is pretty and has some nice cocktails. A great place to pre-drink before heading off to Prive, the only good nightclub in (south) Bombay.

Wink

address: At the Taj President

A chill lounge at a nice 5-star hotel. Drinks are ₹400 up

Woodside Inn

address: Colaba Causeway

Across the road from Sports Bar, minus the sports. Cocktails are about ₹300, and ambience is chilled. Good, reasonably priced food too.
Sleep
Budget
Apollo Guest House, Colaba Causeway 22045540.
Anupam Guest House, V. Bhai Patil Rd. 2386755.
Arya Nivas, Kalbadevi Rd. 22011011.
Bentley's is a great budget hotel, but often booked up.
Hotel Moti International 10 Best Marg, off of Colaba Causeway. Clean, safe and quiet.

Hotel Lawrence

phone: +91 22 2284 3618

address: ITTS House, 33 Saibaba Rd

Family-owned, this hotel - the _only_ hotel in Kala Ghoda - offers only basic amenities (no WiFi, shared bathroom, and the only place to charge your phone is in the manager's secure office). The rooms are clean and in good shape, and the manager and his mother are always friendly to chat with.
Mid-range
Ship Hotel

phone: +91 22 22617613

address: 3 Rd Floor, Bharti Bhavan

3 Rd Floor, Bharti Bhavan Opp Govt Dental College, Mumbai G.P.O(Fort), Mumbai, Maharashtra 400001. One of the, if not "the", cheapest place in Mumbai. Advertised rates as of 28/03/2009 are ₹140 for basic dorm bed, ₹180 for A/C Dorm Bed, ₹220 for Single (no A/C, Shared Bathroom), and 330(!)for double (non A/C) Shared Bathroom. The cheap prices make it extremely popular with Indian businessmen and tourists. Arrive at 9AM for the best chance to bag a room, but it's extremely close to CST make it easy to check first when you get off the train, if it's full, the surrounding Fort area (between CST and Colaba) is a much better option to find cheap hotels instead of Colaba .

Sheel Hotel

phone: +91 22 22615465

address: 23 Manohardas St

As of 29/03/2009, a double with fan and shared bathroom costs just ₹440 (A/C rooms were upwords of ₹1000₹, I did not inquire about singles but they should certainly be cheaper), making this a great cheap option (finding anything under ₹600 is extremely hard in Mumbai) . The bathrooms are non-flush squat style, and the showers suck, but the price is right and the sheets are clean. This is a particularly good option given it's extremely proximity to CST (5 minutes walk, at the most), saving you the hassle of a taxi ride, and putting you in the spectacular Fort area, and sparing you from the lameness of Colaba. Note that the writer could not find any room (double) under ₹600 in Colaba, take heed. Food tends to be cheaper in this area as well, as it's less frequented by foreign tourists. ; WARNING! This place is an absolute nightmare. Only stay here if you want to stay in dirty rooms, on dirty sheets, listening to one of the miscreants downstairs beating dogs. Awful. 625r for double AC, no windows. For 800r you can have a lovely double, light, airy, no AC- in Hotel Lawrence, ignore the freaky entrance. 3rd floor, ITTS Building, Shree Sai Baba (S.B.) Marg, near Museum.
Hotel Rosewood, Tulsiwadi opp. A/C Market, Tardeo, Mumbai 400 034 (Nearest landmark is Crossroads Mall, M M Malviya Road. You have to turn left at a little lane a couple of blocks down from Crossroads.), +91 22 2494 0320-29, +91 22 2496 0318, +91 22 2498 3568-69 (, fax: +91 22 2498 3567). The location is somewhat inconvenient, but has a good restaurant called Oh! Calcutta. ₹1750-₹4500 (exclusive of tax).
Bombay Luxury Apartments, Colaba causeway. Rent entire flats priced at ₹7000 upward. +91 22 22845004.
Splurge
phone: +91 22 6632 5757

address: Nariman Point

Luxury hotel right on the waterfront.

phone: +91 22 6665 3366

address: Apollo Bunder

One of the finest grand old hotels in the world, favored by visiting presidents and premiers since its opening in 1903. Built in grand Victorian style in and complemented by an adjoining highrise in 1973. Expect five star amenities and a hefty price coming with it. The hotel was damaged in the Mumbai bombings in 2008 but has now been reopened and fully restored.
Learn
Yoga
Jehangir and Dhan Palkhivala Spark Centre

phone: +91 23517112-23511309

address: Sleater Road, Near Grant Road Station

phone: +91 22818417

address: Netaji Subhash Rd, Marine Dr
Sign language
Mystical Experience

phone: +91 9323121949

Based on the universal principle - "Treat others as we would like to be treated," Silo's Message is a message of active nonviolence and non discrimination; peace and reconciliation. It is an inspirational message for all those looking for meaning, hope, future, positive changes in life and to make the asking....