Mumbai/Western Suburbs
The
Western Suburbs
consists of the Bandra (queen of the suburbs), Khar, Santacruz, Juhu, Vile Parle, and Andheri suburbs of
Bombay
. This article does not include the suburbs of
Northwest Bombay
among the Western Suburbs, which are covered in a separate article.
Understand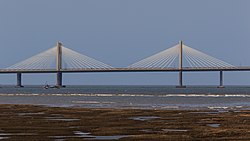 These are some of the oldest suburbs of the city. In particular, Bandra has existed as a separate town almost as long as Bombay. The area started its history as a bunch of fishing villages. Then it became home to a Christian population that set up its churches, orphanages, and monasteries. It later turned into a place where Bombay's beautiful people live, a status that it holds to this day. It is a very cosmopolitan place and does not have the rundown look of the other suburbs. It still has a lot of old bungalows.
Bombay's only river, the Mithi, flows through this area and also serves as a sewage line. In the 1980s, a well-intentioned attempt to set up a new downtown away from Nariman Point resulted in the establishment of the Bandra-Kurla complex. Most of the larger financial banks and companies moved to this place. This is a nice-looking place, but it was built by filling up the mouth of the Mithi River. This is said to have worsened the impact of the worst flood in the city's history on 26 July 2005.
Bombay's airport is in this district. Most hotels are here. Many software and BPO companies have their offices in and around SEEPZ, Andheri. The western suburbs also boast of the Juhu beach, which was cleaned and cleared of hawkers in 2006.
These suburbs can get extremely crowded in the evenings, with nightmarish traffic snarls.
Get in
This area is served by the Western Railway stations of Bandra, Santacruz, Vile Parle, and Andheri. Bandra and Andheri are important junctions. The western harbour line terminates at Andheri. Bandra is also a terminus for long-distance trains.
The Western express highway runs through the district, as does SV road (Swami Vivekananda Road). The Bandra-Worli sea-link provides high-speed connectivity from the downtown area. Connectivity from the
Central Suburbs
is poor. Getting in from Sion or Kurla is a pain, but with the development of the Jogeshwari-Vikhroli link road ("JVLR"). It is now a breeze getting in via Powai.
Bus services are very good. Generally, BEST's "200 & 300" series serves the Western suburbs.
See
Bandra Fort

address: at the tip of the Bandra promontory, Bandstand Road, Bandra West

Built by the Portuguese in 1640 to mark the southernmost tip of the mainland (i.e. Salsette island). Not much remains. It was built as a watchtower overlooking Mahim Bay, the Arabian Sea and the southern island of Mahim. Castella de Aguada has been featured in several Hindi films.

Bandra's Carter Road promenade

address: Carter Road Promenade

This is a kilometre-long walkway along the sea on the west side of Bandra. - Carter Road, because of its sea-facing location in the Bandra (west) suburb, has some high-priced residential localities, e.g. Railway Colony, at Pali Hill. - The Rizvi Education Complex, located off Carter Road, has the Rizvi College of Arts, Science and Commerce; Rizvi High School; Rizvi College of Engineering; Rizvi College of Architecture; Rizvi College of Hotel Management & Catering Technology; Rizvi Law College; Rizvi College of Education; and the Rizvi College of Fashion Designing & Creative Arts. All are managed by the Rizvi Education Society, and may have the status of Muslim religious minority institution.

Bandstand

address: Bandstand Rd, Bandra West, Land's end, Bandra (वांद्रे)

A 1-km-long walkway along the sea on the west side of Bandra. It is simultaneously a popular hang-out spot, a jogging track, a park and also a lovers point. Visible along the promenade are expensive bungalows and flats, some of which belong to Bollywood movie stars. Towards the Land's End side of the promenade is an amphitheater. It serves as a venue for the Mumbai Festival, Celebrate Bandra and other events including concerts, classical dance and other performances. You could take a boat from Bandra Ferry Wharf, to the south there is the Nariman Point Wharf, or to the north, to Juhu Beach (Western Ferry line).

Basilica of Our Lady of the Mount (or Mount Mary's Basilica)

phone: +91 22 2642 3152

address: Mount Mary Church Road, Bandra west

This is probably Mumbai's most famous church, a Roman Catholic Basilica. The basilica stands on a hillock, about 80 metres above sea level overlooking the Arabian Sea. - A fair held annually on the Sunday following September 8 (which is the Feast of Our Lady of the Mount) draws visitors from all religions. - The chapel of Mount Mary, was built around 1640. The chapel was destroyed in 1738 by the Marathas during their invasion. The statue of the Virgin was recovered from the sea by fishermen and temporarily installed in St. Andrew's Church, before being shifted to the rebuilt Mount Mary's Church in 1761, the year marking beginning of the Feast of Our Lady of the Mount, also known as the Monti Fest or the Bandra Feast. To this day, the statue is venerated and many miracles, minor and major, are attributed to the Lady of the Mount. The architect of Mount Mary's church was a Bombay architect Shahpoorjee Chandabhoy. The basilica was built in 1904.

Joggers Park

Kadeshwari Devi Temple Bandra

address: Bandstand, Bandra

Mehboob StudiosThis is where some of the famous Bollywood films of yester-year were made.

Pali Hill

Quaint villagesof the original Bandra people, such as Pali Village, Sherly, Rajan, Ranwar, Chimbai, Kantwadi.
Do
Bullseye, Santacruz, just after subway near S.V. Road and Western Express High Way.

Club Oasis fitness Centre & Spa

phone: +91 22 6676 1234

address: Grand Hyatt Mumbai Hotel, Off Western Express Highway, Santacruz (East)

phone: +91 22 6696 1234

address: Hyatt Regency Mumbai Hotel, Sahar Airport Rd

Mall — Many malls have multiplexes and food courts built in. Examples are Globus, Shoppers Stop, Inorbit Mall, Oberoi Mall, and Infiniti Mall. Many stores from around the world have also opened here (Hamleys, Clarks, Zara, Nautica, US Polo Assn., Tommy Hilfiger, Burberry, CK, etc.)
Movies — There are many movie theatres that offer movies for ₹100- ₹300. They generally have food like popcorn, samosa, sandwiches, etc. for ₹25- ₹100. There are many good theatres like Big Cinemas, Fame Adlabs, PVR, Inox, IMAX etc.
Pool Halls — there are many pool halls in the suburbs. Cheap (generally ₹50) for 15 to 30 minutes. Billiards is around ₹100. Many of these are not always on main roads. You can just ask someone on the street and they will probably know. Most of these places also have air conditioning.
Buy
Hill RoadShopping area lined with malls, stores, shops, and hawkers selling branded (and cheap) export surplus clothes.

In-orbit MallThe largest mall in Mumbai at 1.2 million square feet. Great Place for shopping. Situated at Malad linking Road. Auto-rickshaw would cost ₹ 25-30 from Goregaon. There are movie theaters in the mall and various international brand stores. Avoid going on weekends and holidays, especially in the evening.

Infinity MallGood place for shopping at Andheri (West) Linking Road. Includes movie theaters, as well as Landmark, one of the best book, music, and DVD stores in Mumbai.

Linking RoadShopping, with world-class stores (Esprit, Tommy, Mango, Nine West, Benetton, etc.)
Eat
Chains can be found throughout Bandra, such as Mocha, Barista, McDonalds, KFC, and Cafe Coffee Day. Lots of new restaurants and themes keep popping up on Turner Road, Gaspar Enclave, and Union Park.
Bandra and Juhu are packed with eateries, with new ones opening every day it seems. Most are reasonably priced with decent food, but ask for a menu before you sit.
Indian Coffee House

address: SEEPZ, Andheri
Budget
For street food, quite a few good vendors exist around Bandra. A bloke called Karachi Sweets on Hill Road does a good job. For the pani puri though, Karachi Sweets on Hill Road and Punjab Sweets on Pali Naka are strongly recommended. For a great Bhel Puri and Sev Puri, you must visit the Bhel Puri Bhaiya on Pali Hill.
There are a lot of Udipi and Punjabi Restaurants too. For non-vegetarian tandoor you could try Jai Javan at Linking Road opp National College.
You can find a ton of street stalls of questionable hygiene standards. If you don't have a cast-iron stomach, look for one that uses bottled water, with servers wearing plastic gloves.
Dcosta Bakery 'Bazaar Road, Bandra west. They serve burgers, rolls, veg & non veg, freshly baked biscuits. The prices are cheap around ₹15 for burgers. tel# 9892363346
Elco, Hill Road. Serves an extensive menu of chaats and other fast food. Has an AC section (or you can eat like the locals do it standing around the pani puri walla). Their hygiene standards are decent (they use bottled water in their chaats), although they are not dirt cheap (₹ 50-100 for a chaat) by Bombay standards.
Gajalee', Malvani coastal seafood restaurant at VileParle (East). Good food, but there's usually a wait for seating. Try the Bombil (bombay duck, and not really a duck at all).
Hearsch and Co., Hill Road. Bandra is a hole in the wall food joint that is an institute. Over the last 25 years or more, it has been making and selling breads, sandwiches, cakes, rolls, and such-like, with the chicken roll and plum cake being particularly good. If you are looking for non vegetarian baked items here, the chilly chicken croissant is tender and succulent.

Rasoee Veg Kitchen

phone: +91 22-2613-5445, +91 22-2613-4841

address: 7, Pratik Avenue, Vile Parle(E), Mumbai 400 057

Serves a sumptuous Gujarati Thali at the upper level. The waiters hover around you insisting that you eat more. At the end of meal, your hands are washed in a special vessel by pouring water out of a jar that wouldn't be out of place in a Maharaja's palace.
Shiv Sagar, Juhu. A fast-food chain where you can find excellent Pav Bhaji and great South Indian dishes, such as dosas.
Vow Snax, 16th Road. Their servings are very big. They provide free delivery as well.
Mid-range
A-1 and American Express Bakery have excellent varieties of bread and takeaway.
Andora serves fast food opposite St. Andrews School.
Bombay Blue Serves a smattering of all sorts of favourite Bombay food, including chole bhature, onion rings, and sizzling brownies.
Camy Wafers — Wafers, savories, and farsan.
Candies — Has excellent desserts, mini meals, sandwiches, and snacks at Pali and Bandra Reclamation.
Hersh — Serves bread, goan sweets, fast food, and snacks near Holy Family Hospital.
Highway Gomantak serves excellent Konkani and Goan food.

Little Italy

phone: +91 22-2660-8815

address: 18-B, Juhu Tara Rd

Run by Chef Giovanni, Little Italy is vegetarian and serves some great pasta a la puttanesca. Has valet parking.

Little Italy

phone: +91 22-6692-6551

address: 3-4 Morya Estate, Andheri - Oshiwara New link Rd

Little Italy has gone the chain restaurant way and has opened a franchise in Andheri West. The same great food can be had here too.
Lucky — SV Road is famous for its biryani.
Lucky Star serves great Mughlai food at Bandra Bazar Road.
McCraig, serves nice fast food, mini meals, and snacks at Gaspar enclave, Bandra.
Only Parathas, Linking Road. Serves chaat in addition to parathas (thick Indian rotis stuffed with all sorts of delicious things).
Persia Dabar, Linking Road, Bandra, Mumbai (Next to Shoppers Stop). Indian and Chinese food. Their Tandoori Naan and crispy veg. is killer. It's a cheap, clean, and friendly place.
Thai Ban, Shop Number 8, Gaspar Enclave, Pali Naka Bandra +91 22 2645 9775. A great, suburban favourite, this restaurant is wonderful value. Authentic Thai food with loads of coconut milk. Tiger prawns in spicy lemon sauce, squid with nakaching, and chicken satay are all memorable, and often superior to more upmarket competitors.
Yoko's Sizzlers, 10/11, West View, S.V. Road, Near Akbarally's, Santacruz(West), Mumbai 54. +91 22 2649 2313, +91 22 2649 1528. Serves excellent sizzlers.
Splurge
All the airport hotels have excellent quality restaurants, particularly those at ITC (a hotel chain well known for its restaurants, like the world famous Bukhara in Delhi).
Celini Grand Hyatt, Kalina, 24 hours. Home to Bombay's most beloved paper-thin pizza. Even South Bombay kids make it over to this side at 2AM for a post-clubbing pizza and tiramisu.
China House, Grand Hyatt, Kalina. One of the best, most expensive Chinese eateries in the city. Try their excellent Peking Duck. Go on a weekend and stick around until the China House club picks up (post 11PM) for a taste of the posh Bombay partying scene
Dakshin, ITC Grand Maratha Sheraton. Fantastic South Indian food.
Dum Pukht, ITC Grand Maratha Sheraton. Traditional Indian cuisine (a mix of Awadi, Luckhnawi food)
Global Fusion, off Linking Rd. On the top floor of a nondescript, avoidable mall. Nice ambiance, but can get very crowded. Does a good Oriental buffet for ₹ 800. Includes decent sushi, lots of different kinds of dumplings, and dessert. Skip the main course (very ordinary) and stuff yourself on their starters. Or go eat at Olive or China House for the same price.
Olive (off Carter Road). A beautiful, classy restaurant that's extremely popular with Bombay's socialite set. All their food is amazing (try the pizzas and kebabs), at ₹ 800~ or so for an entree. A nice place to go for a long, booze-fueled dinner.

Palm GroveRamada Plaza Palm, Juhu Beach, Mumbai +91 22 2611 2323, is a place that offers surprisingly great ambiance and some really economical beer. The service is good and they have a live band in the evenings (7PM-11PM). Happy hour (about 25% discount on food and beverage) extends up to 7PM. The crowd is fairly decent and includes a fair sprinkling of Europeans in the evenings. (Expect to spend about ₹ 120 ($3) for a beer (+ complimentary snacks) and ₹ 180-₹ 270 ($4 - $6) for add on snacks to go with the beer.

Pan Asian, ITC Grand Maratha Sheraton. Oriental food.
Peshawri, ITC Grand Maratha Sheraton. Among the best North Indian food in the city. They have a one-page menu with some 12 items, each a culinary masterpiece. Expect traditional Indian style dining (no cutlery) at international prices (up to ₹ 1000 per dish). Hours : noon - 2:45PM; 7:30PM - 11:45PM
Seijo and the soul dish, Bandra, has an interesting oriental menu.
Shatranj Napoli is okay for the price.
Soma also at The Grand Hyatt, does good Indian food.
Taj Lands End has a good range of expensive, but quality restaurants.
West View, ITC Grand Maratha Sheraton. Go for sublime, marinated kebabs and grills.
Drink
Bandra is also known as the 'Restaurant and Pub district' of Mumbai with many options for different budgets and taste ()
Aurus & VieTwo separate bars facing the sea with a restaurant too. Great place for a nice drink after dinner.

Enigma

address: JW Marriott, Juhu

Great place for some Bollywood music and glance of Bollywood stars.

Firangi Pani

address: Off Linking Rd

Reasonably priced, drinks, great ambience, good rock music. Ladies drink free on Mondays and Wednesdays.

Hawaiian ShackCheap drinks, good rock music. Four floors including a rooftop. Dance music on upper floors.

Mumbai Times CafeCheap drinks, good rock music, very average food.

On Toes

address: Juhu Scheme

One of the cool hang outs in Juhu area which plays good music. It is not cheap but a great place to have some drinks and relax.

Poison

Toto's Garage Pub

phone: +91 26005494

address: 30, Lourdes Haven Pali Junction, Bandra West 400 050, (Off Pali Market)

Cheap drinks, good rock music Toto's is the closest you will ever come to a Western bar. The place fires up every single night throughout the week, the beer is great, and the place is packed with locals and the occasional tourist. But don't go in expecting a seat. The tables are hard to get even if they're empty. They are parked with 'reserved' signs unless you are a party of four or six.
ZenziSees a lot of the expatriate crowd apart from models and filmmakers. Drinks aren't cheap and the service is slow, but the place is always buzzing.
Party
Aurus and Vie

address: Juhu-Tara Rd

Classy lounges with bay views.

China House

address: The Grand Hyatt, Kalina

Along with Prive, perhaps the city's poshest, hardest-to-get-into nightclub. Fabulous interiors, drinks from ₹ 500, and upscale crowd. Strict entry rules, no stags, couples ₹ 1500.

Enigma

address: Marriott, Juhu

The Bollywood club, for both the music and the crowd. Go star-gazing. Expensive.

Olive

address: off Carter Rd, Pali Hill

Usually a lounge-y restaurant, has bar nights on Thursday.

PoisonOne of the more popular city nightclubs.

ZenziDecent music, good crowd, expensive drinks. No entry charge.
Sleep
This is a very expensive area and it is a tough job to get good budget hotels, especially anywhere close to the airport. If you can, you are well advised to choose a hotel farther away to avoid paying through your nose.
Budget
Best Western: The Emerald, Juhu Tara Road, Mumbai, 400049, +91 22 2661 1150, +91 22 5695 4850 (fax: +91 22 2660 3475) . 20 minute drive from the airport, near Juhu beach. US$100 onwards (₹4,500).
Hotel Airlines International, Yoga Institute Road, Prabhat colony, Santacruz(East) Mumbai, 400055 (Five minutes from the domestic airport and 15 minutes from International Airport.) 91 22 2610 0741, 91 22 2614 9562, US$48 - $72 (₹2,200 - ₹ 3,200).
Hotel Orritel West, (Local Station Andheri) West Mumbai 400053. +91 98199 09599. Reservations +91 22 2673 2256, +91 22 2673 2257 () . This is a reasonably good budget hotel with airport transfers, a 24-hour coffee Shop, a garden restaurant, and conference and banquet halls.
Hotel Regent, Ramakrishna Mandir Road., Kondivita,Andheri (East), Near International Airport. Take the same lane as to lotus Suites, off the Andheri Kurla Road, and travel further inside for 500 m, Mumbai 400 057. Tel: 28342020/28342626/28379383 FAX: 28215587. This is a reasonably good budget hotel. US$40 - $100 (₹1,800 - ₹4,500).
Midland Hotel, Jawaharlal Nehru Road - Santacruz (East), Mumbai (Five minutes drive from the domestic airport and a 10 minutes drive from the international airport), +91 22 2611 0414, +91 22 2611 0413 (, fax:+91 22 2613 2411) Free airport pickup and drop available. Complimentary American Breakfast. $87-$97 (₹4000-₹4400. Rates inclusive of tax.)
Tunga International, B- 11 M.I.D.C, Central Road, Opp Mahakali Caves Road Andheri (East), Mumbai-400 093 91 22 5692 1212, 91 22 2836 6010.
Tunga Paradise, B-11, M.I.D.C. Central Road Andheri (East) Mumbai-400 093 91 22 2821 7272.
Mid-range
Holiday Inn

phone: +91 22 5693 4444

Balraj Sahani Marg, Juhu Beach Mumbai, 400049. 20 minute drive from the airport, near Juhu beach.

Kohinoor ContinentalAndheri-Kurla Road, Andheri (E), Mumbai - 400059 +91 22 2404 2211 US$110 onwards (₹5,000).

phone: +91 22 2616 4040

Andheri Kurla Road, International Airport Zone, Andheri (E), Mumbai 400 059.

phone: +91 22 66721234

address: International Airport Approach Road, Marol, Andheri East, Mumbai, Maharashtra 400059

Complimentary buffet breakfast with veg and non veg options.
Orchid, Nehru Road, Vile Parle East, Mumbai - 400 099(Adjacent to Domestic Airport), 91 22 2616 4040 (, fax: +91 22 2616 4141) An Ecotel Hotel is Asia's first certified eco-friendly five star hotel. Next to the domestic airport. US$160-$435 (₹7,000-₹16,500).

phone: +91 22 2611 2323

Juhu Beach, Mumbai. Complimentary Buffet breakfast.
Le Royal Meridien, Ascot Centre, Sahar Airport Road, Mumbai 400 059 (1 km from airport. Five minute drive.) +91 22 2838 0000 (fax:+91 22 2838 0101 Additional contact details .) . US$165-$325 (₹7,425-₹14,625 akjshdahds).
Sun N Sand Hotel, Juhu Beach, Mumbai 400049.
Splurge
Centaur, Juhu Tara Rd, Juhu 26113040.

phone: +91 22 6676 1234

Five star lifestyle complex. Has two outdoor pools and a spa.

phone: +91 22 6696 1234

address: Sahar Airport Rd

Five star hotel with 12 function rooms, squash courts, and a spa.

ITC Grand Maratha Sheraton and Towers

phone: +91 22 5654 5454

Sahar, Mumbai, 400099. One of the poshest hotels in the city. Close to the business districts of north and central Mumbai.
JW Marriott Hotel Mumbai, Juhu Tara Road Mumbai, 400 049, +91 22 5693 3000 (fax: +91 22 5693 3100, US/Canada tollfree number: 1-800-228-9290) . A 20-minute drive from the airport, near Juhu beach, offers a great view of the Arabian sea. US$200-$500 (₹9,000-₹22,500 ).
The Leela Mumbai, Sahar, Andheri (E), Mumbai-400059 (1.5 km from international airport), 91 22 5692 8888 (, fax: +91 22 5693 4455, +91 22 6691 1234.) If you have the money, this is the hotel to stay in. Awarded the best hotel for the International Traveller in the country in 1997-1998. US$195-$205 (₹8775-₹9225.00)
Marriott Executive Apartments Lakeside Chalet, (also Renaissance Hotel and Convention Centre) Two and three bedrooms, near Chinmayanand Ashram Mumbai, 400 087, +91 22 2611 0414, +91 22 2611 0413 (fax: 91 22 5692 8899, US/Canada tollfree number: +1-800-HOTELS-1) . Nice view of the Powai lake. US$200-$400 (₹9,000 - ₹18,000 ).
Retreat, Madhi-Marve Rd, Malad (W) 288825335.

phone: +91 22 6668-1234

address: Byramji Jeejeebhoy Road, Bandstand, Bandra West

5-star hotel is perched atop the Bandstand.
Learn
Cooking - From "A Bombay Tiffin"...learn authentic home-style Indian cooking in Bandra W. Spend an afternoon learning to cook and then enjoying the meal after.
Yoga
Free Yoga with Nikhamji

phone: +91 26110506

address: Prabhat Colony, Yogendra Marg, Santacruz East