Munich/Ludwigsvorstadt-Isarvorstadt
Ludwigsvorstadt-Isarvorstadt
is the name of the second district (
Bezirk 2
) of
Munich
comprising the neighborhoods of
Isarvorstadt
and
Ludwigsvorstadt
. It is located directly adjacent to the historic city center to the south. The area of
Ludwigsvorstadt-Isarvorstadt
roughly is bound by the
Isar
river to the east, the
Südring
railtracks to the south and west, and the main railtracks,
Altstadtring
circular road, and
Zweibrückenstraße
to the north. This guide also describes some points of interest located in the
Schwanthalerhöhe
district, directly to the West of
Ludwigsvorstadt-Isarvorstadt
.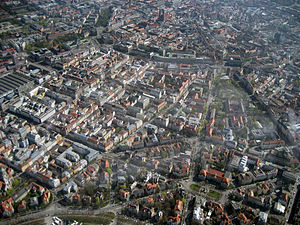 Understand

Isarvorstadt is a very vibrant residential area with lots of bars, pubs, and clubs, around the beautiful Gärtnerplatz square. On warm summer evenings this square is a very popular location among young folks to gather, drink a few local beers, and generally enjoy life. Isarvorstadt is also the focal point of the gay and lesbian community in Munich. Deutsches Museum, the world's biggest museum of science and technology, is located on an island in the Isar, which also is part of the neighborhood.
Ludwigsvorstadt consists of Munich Central Station and the adjacent area to the south of the station, where a lot of hotels, hostels, international diners, casinos, and sexshops are located. Immigrants from over 150 countries make this district one of the most buzzing and international areas of Munich. Some streets are extremly Middle Eastern, leading to the locals sometimes refering to this quarter as "Little Istanbul". This area is a really good place to try Arabic or Turkish food. Restaurants and cafés with good Middle Eastern food are virtually everywhere around here, in Schwanthalerstraße you can also find Verdi, a huge Turkish supermarket. Last but not least Theresienwiese, the site of the infamous Oktoberfest (Wiesn in the local Bavarian language), is located in Ludwigsvorstadt.
Schwanthalerhöhe to the west of Theresienwiese comprises a mix of mostly residential parts and a few industrial facilities, like the huge Augustiner brewery.

Get in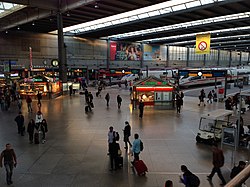 By train
Munich Central Station is located in the area. It has direct connections to almost every bigger city in Germany and also some international services.
By suburban train (S-Bahn)
S-Bahn lines S1, S2, S3, S4, S6, S7, S8, and S27 all run along the northern boundary of the area with stops at Donnersbergerbrücke, Hackerbrücke, Munich Central Station, Karlsplatz (Stachus), and Isartor.
S-Bahn lines S7, S20, and S27 also serve the stop Heimeranplatz in the south-west of Schwanthalerhöhe.
By subway (U-Bahn)
Subway lines , and run from Munich Central Station in eastern direction and stop at Sendlinger Tor and Fraunhoferstraße.
Subway lines and run from Munich Central Station in western direction and stop at Theresienwiese (for the Oktoberfest) and Heimeranplatz.
Subway lines and run from Marienplatz through the center of the area to stop at Sendlinger Tor, Goetheplatz, and Poccistraße.
By tram
Tram lines 18 and 19 run from western Munich along Bayerstraße through the length of the northern part of the area to the Isar river with many stops along the way. While line 18 continues to follow Altstadtrinf through the area all the way, line 19 branches off at Karlsplatz (Stachus) to run through the historic city center.
Tram lines 16 and 17, coming from Neuhausen-Nymphenburg and Maxvorstadt have their first stops in the area at Munich Central Station and Karlsplatz (Stachus). They run along Altstadtring until line 17 branches off to the south-east at Müllerstraße to have its final stop in the area at Fraunhoferstraße, while line 16 goes on to the north-east to serve the stops at Isartor and Deutsches Museum and go on to Haidhausen.
By car
The main arteries serving the area are
Lindwurmstraße
from the south from autobahns A 95 and A 96,
Landsberger Straße/Bayerstraße
from the west from autobahn
A 8
and
A 99
, and
Altstadtring
circular road from the east and north. However, it is generally not advisable to go to the area by car. Though traffic isn't too heavy outside rush hours, you will have a hard time finding a parking spot. There is only one bigger parking garage close to the central station. Otherwise, street parking is only allowed to residents with a special parking permit.
By bicycle
As Ludwigsvorstadt-Isarvorstadt is very bike-friendly, with bikeways along almost every larger street and generally not too much traffic, going by bike is probably the fastest way to get to the area. There are a large number of bike rentals around the city.
On foot
Given that the area is rather centrally located just south of the historic city center, it is easily accessible by foot. From Marienplatz, just walk south for a few minutes and you will get to Sendlinger Tor on the northern edge of the area.
Get around


Given the compact size of the area, the easiest way to get around is on foot. From the center of the area at Müllerstraße everything is located within 500 m. Like most parts of Munich the area is very bike-friendly. With bike lanes running along most of the bigger streets and generally low traffic on other roads, it is a very fast and pleasant way to explore these neighborhoods. The biggest hazard while going by bicycle are tram rail tracks running on the streets - if you manage to get into one with your tire you should brace yourself for getting off your bike the hard way. Another valid option, especially if you desire to go to the more western parts beyond Theresienwiese, is going by Tram 18, which crosses the full extent of Ludwigsvorstadt-Isarvorstadt from east to west.

See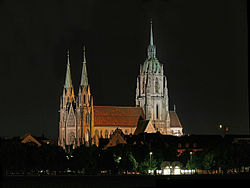 phone: +49 89 531547

address: St.-Pauls-Platz 10

The Roman Catholic St. Paul's church is the second largest church in Munich. Its 97 m (318 ft) high bell tower can be accessed for a stunning view of Munich and the Alps.

Statue of Bavaria and Hall of Fame

phone: +49 89 290671

address: Theresienhöhe 16

The 19 m (62 ft) high statue is the personification of the Bavarian homeland. You can climb up to the viewing platform inside the head. During Oktoberfest you can get a great view of the fair. The Hall of Fame at the back of the statue is a pantheon to celebrated Bavarians (the Hall of Fame is closed during Oktoberfest).
Do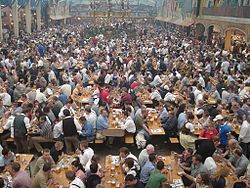 address: Theresienwiese

In late September Munich resounds to this famous festival, the world's largest beer festival. It usually lasts 16 days, to end on the first Sunday in October. In 2019 it runs from Sat 21 Sept to Sun 6 Oct, and in 2020 from Sat 19 Sept to Sun 4 Oct - dates are set for ten years ahead. The festival is extended by a day or two whenever German National Unity Day on 3 Oct (a public holiday celebrating the merger of East and West Germany) falls just after the normal Sunday closing. That next happens in 2022, 2023 then 2028.
The first Oktoberfest took place on 12 Oct 1810, to celebrate the marriage of Prince Ludwig of Bavaria and Princess Therese of Sachsen-Hildburghausen. All citizens of Munich were invited to a meadow (Wiesn) situated in front of the city tower, subsequently renamed Theresienwiese in honour of the bride. In the early years of the fair, horse races were held, then as the event grew, they added agricultural conventions, which still take place every fourth year. In 1896, businessmen working with the breweries in Munich built the first giant beer tents, and drinking beer has been the primary focus ever since. Although it's still dubbed Oktoberfest, the festival was soon moved to start in September for a better chance of decent outdoor weather.
There are some 24 large tents (ie capacity circa 10,000, mostly but not all under cover) presided over by the major breweries, and a similar number of small tents seating a few hundred apiece. Each tent serves its brewery's own beer, with incredibly strong barmaids hoisting ten or more huge Maß ('Mass') one-litre glasses of beer - those glasses are heavy even when empty! Musicians lead the crowd in popular drinking songs, and there's food. And of course toilets, with hordes of drunken people jostling to get in. There's at least one wine tent, carnival games, amusement rides, and other entertainment. In 2012, Oktoberfest hosted 6.4 million visitors who drank 6.9 million litres of beer and ate the equivalent of roughly 90 oxen, 400,000 sausages and 600,000 chickens. Recent years have been similar, so the average visitor consumes little more than a litre of beer (and a measly one-twelfth of a sausage) - hardly a debauch, though that covers a big individual variation, and then there's "pre-loading".
What you need to know:
# Book well ahead with accommodation, and even so, expect to pay double. Everything decent will sell out, even mid-week, and even in nearby towns such as Augsburg. Budget air tickets and Sparpreis rail tickets will also be hard to find.
# If you know which brewery's product you prefer and which days you want to come, consider reserving a place online on that brewery tent's website.
# Don't bring small children at weekends. Each Tuesday from 12 to 6 pm is family day with discounts on many rides. Children aren't allowed in beer tents after 8 pm.
# Don't bring a backpack, or any bag larger than 3 litres. All bags will be checked at the Wiesn entrance, and acceptable small bags tagged. You'll have to leave larger bags at the nearby left-luggage lockers, for a fee, and probably involving a queue.
# Walk there if possible. The closest underground station "Theresienwiese" (lines U4 and U5) gets horribly crowded and is sometimes closed to avoid dangerous congestion. An alternative is "Goetheplatz" (lines U3 and U6) - also crowded, but at least you'll be able to breathe, and the exiting crowd will carry you willy-nilly to the Wiesn gates.
# There's no entrance fee for the Wiesn site or the individual tents, but of course you'll be paying for drinks, food and amusement - reckon €10 for a litre of beer. You can buy beer tokens in advance.
# Wiesn opens at 9 am. Individual beer tents open at 10 am midweek and serve beer from noon. They open at 9 am on weekends and serve all day (except the opening Saturday, the tapping day or "Anstich", with the first beer keg ceremonially broached at noon). They will only admit as many people as they have seating, then they're full. Midweek they're often full by early afternoon, weekends by late morning. If you leave the tent for any reason, you're unlikely to get back in.
# Smoking is forbidden within the tents. Some tents have designated smoking areas outside.
# The bar usually stops serving at 10:30 pm. Make sure you finish your beer by 11:30 pm, when the tent closes and security will briskly eject all stragglers.
# Outside the tents, there's lots to eat, drink and do. You'll have a good time, but you won't get the full-on, oompah-oompah, wow-only-in-Munich experience.
# You're welcome to buy a beer mug, don't try to nick one. Security at the exit will search for that very thing and each year they confiscate over 100,000. They'll probably just scowl and send you on your way, but being accused of theft is never a good place to be. Not in Germany.
# In 2017 the Wiesn lost property office had reports of 1300 passports, 600 wallets, 520 iphones, 325 pairs of glasses and 360 keys - that's a lot of ruined trips.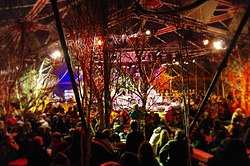 phone: +49 89 3838 500, +49 700 3838 5024 (tickets for individual events)

address: Schwanthalerstraße 13

This five weeks long festival combines ethnic food, souvenir shops, concerts and theater and it is very popular among the locals.

phone: +49 89 531547

address: St.-Pauls-Platz 10

During Oktoberfest you can access the bell tower of St. Paul's church directly north of Theresienwiese. It is kind of an insider tip, that the 97 m (318 ft) tower of St. Paul's can be climbed for one of Munich's most spectacular views. It is a gathering point for professional as well as hobby photographers, due to the postcard panorama. The tower even had its 15 minutes of fame, when in 1960 an American military plane streaked it during take-off and subsequently went down to hit a streetcar. 52 people died in the accident – 20 passengers on the plane and 32 on the ground.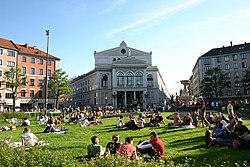 Relax at Gärtnerplatz

address: Gärtnerplatz

The circular Gärtnerplatz square is one of Munich's most impressive architectural masterpieces. During warm summer evenings, hundreds of people gather in the middle of the square itself or in one of the surrounding cafés to enjoy a few local brews and life in general. There are two supermarkets right at the square in case you forgot to bring along drinks – but keep in mind that, in Bavaria, supermarkets and other shops are closed after 20:00 and on Sundays or public holidays.

phone: +49 89 202411

address: Gärtnerplatz 3

The Gärtnerplatztheater is one of only three Bavarian state theaters and Munich's second opera house. It focuses mainly on opera, with occasional productions of operettas, musicals, and ballets. The opera house itself opened 1865 and was built in classical style. It has been closed for renovations and, after some delays, is expected to re-open in late 2017.

phone: +49 89 55234444

address: Schwanthalerstraße 13

The German Theater Munich is Germany's largest theater for guest performances. The theater focuses on music hall besides productions of theater, ballet, operettas, and musicals. It was opened in 1896 and underwent several renovations since then.

address: Stephansplatz

A small and cozy Christmas fair organized by Munich's gay and lesbian community. The name is taken very literally: nearly everything is colored pink. There is a daily show act at 19:00.

Frühlingsanlagen

address: Eduard-Schmid-Straße

Relax at the banks of the Isar in the recultivated Frühlingsanlagen and treat yourself with a cold and tasty local beer. On warm summer evenings the place is busy with people, partying at the river and enjoying life.

Bike, walk, or picnic along the Isar RiverOn the eastern edge of this district. Across the street from St. Maxmilian's church, there is a paved, mostly flat path for biking and walking along the Isar River. On the other side of the river (cross at the Reichenbach bridge on Fraunhoferstraße), there's a playground for children and flat areas along the river for picnicking and sunbathing, and more bike and jogging paths. Boating is forbidden, but swimming is permitted. The river is cold even in the hottest days of summer, and the current is swift enough to challenge strong swimmers, but wading along the edge is popular. If you forgot something, stop at the kiosk by the west edge of the bridge: they sell almost everything.
Buy
Eat
Budget
Bergwolf

phone: +49 89 23259858

address: Fraunhoferstraße 17

Typical German fast-food joint. At this place you can get sausages, fries, beer, and rock music nearly all night long. Some say their Currywurst is the best in Germany, even better than those you get in Berlin.

phone: +49 89 2016911

address: Baaderstraße 62

An authentic Japanese restaurant with equally authentic food.

Bistro Lavash

phone: +49 89 54508663

address: Goethestraße 7a

This Turkish eatery is more than a döner place. Stuffed eggplant and zucchini are among the worthwhile dishes, though their döner is also good. They have inexpensive lunch specials and are open early and late.

phone: +49 89 21578752

address: Thalkirchner Straße 12

A very popular burger joint direcly south of Sendlinger Tor. Tasty and huge burgers fill up the small restaurant pretty quickly nearly every night. It is definitely not the location for a quiet dinner, but a place to start your night in town with a few beers and a burger. The restaurant only serves organic food.
Mid-range
Splurge
phone: +49 89 2010992

address: Klenzestraße 71

A good Japanese restaurant with a very modern atmosphere and really good, freshly prepared sushi and sashimi. Though it is rather pricy, they offer a number of good deals to save money: bento menue 50% off 18:00-19:30, sushi 50% off M&Su from 22:00, all coctails 50% off 18:00-20:00, Japanese cocktails 50% off from 23:00. They also have a large assortment of cokctails and Japanese whiskeys.

phone: +49 89 55 11 13 330

address: Bayerstraße 35-37

Münchner Stubn is located on Bayerstraße, close to the central station. The focus of the interior design is on traditional features. For bigger events they have also two separate rooms, where unique parties can be celebrated. High quality food and an authentic atmosphere are fundamental characteristics of the Müncher Stubn.
Drink
Beer gardens
phone: +49 89 45211691

address: Theresienhöhe 15

The beer garden with 1500 seats next to Theresienwiese (the venue of Oktoberfest) is on the old trade fair grounds and was opened in 2007. The beer brand is Augustiner.

phone: +49 89 5446110

address: Kapuzinerplatz 5

The beer garden with 800 seats is next to the place where Paulaner had its first brewery. The served beer is of course Paulaner. The beer garden is not that quiet, as it is next to much-used street.
Bars
phone: +49 170 2789349

address: Corneliusstraße 2, 80469 München

This minimalistic pop-up bar, which is decorated with diverse retro-style seating furniture, is a café in the daytime and a bar and space for vernissages, art exhibitions, cinema shows, readings, parties and concerts at night-time. Beware the misleading website.

address: Lagerhausstraße 5

This passenger ship, which can be found just around the corner of the Bahnwärter Thiel club, is crossing an inner-city arterial road on a railway bridge. It offers beer, grilled meats, concerts, cabaret, disco nights in the machine room, a beer garden, and from the upper deck certainly the most unusual view over Munich.

Couch Club

phone: +49 89 12555778

address: Klenzestraße 89

Guests are sitting in comfy couches or at the long bar in this cozy place. The speciality of the Couch Club are their over 100 varieties of gin and the gin tastings.

phone: +49 89 25546800

address: Buttermelcherstr. 17, 80469 München

Dinner and clubbing at house DJ Tom Novy's and DJ Ali Escobar's (Bullitt Club) new music bar and restaurant.

phone: +49 89 26949015

address: Ickstattstraße 2

If the neighbouring Lola (see below) is full or if you prefer a quieter surrounding, the Hoover & Floyd is a very good second choice. The place is also a café during daytime.

phone: +49 89 55 298 479

address: Müllerstraße 31, 80469 München

Fashionable bar with live DJs (electro, house, hip-hop).

phone: +49 176 24000083

address: Ickstattstraße 2a

This place is real favourite bar material. Not too big with discarded cinema chairs and red baroque couches in the corners, this bar likes to convey a profligate image. It's almost always full on weekends, so don't get there too late. If you do, though, and the door is already closed you can always try the Hoover & Floyd (see above) next door.

phone: +49 89 97343785

address: Holzstraße 16

This comfy café/bar had to move here from its old location some 500 metres to the north because of gentrification. The interior seems to be coming straight from the 70s as the whole place is a big homage to Munich's 1972 Summer Olympics.

phone: +49 89 13927970

address: Baaderstraße 33

The casual atmosphere of this bar always conveys the feeling of being at a private house party, where you instantly feel welcome and as one of the regulars. Netzer & Overath are actually two separate venues, connected by only a door - the loud and clubby Netzer and the quieter bar Overath.

phone: +49 89 32600307

address: Buttermelcherstraße 6

A cozy bar, which can get pretty crowded from Thursday to Saturday. The bar focuses on Gin (over 70 varieties) and features a different special beer every month (in addition to their normal selection of beers). Every Sunday evening there is a public broadcast of the recent episode of the most German of crime television series, Tatort.

address: Corneliusstraße 14

"We don't get drunk, we get awesome." Well, you shouldn't take the bar's slogan too seriously - you might not get awesome, but you most probably get drunk here (or already are when you strand here). This small bar with an all-black interior and its huge front windows right next to Gärtnerplatz became one of the most popular hangouts for the locals, not only because of some of the longest opening hours (in Munich terms).

address: Baaderstraße 68

This very plain bar is only noticeable as a worthwhile drinking venue because of the crowd that gathers in front of it literally every day. Despite its modest appearance, the Zephyr Bar is one of the best cocktail bars in Munich with an award-winning cocktail mixer behind the counter, though. Since the quality and creativity of the served drinks is high, the prices are also high.

phone: +49 89 28701881

address: Thalkirchner Str. 114

Once a corner pub and alleged first drop-in point for released prisoners, this tiny venue has turned into a trendy bar and afterhour-club with disco feeling and live electro DJs recently.
Clubs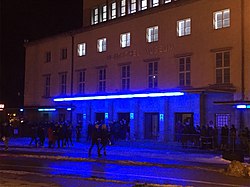 phone: +49 89 402 685 71

address: Schützenstraße 8, 80335 München

Live music club, disco and 90s music.

phone: +49 176 23232323

address: Sonnenstraße 26

Exclusive club with the usual party crowd. Dress to impress is generally the motto.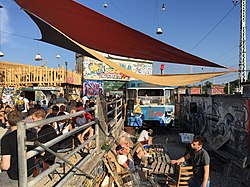 phone: +49-89-452 150 63

address: Viehhof, Tumblingerstraße 29, 80333 München

This techno club is located at the graffiti-covered former Viehbahnhof goods station and resides within a pile of ship containers from the Port of Hamburg. Very popular is also the outdoor area with its free "Bahnsteig" afternoon raves where the DJ resides within the cab of a decommissioned subway car. On the other side of the rail tracks, accessible via the Tumblingerstraße car tunnel, you can also find the party ship Alte Utting, which is also run by the Bahnwärter Thiel crew.

phone: +49 89 380126561

address: Museumsinsel 1 / via Ludwigsbrücke, 80538 München

New minimal techno club at an impressive historic location, a former congress hall on the Museumsinsel island. The club has been covered intensely by nation-wide media recently. The venue also features a separate restaurant which also opens weekdays.

address: Sonnenstraße 18, 80336 München

Live music club in the city center.

address: Sendlinger-Tor-Platz 7, access via Pettenkoferstraße, 80336 München

Tiny art bar turning into an electro club at night.

phone: +49 174 7896591

address: Thalkirchner Str. 2, 80337 München

Fondly decorated retro style club with a late 1920s living room atmosphere. One third of the nights host live music and indie concerts, the other two thirds vinyl DJs playing disco, funk, electro swing or jazz.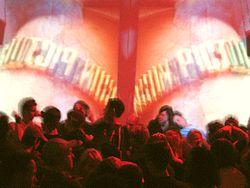 Sleep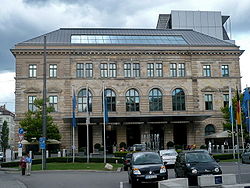 Ludwigvorstadt features a dense grouping of hotels in the quarter immediately south of the Hauptbahnhof, between the station and Theresienwiese - almost every other building there hosts a hotel. You can choose between properties of different standards and price levels.
Budget
Mid-range
Splurge
Connect
M-WLAN wifi hotspot Deutsches Museum

address: Museumsinsel

The city of Munich provides free wifi hotspots at some of the major tourist spots around the city.

Starbucks Coffee House Munich Central Station

phone: +49 89 51114743

address: Bayerstraße 10a

The central station franchise of the famous Seattle based coffee house chain.

Starbucks Coffee House Schützenstraße

phone: +49 89 51555497

address: Schützenstraße 8

This franchise of the famous Seattle based coffee house chain is located within the pedestrian area between Munich Central Station and Karlsplatz (Stachus).