Munich/South-West
The area of
South-West Munich
consists of the residential districts of
Sendling
,
Hadern
,
Laim
, and
Forstenried-Fürstenried
in
Munich
's south, the mixed residential and industrial neighborhoods of
Pasing-Obermenzing
and
Allach-Untermenzing
in the west, and the scarcely populated area of
Aubing-Lochhausen-Langwied
in the far west. The area's main attractions are the
Flaucher
islands in the river Isar, the Munich Zoo and
Blutenburg
castle.
Get in
By car
All autobahns coming from the west and south-west go through and end in the area. The
A 8
, coming from
Stuttgart
, end close to
Blutenburg castle
. The
A 96
coming from
Lindau
at
Lake Constance
, and
Austria
doubles as a local road between the
Großhadern
hospital and
Westpark
. The
A 95
from
Garmisch-Partenkirchen
comes from the south and ends next to Waldfriedhof.
By suburban train (S-Bahn)
Because of the area's big north-south extend, actually all
S-Bahn
lines in western direction go through or along the area at some point. Almost all
S-Bahn
lines run together along the main artery to
München-Laim
station in Laim, where they split up into two northern, three western and one south-western line. Only the
S7
goes directly south after Central Station.
S-Bahn line S2 runs from Laim in northern direction through the Allach-Obermenzing neighbourhood to Dachau and Petershausen, with stops at Obermenzing, Untermenzing, and Allach.
S-Bahn lines S3, S4, S6, and S8 run together to Pasing station (also a hub for regional and long distance trains), where the S3 branches off to the north-west, the S4 and S8 to the west, and the S6 to the south-west.
S-Bahn line S7 is exceptional in that regard as it does not go to Laim station but directly south from Munich Central Station, with stops at Heimeranplatz, Harras, Mittersendling, and Großhesselohe Isartalbahnhof.
S-Bahn line S20 is Munich's only suburban train line that does not call at Munich Central station. Instead, it runs from Pasing directly south with stops at Heimeranplatz, Harras, Mittersendling, and Großhesselohe Isartalbahnhof.
By subway (U-Bahn)
Subway line , coming from the city center and the Olympic Park is the main mean of transportation for the southern part of the area and the neighbourhoods along the river Isar. It stops at Thalkirchen (Tierpark) as well as other stations in the area.
Subway lines and , coming from the city center, run parallel to the S-Bahn artery, serving the northern center of the area with stops at Heimeranplatz, Westendstraße, and Laimer Platz.
Subway line , coming from the city center, Maxvorstadt, and areas further north, serves the south-west of the area with stops at Harras, Westpark, Holzapfelkreuth, and Klinikum Großhadern.
By tram
Only tram lines
18
and
19
run through the area. Both run together from
Munich Central Station South
to
Lautensackstraße
.
Tram line 18 branches off at Lautensackstraße to the south, with stops at Westendstraße, Stegener Weg, to Gondrellplatz.
Tram line 19 runs from Lautensackstraße straight to the west to Pasing station.
Get around


The district area is large and beside the MVV public transport system, cars are pretty popular. During the rush hour streets are congested and parking in the night can be difficult. Nevertheless the car is the means of transportation of choice for many people. Everything into the city is faster by public transport.

See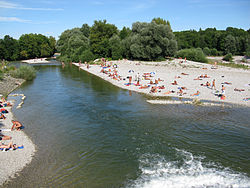 phone: +49 89 179080

address: Seldweg 15

Blutenburg Castle is an old ducal country seat. It was built 1438-39 as a hunting lodge for Albert III, Duke of Bavaria. 1488 a chapel was added, which is a splendid masterpiece of late Gothic style.

Flaucher Isar beaches and islandsThe banks of and islands in the Isar at Flaucher are the second most important place (after the English Garden) to relax outside during summertime. Being located outside of Mittlerer Ring urban express-way, it is allowed to barbecue here. On warm summer evenings the beaches are swarming with people drinking beer and enjoying life. If you want to buy food and beer, there is a EDEKA supermarket right next to the subway station. You can also get disposable barbecues (,,Einweggrill") there. During daytime, sunbathers occupy the beaches - and you should be comfortable with nudity.

address: Tierparkstraße 30

Founded in 1911 and built to present animals in their habitat. Today very popular with schools and families. No credit cards accepted.

address: Fürstenrieder Straße 288

Waldfriedhof is Munich's largest cemetery and a beautiful park. Especially the newer southern part of this woodland cemetery has some impressive architecture scattered in a landscpade park.

WestparkThe park was designed for the International Garden Festival 1983. With its landscaped hills, valleys, lakes, and streams, it imitates the pre-alpine lands just south of Munich. The lake stage in the park is regularly used for concerts and for an open-air cinema. The park als has several theme gardens such as a rose garden, a Japanese Garden, a Chinese garden and a Nepalese Pagoda.
Do
Climbing and bouldering center

phone: +49 89 18941630

address: Thalkirchner Straße 207

If you want to test your climbing skills before you head south into the Alps for the real deal, you can do it indoors in this facility. The climbing center is the biggest in the world and is owned by the German Alpine Club.

Jogging/WalkingThere are some particularly recommendable routes to go jogging in Thalkirchen

, for example the
Zoo & Golf Club turnStart at either place and run along the Isarwerkkanal & Flossländle around both places.
Langwied Lake

address: Kreuzkapellenstraße 89

The Langwied lake area comprises of Langwied lake itself, Lußsee lake, and Birkensee lake. Besides swimming in the lake, you can also rent rowing boats, play minigolf, or go diving. In the vicinity there is a restaurant with beer garden, a hotel, and a camping site. During hot summer days the lakefront is crawling with people from Munich trying to escape the heat of the city.
phone: +49 89 7231304

address: Zentralländstraße 40

18 course Golf Club next to the Isar.
Professional basketball game of FC Bayern Munich Basketball

phone: +49 89 20057000

address: Grasweg 74

If you are tired of all the football that is gonign on in Germany, why not try a basketball match? The basketball division of FC Bayern Munich is one of the best team in Germany. They play their games at Audi Dome, which has 6,700 seats and was built in 1972 for the basketball tournament of the Summer Olympics.
Buy
Most parts of these districts have kept their small-town style. Big shops are rather uncommon. The daily needs are met by small shops and stores like butchers and grocers and the like.
Eat
phone: +49 89 796180

address: Diefenbachstraße 39

Al Caminetto is a family run Italian restaurant in Solln with fresh and good food. It offers business lunches but focuses on regulars.

phone: +49 89 74790884

address: Pfeufferstraße 33

Cam Ly is very well known in Munich for its delivery service, but the restaurant, although rather north-vietnamese looking from the outside, is worth a visit, too.

phone: +49 89 765976

address: Aberlestraße 1

Agora is a typical Greek restaurant with atypical (long) opening hours. On weekends there is (Greek) live music in the restaurant and don't be surprised when (late at night) people start dancing Sirtaki.
Drink
Beer gardens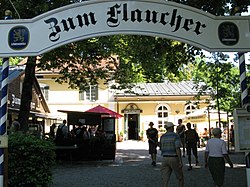 Bars & clubs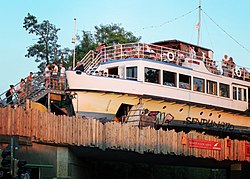 Sleep
Camping
phone: +49 89 8112235

address: Lochhausener Straße 59

Situated close to the end of autobahn A 8, the camping site has the corresponding background noise. The sanitary facilities have been renovated in 2013 and are up-to-date now.

phone: +49 89 7231707

address: Zentralländstraße 49

This highly frequented camping ground is at the banks of the Isar, approximately 15 min to the city center by bike. The camping site has all necessary facilities and a very international atmosphere. The site is open 15.03.-31.10.

Munich-Thalkirchen Youth Hostel

phone: +49 89 78576770

address: Miesingstraße 4
Budget
Mid-range
phone: +49 89 780020

address: Kistlerhofstraße 142

Concrete bunker from the outside, good service inside. This HI is located in the commercial area and serves employees from the surrounding companies. 320 rooms and good location keep that place running.

Leonardo Hotel Munich City West

phone: +49 89 724940

address: Brudermühlstraße 33

The hotel has a modern and nice interior and a large roof terrace.
Splurge
phone: +49 89 746400

address: Albert-Rosshaupter-Straße 4

The K+K is one of the best hotels in the neighborhood with an excellent connection to public transportation.
Connect
M-WLAN wifi hotspot Sendling (Harras)The city of Munich provides free wifi hotspots at some of the major tourist spots and important squares around the city.
Go next
Lake Starnberg: About 30 min drive to the next big lake. Fancy restaurants and swimming are the main pastime activities.
Tegernsee: Still thirsty? The beer gardens at Lake Tegernsee are impressive and you can take your bike on the train if you've had too many beers.