Munich Airport
Munich's
Franz Josef Strauß Airport
(
MUC
) (German: Flughafen München Franz Josef Strauß) is the primary international airport serving Munich. It is the second busiest airport in Germany, and Lufthansa's second hub. The airport opened in 1992 with a long term plan for potential future expansion and is thus more consistent and logical than Frankfurt Airport which had to deal with imperfect existing decades old infrastructure in every expansion or the unmitigated mess that are Berlin airports. The downside is its out of the way location not helped by its mediocre rail access. It is about 40 km by road from downtown Munich and has no high-speed train service, only commuter S-Bahn trains which take 50 minutes to get downtown. In addition to that you'll usually have to "double back" via Munich when arriving by train from the north, despite some regional trains from Regensburg now somewhat mitigating the situation on some routes.


Understand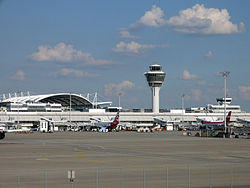 The current airport and its out-of-the-way location are a result of growing air traffic and a need to replace the old airport. For most of the 20th century, Munich's airport was in the district of
Riem
, which was a lot closer to the city centre than the current airport. However this site caused numerous problems, including one incident where a plane crashed into a tram in downtown Munich, so in 1992 the airport was moved to its current location to meet the demand for more capacity and more modern facilities. The Riem site was converted into a residential area, a park and numerous other uses. Munich's trade fair also moved there. The airport has continued to expand and now offers flights to most airports in Germany and Europe, and to many intercontinental destinations. The airport is named after a longtime conservative (CSU) Bavarian politician, who was a member of the
Bundestag
from 1949, minister in several governments, candidate for chancellor in 1980, and prime minister of Bavaria during the last years of his life. He died in office in 1988. While he is revered by conservative Bavarians, he remains a controversial figure for non-conservative Bavarians and for those outside of Bavaria. The 1980 campaign was run - and won - by the Social Democrats and Helmut Schmidt (after whom the
Hamburg
Airport is named) almost entirely on a "stop Strauß" platform.
There are three terminals in use: terminal 1, terminal 2 and a satellite terminal which can only be exited via terminal 2. Most of the airport's facilities, including terminal 1 and terminal 2, are between the two runways.
Terminal 1
All airlines that are not members of Star Alliance are based in Terminal 1, the older terminal, with the exception of Turkish Airlines, a Star Alliance member which uses Terminal 1C. Oneworld alliance members occupy most of the terminal.
The terminal is segmented into six modules: A, B, C, D, E and F. Modules A-D provide all facilities required to handle departures and arrivals, including landside drive-by lanes and parking, whereas module E is only equipped to handle arrivals. This design essentially makes each module a self-contained sub-terminal of its own, small and comfortable despite the total size of the terminal. However, not all flights are handled in the same module where check-in takes place. Module F is a separate module north of Terminal 2. This module has a special status. The check-in for high-security flights is here. This includes El Al flights and other flights going to and from Israel. It has a separate baggage handling section and taxis are not allowed to drive all the way to the building. Check-in counters are also located above the S-Bahn station, this area is labeled Z and mostly used by low-cost and charter airlines.
The terminal has several levels: the train station is on level 2; the passenger transport system, which connects the modules, on level 3; check-in counters, security checkpoints, arrival areas, customs and most restaurants are on level 4 (ground level); level 5 is used by passengers with connecting flights.
Terminal 2
Terminal 2 hosts Lufthansa and its
Star Alliance
partners with the exception of Turkish Airlines which is handled in Terminal 1C: Air Canada, Air China, All Nippon Airways (ANA), Austrian Airlines, Egypt Air, SAS, Singapore Airlines, South African Airways, Swiss, Thai, and United Airlines. It is also used by additional Lufthansa partners such as Etihad Airways and some regional airlines.
Terminal 2 consists of the central Plaza, Pier North, and Pier South. Terminal 2 has several levels: The arrival area and some check-in counters (for some partner airlines, e.g. United) are on level 3; all other check-in counters, the security check-points, and duty-free shops are on level 4; the visitor deck as well as restaurants and art exhibitions are found on level 5.
Flights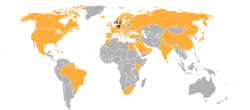 There are direct flights from most European capitals and many cities to Munich as well as flights to major cities in the Americas, Middle East, Africa and Asia. The airport is the secondary hub of German flag carrier Lufthansa, offering almost as many destinations as their primary (and traditional) hub at
Frankfurt Airport
The airport has a
list
of the airlines flying to the airport, and like every other major airport real time flight information is available at the airport's website.
Ground transportation
By train
Towards Munich
The airport is connected to Munich by suburban train (S-Bahn) lines (via western districts) and (via eastern districts). The train station is located in Terminal 1 on level 2 (underground). If you are heading downtown or to Munich Central Station (München Hauptbahnhof), take whichever train is leaving first, as both take about
45 minutes to reach the city centre
. Trains run every 10 min or so daytime; they run all night at reduced frequency.
The journey costs €11.60 for a
Single Ticket (4 zones)
. If you expect to make a further journey within Munich that same day, buy a
Single Day Ticket (Entire Network)
for €13.00. If there's two or more of you, buy a
Group Day Ticket (Entire Network)
for €24.30, which is valid for up to five people.
A slightly cheaper option is to buy a
Day Ticket (Outer District)
(Tageskarte (Außenraum), a day pass for the city's outskirts which includes the green, yellow and red zones; single: €6.70, group: €12.80) and then an additional single ticket (€2.80 per person) for the trip within the inner city (white zone). Validate both tickets when starting your trip.
There's also an "Airport City Day Ticket" which costs exactly as much as the "Tageskarte Gesamtraum", is only sold at certain stations and comes pre-validated.
Make sure that your ticket is
validated
once (and once only; not twice etc.) before you enter the train. The machines for validating the ticket are at the top of the escalator to the station and at the station itself (right beside the ticket vending machines at the platform); there are no machines for validating the ticket inside the train. Also make sure that you validate your ticket at the right side of the ticket (which is marked with "HIER ENTWERTEN"), since validating the ticket at the wrong side invalidates the ticket. Entering the train without a validated ticket is like having no ticket at all!
The
regional day ticket for Bavaria
(
Bayern Ticket
) is valid on the S-Bahn as well. It costs €25 for one person and €6 for each additional person (with a maximum of 5 people in total). You have to write the name of each passenger on the ticket. If you buy it from the machine for a specific date, it does not have to be validated again.
Northwards
The airport has no long distance train services while regional trains only run north and not towards Munich. For
Nuremberg
,
Regensburg
,
Würzburg
and
Bamberg
, it is not necessary to go downtown to the central station: the geographically shortest way to reach these destinations by public transport is to take Bus 635 from the airport to the city of
Freising
(which takes about 20 minutes), and catch a train from there. Don't worry about locating Freising railway station. The bus stops right next to it. However, despite having to "double back" for 45 minutes on the S-Bahn, taking the ICE from Munich main station gets you quicker to Nuremberg, Würzburg and Bamberg than the option via Freising. Additonally, there is an hourly regional train departing the airport via Freising and Landshut to
Regensburg
, from where you can head further north. For Regensburg this is the quickest option.
The Deutsche Bahn counter is open daily, 07:30-22:00. If the counter is closed or there is a long line, buy your ticket at one of the machines. While the price system is famously complicated and even Germans like to make jokes about it, the machines are switchable to most major European languages and usually
do
explain all the pitfalls of buying a ticket. Just make sure to buy a long distance ticket if you intend to take a long distance train.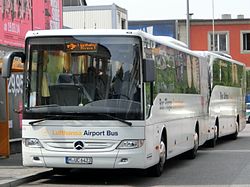 By bus
The bus stations are in the front of the central area at level 03, in the front of the areas A and D of terminal 1 on street level, as well as at the northern entrance to terminal 2 at level 04. Other bus stops are located at the Holiday parking area (Urlauberparkplatz) P41 at the Modul A/B of terminal 1 and in front of terminal 2.
There is a Lufthansa branded
express bus
from Munich Central Station via the Schwabing quarter for €10.50 one-way or €17 return. They run every 15 minutes. You do not need a Lufthansa flight ticket to use the buses. There is also a
Lufthansa Shuttle Service
to
Regensburg
. INVG runs their line X109 as
Ingolstädter Airport Express
between
Ingolstadt
and Munich Airport, with hourly departures in either direction in the hours flights operate. The journey from Ingolstadt to Munich Airport also takes an hour.
RVO
(Regionalverkehr Oberbayern) operates buses to nearby towns and villages and
Airport-Linie
connects the airport to
Landshut
and Moosburg.
In addition, the German long distance bus company
FlixBus
runs seven services between Innsbruck, Austria and the Munich Airport via Munich Central Bus Station from €19.50, one-way. Other operators include
Regiojet
and
Deinbus
.
By taxi
There are taxi poles outside terminal 1 at the arrivals and departures level E04 right in the front of modules A-E. You can also find taxis at terminal 2 at the bus and taxi stop north of the arrivals level E03 and departures level E04 and north of the central area/MAC at level E03. The fare for a ride into central Munich is around €60.
By car
From Munich, drive towards
Deggendorf
along Autobahn A 92. Exit the Autobahn at exit 6,
Dreieck Flughafen.
If you are coming from
Passau
, drive along B388 or along Autobahn A 94 and the eastern airport road (Flughafentangente Ost).
Parking
There are many parking lots and parking garages to choose from. Immediately next to the terminals there are short term parking areas (for those who are meeting arriving passengers). Near the terminals you can find parking garages numbered P1-P5, P7, P8, and P20. There the fee is €175 for 7 days, €30 for each additional day. The clearance in all parking garages is at least 2.0 m.
There are "parking lots for vacationers" (Urlauberparkplatz) numbered P41, P80 and P81 next to the road Flughafenallee. From there you can take a shuttle bus to the terminals which is free for parking ticket holders. 3-7 days of parking costs €35, additional days cost €2 each.
Get around

Walking is the easiest option, but airside there are some buses that connect the terminals. Depending on the time, the airside bus leaves about every 10-20 minutes. Due to the increasing numbers of large jets (such as Emirates' A380) there are times when buses run at full capacity.

Wait
Visitors centre and plane spotting hillHistorical planes on display, and a 28 m high hill with a view over the runway. The hill is not wheelchair accessible.

Plane spotting hill northNorth-west of the northern runway, next to Hallbermooser Straße is a second plane-spotting hill. It's not as high as the one next to the visitors' center, but it is free of charge.

Plane spotting hill southSouth-east of the southern runway, next to Kreisstraße ED 30 is a third hill with a possibility for plane-spotting. It's not as high as the one next to the visitors' center, but it is free of charge.

SkywalkA terrace with view over the apron of Terminal 2 and the satellite.

Munich Airport CenterA recreation- and service-centre at the airport between terminals 1 and 2. It includes a shopping mall, restaurants, a medical centre, the conference centre, municon and the MAC-Forum. The MAC-Forum is Europe's largest roofed outdoor area, which is used for various events like a Christmas fair and ice-skating in winter and a beach volleyball tournament in summer.

Free newspapersIn Terminal 2 (airside only) there are racks with free newspapers (mostly German, but some in English can be found too) provided by Lufthansa to all passengers.
Lounges
Eat and drink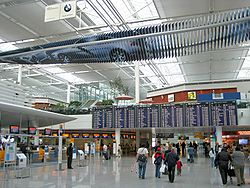 phone: +49 89 9759-3111

Bavarian brewery-restaurant in the MAC between the terminals 1 and 2 and the world's only airport brewery. Outdoor beer garden between May and September. €4.60 for a maß of the beer of the house.

Dallmayr

address: T2, Airside

The famous Munich delicatessen store operates a bistro in Terminal 2 with about 20 mains to choose among from Bratwurst on Sauerkraut to Thai curry.

Seafood Sylt meets Asia

address: T2, Airside

As the name reveals, this restaurant serves seafood dishes, Asian dishes and fusion dishes. If you want something smaller, they have a range of nice sandwiches too.

Lufthansa Delights To Go LoungeA mixture between a lounge (in terms of access) and a self-service shop, with all passengers that have access to Lufthansa lounges being able to stop by and get a mealbox/snackbox and a drink quickly before their flight.
Buy
Stores at the airport are open every day of the year. Many of the stores are in the aforementioned MAC.
Connect
Munich Airport offers free
Wi-Fi
for 30 min operated by Telekom. Connect in either terminal or the MAC. In addition to this, there are also computers available for 20 min/each user at different spots in both airside terminals.
Cope
phone: +49 89 9756-3315

address: Terminalstraße West

The airport clinic has facilities for orthopaedics, gynaecology, urology, dentists and anaesthesia. It offers also several other medical services, so it is popular.

phone: +49 89-978 802 200

There are three outlets at the airport. In Terminal 2 at level 4 & 5 and in MAC at level 3.
Sleep
There are two hotels directly on the airport's grounds, one next to the terminals, the other one near the open-air parking areas. And there are several additional hotels in the vicinity of the airport.
phone: +49 89 9782-2530

address: Terminalstraße 20

Turn left when facing the Terminal 2 entrance, When you follow the signs to Terminal 1F, you will cross the hotel's basement entrance hall.

phone: +49 81 2255-3610

address: Eichenstrasse 1

This design hotel is part of the Marriott group.

phone: +49 89 9705130

address: Nordallee 29

From the terminals, take a short ride on bus 635 towards Freising for the "Parkpl. P41/Novotel" stop directly in front of the hotel.
Nearby