Munnar
Munnar
is a hill station in the
India
state of
Kerala
.
Understand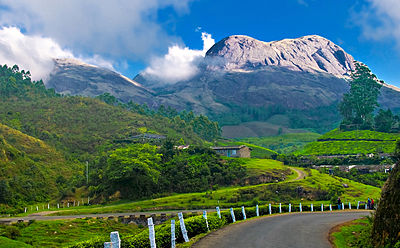 Munnar is a beautiful hill station, and was a summer resort for the British during the
British Raj
. Tourists come here to see the vast tea plantations of the area. The town itself is typically Indian with the usual shops, guest houses and is really beautiful and traditional. It is a good place to see the surrounding countryside. It is also a popular place for Indian honeymooners.
The town is divided into two parts: Old Munnar, where the tourist information office is, and Munnar, where the bus station and most guest houses are located.
The region in and around Munnar varies in height from to 2,695 m (8,842 ft) above mean sea level. It is pronounced "Moon-aar" short for "moonu aar" meaning 3 rivers. Three rivers - Madupetti, Nallathanni and Periavaru — flow through this town, but join some distance away from Munnar.
Munnar is famous for its tea plantations, many of them started by the British. The "Kannan Devan" brand of Tea from the Tata is cultivated and processed here.
The strobilanthus ("neelakurinji" in Malayalam, the local language), a blue flower which blooms only every 12 years, is found in this region. It bloomed last in December 2006.Munnar also has the highest peak in South India, Anamudi, at 2,695 m.
Eravikulam national park is one of the main tourist attraction, where you can find the endangered species of Nilgiri Tahr (mountain goat called "varayadu" in Malayalam). A trek to Rajamala ("King of hills" in Malayalam), in the morning is sure to spot a few friendly mountain goats. You can also find gaur, langur, lion-tailed macaque, and elephants depending on the season and time of travel. The altitude is 1,600 m- 2,000 m above sea level.
Climate
The season between October and March (post-monsoon) is considered the best to visit Munnar. Take some warm clothes and rain coats along with you. The temperature ranges from 14 to 25 degrees during summer, and 7 to 17degrees in winter. The atmosphere remains cool and pleasant throughout the year.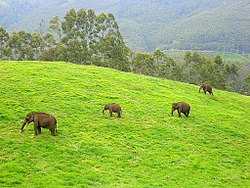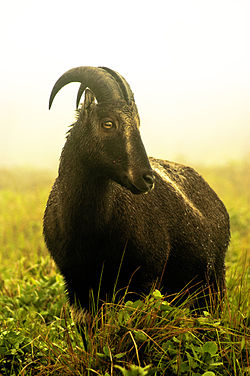 Talk
Malayalam and Tamil are the main languages spoken here. Visitors often feel uncomfortable while talking with local people as they only talk in regional language. However, you can manage with English as people are highly educated here and they often communicate in English.
Get in
By plane
Cochin International airport
(
COK
), also known as Nedumbassery Airport. It is approximately 125 km away from the Munnar by road. Taxi services are easily available from airport to Munnar that cost around ₹3000. Cochin International airport is nicely connected to metropolitan cities of India and some other cities abroad.
Madurai Airport (IXM) is more than 175 km from Munnar (by National Highway 49) and second largest terminal in Tamil Nadu after Chennai airport. The airport has direct connectivity with major Indian cities like Hyderabad, New Delhi, Mumbai, Bangalore and Chennai.

By train

The nearest railway station is Aluva, 110 km. Ernakulam is 130 km and Madurai is 135 km. Angamali Railway Station is another nearest rail-head to reach Munnar.
From all these railway stations, you can get direct regular buses to Munnar. First Bus starts at early morning 6AM and after that those are available at regular intervals. Apart from buses, you can easily get private taxis or cabs from all the railway stations. They charge around ₹150 per person if you opt for shared taxis.

By car

Distances from Munnar to various cities:

The road to Munnar is narrow with lots of bends and curves. Hire a taxi or a driver with local experience if you are not familiar with similar conditions

By bus

Munnar bus station is on the main street, Main Bazaar.

Kochi - Takes around 6 hours. Buses leave Kochi between 6AM-6PM.

Note that most buses have boards in Malayalam and not English. At Aluva, there are no signs, schedules or dedicated bus bays for Munnar-bound buses; many of them briefly stop at Aluva en route from Kochi/ Ernakulam to Munnar. Check with a few locals every 15 minutes, or ask and hang around the bus info office, so they can point you to the right bus when it arrives.
There are also buses from Coimbatore and Pollachi.

Get around
Renting an auto-rickshaw to roam around the city costs ₹50 per hour. You can also rent a manual or automatic motorbike on a daily basis for ₹350/day.
phone: +91 9447237165

address: Near High Altitude Sports Stadium, Old Munnar

Valid motorcycle license required.
See
Some of these site would be more popular for Indian tourists than Western tourists.
Near Munnar Town
Atukkad WaterfallsA scenic waterfalls amidst hills and jungles.

Blossom Park

ChithirapuramChithirapuram has old playgrounds and courts, bungalows and sleepy little cottages which all give this place an old world charm. This town is also famous for its tea plantations

Pothamedu View PointA small village inhabited 1 km away from headworks dam. Coffee and Cardamom plantation are sights to behold.
Mattuppetty Direction
Floriculture CentreRun by the Kerala Forest Development Corporation. An extremely well-kept garden with a large variety of flowers and some herbal/ foliage plants, all against the backdrop of the tea plantations. Definitely worth a visit.

Kundala LakeThis lake is very beautiful amidst lush jungles. Hiring a pedal boat and exploring the lake and its surroundings is an awesome experience. Except at the place you hired the boat, don't expect to find humans around the lake as it is surrounded by scenic jungles and hills. Unless you know how to row a boat, prefer a pedal boat, each trip lasts around 30 min and will be closed at 4:30PM

Mattupetti Damthis popular picnic spot activities like boating and horse riding and is a great place to spend the day especially if visiting with children. You could take the speed boat ride which is fantastic. It costs ₹300 if you have to hire a boat for you alone. The ride is for 15 min. The maximum capacity is 5 persons and you could save some money if you are a group of 4-5.

Mattupetti Indo-Swiss FarmBetter known as Mattupetti (cattle village), Tamil migrant labourers had once upon a time reared cattle here. The cool climate and abundance of fodder made it the ideal location for the Indo-Swiss dairy farm. Established in 1961, the Kerala Livestock Development Board (KLDB) manages this highly specialised dairy farm. The dairy farm is a unique one of its kind with more than 100 varieties of high-yielding cattle being reared. Tourists are not allowed to enter the farm.

Munnar Echo Pointa small lake set amidst rolling hills. Every loud call made from a spot on the lake embankment is returned manifold by the echo from the surrounding hills. Young tourists throng to this place to listen to the echoes of their friendship calls.

Photo PointIt is a small place filled with woods and a small stream. Good location to take photos.

Top StationGreat views of the Western Ghats. Top station is the "top"-tourist attraction. This place gives a real 'above the clouds' experience. Regular buses go to Top Station (1 hr) from Munnar. A jeep costs ₹400. The area is known for the Neelakurunji plant, which flowers only once every 12 years. The flower is violet.
Thekkady Direction
Signal Point is a view point from where the Munnar Valley can be seen. It is a nice relaxing place. This is otherwise called Cigarette Point, from the early days when junior managers of the plantation gathered to smoke there. From here one can see Chokarmudy Hill and Anamudy Hill.
Idly Hill View Point
Devikulam Sri Ayyappan Temple
Munnar Heritage Tour, Lockhart Tea Factory
Lockhart Tea Museum is a tourism destination which is giving a guided factory tour about orthodox tea manufacturing and can be visited their tea museum which briefs about the history of plantation.
Lockhart Tea Park
Chokarmudy Trekking
Thangaiah Cave
Lockhart Gap View Point
Periyakanel Water Falls
Anayirangal Dam / Boating Center
Coimbatore Direction
Anamudi PeakThe highest peak (2,695 m) south of the Himalayas, towers over the sanctuary in majestic pride. The slopes of the hills abound in all kinds of rare flora and fauna. The Atlas moth, the largest of its kind in the world, is a unique inhabitant of the park. Other rare species of fauna found here are the Nilgiri Langur, the lion-tailed macaque, leopards, tigers. An ideal place for trekking, facilities are provided here and tourists are allowed to go on foot up to 2 km from Anamudi. Going up to the peak is no longer permissible unless you have special permissions from forest department.

phone: +91 83010 24187

address: Udumalpet Road

Chinnar wildlife sanctuary is in the Wester Ghats of Kerala. This wildlife sanctuary has a large number of plants and animals. This wildlife sanctuary is spread in around 90² km of area. This sanctuary is one of the protected areas in the western ghats because of the significance of its flora, geomorphologic features, ecology and local cultural.

Eravikulam (Rajamalai) National ParkSee Nilgiri Thar (Hemitragas hylocres) - an endangered species of mountain goats, rolling grasslands and sholas, spread over 97² km in the Rajamalai hills, rare flora and fauna, Atlas moth (largest in the world), lion-tailed macaque, leopards, tigers, The Kurichi or Neelakurinji Flowers turn the hills of Rajamalai blue every 12 years. The next bloom will be in 2018. One can actually debate if going to the high peak just to see some goats is worth all the effort or not. However, the walk along the park is very romantic and has some breath taking view. Please be aware that this park remains closed every year around February–March due to the breeding program of the Nilgiri Thar. Before visiting Munnar please check if the park is open or not. Tickets can be bought from the counter or online. Please be warned that if you do not reach the counter before 8:30AM, the queue can get so long that it may take a couple of hours to get the tickets. The visit to the park is arranged by buses. While coming back after the visit, you'd again have to wait in queue. The entire process of buying tickets, visiting park and coming back may take 4-5 hours.

Lakkam Water Falls(24 km from Munnar). A small waterfall.

Marayoor - (Around 40 km from Munnar). It is the only place in Kerala with natural growth of sandalwood trees, natural caves with murals, and relics from late Stone Age civilisation. There is a sandalwood factory of the Forestry department of Kerala and a children's park extending across one hectare of land under the canopy of a single Banyan tree, all of which attract tourists in large numbers.

Naimakkadu Water Falls

Tata Tea MuseumAround 2 km on the Nallathany road, from Munnar). Tourists can see a collection of odd bits from the colonial era. Photography is allowed on payment of ₹20; videography is strictly prohibited here. A very interesting 30-minute film is screened, and visitors are then taken around the factory to understand how tea is processed. This museum remains open from 10AM-4PM every day, closed on Mon. There is a ₹75 ticket fee for adults; lower for children. If you are not a tea connoisseur then you can skip visiting this museum.
Other places to visit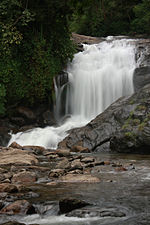 Kalvarimount, Situated at a distance of 5 km from Idukki, it is one of the famous hill stations and one can see the view of the reservoir from Idukki to Ayyappancovil.
Kolukkumalai Tea Estate, At a height of about 2,175 m (7,130 ft), this orthodox tea factory lays claim to being one of the highest in the world. The view of the Western Ghats is absolutely enchanting.

Mathikettan national park

Salim Ali (Thattekkad) Bird SanctuaryThere are woodpeckers, Malabar gray hornbills, Ceylon frogmouths, parakeets, and rose-billed rollers. This sanctuary is located 20 km from Kothamangalam on the road between Ernakulam and Munnar. There are basic and mid-range hotels in Kothamangalam and an Inspection Bungalow in Boothathankettu. You can take a boat cruise from Boothathankettu to Thattekkad. Admission foreigners: ₹40, Indian ₹10.

Waterfalls, Check out several natural waterfalls on the way to Munnar. They provide an excellent place for photography.
Do
Boating, There are several places to go out for boating in Munnar. One can choose among paddle boats and speed boats to Kashmiri-Shikara. Young couples who travel to Munnar should not miss out on the beautiful 'Kashmiri-Shikara' boat ride. It is one of the most romantic experiences.

BicycleExperience the natural beauty of Munnar by riding a bicycle through beautiful paths of Munnar and pass through a tea state called Madupatty, around 14 km from Munnar.

The Christ Church, in Old Munnar. The exteriors have worn out with time though the charming interiors still have a very nice ambiance. It was consecrated way back in 1910 and still has 14 original rows of pews. The first Catholic Church in the High Ranges was Mount Carmel Roman Catholic Church.

Elephant Arrival SpotHere you can board an elephant for a ride.

The High Range Club has a charming colonial style. The club house is built of wicker and teak and is the social hub for the tea planters of the region. Members enjoy lounging in the bar over Planter's Punch followed by a good meal, a game of billiards or reading a book in the library.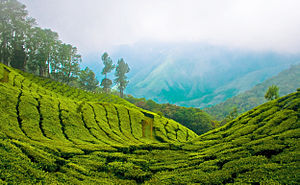 Munnar Carmelagiri Elephant Park

phone: +91 94 4782 7696, +91 94 4737 9376

address: Mattupetty Rd

The elephant safari takes you through the misty forests, deep valleys and the rugged hill paths of the Munnar forests. One hour package, half day and one day tours. Features are, elephant bath, elephant shower, elephant feeding, timber dragging demonstrations and displays of elephant commands and communication.
Munnar Supply Association (MSA), Set up in 1900, this is another nostalgic landmark worth visiting in Munnar. It is the oldest department store in the area and has been re-inventing itself to stay relevant and popular. The store was run by tea planters, who still manage its affairs. The MSA is a red brick, red tiled building with gables, buttresses and a porch and is now a heritage site.
Rock Climbing and Rappelling, Munnar has a steep rock face about 30 m (100 ft).
Walk in the Clouds, Trek to your heart's content while the clouds slowly descend upon you.

address: Moolakada, Pallivasal

Holistic health retreat in midst of the tea valleys of Munnar. Open year round, they teach a holistic lifestyle with traditional form of yoga and organic dining.
Buy
The best things to buy are
tea, coffee
,
spices
like cinnamon, cloves, cardamom and pepper and definitely
home made chocolates
.
Abbas & Co. Tea Merchants

address: 25, Bazaar

Abbas &amp Co is wholesaler but also sells to visitors. Really good price for tea, green tea, coffee, cashew - nuts, home made chocolates, spices, aloe vera gel.

Fresh tea from a factory outlet

address: Kannimallay Estate

Several varieties of tea fresh from factory.
Only Organic

phone: +914865264023

address: Block Panchatat Building, Devikulam

Outlet selling certified organic products. They also offer guided tours across a tea plantation between 8:00 and 18:00 for ₹400.
Banks/Currency Exchange
State Bank of Travancore

phone: +91 4865 2530274

State Bank of India, Munnar

phone: +91 4865 2530381

State Bank of Travancore, Devikulam

phone: +91 4865 2565441
Eat
Kerala is famous for Fish Curry. For snacks, one should try local spicy cashew nut, chilly bhaji with hot tea as they are a traditional snack and makes good combination in cold weather.
Bamboo Hut, G.H. Road. Wide range of food for reasonable prices, although service can be a bit slow. Also, the place usually has Western music (from Bob Dylan to electronic chill-out sound).

Food CourtMunnarinn. Closed as of March 2012.

Non-veg food, Eating non-vegetarian food in Kerala is perceived as a pain due to cooking in coconut oil etc. But this is not the case in Munnar's ""Guru's Restaurant"" which cooks delicious tandoori chicken and all things North Indian. Recommended for all those who miss their north-Indian cuisine and cannot put up with idlyappam and all those items.
Saravana Bhavan, Right at the heart of town and one of the most inexpensive places to eat. The service here is quick and the food is absolutely delicious. You might have to share your table with others. This place provides South Indian dishes, served on a banana leaf.

Silverspoon Restaurant

address: Munnarinn, Main Bazaar

This place does a great value buffet breakfast of cornflakes, toast, omelet plus Indian breakfast food for ₹95.

phone: +91 48 6526 4273

Multi-cuisine restaurant. 70 person seating capacity providing vegetarian and non-vegetarian food.
Munnar has some amazing street food (try the Gobi noodles), so if you are after a cheap and delicious meal check the area around the bus stand in Munnar (
not
the KSRTC bus stand in Old Munnar).
phone: +91 48 6521 4095

address: Pazhathottam

Multi cuisine restaurant at 2075 m (6,800 ft) above sea level and possibly the highest altitude restaurant in Kerala. If coming from Top station, turn right at 19 mile. Road is bad so make sure you have a suitably robust vehicle or inform them and they will pick you up. The journey is worth it. Please inform them early if you are going there for only for food.

Sri velavan stores

phone: +91 48 6523 2379

address: G.H.road

All provisions available at reasonable prices.

Patel Gujarati RestaurantGujarati and Marwari meals.

Purohit Restaurant

phone: +91 48 6523 2552

address: Inside Hotel Dhanyasree, Dhanyasree Jn. Chilling Plant Rd

Bombay, Jain, Gujarati, Rajasthani, Punjabi and South Indian food. Good Gujarati, unlimited Thali at ₹85.

Mahaveer Veg Restaurant

phone: +91 48 6523 1677

address: Kalinivas Building, Main Rd

Provides authentic North-Indian food with style ranging from Gujarati to Punjabi and delicious rotis. Meals start from ₹105/-. Only vegetarian food served. The downside to the place is cleanliness at the tables. Mahaveer has a branch near Purohit restaurant; this one is larger and cleaner.

phone: +91 48 6523 2628

address: Moolakada, Pallivasal Estate P.O.

Kaivalyam retreat has a 100% pure vegetarian restaurant which serves organic and healthy yogic food. As it is a yoga retreat more emphasis is given to food quality and hygiene. Serves North Indian, South Indian and a few continental dishes. Their desserts are good. Set in the midst of cardamom and pepper plantation.

Tall trees Restaurantfamous for their fish fry.
Drink
Fresh tea, coffee and milk is available at most places. Hard and soft drink are also available at fair number of shops.
Packed grapes and mixed fruit juice is also available at few places.
phone: +91 48 6523 1202

address: Pothamedu-Munnar
Bars
Royal Group of Hotels

phone: +91-04868-249311

address: Chinnakkanal-Munnar

Dhanyasree

phone: +91-04865-232552

address: 1848A, Chilling Plant Rd

Nalo Bar And Family Restaurant

address: Idukki District
Sleep
Budget
phone: +91 97 47268095

address: allenscottages@gmail.com

Upscale and standard cottages away from all the disturbences of the city. Camp fire and inbound trekking can be arranged.

phone: +91 9495812364 (Mob), +91 9446561652, +91 4865 232986 (Office)

address: Colony Rd

A set of cute cottages nestling against the backdrop of mountain ranges cut off from the hubbubs of hospital life. Eight Lands Holidays offers you stands unique and aloof among the other such establishments in and around Munnar.

Hotel Misha

phone: +91 48 6523 0376, +91 48 6523 2376

address: Misha Jn

Can be negotiated further down to ₹700-₹800/- in peak season and lower in off season.

JJ Cottage

phone: +91 48 6523 0104

Nice rooms, very friendly and helpful staff with surprisingly good cheap food. Double rooms may be negotiated down to ₹300 during the low season. Feels more like a bed and breakfast than your average guest-house.

Theresian Cottages (Homestay)

phone: +91 48 6523 0351, +91 94 4739 7720, +91 94 9587 9748

address: Munnar

Good location with nice views. Nearby to many restaurants. Tea and coffee is available. Kerala Tourism Department approved.
Mid-range
Splurge
phone: +91 8606991710

address: Chinnakkanal

Club Mahindra Lakeview Resort, Chinnakkanal. (20 km from Munnar Town on the way to Thekkady/Periyar), .

Devonshire Greens Leisure Hotel

phone: +91 85920 01044

address: Attukad Waterfall Road Pallivasal

Colonial-style four-star hotel, flanked by tea plantations and stunning view of valleys and waterfall. Multi-cuisine restaurant specialized in continental cuisine and the typical Indian cuisines like Gujarati, Malwani, Awadi, Rajastani, Punjabi and Jain cuisines. Coffee shop, health club, conference room with discotheque, board room, curio shop.

phone: +91 4865263060

An all villa premium family resort.

phone: +91 4868249206, +91 4868249208

address: PB Chinnakanal Village

The resort is at Chinnakanal, 18 km away. It has 142 rooms and suites.
Mountain Club, Chinnakkanal (20 km from Munnar Town on the way to Thekkady/Periyar)
Siena Village, Chinnakkanal (20 km from Munnar Town on the way to Thekkady/Periyar)

address: Bison Valley Rd

phone: +91 48 6568 5618

address: Munnar

Ayurvedic centre, cardamom plantation visit, fishing, trekking, camp fire, multi-cuisine restaurant and coffee shop, childrens play area & activity room, credit card facility, travel desk, site seeing trip 24 hr hot & cold water, STD direct dialing, cable TV in all rooms, pick up and drop off, conference hall, doctor on call.

address: Attukad Waterfalls, Aluva - Munnar Road
Stay safe
Apply sunscreen lotion while you leave Munnar because as you descend the hills the weather gets warmer and causes sun burn.
Hill stations tend to get dark rather early, so be sure to carry a torch or flashlight.
Though Munnar is safe compared to other big cities, it doesn't mean that mishaps and accidents don't occur. Visitors should look after their personal belongings, as theft may occur sometimes.
If you are participating in some outdoor activities, injuries or accidents may happen. In order to avoid any hospital expenses, make sure to cover yourself with adequate travel insurance.
The roads in Munnar are bit risky and accidents may occur frequently. Sometimes, even experienced drivers struggle to ride on these roads. So, if you are novice driver, don't drive on these roads. Also, if you are descending Munnar, make sure that you start early. Otherwise, the misty fog will blind your drive. It is safe to start back by 4 o'clock from Top Station.
Hospitals
Tata General Hospital

phone: +91 48 6253 0270

Matha Hospital

phone: +91 48 6253 0744

Arun Hospital

phone: +91 48 6253 0410
Connect
Main Post Office

phone: +91 48 6253 0280

Tourist Information Office

phone: +91 4865231516
Emergency numbers
Police control room

phone: 100

Fire station

phone: 101

Ambulance

phone: 103
Go next
Coimbatore - Being the industrial city of Tamil Nadu, Coimbatore is often called as a Manchester of Southern India. Headquarters of many reputed and big companies are located here.
Eravikulam National Park - It is spread over the area of 97 km 2 and situated along the crest of Western Ghats in ranges of Idukki district, Kerala. Eravikulam National Park holds the highly dense population of Nilgiri Tahr.
Kodaikanal Munnar - Devikulam - Bodimettu - Bodi - Theni - Periya Kulam - Ghat Road - Ganguvarpetty - Falls View - Oothu - Mooliyaru - Machoor - Mayiladum Parai - Perumal Malai - Kodaikanal - approx 170 km.
Kovalam - Hawa beach, Kovalam Bech, Light house beach and Samudra Beach are what make Kovalam an amazing place. It is also popular for Ayurvedic massage and possesses multiple yoga resorts.
Madurai - Located on the bank of Vaigai River, Madurai is temple town of India. The town has mythological history and cultural heritage to be passed on for coming generations.
Mattupetty - Mattupetty houses plenty of fascinating places to relish. Apart from rolling grasslands and lush green tea plantations, Shola forest of Mattupetty is habitat of range of birds. It is also an ideal spot for trekking.
Palani - It hosts the temple of lord Kartikeya which is visited by over 7 million devotees every year. Today, Palani is a major pilgrim centre in South India after Sabarimalai and Tirupathy.
Pollachi - It is nearest town to the very famous 'Indira Gandhi National Park'. Coconuts are exported to all over India from this small town and hence it is known as 'Coconut City'.
Thekkady - Well known as a tiger reserve, Thekkady is one of the famous tourist attractions in Kerala. Visitors from different corners of India come here to get a rare view of Tiger.