Munsyari
Munsyari
or
Munsiari
is a city in
Pithoragarh
region of
Uttarakhand
.
Get in
Munsiyari is 300km north of Nainital. It can be reached using hired taxis and buses from Nainital and Almora. There are 4 different routes to reach Munsiyari from Almora.
Almora - Bageshwar - Chaukori - Thal
Almora - Bageshwar - Kapkot - Tejam
Almora - Seraghat - Udiyari Bend
Almora - Pithoragarh - Udiyari Bend
The third route from Almora to the Udiyari bend and then to Munsiyari is the most scenic, as it runs through part of the Binsar wildlife sanctuary (which it itself is a great holiday destination).
Get around

Munsiyari lies in the foothills of the Panchachuli peaks (22600 feet) and is the last town enroute to these peaks and the other treks to glaciers around these peaks.

See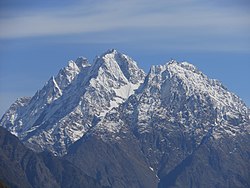 Hansling ParwatApproached via the Gori River valley north of Munsyari

JoharThe gateway to Milam and Milam Galacier.

KhaliyatopAlpine meadow 4,000 m above sea level

Nanda Devi TempleA refreshing 3km trek; one can enjoy horse riding on this trek

PanchachuliA series of high mountains that can only be visited with planning, support and technical climbing skills

Thamri KundA picturesque natural lake surrounded by broad-leafed forest, and a natural habitat of Musk Deer
The Uttarakhand Government has allowed construction of Hydro Power projects in the valley. NTPC is going to construct new power project 261MW in the Goriganga River near Patou and Basantkot Gram Sabhas.
Maheshwari KundA beautiful pond above the Maheshwari Hills. Can be reached by trekking 1.5 km from Munsyari.
Do
Trekking towards Milam and Ralam Glacier: This will help you to explore the 14 Malla Johar villages starting after Mapang Valley.
Buy
Local Winter wear made by the Bhotia women with Sheep's wool and Rabbit's Wool.
Organic Potatoes.
Near Sevila, one can find and buy organic Oranges, Cucumbers and other fruit.
One can buy wonderful handwoven carpets in the Munsiyari Market. This will support the economic development of the local women and men.
One can buy Himalayan tree saplings from near by Nurseries for your home, garden and lawn.
Eat
Kukla Local dish made on floor.
Bhuta Aalu Local aalu fried with dhungar (local herb).
Drink
'Fav Drink is Jya with Khaja.' bhumal (Fried rice)
Sleep
Tourist Rest House KMVN (Kumaon Mandal Vikas Nigam), Munsayari