Muntinlupa
Muntinlupa
is a city in
Metro Manila
,
Philippines
. Muntinlupa features two affluent business districts,
Filinvest City
and
Ayala Alabang
, but it is easy to be overwhelmed by the noisy sprawl around and miss some other hidden attractions. Just like other similar cities around Metro Manila, Muntinlupa incorporates old and new.
Understand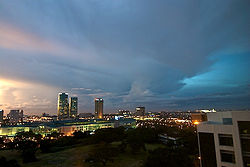 Muntinlupa is generally a suburban city within Metro Manila, with the majority of its population being daily commuters. The city is once a agricultural municipality along the western shores of Laguna de Bay, but after the construction of the South Luzon Expressway, it suddenly grew as industries moved here and many residential subdivisions are constructed on agricultural land. The development of Filinvest City and Ayala Alabang made it another central business district of Metro Manila. Muntinlupa today forms the large urban sprawl of greater Manila, and also full of contrasts, having its mix of affluent developments and ordinary Filipino barangays.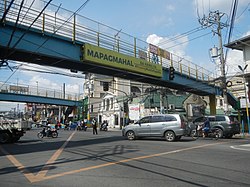 While
Filinvest City
and
Ayala Alabang
, two central business districts, provides a sense of modernity and prosperity for the city, the rest of Muntinlupa is very ordinarily Filipino in character, with its problems.
National Road
and
Alabang–Zapote Road
, the city's main thoroughfares, are perennially congested surface roads, compounded by uncontrolled growth that left Muntinlupa without a planned arterial road and public transport network. Outside of Filinvest City and Ayala Alabang, which are planned from the start, Muntinlupa is largely a sprawling concrete jungle, like its neighboring cities within the metro, save for areas around the New Bilibid Prison and the southwest edge of the city. Gentrification has made inroads on Muntinlupa's low to middle-class barangays, but much of the city chaotic conditions from the beginning will hardly change drastically.
History
What is now Muntinlupa is once a municipality of the province of Rizal. The etymology of the name Muntinlupa is obscure, but there are numerous folk theories for the name, the most known being the Spanish transcription of Tagalog
munti sa lupa
.
The lands where Muntinlupa is founded are from friar lands back to the days the Spanish arrived and explored the shores of Laguna de Bay. Spanish authorities took ownership in 1869, when the barrios of Alabang, Tunasan, Cupang and Sucat are grouped together. The current city is incorporated as a municipality in 1903, and became part of Laguna, but the local government protested, and in 1905, Muntinlupa is returned to Rizal. In 1941, the national penitentiary, the New Bilibid Prison opened in the hilly area of the municipality. Under the Marcos administration, Muntinlupa is included on Metro Manila. Since the opening of the South Luzon Expressway in 1969, the municipality begins to shift from agriculture to business and industry, and the population doubles as migrants from other parts of the Philippines moves there. In 1995, Muntinlupa gained city status.
Get in
By bus
Provincial bus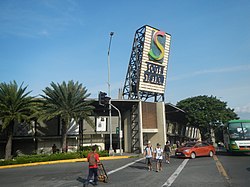 Many provincial buses from southern Luzon terminate at Alabang, while some go past into Pasay or Cubao. Because of rush hour congestion on the Alabang Viaduct, some buses not terminating at Alabang stop over to drop off passengers.
There are two major provincial bus terminals in Alabang, both having connections with city buses and jeepneys. The terminal the bus goes to either of the two depending on the route operator.
Alabang Bus Terminal

address: National Road, Alabang

Bus terminal operated by the Metropolitan Manila Development Authority (MMDA). Buses by ALPS, AB Liner, P&O, and TAWTRANSCO and others terminate here.

South Station Bus Terminal

address: Alabang—Zapote Road, Alabang

Newer bus terminal behind South Station, with covered sheds, and transfers to city buses, jeepneys, and UV Express vans. Buses by Ceres Transport/Gold Star, Dela Rosa, Saint Rose, and Worthy Transport terminate here.
City buses
You can also take city buses if coming within Metro Manila. Many city bus routes terminate at Alabang. Some buses to San Pedro stop at Alabang when shown or signage or passengers list it as their drop-off point.
Bus routes serving Muntinlupa
Route
Termini
Operator
Service area
Notes
Alabang—Lawton via Coastal Road
Festival Alabang (Reinalyn Transport only, during mall hours), South Station (all times); Park N' Ride
Reinalyn Transport, Igan Transport, Alabang Transport Service Cooperative
Muntinlupa, Las Piñas, Parañaque, Manila
Alabang—Malanday via EDSA
Starmall Alabang; Puregold Malanday
CEM Transport; Roval Transport
Muntinlupa, Parañaque, Makati, Mandaluyong, Quezon City, Caloocan, Valenzuela
Pacita—Letre via EDSA
Pacita Complex, Pacita 1, San Pedro, Laguna; Letre Road, Malabon
Worthy Transport, Phil. Tourister Inc.
Muntinlupa, Parañaque, Makati, Mandaluyong, Quezon City, Caloocan, Malabon
Some buses (for Pacita only).
Pacita—Navotas via EDSA
Pacita Complex, Pacita 1, San Pedro, Laguna; Navotas Bus Terminal, C-4 Road, Navotas
Cher Transport, Commuters Transport, Stargreen Transport
Muntinlupa, Parañaque, Makati, Mandaluyong, Quezon City, Caloocan, Malabon, Navotas
Some buses (for Pacita only).
Pacita—Novaliches via EDSA, Paso de Blas (Malinta)
Pacita Complex, Pacita 1, San Pedro, Laguna; Novaliches Proper, Novaliches, Quezon City
Dela Rosa Transit, GPS Transport (Saint Rose)
Muntinlupa, Parañaque, Makati, Mandaluyong, Quezon City
Some buses (for Pacita only).
Pacita—SM Fairview
Pacita Complex, Pacita 1, San Pedro, Laguna; SM City Fairview, Quirino Highway, Greater Lagro, Fairview, Quezon City
Worthy Transport
Muntinlupa, Parañaque, Makati, Mandaluyong, Quezon City
Some buses (for Pacita only).
Airport bus
There are also
Airport Loop
service reaching Alabang from
Ninoy Aquino International Airport
; all terminate at the HM Transport terminal south of the government-owned bus terminal beside Starmall Alabang. The one-way fare is around ;
Beep
cards are accepted as payment, in addition to the usual cash fare.
Point-to-point (P2P) buses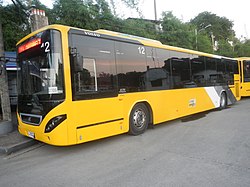 Point-to-point (P2P) express buses also serve Muntinlupa. Fares are twice as the jeepney or city bus, but worth the comfort, with newer, wheelchair-accessible, low-floor buses. Beep cards are also accepted in addition to the usual cash fare.
RRCG Transport operates P2P services to

Ayala Malls South Park

or

Alabang Town Center

from Greenbelt. one-way ( for seniors and people with disabilities).
MetroExpress Connect has services to

Starmall Alabang

from Bacoor (Vista Mall Daang Hari) and Dasmariñas (Savemore Salawag) in Cavite, via Daang Hari. one-way ( for seniors and people with disabilities).
By car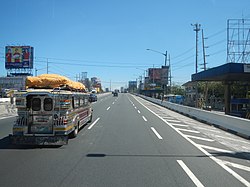 The South Luzon Expressway passes through Alabang, with three exits,
Sucat
,
Alabang
,
Filinvest
and
Susana Heights/MCX
. You may also take the
Skyway
, which terminates at Alabang. From
Cavite
, you may take the
Daang Hari
and/or
Muntinlupa—Cavite Expressway
(MCX)
By jeepney
Express services
There are a handful of express jeepney services to Muntinlupa, arriving at Alabang. These make less stops than services using surface roads and service frequency is 30 minutes.
Alabang-Balibago via SLEX - Express service from Target Mall in Santa Rosa to South Station. .
Alabang-GMA via SLEX – Express service via Carmona or Susana Heights Exit.
Alabang-Pasay Rotonda – Service from Pasay via South Luzon Expressway (South Superhighway or SSH).
By train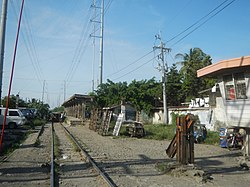 Philippine National Railways (PNR) operates regular commuter rail service to
Alabang station
, but the ride tend to become stuffy during midday and rush hours. The station is just behind Starmall Alabang, and you may walk through the mall into Filinvest City via the pedestrian overpasses under and across the Alabang Viaduct.
Get around
By jeepney
You may also take a jeepney to reach Muntinlupa, but are rather slower than buses, as they have more flexible stops (when passengers request). All jeepney routes in Muntinlupa originate from the transport hub of Alabang, where jeepneys come and go.
Key destinations, usually referred by landmarks (see
Philippines#By jeepney
), are as follows. Boldface indicates those visible on the front signage:
Bayanan (at National Road cor. Bautista Street)
Summitville
Muntinlupa City Hall, or Munisipyo (in front of Medical Center Muntinlupa)
Poblacion, or Bayan
Susana Heights
SM Center Muntinlupa, or simply SM (some jeepneys terminate here)
Tunasan (near the Tunasan People's Market at KM 30 National Road)
RMT (just past St. Peregrine Laziosi Parish and Lyceum of Alabang)
If you board express service jeepneys using SLEX, they will exit at Filinvest City, and you will either get down at Festival Alabang (south wing) or South Station. Jeepney fares are at to any destination in the city due to its sheer size. Routes can be seen on the front and sides of the vehicle.
Filinvest City operates electric jeepneys around key destinations on Alabang.
By car
Muntinlupa's major thoroughfares are limited the
National Road
(Route 1, though and
Alabang—Zapote Road
, national roads, but are considered surface streets over the controlled-access and tolled SLEx. SLEX's
East and West service roads
(both unnumbered) and
M.L. Quezon Avenue
(Route 142) serves areas north of Alabang, but are narrow and congested, making SLEX the better way around. The city's overall road network is rather poor, due to the radial growth and a lot of side streets and blind corners just worsens the plight of those four roads.
Perhaps, except in Filinvest City or Ayala Alabang, which are relatively car-dependent due to many well-to-do locals there, driving in Muntinlupa is nerve-racking, just like the rest of Metro Manila. As with the rest of
Metro Manila
, prepare to deal with the many aggressive driving behaviors you may find in the rest of the Philippines, such as motorcycles cutting through you. The numerous shopping malls in the city make it encouranging to drive, but expect costly parking fees (the exception is in SM Center Muntinlupa, where parking has been always free). Elsewhere, parking is scarce, and use public transport instead. Also be aware of the
United Vehicle Volume Reduction Program
or the
"color coding" scheme
when driving in Alabang.
By taxi or ride sharing
Taxis or ride-sharing are also available as another option when you want the comfort of car travel. Just find the lines or the booths outside the major malls.
By tricycle
Tricycles are generally used to access areas not served by jeepneys. Pedicabs, a foot-driven version, are used in some barangays, like in Alabang. Tricycle (or pedicab) terminals can be found in major street corners, outside subdivisions, and also at South Station (just next to the jeepneys). Tricycles, however, rarely serve the affluent areas, and they are banned from using the major highways
legally
, though they still use them due to a lack of alternative routes owing to the city's rather radial growth. Beware also of scams while in the terminal.
See
As most Muntinlupa is residential suburb, most of the sights are concentrated in Alabang.
Alabang
Insular Life Corporate Center

address: Corporate Avenue

Office complex with glass-covered twin towers. Has a viewing area on the 34th floor.
Outside Alabang
Jamboree Lake

address: Insular Prison Road, Poblacion

Philippines' smallest lake, with a small viewing point.

Diocesan Shrine of St. Peregrine Laziosi

address: KM 30 National Road, Tunasan

1980s era church devoted to St. Peregrine Laziosi.

Bayanan Baywalk

address: Bautista Street, Bayanan

Part of city lakeside development with an elementary school, park and boulevard. Provides a view of Laguna de Bay, but is blocked by kangkong (water spinach) plantations.
Buy
Alabang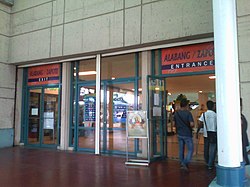 Ayala Malls South Park

address: National Road

Redeveloped from former Nestle warehouses, it is part of South Park District development, housing condominium towers and a call center building. Opened in 2016, it has fast-food restaurants, a food court, and various shops. Has a Robinsons supermarket and department store.

Festival Alabang

address: Filinvest City, Alabang

Mall constructed as part of the Filinvest City redevelopment. Festival Alabang houses department stores, two supermarkets, two indoor amusement parks, and a variety of restaurants and shops. An expansion area includes a park along the Alabang River.

New Muntinlupa Public Market

address: Montillano Street

Alabang's farmers' and flea market, with tiangges selling dry goods such as clothes and houseware.

Starmall Alabang

address: National Road, Alabang

Has a Robinsons department store and supermarket, a Wellcome supermarket, tiangges, a resort, and numerous fast-food restaurants. The mall includes also a public terminal for various city and provincial buses, jeepneys, and UV Express vans. The mall is also shrouded by ghost mysteries because it lies above a former cemetery.

phone: +63 2 846-0278

address: Commerce Avenue, Alabang

Features mid to high-end shops and restaurants.
Ayala Alabang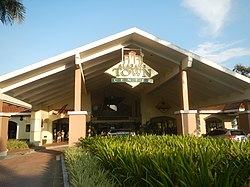 Alabang Town Center

address: Alabang-Zapote Road, Ayala Alabang

Built over where the Boom na Boom amusement park once stood, it is the core of the Ayala Alabang development, with more high-end retailers and restaurants. This mall a Spanish-inspired central park, mostly lined with fine dining restaurants and some shops.
Outside Alabang
SM Center Muntinlupa

address: KM 30 National Road, Tunasan

Small community mall with fast-food restaurants, cinemas, and a few shops. Has a SM Hypermarket and Ace Hardware. Parking is free, and expect the parking lots to be full, especially on weekend sales.
Eat
Alabang
phone: +63 2 808-6405

address: Madrigal Ave, Ayala Alabang

Molito is a luxury lifestyle center that features 5-star restaurants. They have a park-like center area with a small fountain for customers to sit and walk around.
Ayala Alabang
Outside Alabang and Ayala Alabang
Amber Golden Spoon

address: National Road, Putatan

Ho Chai Lai

address: National Road, Tunasan

Authentic Chinese cuisine, including dim sum, noodles, and congee.

PRLAN Cafe

address: 686 National Road, Poblacion

Despite its name, it features various Filipino recipes, with an offer for a meal two dishes and one rice. Also has a general store, and three kiosks. Meal starting at .

Taiyaki

address: National Road, Poblacion

Japanese fish-shaped cakes, with a choice of mung bean or custard filling

Wing Bites

address: Edna Duran Building, 163-A National Road, Tunasan

Offers unlimited chicken wings. There are no spoons or forks available, so you can enjoy either eating by hand using plastic gloves or with your bare hands.
Drink
Alabang
Alabang has many classy night bars and restaurants.
Outside Alabang
Picked

address: KM 30 National Road, Tunasan
Sleep
Alabang
Outside Alabang
Hotel Sogo Alabang

address: National Road, Alabang

Part of two-star motel chain, often having a reputation as haven for extramarital sex, but can be a cheap option in town. Has air-conditioned rooms with cable TV.

El Rancho Inn

phone: +63 2 861 3123

address: 678 National Road, Tunasan

Rooms only have air-conditioning and cable TV. There is no hot shower or WiFi available. Slightly as twice the price of Hotel Sogo in Alabang.
Stay safe
With the rest of Metro Manila, crime is a concern. Of major concern is the busy area of Alabang, where pickpockets and bag snatchers are not only the problem, but there are also various criminals, including hold-up robbers, who will rob you at gunpoint, and budol-budol members, who use hypnosis to abet their victims. Beware also of touts in taxis and tricycles, where they may not only rip you off, but in some cases, they may bring you elsewhere. The business districts of Filinvest City and Ayala Alabang may not look as safe as it may seem, so use common sense when bringing valuables, like cell phones, money, and cameras, as they can attract opportunistic thieves.
While not very obvious, most populated areas in Muntinlupa straddle the West Valley Fault, a major fault that can potentially cause a destructive 7.2 earthquake. Earthquake drills, in addition to fire drills, are regularly held in the city.

Cope
Muntinlupa is the first city in the Philippines to pass a local law banning single-use plastics since 2011, and that means you must bring at least a reusable bag when shopping in the city. In restaurants, food packaging must be made of recyclable material, but utensils, like spoons, forks, knives and straws are still permitted to be made of plastic. Businesses however are encouraged to use utensils made of reusable and recyclable material. The plastic ban does not cover plastic bags used to handle wet goods, and plastics are still permitted as packaging for wet products.

Go next