Murano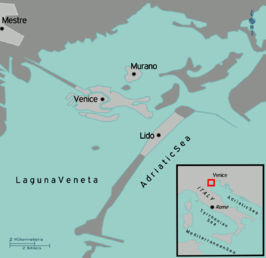 Murano
is an island town, about 1.5 km (1 mile) north of
Venice
, in northern
Italy
and is considered part of Venice.
Understand
Murano, like Venice, is a series of islands linked by bridges in the Venetian Lagoon. Its population was just under 4,500 in 2014. The town is famous for its glass production. The climate of Murano is classified as Humid Subtropical climate with cool winters and very warm summers.

Get in
ACTV
, Venice's transit company, runs the water buses, "vaporetti", from
Venice
to Murano at frequent intervals and at many stops.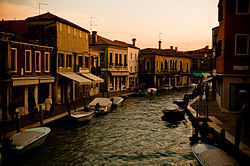 Get around
On foot

Walking along the many canals is part of the experience of Murano. The island is only about 1.5 km across, so it is small enough to explore by foot.
The Grand Canal (Canale Grande) splits the island into two. Walking around the island will help you discover the beautiful colors, little shops and restaurants.

See
Basilica dei Santa Maria e San DonatoKnown for its twelfth-century Byzantine mosaic pavement, which is a similar floor to Venice's Basilica di San Marco, and the mosaic dome in the apse of the Virgin Mary. It is said to house the bones of the dragon slain by Saint Donatus. The bell tower, like most bell towers, is separate from the Church.

Chiesa di San Pietro MartireBuilt in the 15th century and then reconstructed some years later after a fire. Inside are some art works, such as two canvasses by Bellini.

Campo Santo StefanoNotable for its 19th-century clock tower. One of the most visited spots.

Palazzo Da MulaThe summer residence of the Venetian patricians. The façade features large Gothic windows and Veneto-Byzantine patere and panels from the 12th and 13th centuries. It is one of the few palazzi which escaped the restructuring of the island in the 1800s.

phone: +39 041 739586

address: Fondamenta Giustinian 8

Housed in the large Palazzo Giustinian near the island's center. "Museo Vetrario" in Italian, offers a century-by-century tour of Venetian glass-making. Roman glass pieces dating to the 1st to 3rd cent AD. Largest collection of historical glass with pieces dating from the 15th to 20th centuries. A MUVE museum.
Other glass-related attractions include the many glassworks, some Mediaeval and most open to the public.
Glass Factories (fornaci). The best glass blowing factories are not open to tourists, but there are some factories that give demonstrations. Interesting to see if you have never seen a glass furnace.
Buy
Murano is known for its glass worldwide. Besides that, there is not much else to buy besides the normal tourist objects, such as postcards and other souvenirs.
Many souvenir shops try to pass off cheap Chinese
counterfeit glass
as real Murano glass. Murano Glass is very expensive to produce; don't expect to buy Original Murano Glass for a few euros. The Veneto Regional Government (Regione del Veneto) protects original Murano glassmaking. Always look for the
Vetro Artistico Murano
trademark decal on the objects and in the windows of shops and showrooms that sell authentic Murano glass in order to be sure that you are purchasing original Murano Glass.
Eat
If you're staying on Murano overnight, ask your hotel receptionist which of the island's restaurants is open in the evening. Most tourists are day-trippers, so Murano's restaurants take turns staying open for dinner.
Trattoria Busa alla Torre Da Lele

phone: +39 041 739662

address: Campo San Stefano 3

A typical trattoria, frequented by both tourists and locals. Excellent food.

Ai Bisatei

phone: +39 041 739 528

address: Campo San Bernardo, 1

Not an easy osteria to find but it is truly worth the detour for the kind service and cuisine.

phone: +39 0415274957

address: Campiello Pescheria 4

Nice and simple restaurant, also with al fresco dining in the small square. Friendly staff. Try the local specialties.
Sleep
phone: +39 041 739655

address: Fondamenta Vetrai 77

Very nice place, very clean, friendly owner. Beautiful views from the balcony.

Al Soffiador

address: Viale Bressagio 10-11

On the hotel premises is a restaurant. There are two buildings connected by a garden terrace. Each room has its own bathroom. 2 rooms are equipped to host disabled guests.

Hotel Locanda Conterie

address: Calle Conterie 21

All rooms have a private bathroom.
Stay safe

Beware of the scams offering to take you on a free boat ride to see the glassworks at Murano or Burano. Prices are grossly (300%+) overinflated, and the terms you are told in English will not match the terms in the contract written in Italian only. Don't fall for this scam.

Go next
Venice is your hub on the way out to the mainland. Just hop on the waterbus, "vaporetto", to get back to Venice.