Murnau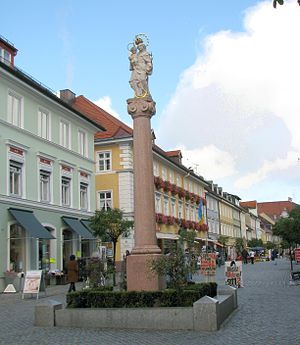 Murnau
is a city in
Upper Bavaria
about 90 km south of
Munich
. It is situated on the Staffelsee (lake), just north of the
Bavarian Alps
.
Understand
Murnau developed in the 12th century out of the Murnau castle.

Get in
By Train
Murnau is located on the train line between
Munich
and
Garmisch-Partenkirchen
, as well as the
Oberammergau
train line. Murnau is about an hour's train ride from Munich and half an hour from Garmisch-Partenkirchen.
See
phone: +49 8841 476201

address: Schloßhof 4-5

address: Kottmüllerallee 6

Artists Gabriele Münter and Wassily Kandinsky lived there during the summer months from 1909 to 1914.
Do
Take a boat ride on the StaffelseeThe Staffelsee is a scenic lake with a number of islands. Boat trips aboard the comfortable MS Seehausen call at Seehausen, Achele (Murnau) and Uffing.

Take a walkThe Das Blaue Land walking map (in German), available from the visitor centre in Murnau, shows the following routes:
Staffelsee-Rundweg (20.5km) – full circumnavigation of the Staffelsee; can be shortened by incorporating a Staffelsee boat trip (above)
Schwaigrohr-Rundweg (4km) – from Grafenaschau
Loisach-Rundweg (8km) – from Großweil
Drachenstich-Rundweg (5.8km)
Moos-Rundweg (12.5km) – explores the Murnauer Moos, a marshland nature reserve
Kleine Staffelsee-Schlife (5.3km) – a short lakeside stroll from Uffing
Guglhör-Rundweg (11.5km)
Höhlmühle-Rundweg (5.8km)
Riegsee-Rundweg (9km) – circumnavigation of the Riegsee, a smaller lake than the Staffelsee
Weiler-Rundweg (7.5km) – from Großweil
Tafertshofen-Rundweg (15.4km) – from Schöffau
Kirnberg-Rundweg (8.4km) – from Schöffau
Hungerbach-Rundweg (9.3km)
Schwaiganger-Rundweg (6.4km)
For a map covering the wider area, buy the Pfaffenwinkel Ammergauer Alpen nördl. Teil (UK50-49) map (scale 1:50000). Unfortunately the excellent Deutscher Alpenverein maps (scale 1:25000) do not extend this far north, though the Ammergebirge Ost (sheet BY 7) and Estergebirge (BY 9) sheets cover the mountain areas to the southwest and south respectively.
Eat
phone: +49 8841 1272

address: Obermarkt 8
Drink
phone: +49 8841 1422

address: Obermarkt 37

A private brewery whose delicious beer is only sold onsite. (It's also a restaurant and hotel.)
Sleep
phone: +49 8841 625876

address: Untermarkt 44

BAYregio-MurnauDirectory with many hotels and apartments in Murnau.
Connect
address: Kohlgruber Straße 1
Go next