Muskoka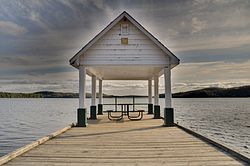 The
Muskoka
area of
Ontario
,
Canada
is a rolling expanse of forest and lake, quietly beautiful. Highlights of the area include
Georgian Bay
with its rocky inlets and wood-lined shores. It was scenery like this - and further east, in the Algonquin - that inspired Tom Thomson and the
Group of Seven
painters. The view, as evening falls over the silver water, broken by the low outlines of islands (there are about 30,000 in the Bay) is hauntingly beautiful.
Cities
North to south:
- a small town, but with some spectacular falls.
Understand

The region of Muskoka covers a large area including many small towns. While Muskoka is physically similar throughout, experiences can vary depending on where you visit, as some are more laid back than others. Much of Muskoka, especially around Georgian Bay or any other body of water, is private property. Towns such as Honey Harbour are filled with fenced cottages whose residents may not be very welcoming. Unless you are renting a cottage, it is better to stay away from the towns and instead turn to the many provincial parks in the area. These offer parking, facilities, access to the water and campgrounds.
If you are interested in boating, do not expect to find boat rentals by Muskoka's lakes. If you drive in through Barrie, it has several rental shops you can stop at before heading further north.

Get in
You can reach Muskoka on a day trip from
Toronto
. Since it is such a large area, travel times can vary. From Toronto, most tend to take Highway 400 north, through Barrie, then have a choice of whether to continue on the 400 or change to Highway 11. The former generally takes you to western areas of Muskoka (i.e. Port Severn, Midland), while the latter takes you to the more well known cities of the area (i.e. Gravenhurst, Bracebridge, Huntsville).
Since there are so many lakes between the two highways and around them, there are hundreds of winding "cottage" roads taking a traveller to more specific areas and smaller towns, such as Bala and Rosseau. The main highways between the major two are highways 169, 118, and 69.
Muskoka Airport (
YQA
)

See
Six Mile Lake Provincial Park. A park right off the 400. Parking, campgrounds and facilities available. Allows access to Six Mile Lake, perfect to explore on canoe. Much of the coast is private property, but still a great Muskoka experience. Ideal for a day trip.
Do
Eat
phone: +1 705-349-8827

address: 1009 Clan McKay Dr

An authentic thin crust Italian pizza baked in a traditional wood-fired brick oven while you watch. One can eat in a small, but beautiful garden. Seasonal.
Drink
A good place to party in the summer months, when it is much busier. There are places to drink around, ranging from small places to fairly large establishments. Private cottage parties are also popular, especially in areas further from the bars.
phone: +1 705-762-3134

A large venue with many concerts throughout the summer.

phone: +1 705-767-2313

address: 2681 Muskoka Rd, Baysville

Beers available all year include Crosswind Pale Ale, Spark House Red Ale, 10 Point India Pale Ale, and Rock Cut Baysville Lager. Seasonal beers also available. Hockey fans must try Top Shelf Vienna Lager (the official beer of the NHL Alumni Association).
Sleep
Budget
Mid-range
Residence Inn by Marriott Gravenhurst Muskoka Wharf

phone: +1 705-687-6600

address: 285 Steamship Bay Rd, Gravenhurst

phone: +1 416 800-0219

address: Sparrow Lake

A beautiful lakeside 5-bedroom, 4-bathroom cottage available to rent year-round in the Muskokas. Built-in Hot Tub open throughout the seasons. Surrounded by forest on 3 sides - a nature lover's paradise.
Splurge
phone: +1 705-765-1900

address: 1050 Paignton House Road

A JW Marriott resort and spa on Lake Rosseau.
Stay safe
May, early Spring for the areas, is peak time for blackfly and
mosquitoes
.