Mussoorie
Mussoorie
is a hill station in the
Garhwal
region of
Uttarakhand
.
Understand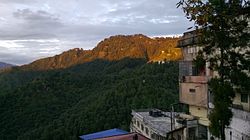 With its green hills and varied flora and fauna, Mussoorie is a fascinating hill resort and a fabulous honeymoon spot. Commanding a wonderful view of extensive Himalayan snow ranges to the northeast and glittering views of the
Doon Valley
,
Roorkee
,
Saharanpur
and
Haridwar
to the South, the town presents a fairyland atmosphere to tourists. Its history dates back to 1827 when Captain Young, an adventurous military officer, explored the site and laid the foundation of this holiday resort. Mussoorie is famous for its scenic beauty and hectic social life.
Climate
At an altitude of over 6000 ft (2000m), Mussoorie is a popular retreat from the heat of the plains. Be prepared for the cold if you come in the winter (Dec-Feb), when you can expect freezing weather and snow. The monsoon arrives in July and stays through to mid-September.
Get in
By bus
Buses leave from
Dehradun
train station. There are two buses which go to opposite ends of the Mussoorie Mall, Library and Picture Palace. It is quite a hike from one to the other, so make sure you catch the right one.
To reach Kempty Falls directly from Dehra Dun catch a bus from the Dehra Dun Railway station Hill Bus Services Section or take a taxi. You should look for buses heading for destinations like Barkot, Nainbagh, Yamunotri, and Purola (Caution:sometimes Purola buses go via Vikas nagar which may take you off the route completely so be careful).
You can also take a bus to the Library end of Mussoorie and walk to the Kempty Bus stop and take a bus or taxi or a milkvan or even hitch a ride with a tourist going in that direction!! Bus fee for Library end or Kulri end (from Dehradun) is ₹47.
Toll Tax is payable on entering Kempty Village per bus/taxi/car/scooter. Bus fare from library end to kempty is around ₹15.
By taxi
It is possible to hire a taxi for the trip up to Mussoorie. Rates are ₹610 per taxi and ₹50 extra for the night charges but you can pay per seat as well in a shared taxi which normally accommodates up to five passengers. Shared or chartered taxis too are available near the same Hill Section Bus terminal and the rates are controlled by the taxi union. These rates are generally displayed on a board outside their office.
Mussoorie is just 38 km from Dehradun and you can reach here by taxis and buses. It takes approximately one and a half hour and ₹47 for the regular buses to reach Mussoorie. From the Dehradun railway station, taxis charge around ₹610. Shared taxis charging a little over ₹100 per person are also available.
Get around

Once in Mussoorie, the affordable and effective way to get around the city is to opt for bus system or cycle rickshaws. Cycle rickshaws for traveling within city may cost approximately ₹20. However, it may get crowded, especially during peak hours. For most part you will want to get around on foot. The Mall is closed to most vehicles.

By rickshaw
A relatively flat section of the Mall allows a fleet of rickshaws to ply their trade. You can catch a ride from the Library end of the Mall to about the midpoint.
A full day of Mussoorie sightseeing by rickshaw is less costly compared to private cabs or taxis. But it is time consuming. So taxis are preferable if you are in a hurry and are prepared to pay the extra money.

By taxi
Taxis are not a useful form of transport within Mussoorie. If you are heading up to Landour with your luggage, it would be wise to catch a ride. They can also be hired for outings to places such as Kempty Falls or Happy Valley. There are taxi stands at both ends of the Mall. Many locals offer 'taxi' services, and if you are staying longer you will likely find these (slightly cheaper) alternatives. But all the taxis are under a union, so the rates will not vary and one has to hire them through the union office at library end, mall road, kempty bus stand etc.
You can also rent a private car which will be a little costly but less time consuming. A complete day of sightseeing around the city by taxi including Dhanoltri and Kempty Falls costs more than ₹1800.

See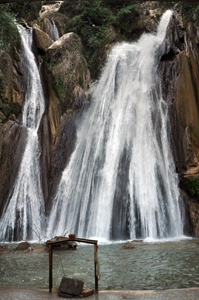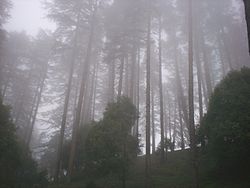 Bhatta fallsOn the way back to Dehradun from Mussoorie take the opportunity to see Bhatta Falls. 2-km trek, 3 km away from Mussoorie. Mussoorie Lake is also another site to relax that is located on the same route. Boating is available there.

Camty Fall

address: Mussorie road teen pani

About 15 km from Mussoorie, this now over-built spot is a popular tourist destination. Catch a taxi or a bus from the Library stand.

Company GardenIt is a government initiative, a man made beautiful park with artificial falls and fun rides. From Gun Hill Point rickshaws are available. It costs 100/- fixed rate per person round trip.

Gun Hill PointYou can enjoy the trolley ride to Gun Hill to view the splendid view of all the city and ice capped Himalaya. Trolley charge is ₹55/- round trip. Lots of photographic opportunities available as traditional dress being worn by populace is common. Up there, it is like a small fair with lots of stalls for games, snacks and nick-knacks.

Happy ValleyA couple kilometres from the Library end of the Mall, Happy Valley is a 5,000 strong Tibetan settlement. This is a beautiful spot for a short hike. Taxis and possibly bicycle rickshaws ply this route.

phone: +91 9759009830

An interesting place on the way to Dhanaulti which uses natural dyes to produce hand-woven shawls, scarves and throws from wool, eri silk and pashmina. They have a shop 8 km from Mussoorie on the Mussoorie-Dhanaulti Road.

Jawahar AquariumLocated on Mall Road, Jawahar Aquarium has a very nice collection of fish. Entry ticket is only ₹15.

Jhari Pani FallsIt is 5 km away from the library bus stand. From Dehradun to Mussoorie, for Jharipani one has to take a right turn 11 km before Mussoorie. Motorable roads are nicely maintained by the govt. To reach the falls from main road. It's a 2-km trek.

Lake MistAbout 5 km before Kempty Falls on the Mussoorie-Kempty road is a good picnic spot with accommodation and restaurant facilities; boating is also available. With the Kempty river flowing through it, Lake Mist has many small waterfalls made by the river.

Lal TibbaA scenic 5 km uphill walk from Picture Palace to the highest point in Mussoorie. Passes through Landour Bazaar.Old light house is the nice thing to see there. It's a long walk to Lal Tibba from Picture Palace, about 2 to 3 hours.

Tibetan Buddhist TempleIt is located on the Happy Valley road close to the IAS Academy. The temple can be visited between 07:00 to 17:00. Mussoorie was the Dalai Lama's first place of refuge when he fled Tibet, before he was granted land in Dharamshala by then Prime Minister Jawaharlal Nehru.

The Mall roadThe mall road is long stretch of road surrounded by shops, restaurants, motels and hotels. it is open for the whole 24 hours and is one of the main tourist attractions. Also a spot of outing for boarding school kids such as The Woodstock School kids. The side heading towards the Mussoorie international school or Kempty falls, is spot of finding more Tibetans and Indians and is a spot of more hotels.
Do
Cambridge Book Depot

phone: +91 135 263 2224

address: The Mall Rd

The oldest book shop in the area, the well-read and the owner of the shop is genial and helpful.

Landour Language SchoolThe school offers classes in Hindi, Urdu, Sanskrit and the local dialect of Garhwali.

The Walks of Mussoorie - Mussoorie itself offer some walks around the town. On walk you can take from Library Point to Landhaur Market via camel's back road. It is still free from noise and offers beautiful views.
Buy
Branded Stores - A variety of branded store like, Reebok, Liberty, Koutons, Music world, PlanetM and Wingsfield have come up on the main mall road.
G. Dass & Co. (opp. Clarks Hotel, Mall Road, tel: 0135-2632154) is the oldest photography shop in Mussorie. Located centrally on the Mall road, this shop offers facilities such as printing photographs.

Om Gift Emporium

phone: +91 135-2630501

address: 80 Kulri Bazar

Standard Dry Cleaners

address: The mall Rd

Wooden Handicrafts

phone: +91 135-2631373

Hilly Cottage Industries(Ropeways Shopping Centre, The Mall Road, is one of the famous shops on The Mall Road. Here you can choose from a wide variety of wooden walking sticks, hand carved jewellery boxes, magazine racks, wooden bowls & trays.

phone: +91 9837171819

address: Landour Bazaar

Bal mithai and chocolate barfi. The shop is more than 150 years old and locally famous for Gulab Jamuns, Son Halwa, Balushai, Ghewar, Singori, Pan Gilori, variety of Mathries, etc. They also send Bal Mithai and Pure Chocolate Barfi by courier, all across India.
Eat
Clark's Restaurant

phone: +91 135 263 2393

address: The Mall Road

Kurli This multi-cuisine place has a bar and a bakery that are part of the menu.

Four Seasons

address: Kulri Bazar, The Mall

Great place to have Indian, Chinese and Continental food. It is most famous for its Chinese cuisine and is cherished by the regular tourists as well as the locals.

Green Vegetarian

address: Kurli

An amazing biryani from locally grown basmati rice makes it a treat to dine here. The Chinese food comes as a close second favourite.

Kalsang Chinese & Thai Restaurant

address: near Cafe Coffee Day, nearer to BSNL office

A restaurant that provides authentic Tibetan, Chinese and Thai dishes. This restaurant is run by Tibetan family who is the youngest brother of six sibling.

Laxmi Mistan

phone: +91 97583 47742

address: at Gandhi Chowk

is an amazing candy shop joint which serves lovely paranthas.

Lovely Omelette Centre

phone: +91 135 263 1120

address: on the mall road at Kulri Bazaar

probably serves the best omelettes in Mussoorie. This hundred square foot outlet is a favourite with students and ex-student tourists.

Madras Cafe

phone: +91 98373 71084

address: at Kulri Bazaar

serves piping hot Dosas (spicy crisp vegetarian crepe).

phone: +91 2632445

address: Landour Bazaar

Oldest sweet shop of Uttarakhand. Serving quality sweets from last 151 years. The shop was established in 1860 during the British period. Gulab jamuns, pure chocolate barfi, kalakand, sonhalwa are among the favourites.

address: The mall, near Cafe Coffee Day

Panchachuli Women Weavers is a development programme, which facilitates economic and social independence for women in the Indian Himalayas.

Raj Kamal

phone: +91 135 263 1266

address: Library Bazar, The Mall Road

nice place to dine specially north Indian food. It is located on the mall road near Uphaar. Very well behaved waiters.

Rice Bowl

address: Mall Rd

A Chinese and Tibetan food restaurant run by a very friendly Tibetan family. The food is delicious and cheap.

Uphar Vegetarian,

phone: +91 135 263 0342

address: Mall Road few feet away from Laxmi Mistan
Cup of coffee
Cafe Coffee Day (on the Mall near the Bank of India) Not-quite-Western prices, this chain cafe will offer you a brief respite from the surrounding sea of chai.
Dominos - In the same building of Cafe Coffee Day.
Drink
Pubs & bars
The alcohol is not easily available in the city, so the list of pubs and bars is very short.
Big Ben

address: Jaypee Manor Residency, Barlowganj, Dehradun District

Marshals Lounge

phone: +91 135-263 1800

address: Jaypee Manor Residency, Barlowganj, Dehradun District

Tavern Restaurant and Bar

address: The Mall, Picture Palace, Dehradun District

This is one of the very rare bars in Mussoorie which offers an experience of drinking with live music.

The Victorian Bar

phone: +91 135-2631426-427

address: The Clarides Nabha Residence, Airfield Barlowgunj, Mussoorie 248179

The bar has lots of variety of cocktails, mocktails and other alcohol.
Sleep
phone: +91 135-2632-892

address: at Gun Hill

High end - amazing views and lovely cottages. Friendly service. Pick up and drop from Mall road for a fee

Broadway

phone: +91 135 263 2243

address: Camels Back Rd

Although Broadway is very close to the Mall and all its attractions, it is in a quiet spot (except for the call to prayer from the nearby masjid) overlooking the valley. It offers reasonable rates, and friendly staff.Starting ₹500 (off season)

Country Inn and Suites by Carlson

phone: +91 135 263 5601

address: Convent Road

Part of the Country Inn and Suites chain, a little away from Mall Road. Going to Mall Road requires a trip over steep terrain, but the hotel provides pickup/dropoff so guests don't have to negotiate the terrain by themselves. Snow capped peaks might be visible from hotel compound on clear days.
Country Inn Mussorie Kincreg, Dehradun Tel: (+91)- (0135)-2631 196 Credit cards: not accepted Tariff: ₹1,150 (non air-conditioned double room), ₹1,650 (air-conditioned double room), ₹1,850 (suite)

phone: +91 135 2632 378

The Mall, Tariff: ₹1,500 (double room) in off season.

Hotel Ashoka Continental

phone: +91 11 4622 3300

address: The Mall, Library Chowk

Situated in the heart of the City Hotel Ashoka offers a panoramic view of hills and valley, most enchanting view of sun kissing Shivalik Peaks. Tariff Ranges from ₹1350-₹2500. Tel : +91 11-42437263-66, Fax : +91 11-26133299,

Hotel Dwaper

phone: +91 135 263 2925, +91 135 263 0825

Roof Top Parking with Homely Food and good budget rooms.
Hotel Emerald Heights, Camel Back Road. A nature friendly hotel offering rooms and cottage. +91 135-2713826, 2631346
H. Grand (near to Honeymoon Inn on the opposite side of the street, opposite to the aquarium) its an old (100yrs+) hotel/building, the rooms are large, clean but basic. Room rents are low at ₹500 for double room.

Hotel Parkwood

address: Kulri Bazar

phone: +91 135-2632088, +91 135-2631442, +91 135-265929

address: The Mall, Kulri, Mussoorie - 248179

Shiva Continental (Kulri) Near the main mall road away from the daily commotion. Nice food, and good rooms.
Stay safe
It is very safe to be in Mussoorie throughout year. However, visitors are advised to stay cautious during monsoon season. The only thing visitors have to consider is to stay indoors as it may rain continuously during rainy season.
The standard rules of safety like being alert with strangers and not to hang out in strange places will apply to everyone. If you are travelling alone then it is advisable to stay in a hotel in Mussoorie itself and not in remote area.

Connect
Mobile phones
You need to provide a Photo ID and a photograph to subscribe for either a postpaid or prepaid mobile phone connection.
Airtel GSM Triband
Cellone GSM Triband
Idea Cellular GSM Triband has very good connectivity throughout Mussorie
Vodafone GSM Triband
Internet
Banaras Cyber Cafe (Next to Green Vegetarian restaurant, Kulri, Tel: (+91)-(0135)-2633 703) New Lenovo desktops, Lenovo LCD monitors and laser printers.
FastTrack Cyber Cafe (Opp. Clarks Hotel, Mall Road, Tel: (+91)-(0135)-2632 154) In addition to all the regular Internet services, you can also copy your pictures on CDs and get them printed as well.
OM Cyber Cafe (Near Bata Company, Kulri, Tel: (+91)-(0135)-2630501) Has a nice fast connection, and also offers wireless, so you can also bring your own laptop. All systems have headsets for Skype/voice chat 7.
Sahney's Internet Cafe (Landour Bazaar near Gurudwara, Tel: (+91)-(0135)-2632 510) Sahney's has a nice fast connection, and also offers wireless, so you can also bring your own laptop. All systems have headsets for Skype/voice chat.
Go next
DhanaultiA quiet forest area converted into two Eco parks by the government. Don't miss the forest trails (one inside the Eco Park 2 and the other just outside it). Catch a taxi (approx ₹900) from the Library stand.

Kanatal – It is located around 33 km from Mussoorie and now emerging as one of the popular destinations in Uttarakhand. The peacefulness of this place attracts many visitors from different corners of India.
Lakha Mandal - 80 km from the Mussoorie, the site has got special archaeological importance.
Naga Tibba - Around 55 km away from Mussoorie, it is highly exciting place for trekkers. Naga Tibba is highest peak around the city with height of 3,000 m. In order to reach such an adventurous place, one has to drive 35 km and then travel remaining distance doing the trek. Visitors also get an opportunity to interact with locals of Garhawali villages while doing the trek.
Surkhanda Devi Temple - Around 35 km from the city, the temple demands a stiff climbing of more than 2 km from devotees. The road to Surkhanda Devi temple passes through highly dense forest having rich flora and fauna. While doing the trek, you can get majestic view of panoramic snow along the spectacular Himalayan range.
Yamunotri- A great pilgrim temple at the height of 4,000 metre and above, above the sea level. You can do a trek to Dodital from Hanumanchatti nearby.