Mwanza
Mwanza
is a city in
Northwest Tanzania
on the southern edge of Lake Victoria. Your main reason for coming here would likely be en route to
Rwanda
or
Uganda
. The city received some international attention after the controversial documentary
Darwin's Nightmare
, which is about the trade in the Nile Perch, centered in this city.
Get in
By plane
By bus
By train
Tanzania Railways
has services from
Dar es Salaam
via
Tabora
several days a week, departing from Dar at 9PM. The trip to takes around 40 hours. The 1st class two-berth sleeper fare to Dar is TSh 75,000. There are also 2nd class six berth sleepers and 3rd class seats on the train. At Tabora it's possible to change trains for
Mpanda
and
Kigoma
.
The small is centrally located.
By boat
To arrive from
Uganda
you can take a bus form
Kampala
to Bukoba (in Tanzania) and from Bukoba you can either take the
ferry
Monday, Wednesday or Friday evenings or the bus (several every day around 6-7 AM).
The
ferry MS Victoria
depart Mwanza going to Bukoba every Sunday, Tuesday and Thursday evening. A bed in 2nd class 6-bed sleeper cost TSh 23,500.
There is a ferry across the Mwanza gulf that leaves from the city (the Kamanga ferry) and another about 32 km south of the city. The southern one is recommended for driving because the roads on the western terminal are rumored to be much better.
Get around
Daladalas (public "buses") are a good, cheap way to get from the city to the surrounding areas. Costing only TSh 300 for a trip, they are crowded, slow, and thrilling sometimes. You may want to ask someone which one you need to take as there are no transit maps.
Taxis can be an option, although there aren't any official labels on them as there are in the capital. White licence plates means that the vehicle is registered for commercial use, and yellow mean private. Not all taxis have white licence plates, but some do. The taxis should be white cars with white licence plates. Use at your own risk.
Pikipikis are the little motorcycles that will take one or two people on as a fare. There are usually a few sitting at intersections. These are very dangerous because of influx of vehicles in Mwanza and again, use at your own risk.

See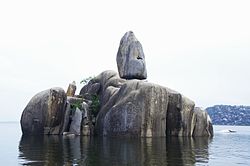 The shores of Lake Victoria are interesting to walk along and popular with locals. Also, climb to the top of Capri Point at the west end of Station Road for a nice view of the area.
Bismarck RockA fascinating natural rock formation.
Buy
Frozen and fresh Nile perch fish fillet boxes available near the airport is the great buy.
There are some excellent fabric markets on the north end of Rwagasore Road with patterns and designs that aren't available in Dar es Salaam or Zanzibar.
Walk through the market area between Lumumba and Pamba Roads for an intense taste of a bustling market. Don't carry a wallet.
Remember to
bargain
with merchants. It's expected.
Malls & supermarkets
Rock City Mall. is the largest shopping mall in Mwanza. The mall has many stores and a large TSN supermarket. Cinema. Stanbic Bank & ATMs. Phone stores. 8AM-10PM.
Banks & ATMs
Standard Chartered BankHas a Visa Card ATM.

Stanbic BankHas a Mastercard/Visa Card ATM.

Kenya Commercial BankHas a Mastercard/Visa Card ATM.

Equity BankHas a Mastercard/Visa Card ATM.

Eco BankHas a Mastercard/Visa Card ATM.

I&M Bank

address: Balewa Street

Has a Mastercard/Visa Card ATM.
Eat
Great Lake Victoria's fresh water tilapia fish is a must eat food. A good number of fish industries exist. They export Nile perch fish fillet (sangara fish) to Europe and South Africa. Street food. Oranges, bananas, pineapples, mangoes, avocados, cassava, roast maize, taro are all available on the street from vendors for TSh 100-1000. Also available are mandazi, bagias, and other local fried breads in some areas. Vendors are usually walking around, so they may be harder to find.
Pizzeria Kuleana

address: Post St.

Pizzas, as expected, and a breakfast that is the favorite of locals and travelers. Opens early, so it makes a good place to wait for the town come alive if you have arrived with the night ferry. 7AM-9PM daily.
The Food Square, Bantu St. near Nkrumah St. Open for breakfast and lunch. Excellent, popular, fast, local food for TSh 1000-4000 per person. A great daily stop. No alcohol.
Harish Pan House, Nyerere and Post St. Indian food with Zanzibar flavor. Vegetarian menu limited to Samosas, Zanzibar mix soup, snacks and other Indian traditional breads.

Sizzler

address: Kenyatta and Post St

Wide variety on the menu, local food, Chinese, and Indian dishes. TSh 4000-8000. Open for lunch, then closed until dinner.
Mayi Hotel, Spacious outdoor restaurant with a good diverse menu. Lots of fish and chicken dishes. Arrive later in the evening for more menu availability. Their spaghetti and cheese sauce is especially good if you're vegetarian. TSh 8000-12,000.
New Mwanza Institute, Station Rd. west of the train tracks. Popular local outdoor restaurant. Local dishes only. TSh 2000-4000.
Airport kiosk, opposite Mwanza airport terminal. Local outdoor restaurant. Try the chapati and fish soup. Local dishes only. TSh 2000-4000.
Drink
Tunza LodgeTunza Lodge is a beach resort on the shores of Lake Victoria. It offers sandy beaches, a bar and restaurant and weekend beach volleyball games on the sand. While the lake water is generally considered safer to swim in than areas closer to town, there​ is still a risk of schistosomiasis.

The Breeze, second floor in the New Mwanza Hotel (stairs are in the front, not the ones that go up to rooms). Nice view of traffic and people walking below. Open air but covered. A good place to wait out a sudden rain shower.
Any local hotel and most restaurants serve beer and other drinks
Sleep
La Kairo HotelA top-end place to stay. Working free internet, good meeting rooms. City is noisy at night.

phone: +255 28 2500617

Offers a swimming pool and bar, ideal for swimming in on a hot day. Although the lake is adjacent, the water is infested with schistosomiasis and is not considered safe to swim in.

phone: +255 28 256 1111

Has a large restaurant, infinity pool with poolside bar, sprawling lawns and Wi-Fi connections. You can watch the fishermen at work on the lake while you are at poolside.

phone: +255 28 250 3068

Excellent hotel rooms with free internet, awesome Indian food prepared by Indian Shef. Free breakfast.

phone: +255 28 254 2347

It offers a big swimming pool and a quite good restaurant with a lake view terrace.

address: Rwagasore St

Small sign outside, but nice rooms inside for the price. Bar and restaurant on the second floor, safe parking inside, satellite television (some channels in English) and en suite bathrooms. TSh 15,000 per night, but if you're staying for a week or so, you can negotiate down to TSh 10,000 per night. Good mosquito nets, balconies, but not necessarily a fan in every room.

Lake HotelNice place with a restaurant. Small rooms with en-suite bathrooms. Safe parking. A little cramped for more than one night.
Kishamapanda Guest House

address: Uhuru street

Fan rooms.

Tulale Guest House

phone: +255 782-464130

address: Shinyanga Rd

Fan rooms. Private parking is available.

Christmas Tree Hotel

phone: +255 28-250-2001

address: off Karuta Street

Fan rooms.

Mtwara Lutheran Center

phone: +255 23-2333294

address: Mikindani Road

Dorm beds/single/double with outside bathroom.
Go next