Myoko
Myōkō
() is a city in
Niigata prefecture
, in the central
Chubu
region of the main
Japan
island
Honshu
.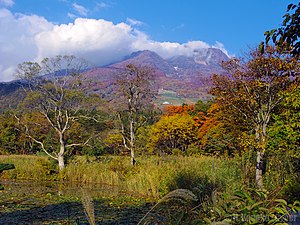 Understand
Myōkōkōgen merged with Arai City and Myōkō Village in 2005 to form what the city of Myōkō.
address: 291-1 Taguchi Myoko-shi, Niigata
Get in
By plane
The nearest airports are:
Niigata
- 2 hours 15 mins by car. By public transport, take a
bus
to Niigata station (25 min, ¥410), then take the train (details below). Alternatively, Kubiki Hire operate
Share Taxis
once a day for ¥3000 per person one way; ask for Takada station, from where you can take the train (¥580, 50 min, Japan Rail Pass not valid).
Toyama
- 2 hours by car.
Buses
connect the airport to Toyama station (25 min, ¥410).
Matsumoto
(Domestic flights only) - 1 hour 45 mins by car.
Buses
connect the airport to Matsumoto Bus Terminal (30 min, ¥600), which is just across the street from the East Exit of Matsumoto station.
Of course, many visitors will prefer to fly into
Tokyo
, or perhaps Nagoya-
Centrair
. If you are flying into
Narita
, you may be interested in the overnight bus between Narita and Nagano station, which is operated jointly by
Narita Airport Transport
and
Alpico Kotsu
and costs up to ¥6900 (cheaper outside peak periods). Changing at Nagano to the Kita-Shinano Line, you will reach Myōkō-Kōgen at 08:30.
By train
Until 2015, Myōkō was on the JR Shin'etsu Line. That year, the Shinkansen was extended from Nagano to Kanazawa, and services on the line are now run by the
Shinano Railway
and the
Echigo Tokimeki Railway
. The dividing point between the two is at
Myōkō-Kōgen
station, which is closest to the prefectural border.
Neither of these lines are part of the JR network, and therefore
they are not valid with the Japan Rail Pass
. The Rail Pass will get you as far as
Nagano
, Jōetsu-Myōkō, or Naoetsu; these stations are 45, 35, and 60 minutes from Myōkō-Kōgen respecively, and you will have to pay ¥830, ¥500, and ¥670 respectively to reach Myōkō-Kōgen. These prices are included in the totals listed below.
From Tokyo, take the Hokuriku Shinkansen to Nagano, then change there to the Shinano Railway Kita-Shinano Line to Myōkō-Kōgen (about 2 hrs 30 min, ¥8830 total). If you go via Jōetsu-Myōkō, the trains are less frequent and it will take longer, but if you have a Japan Rail Pass you will save ¥330.
From Nagoya, take the Limited Express Shinano to Nagano, then the Kita-Shinano Line (about 3 hrs 45 min, ¥7960 total).
This train stops at Matsumoto (from which it is about 2 hours and ¥3470 total), but from there you can also take a Shinonoi Line Local train to Nagano, which adds about 30 min but saves ¥1500.
From Osaka, there are two options:
Take the Shinkansen from Shin-Osaka to Nagoya, then the Shinano to Nagano, then the Kita-Shinano Line (about 5 hours, ¥12,530 total)
Take the Thunderbird to Kanazawa, change there to the Hakutaka on the Hokuriku Shinkansen to Jōetsu-Myōkō, then change there to the Echigo Tokimeki Railway (about 5 hrs 45 min, ¥11,780 total)
From Kanazawa and Toyama, take the Hokuriku Shinkansen Hakutaka service to Jōetsu-Myōkō, then the Echigo Tokimeki Line (2 hrs 45 mins and ¥6430 total from Kanazawa, 2 hrs 15 min and ¥5350 total from Toyama).
From Niigata, there are five Limited Express Shirayuki round-trips a day; these all run onto the Echigo Tokimeki Line, but stop short of Myōkō-Kōgen, at either Jōetsu-Myōkō or Arai. Travel to Myōkō-Kōgen should take 3 hrs 30 mins and cost ¥5090; the price and time is similar if you instead take the Shinkansen to Nagaoka and a local train from there to Naoetsu. Japan Rail Pass holders must pay ¥530 if they use the Shirayuki from Naoetsu to Arai.
By bus
No highway buses serve Myōkō. The nearest places served by highway buses are Nagano station, Takada station (for buses to Niigata and Tokyo), and Kida Bus Stop on the Hokuriku Expressway (which is 10 minutes walk from Kasugayama station on the Echigo Tokimeki Line).
See
Myōkō Sunshine Land. Usually open 09:00-17:00, and closed Tuesdays and Thursdays. This is actually just over the city border in Jōetsu; the nearest rail station is Sekiyama on the Echigo-Tokimeki Line, which is about 4km away. An all-purpose leisure land set in the grand natural surroundings. The park includes activities that both children and adults can enjoy, from the thrilling roller coaster to the 55 meter tall ferries wheel.
Do
Myōkō Kōgen gets about 13m of snowfall annually, making it an ideal spot for the avid skier and snowboarder. There are three major ski resorts surrounding the massive Mount Myōkō. Myōkō Kōgen is also one of the oldest ski resorts in Japan, with some hotels and onsens dating back to the 1930s.

Go next