Nîmes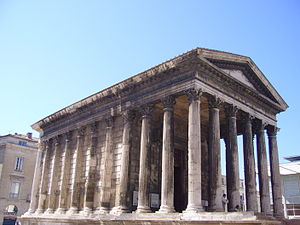 Nîmes
is a city with a population of around 137,000 in the
département
of
Gard
in the south of
France
. It has a stunning Roman temple whose pristine condition is unmatched by any extant ones in
Rome
. There are a few other fine Roman relics and Diana's Palace.
Understand
Office de Tourisme et des Congrès

phone: +33 4 66 58 38 00

address: 6 rue Auguste

The Office de Tourisme prints a "Bienvenue" booklet (in English) each year, which isn't available off the shelf, you must ask for it. It has lists of Hotels, Camp Sites, Restaurants and bars. They also print a Travel Guide with descriptions of the sights to see in Nimes. There is also an information point at the Esplanade Charles-de-Gaulle.
Get in
By train
By bus
Edgard
operates buses to Nîmes from
Arles
(route C30) and the
Pont du Gard
(route C21). A one-way ticket costs €1.50 per person.
Gare Routière

address: Rue Sainte Felicite,
By plane
By car
You can access Nîmes via Autoroute A9, which runs from the
Spanish
border, and the Spanish motorway AP-7, in the south, and
Orange
and the A7 Autoroute in the north, or the A54, which connects Nîmes to
Salon-de-Provence
in the south-east.
Get around

The main sights are all within comfortable walking distance of each other.

See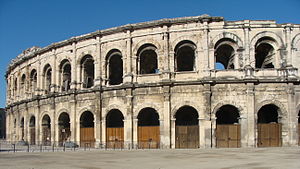 The three main Roman sites in Nîmes are the Maison Carrée, Magne Tower and the famous Amphitheatre. A
combined ticket
can be purchased for all three for €12 (€10 for children (7-17) or students), only €2 more than the single entry for the Amphitheatre. There is also a combined ticket which includes the Roman Theatre of nearby
Orange
. Other key sites include the Temple of Diane and the Nîmes Cathedral, both of which are free.
CastellumA former reservoir at the end of the 50 km aqueduct.

Cathédrale Notre-Dame-et-Saint-Castor de NîmesThe main cathedral of the city originates from the 11th century, but has been renovated and adapted many times since. It is believed it was built on top of the former Roman Temple of Augustus of which no trace remains. The building is an interesting mix of Romanesque and neo-Gothic styles.

Jardin de la FontaineThese beautiful gardens were created in 1745, becoming the first public park in France and one of the first in Europe. It is decorated with a number of waterways and fountains, beautiful statues from Montpellier and the ruins of the Roman Temple of Diane. Climbing the steps or ramps at the back of the park up to the highest point in Nîmes, one finds the Magne Tower.

address: Place des Arènes

a well preserved Roman arena that hosts bull fighting festivals in September. It was built 100 AD to seat 24,000 spectators It seats 10,000 when full and is an amazing site.

phone: +33 4 66 21 82 56

One of the best preserved Roman temples in the former Roman Empire is to be found here in Nîmes. It was constructed approximately 2 CE, not long after the founding of the city by Emperor Augustus. The small interior comprises of a modern theatre, where a well-produced and informative film called Nemausus plays every half an hour on the half hour, giving a good introduction to the early history and foundations of the city.

Porte d'AugusteOnce was the main entrance to the city

Porte de France

Temple de Diane
Museums
Musée du vieux Nîmes

phone: +33 4 66 36 00 64

Musée archéologique

phone: +33 4 66 76 74 80

address: Blvd 13 Amiral Courbet

Columns, mosaics, sculptures, etc.

Musée des Beaux-arts

phone: +33 4 66 28 18 32

address: rue de la cité Foulc 20-22

Flemish, Italian, French works, and Roman mosaics.
Eat
The local speciality is the "brandade", chopped cod mixed with mashed potatoes, milk, garlic and olive oil. It can be tasted in many restaurants. You can also try the "Gardiane de taureau", a ragout with bull meat and vegetables. As an appetizer, have toasted bread with "Tapenade", an olive puree made with olives, olive oil and garlic.
L'Ancien Théâtre

phone: +33 4 66 21 30 75

address: 4 Rue Racine

A very nice gastronomic restaurant, that serves fine, local, fresh food for a very affordable price. A menu will cost up to €32, including starter, main course, cheese and dessert.
Drink

Late night bars along Ave Victor Hugo.
Lulu is a popular gay bar at 10 Rue Curaterie, open Tu-Sa from 23:00.

Sleep
A beautiful and expensive hotel is The Imperator.
All located in the retail park Parc Hotelier Ville Active, about 30 minutes' walk from the town centre (and over the main road from Carrefour hypermarket):
Go next
Le Pont du GardIf you haven't had your fill of Roman constructions, this impressive aqueduct is 25 km up the A9 from Nimes and clearly signposted from the motorway. In Roman times the aqueduct carried water destined for Nimes.