Nõva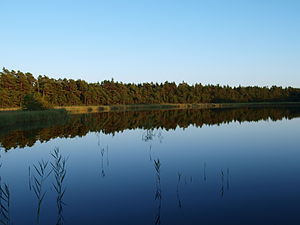 Nõva
is a small coastal village located on the northwestern coast of
Estonia
.
Understand
Get in
See
Swedes
inhabited the coast for hundreds of years so the area is full of Swedish history.
Põlluotsa Farm Museum

address: Põlluotsa talu, Peraküla küla

Acquaint yourself with farm tools and buildings from the last century, with exhibits of wood and stone - all 10 buildings that comprised the farm complex have survived. In addition, you can arrange hikes to visit the region's nature and other attractions, using various orientation and hiking trails.

St Olaf's ChurchThe oldest and also smallest surviving wooden church in Estonia (built in the 17th century).
Do
The beach is the biggest attraction of the village.
During summer and autumn you can also wander around the untouched pine forests and pick berries or mushrooms.

Go next
Haapsalu – "Venice of the north", and a major seaside resort and medium-sized port city, good for visiting spas, taking mud baths, sailing and swimming. But also interesting monuments of the middle ages, like the cathedral and the Ruins of Haapsalu Castle, and a famous and picturesque Railway Museum can be seen here.
Paldiski – A coastal and formerly closed military town during the Soviet era.
Noarootsi – A bilingual municipality: Estonian and Swedish. Step into Swedish and Soviet history.