N'Djamena
N'Djamena
is the capital of
Chad
. It is by far the country's largest city, with a population of 1 million people. It lies directly on the border of
Cameroon
, and is on the confluence of the Chari and Logone rivers. The city has been at the centre of many heated rebellions and revolts, and in February 2008 was entered by rebel troops.
Get in
The only flight from a non-African city is from
Paris
(by Air France). Destinations in Africa include
Johannesburg
,
Addis Ababa
,
Tripoli
,
Cotonou
,
Bangui
,
Lagos
,
Casablanca
via
Niamey
and
Khartoum
. Historically, the main entry to the city was by boat up the Chari and Logone rivers, but today this is rarely done. The city has no railway links.
The rudimentary is located slightly north of city centre.
Get around
Taxis
During the day, taxis charge 3,000 CFA. At night, taxi fares increase to 5,000 CFA. Agree on the price before you step in the car. Pay when you reach the your destination. It's your responsibility to have exact change.

Moto-Taxis
Fares range from 250 CFA to 1,000 CFA, depending on the distance. Do negotiate. Only take moto-taxis that are from official taxi stations, usually on the corners of major intersections.

See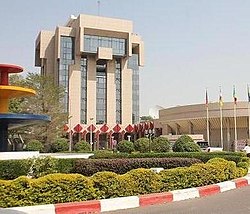 As a Muslim city, there are many mosques to see in the city, as well as a cathedral and the presidential palace. And do not forget the views across the river. Sunset can be quite spectacular.
Chad National MuseumThe national museum of Chad, containing many artifacts from its history. Some pieces are lost due to looting during the last civil war.
Do
Go shopping in the local markets, even if only for an afternoon snack, that are scattered throughout the city. This lets you experience the everyday life and culture of Chad, and also helps contributes to the country's poor economy.
Avenue Charles de Gaulle

address: Avenue Charles de Gaulle

With many colonial houses and embassies, this road is a reminder of the French colonials days.
Buy
N'Djamena was ranked as the 8th most expensive city in the world for American expatriates according to Mercer's Cost of Living Ranking for 2018.

Eat
phone: +235 63 59 82 12, +235 66 40 67 16

address: Rue Idriss Miskine
Drink

Chad is a predominantly Islamic country, so do not expect alcohol to be as widely accepted as in some other countries.

Sleep
address: 396 Rue du Colonel Moll

One of the most luxurious hotels in the city.

phone: +235 22 53 1253

address: Quartier Diguel Est

Novotel N'Djamena La Tchadienne

address: Avenue Ouldadah
Stay healthy
The following medical facilities have a decent reputation:
L'Hôpital Général de Référence National de N'djaména
L'Hôpital de la Liberté (Hopital Chinois)
L'Hôpital de Walia
Clinique Sao
Clinique Providence
Clinique la Rose
Cabinet La Samaritaine
Cabinet Médical Espoir
Cabinet Médical Artine
Cabinet Dentaire Arbre de Vie
Cabinet Dentaire Acropolis
Cope
Embassies
phone: +235 2253 4280

address: Rue 5041, Porte 964, Quartier Moursal

phone: +235 2251 0972

address: Rue de 40m – quartier Klemate

phone: +235 251-62-11

address: Ave Felix Eboue; B.P. 413
Go next
Gaoui is a pretty village lying 10 km north east of N'Djamena. It is said to have been the capital of the Sao civilisation and is now known for its traditional architecture and pottery manufacture. It is also home to a museum.
N'Djamena has the only international airport in Chad. Leaving the main city may be dangerous, as high levels of civil unrest are being experienced in the country. Travelling to the Tibesti Mountains is not safe, either, as this is a militarily sensitive zone. As in all third world countries, stay safe and have caution in your actions.