Nadi
Nadi
(pronounced as "Nandi") is the airport town on the west coast of
Viti Levu
, Fiji's largest island.
Understand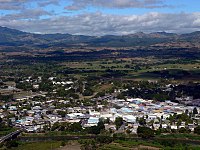 Nadi is known as the point of transit for the rest of Fiji. The major airport was built here instead of the capital
Suva
because of its relatively drier climate. However, there are still enough points of interest and things to do to spend a few days here before you get on board the ferries or helicopters to the smaller islands or head back home.
The main street of Nadi is Queens Road. It is where all the hustle and bustle is and connects the town with the rest of Viti Levu. As you walk around the town, shopkeepers will occasionally approach you and do their best to make you enter their shop. However, the sales staff are not very persistent nor threatening, so don't worry too much about it.
Often when there is traffic or road work going on at Queens Road, the best road to travel across the town is Nadi Back Road.
You may encounter an underlying air of ethnic tension between the Indian and native Fijian populations, but this rarely comes out in the open.
Get in
By plane
Nadi International AirportIt is the gateway to Fiji and handles almost all of the country's international passenger traffic. The airlines that operate at Nadi International Airport are Fiji Airways, Air New Zealand, Virgin Australia, Air Niugini, Air Kiribati, Nauru Airlines, Jetstar Airways, Korean Air, Aircalin and Solomon Airlines. Several hotels have complimentary shuttles, which arrive and depart at a designated area.
By car
Nadi is a 4 hour bus ride and a 3 hour taxi ride from
Suva
.
Get around
Nadi has reliable local buses that let you explore the town and beyond. Just wave to the driver and you will be able to hop on from anywhere along the route. The comfortable, airy buses cost a fraction of that of a rental car. The bus clearly states where it is travelling from and to but you can also confirm with the driver.
Taxis are a convenient way of getting around with reasonable fares. Remember to haggle with the driver before getting in. It is a good idea to ask your tour guide or hotel on the typical prices between two locations. Alternatively, if you are patient and experienced with bargaining, ask multiple taxi drivers what they charge for key locations and haggle down the price.
There are hire cars available within the airport as well as in town. The internationally recognisable brands including Hertz, Thrifty, Avis, Europcar, and Budget are easy to find. There are local brands too though not all of them are reliable. In order to hire a car, you need to possess a valid driver's licence and, either be over 21 or 25 years of age (the precise age will depend on the rental service you use).
See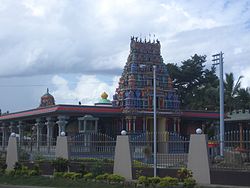 Wailoaloa BeachNorth of Nadi town, the beach is 3km long. There are many resorts and beach clubs lined up across the beach.

phone: +679 672 3418, +679 672 2701

address: Wailoko Raod

The garden was founded by Canadian-American Hollywood star Raymond Burr, as a private nursery of tropical orchids. Nowadays, it contains a diverse and beautiful range range of plants with a number of walking paths set up too. Some of the bright and colourful flowers have a stunning, exotic feel to visitors living outside of the tropics. The terrain is hilly and for most of the year the garden is warm and humid so be sure to take a few breaks during your journey. A complimentary and refreshing fruit drink is provided at the end of your walk.

phone: +679 670 0977

address: Queens Road

This bright and colourful Hindu temple is one of the biggest in the Southern Hemisphere. Carved and built in the Dravidian architectural tradition, the temple is probably the most visible monument in the whole of Nadi. As a mark of respect, knees and shoulders (for both genders) should be covered before entering the temple interior. However, if you arrive at the temple in shorts or sleeveless clothing, the temple will provide you with a dhoti/sarong and shawl to cover yourself. Also, the vegetarian food provided at the canteen is a hidden gem.
Do
Buy
Shopping in Nadi is two-sided. There are the modern, mini-department stores catered to tourists and there are the traditional local markets. Shopping in the former is much like shopping in a Western country while the latter reveals the real Fiji and requires skill in bargaining and sometimes, holding your own against pestering sellers. The currency in Nadi as it is in all of Fiji is the Fijian dollar.
Jack's of Fiji

phone: +679 670 0744

address: 401 Queens Rd

A handy starting point for souvenir shopping though fairly touristy. From handcrafted artifacts to clothing and jewellery, there is a variety of items in the store to take back home as memories of Fiji. Jack's is ideal for shoppers who are not that keen on the extensive bargaining you would have to do in the local handicraft markets.

Nadi Produce Markets

address: Hospital Road

Buy cheap and organic fruit and vegetables. As all of the produce is seasonal, everything is very fresh and juicy.

phone: +679 670 1022

address: Lot 1, Waikamu Subdivision

High-end departmental store with an emphasis on fashion, perfumes, jewellery and liquor. Most products are on the pricey side unless there is a sale on. Sells official Fijian rugby merchandise, including polos, tees and singlets.

phone: +679 670 0531

address: Queens Rd

Upmarket department store selling perfume and cosmetics, electronic gadgets, fashionable goods and liquor. No bargaining.
Eat
Drink
The drinking and clubbing scene is pretty much confined to the Martintar precinct.
phone: +679 672 4650

address: Lot 31 Kennedy Street, Martintar

The bar has a dance area, outdoor beer gardens, pool tables and occasionally a live band pops by. The crowd is a mix of locals and tourists so you won't feel out of place whoever you are. Happy hour from 5PM to 10PM every day.

The Bounty Restaurant & Bar

phone: +679 672 0840

address: 79 Queens Rd, Martintar

A popular bar among Fijians and tourists. Situated in the middle of town, there is a variety of foreign and local beers, including draught beer. The big TV screen shows live sports matches, including World Sevens Series and Super Rugby. There is a decent choice of tapas and cocktails. The atmosphere is lively and the bar also has karaoke.

phone: +679 672 7144

address: RB Jetpoint Complex, Queens Road, Martintar

A modern and stylish bar and nightclub with a sleek dance floor. The real partying starts from 10PM and continues very late into the night.
Sleep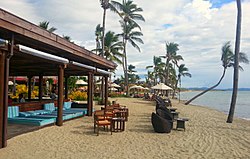 Accommodation in Nadi generally tends to be budget to mid-range while the lavish and luxurious resorts are usually further out west in
Denarau Island
.
Budget
Mid-range
Splurge
phone: +679 672 2000

address: Namaka Hill

Every room in the hotel overlooks the tropical landscape. The hotel is equipped with meeting rooms making it suitable for business travellers. In addition to having a bar and restaurant, this Novotel offers a fitness centre, golf course, spa and outdoor pool.
Stay safe

You may hear about some stories of scams and pickpocketing in Nadi. Crime is on the decline however, and whatever crime exists is mostly petty. There is a police station in the centre of Queens Road if you have any problems.
Although Nadi is on the drier, western side of Viti Levu, the climate is still very warm and humid. If you are walking around for a long time during the day in unshaded areas, it is likely that you will sweat profusely. As such it is important to stay hydrated and take regular breaks in shaded areas.
Most of Nadi's roads are well developed and maintained but you should be wary of a few big potholes on the smaller roads around the outskirts of town.

Go next
Hop on a local bus for $2 to Lautoka and visit a Fijian city away from the tourist eye. The bus terminates at the local markets, where you can buy tonnes of fresh produce.
Head down south to Sigatoka and begin your journey along Viti Levu's famed Coral Coast.
Air conditioned buses go from Nadi International Airport to the capital Suva two times a day (at 7:30AM and 4PM). You can request the bus to stop at any points of interest along the route.
Many ferries suitable for days trip leave daily from Port Denarau just west of Nadi to the outer island groups such as the Mamanucas and Yasawas. The ferries start from 9AM to 4PM daily.
Venture east into the sparsely populated Nausori Highlands. Experience traditional Fijian village life while being surrounded by spectacular views.