Nador
Nador
is a coastal town and the second largest city in the Oriental province of
Morocco
.
Get in
A railway linking Nador to Taourirt was opened on 2 July 2009 by king Mohammed VI of Morocco as part of ONCF's rail projects. Previously, there was a connecting bus link from Taourirt, also operated by railway company ONCF.
In addition, several direct bus links operate between Nador and major Moroccan cities. Daily ferry services link Nador Port with Almeria in Spain and a weekly service to Sète in France.
Nador International Airport offers direct flights to Moroccan and European destinations, such as cities in France and Germany, and acts as a second airport for travellers to and from
Melilla
.
Nador Airport
Nador international airport is located 25 km from Nador near El Aroui. Main airlines are Royal Air Maroc, Air Arabia Maroc and Ryanair with international flights to France, Spain, Belgium, Germany and the Netherlands and domestic flights to Casablanca and Tangiers.
There is no bus to/from the airport, but many buses to fez and other destinations stop in Jbel Arouit (near Hotel Tenerife around 4 km from the airport). Bus cost (or saves you if you come from the south) is 10 mad (ctm).
There are 2 or 3 hotels in Jbel Arouit if you depart early, but they are not that budget-friendly (200 mad).
By train
Twice daily to Taourirt with connection to Fez, Casablanca, etc.
By bus
By ferry
gnv.it (Sete and Barcelona)
trasmediterranea.es (Almeria)

See
1 - Nador Big Mountain Gourgou
2 - Nador long Path walk " Cournich"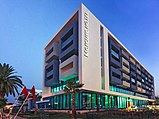 3 - Hotel Rif
Do
Beach
Kariat Arekmane
Boucana
Charrana
Golf
Shopping