Naftalan
Naftalan
is in
Ganja Region
.
Understand
Naftalan city is a well-known petroleum spa resort, the center of medical tourism in Azerbaijan. There is a unique naftalan oil in Naftalan that has no analogues in the world. It is a viscous liquid with distinguished black-brown and brown color and a specific odor. The uniqueness and high efficiency of naftalan oil is confirmed by numerous scientific studies and more than 100 years of experience in treatment of various diseases.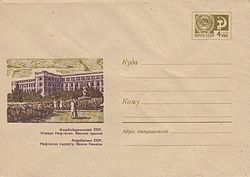 As a resort Naftalan is known since 1926, when there appeared specialized recreational and health places around the field. Patients from all over the Soviet Union came here.
Today Naftalan is a modern center of leisure and health, organically combining the natural factors, achievements of resort medicine, European comfort, Azerbaijani hospitality and affordable prices on tours.
As a part of a large state program of Naftalan's recovery there were four sanatoriums of European standards built there and three more are in the process of construction. Among the known objects are: medical-prophylactic center Chinar Hotel & Spa, health center "Naftalan", sanatorium "Gashalty" and others.
Get in
It is located 330 km west of Baku and 50 km away from Ganja, the second largest city in the country.
By air
Naftalan Hava Limani serves private flights to the town.
By bus
Regular bus services connect the town with
Ganja
(3 marshrutkas per day, 1-2 manat) and potentially
Baku
. However, it is more efficient, to take any connection along the highway, get of in Goran and take a taxi (10 manat) or marshrutka from there.
By taxi
From Goran the going taxi rate is 10 manat. To/from Ganja a taxi can be had for 25 manat.
By car
From
M2
highway take a turn to
R25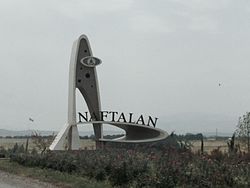 Get around
The town is very small, so it can be easily explored on foot.

See
Chinar Hotel & SPA
has its own privat art collection. Here is what you can try during breaks between spa sessions and outside "resort walls':
Museums
Qoltuqağacı muzeyiOnly crutches museum in the world. Here you can see hundreds of crutches of various designs and sizes. They are left here and signed by those who on arrival at the resort could not walk without crutches.

Tarix-Diyarşünaslıq muzeyi

address: AZ4600,Naftalan,Naftalan,Şirvan, dalan 1

The following topics are among those presented in the exhibition of Naftalan Museum of History and Regional Studies: flora and fauna of the region, minerals, geology of the land, the origin and the history of the city, ethnography, numismatics and the development of the city as a health resort.

Heydər Əliyev Muzeyi

address: Shikhali Gurbanov Str., Naftalan

Established in 2006, the museum contains more than 200 photographs and exhibits representing the life and works of the "national leader" Heydar Aliyev. Among those is a decree, issued by the "great leader" in 1982, on the developing Naftalan as the resort city.
Parks
Exhibitions and events
Heydər Əliyev Mərkəzi

address: Heydar Aliyev Park

All main top events host here. Conference hall with 120 seats, electronic library, courses in foreign languages, a computer room, an art gallery, and a small conference room.
Do
People visit Naftalan to improve their health. So, the oil bath is the must-do thing. Sanatoriums and spa-hotels are high quality.
Stays can easily be booked online starting at US$20-27 per person per night including room and full-board. So, even if just staying one night, which most Sanatorium operators argue is not sufficient for "health benefits", you are able to take a bath in the afternoon and morning. Note, the bath are often operated between 09:00 and 17:00.

Buy
Bring enough cash! Even though there seem to be several ATMs in town, only one near the Martyrs Alley Park is working most of the time.

Eat
All top restaurants locating in Spa Hotels and Sanatoriums. However, there are some nice places outsite resort zone.

Drink
Most of the spa hotels and sanatoriums have bars and night-clubs for guests.

Sleep
Spa Hotels
phone: +994-255-2-10-00

address: 12 Shirvan ave., Naftalan city AZ 4600

High level resort
Sanatoriums
phone: +994-22-352-30-03

address: 37 Shirvan Ave.

phone: +994-255-2-26-85

address: 31 Shirvan ave